Published on January 6, 2020

In a previous post, we focused on the importance of testing to measure where you are NOW. Without the knowledge of where you are, it is impossible to know what steps need to be taken to get where you want to be.
We frequently are asked "What do I do if my result is…?" Today, we will focus on what to do after you have received your test results.
Step #2 – Learn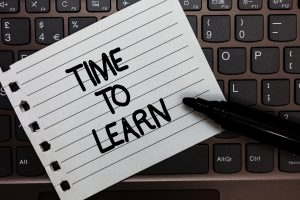 After you know your starting point then you can research what to do and what target(s) to aim for. What habits will raise or lower your specific nutrient levels? What can you do to help reduce inflammation? For those who are within their target range at the first test — great, continue what you are doing! Others will need to take steps necessary to create change. What will these action items be?
For each test result, GrassrootsHealth has created some key posts to help you define and reach your target level(s).
Vitamin D
This blog answers questions such as "How much vitamin D should I take with a starting level of XX?" and "How long will it take to see a change in level?" and "How often should I take my supplement?"
How to Time Your Vitamin D Testing with Changes in Supplementation
Did your level come back higher than you expected? What is "too high" and how can you effectively lower your vitamin D level when needed? This blog also addresses the topic of vitamin D toxicity.
Is Your Vitamin D Level Too High?
This blog contains additional information about vitamin D toxicity and if/when to be concerned.
Concerned about vitamin D toxicity?
Omega-3 Index
What are the chances your level is in the suggested range? What is the optimal Omega-3 Index level to aim for, how do you get there, and how long does it take? Are supplements or food sources of omega-3s best to raise levels? These posts will answer those questions for you.
Steps to Improve a Low Omega-3 Index Result
How much EPA+DHA might be needed to achieve an Omega-3 Index of 8%?
How to Maintain Healthy Omega-3 Levels
Does all seafood provide the same amount of omega-3s?
AA:EPA and Omega-6:Omega-3 Ratios
What are the ratio levels of participants, and what should you aim for? How do you achieve your target AA:EPA and Omega-6:Omega-3 ratios? Learn more from these blogs.
How to Improve Your AA:EPA and Omega-6:Omega-3 Ratios
What is the relationship between Omega-3 Index and Omega-6 to Omega-3 & AA to EPA Ratios?
Magnesium
The following are some blogs to help you determine if you are getting enough magnesium, factors that may be affecting your absorption of magnesium, and what type to consider in your magnesium product.
What Might be Affecting Your Magnesium Level Besides Intake?
Over Half Do Not Get Adequate Magnesium
What type of magnesium are you taking?
Variability Among Magnesium Products
Elements Panel (Includes Magnesium)
The following posts offer information about levels among participants of several of the elements tested in the Elements Panel.
Copper Levels Among GrassrootsHealth Participants
Selenium Levels Among GrassrootsHealth Participants
Zinc Levels Among GrassrootsHealth Participants
Lead Levels Among GrassrootsHealth Participants
Cadmium Levels Among GrassrootsHealth Participants
Mercury Levels Among GrassrootsHealth Participants
How to Address a High Mercury Level
C-Reactive Protein (hsCRP)
How can levels of inflammation and CRP be reduced in the general population and among specific groups? The following blogs may have some tips for you!
Reducing Inflammation through Diet
Inflammation Reduced with Vitamin D and Omega-3
Inflammation reduced with magnesium, zinc, calcium, and vitamin D co-supplementation
Probiotics may help Improve C-Reactive Protein Levels in Alzheimer's Patients
Hemoglobin A1c (HbA1c)
The following blog explains how HbA1c is related to blood sugar and diabetes.
Diabetes concern? Use HbA1c to help screen, control
Thyroid Stimulating Hormone (TSH)
Additional tests may be recommended if TSH levels are out of range to give a more definitive diagnosis of thyroid disease or imbalance. The treatment and diagnosis must be undertaken with a medical doctor or other primary health care provider.
Vitamin D, omega-3s, magnesium, and other nutrients are important to measure!
Make sure you know your vitamin D level, and take steps to keep it within a target of 40-60 ng/ml or 100-150 nmol/L! Through GrassrootsHealth Nutrient Research Institute, you can also test your essential elements magnesium, copper, zinc and selenium, toxins such as lead, mercury and cadmium, as well as your omega-3 levels, inflammation levels and thyroid stimulating hormone (TSH) level. Find out your levels today! Log on to the test selection page (click the link below) to get your tests and see for yourself if your levels can be improved.
Make sure you track your results before and after, about every 6 months!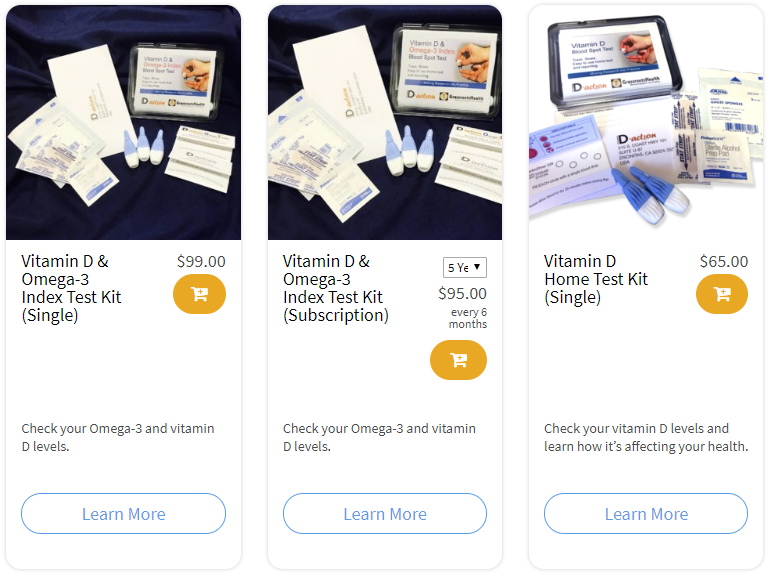 Click Here to Access the Test Page
How can I track my nutrient intake and levels over time?
To help you track your supplement use and nutrient levels, GrassrootsHealth has created an online tracking system called myData-myAnswers. For each specific supplement, you can track what days you take it, how much, and many other details. This will help you know your true supplemental intake and what patterns of use work for you to reach and maintain optimum nutrient levels. Check it out today!
How Can You Use this Information for YOUR Health?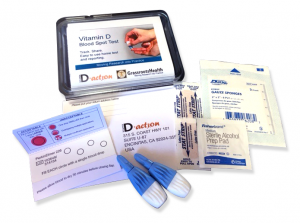 Having and maintaining healthy vitamin D and other nutrient levels can help improve your health now and for your future. Measuring is the only way to make sure you are getting enough!
STEP 1 Order your at-home blood spot test kit to measure vitamin D and other nutrients of concern to you, such as omega-3s, magnesium, essential and toxic elements (zinc, copper, selenium, lead, cadmium, mercury); include hsCRP as a marker of inflammation or HbA1c for blood sugar health
STEP 2 Answer the online questionnaire as part of the GrassrootsHealth study
STEP 3 Using our educational materials and tools (such as our dose calculators), assess your results to determine if you are in your desired target range or if actions should be taken to get there
STEP 4 After 3-6 months of implementing your changes, re-test to see if you have achieved your target level(s)