Published on August 9, 2019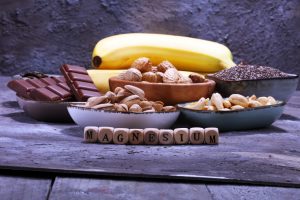 Magnesium is the fourth most abundant mineral in the human body. It is involved in over 300 enzymatic reactions and is a necessary component for energy metabolism, muscle function, blood pressure regulation, insulin metabolism, cardiovascular function, nerve transmission, neuromuscular contraction and more. Magnesium is needed for the metabolism, activation and/or utilization of other nutrients, including calcium, vitamin D, B vitamins, and glutathione. An increased risk of several diseases has been associated with a chronic deficiency of magnesium, including atherosclerosis, hypertension, cardiac arrhythmias, stroke, high cholesterol and alterations in lipid metabolism, insulin resistance, metabolic syndrome and type 2 diabetes, osteoporosis, depression, anxiety and other diseases. Magnesium deficiency has also been linked to inflammation and oxidative stress associated with the aging process and several age-related diseases. You can more learn about magnesium from previous posts about its functions in the body and why it is important for our health.
Magnesium must be consumed regularly in order to prevent deficiency, which can lead to symptoms such as loss of appetite, nausea, vomiting, fatigue, and weakness. When deficiency becomes more severe, it may result in symptoms such as numbness, tingling, muscle contractions and cramps, seizures, personality changes, abnormal heart rhythms, and coronary spasms.
Magnesium Intakes Are Below Recommended Levels
The US Food and Nutrition Board has established a set of Recommended Dietary Allowances (RDA) for magnesium, broken down by gender and age groups (shown in the table below). The RDA is intended to be the average daily intake from all sources, including foods and supplements, that would be sufficient for roughly 97% of the healthy population.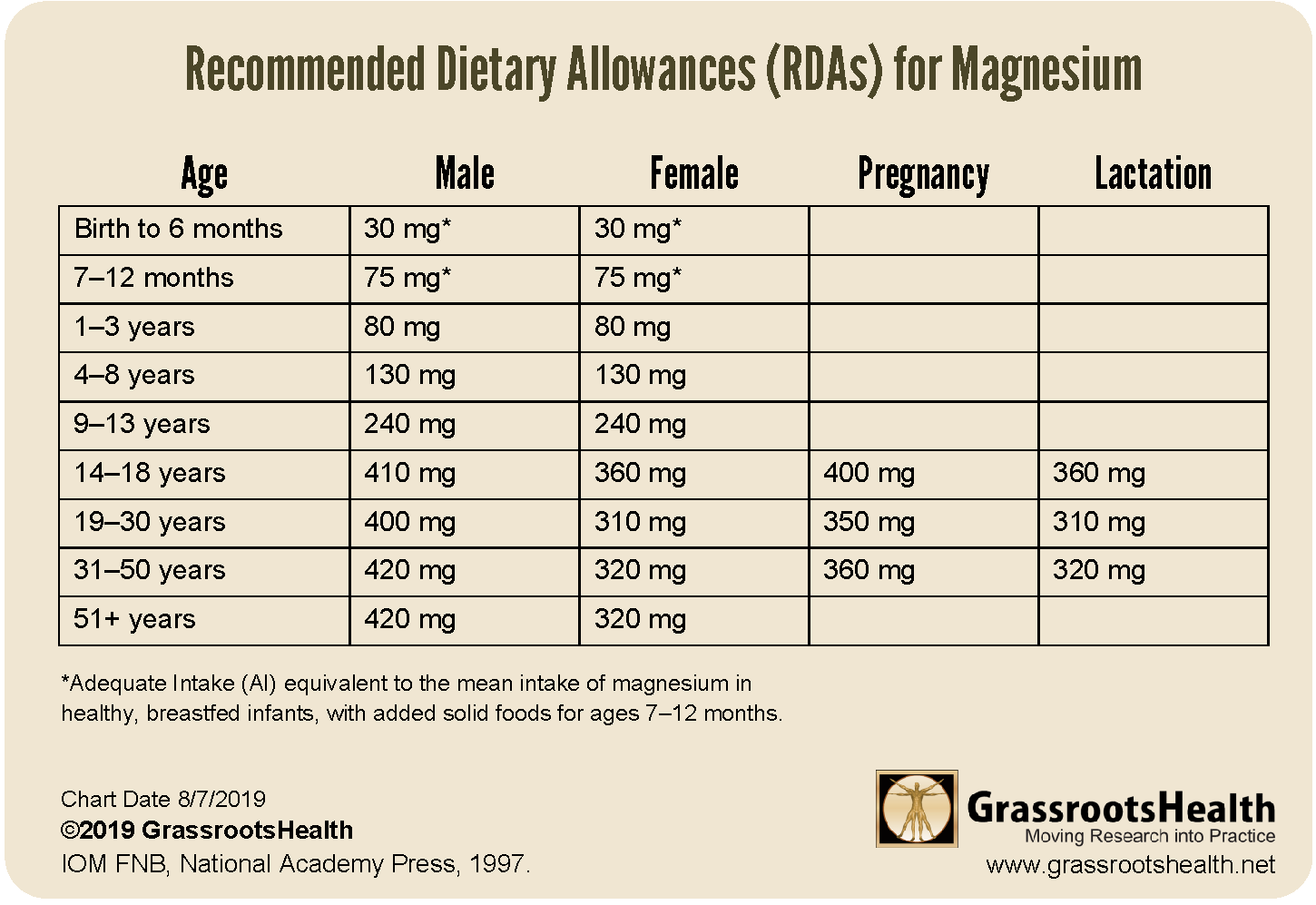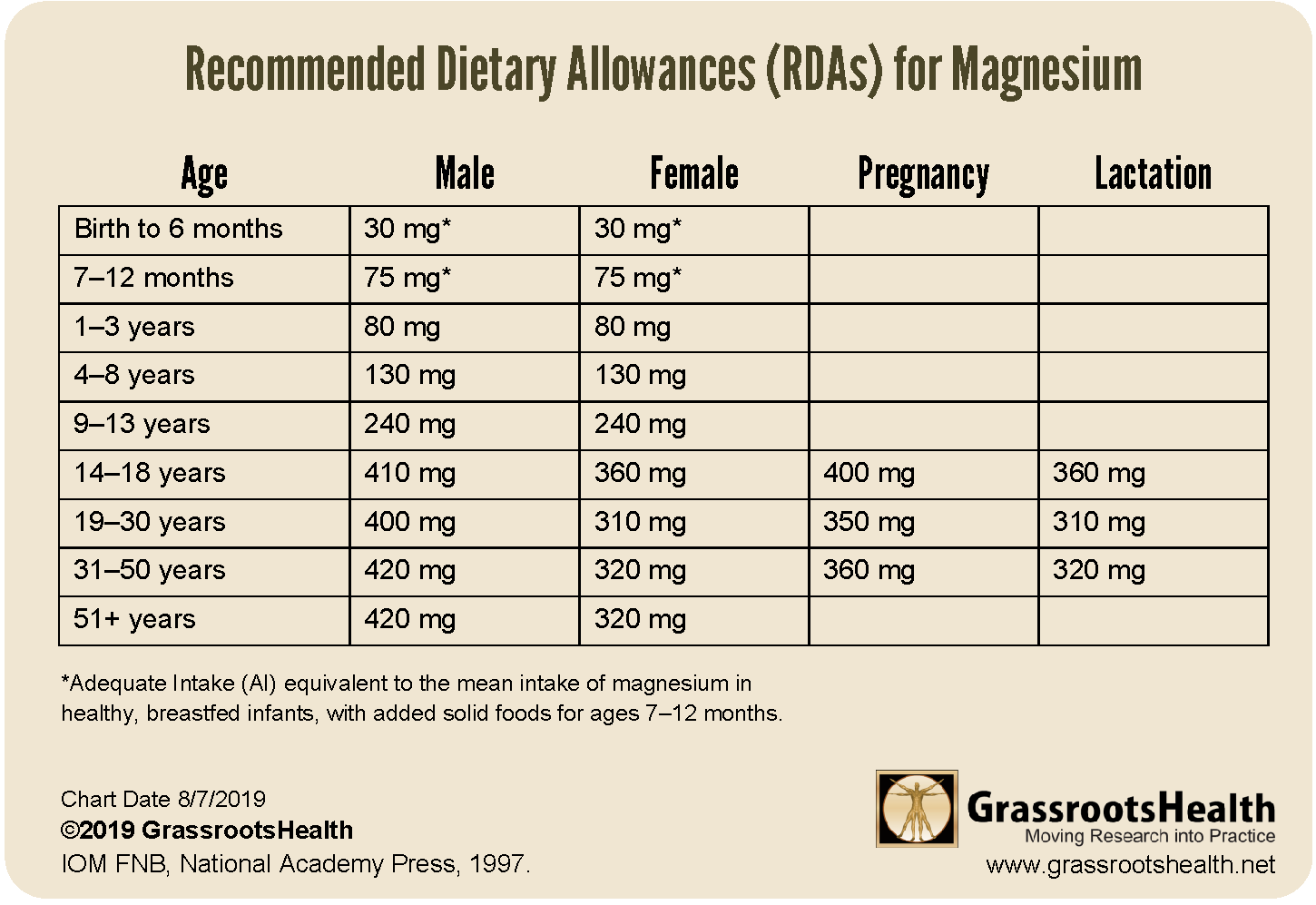 There has been an estimated decline of magnesium intake in the United States over the last 100 years, from approximately 500 mg/day to 175-225 mg/day. A National Health and Nutrition Examination Survey (NHANES) 2005-2006 (the most recent for which this set of information is available), based on dietary recall and did not include nutrient intake from supplements, was conducted to determine the intake of specific nutrients through the diet. The chart below illustrates the findings from this survey, based on the comparison of magnesium intake from food and water to the Estimated Average Requirement (EAR) of magnesium. The EAR is the estimated amount of a nutrient's daily intake needed for half of the healthy population to meet their daily requirements, broken down by age and gender – similar to the RDA, although the amounts referred to are lower. Nearly half of all individuals 1 year and older and more than two thirds of teenagers (ages 14-18) and elderly adults (ages 71 and over) had inadequate magnesium intakes when compared to the EAR.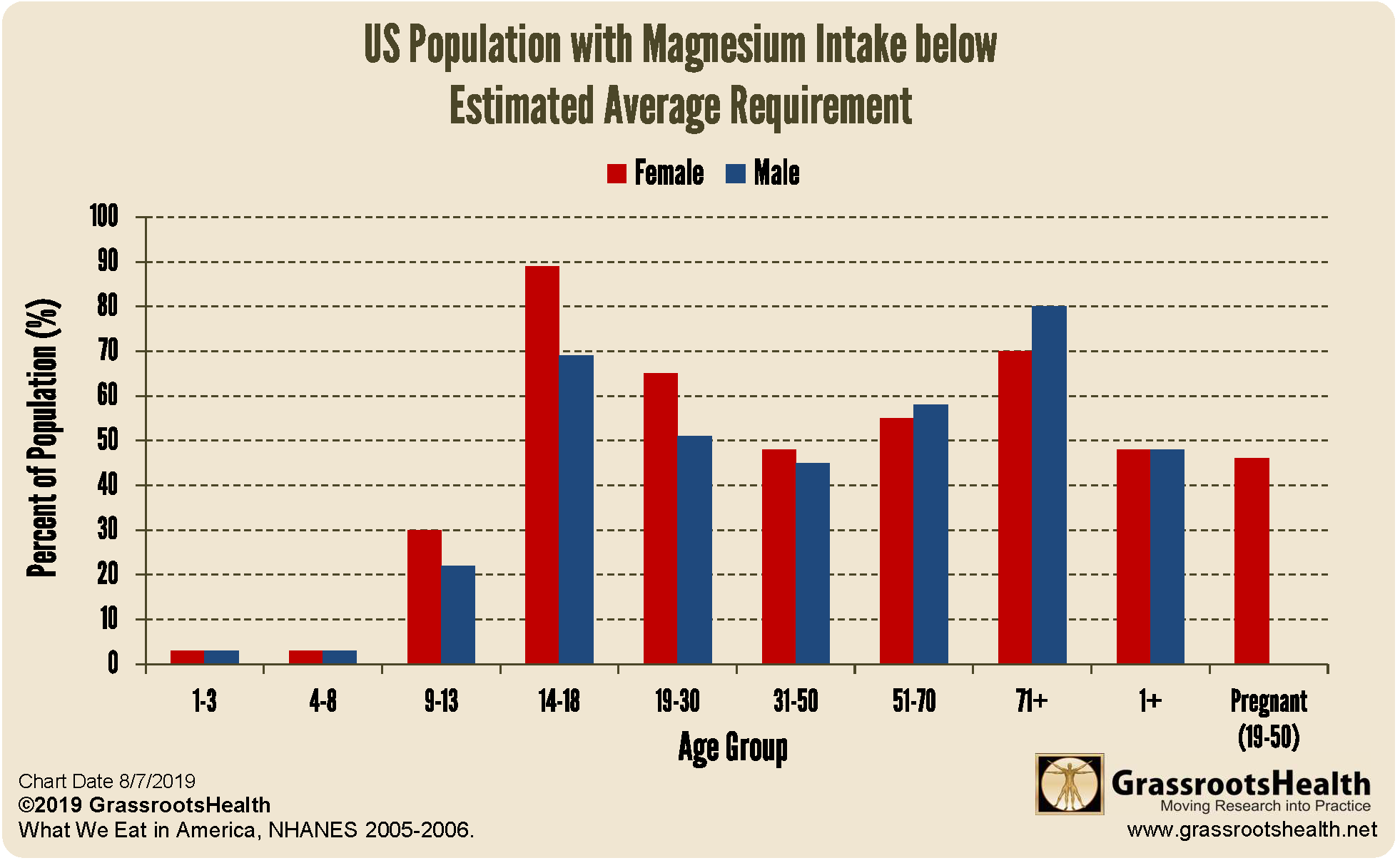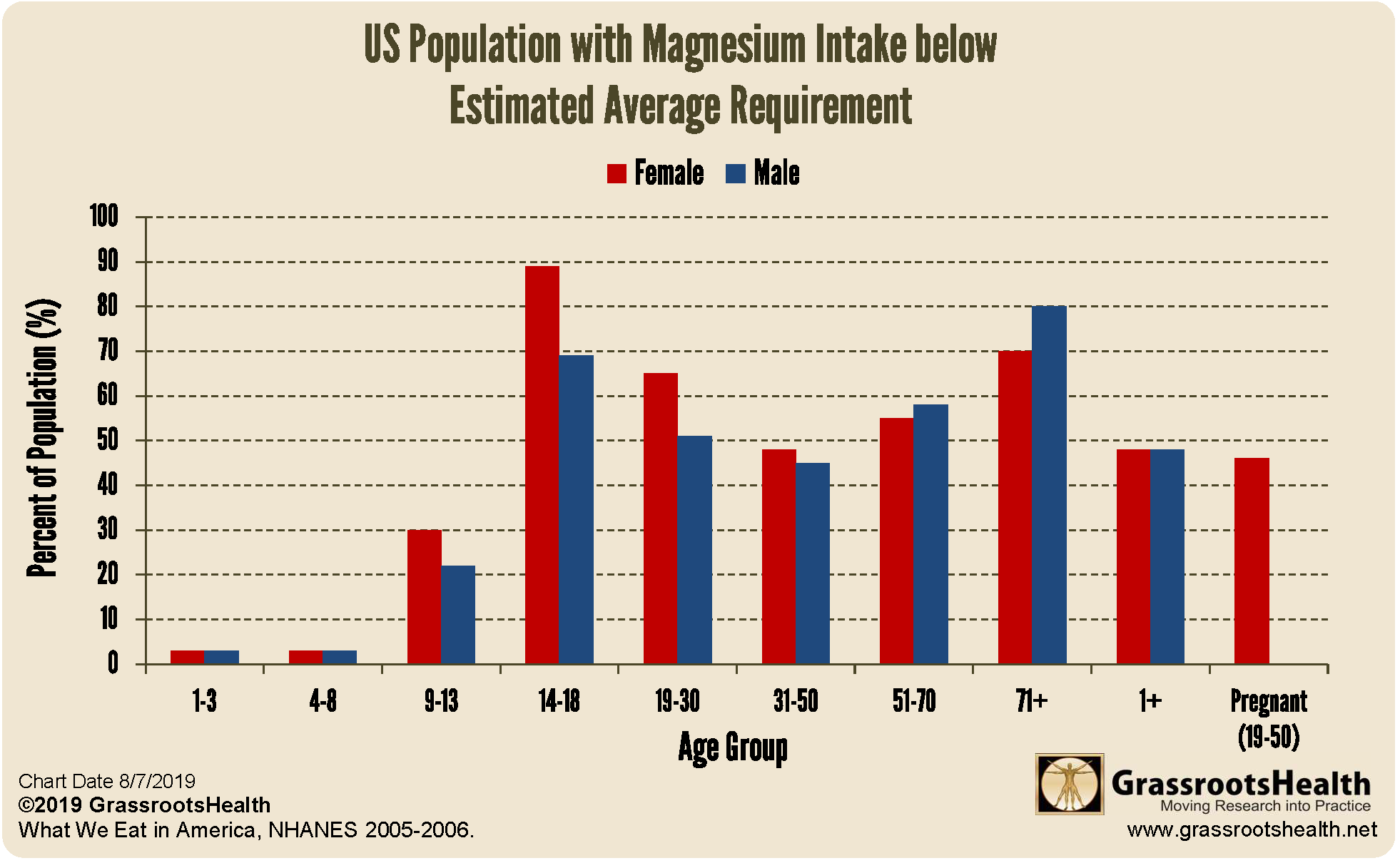 Are you getting adequate magnesium on a regular basis?
One way to tell if you are getting enough magnesium is by measuring your whole blood magnesium status. This test is included in the Elements Panel offered by GrassrootsHealth, and it includes a vitamin D test along with essential elements magnesium, selenium, zinc, copper, and toxic elements cadmium, lead, and mercury. Find out your levels today! Log on to the shop (click the link below) to get your tests and see for yourself if your levels can be improved.
Make sure you track your results before and after, about every 6 months!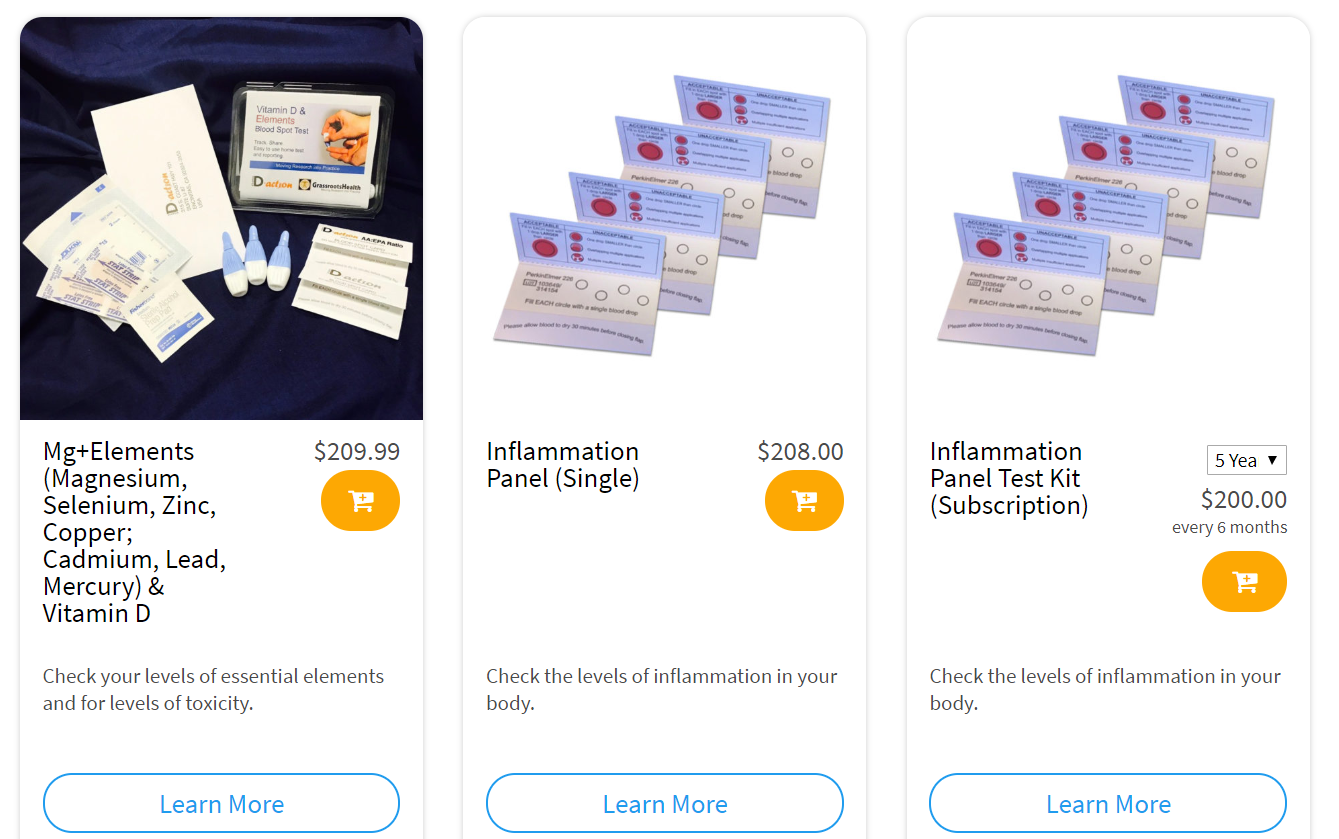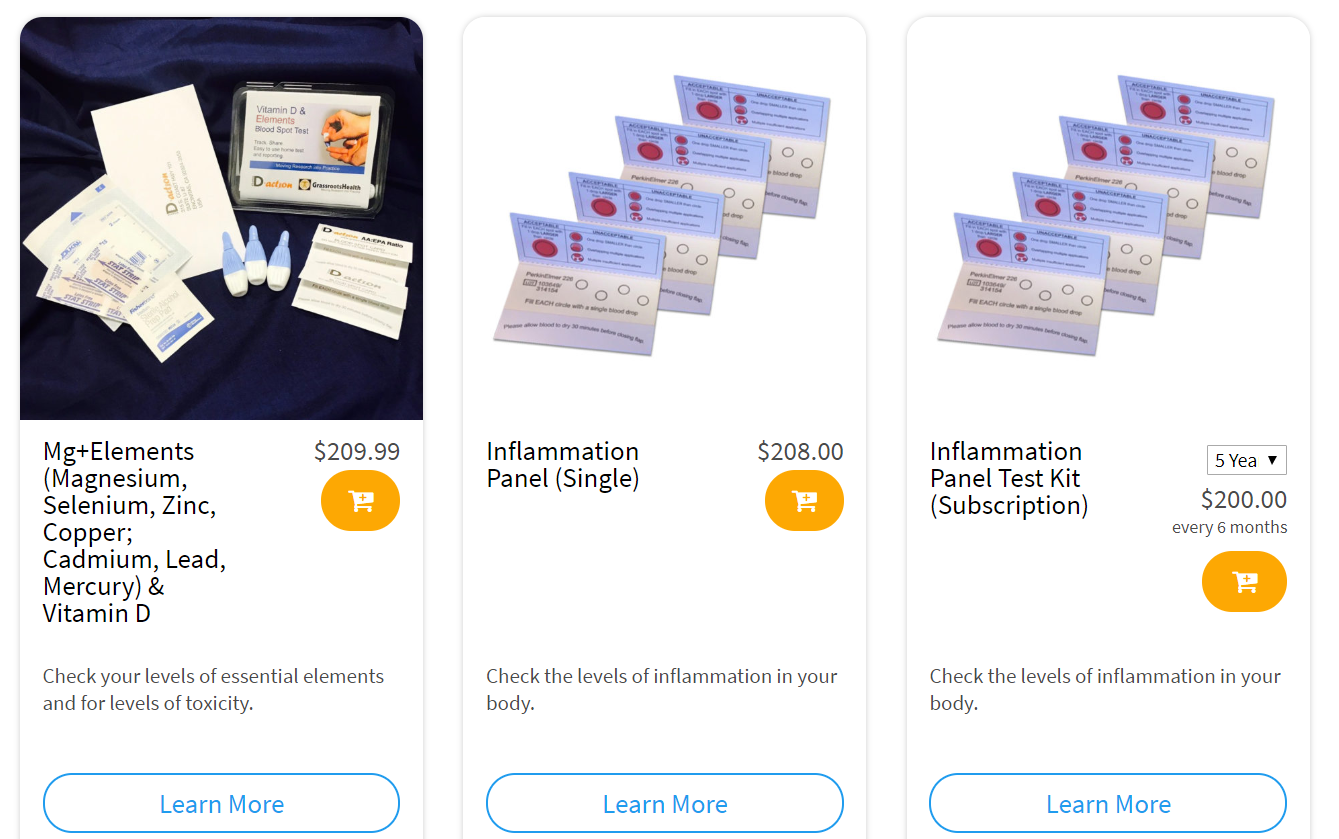 Click Here to Access the Shop Page
How can I track my nutrient intake and levels?
To help you track your supplement use, dietary intake, and nutrient levels, GrassrootsHealth has created an online tracking system called myData-myAnswers. For each specific supplement, you can track what days you take it, how much, and many other details. This will help you know your true supplemental intake and what patterns of use work for you to reach and maintain optimum nutrient levels. Check it out today!
How Can You Use this Information for YOUR Health?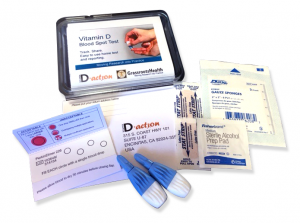 Having and maintaining healthy vitamin D and other nutrient levels can help improve your health now and for your future. Measuring is the only way to make sure you are getting enough!
STEP 1 Order your at-home blood spot test kit to measure vitamin D and other nutrients of concern to you, such as omega-3s, magnesium, essential and toxic elements (zinc, copper, selenium, lead, cadmium, mercury); include hsCRP as a marker of inflammation or HbA1c for blood sugar health
STEP 2 Answer the online questionnaire as part of the GrassrootsHealth study
STEP 3 Using our educational materials and tools (such as our dose calculators), assess your results to determine if you are in your desired target range or if actions should be taken to get there
STEP 4 After 3-6 months of implementing your changes, re-test to see if you have achieved your target level(s)