Published on December 5, 2019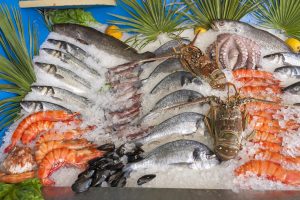 Long-chain omega-3 fatty acids, primarily EPA and DHA, have been linked to numerous health benefits. Sources of EPA and DHA include a variety of fish and shellfish as well as marine/algal omega-3 supplements. In a previous blog post we discussed how to identify the amount of EPA and DHA on a supplement product label and how it's important to take note of the serving size and directions to be sure you know how much you are taking. It is also important to note that not all seafood provides similar amounts of EPA and DHA. In fact, there is quite a difference in the amount of EPA and DHA between seafood species and preparation styles. For example, shrimp and tilapia, which are two of the most popular types of seafood consumed in the United States have less than 300 mg of EPA and DHA per serving, whereas fatty fish from cold waters can provide more than 1000 mg per serving.
The USDA Food Composition Database provides estimates for the amount of EPA and DHA in many seafoods. Below is a list of some of the most popular seafood products with the amount of EPA and DHA per 4 oz (113 g) serving. As you can see, the amount of EPA and DHA varies drastically between fish type. Even similar fish species can provide vastly different amounts of EPA and DHA, such as Bluefin tuna (1710 mg) and Yellowfin tuna (140 mg).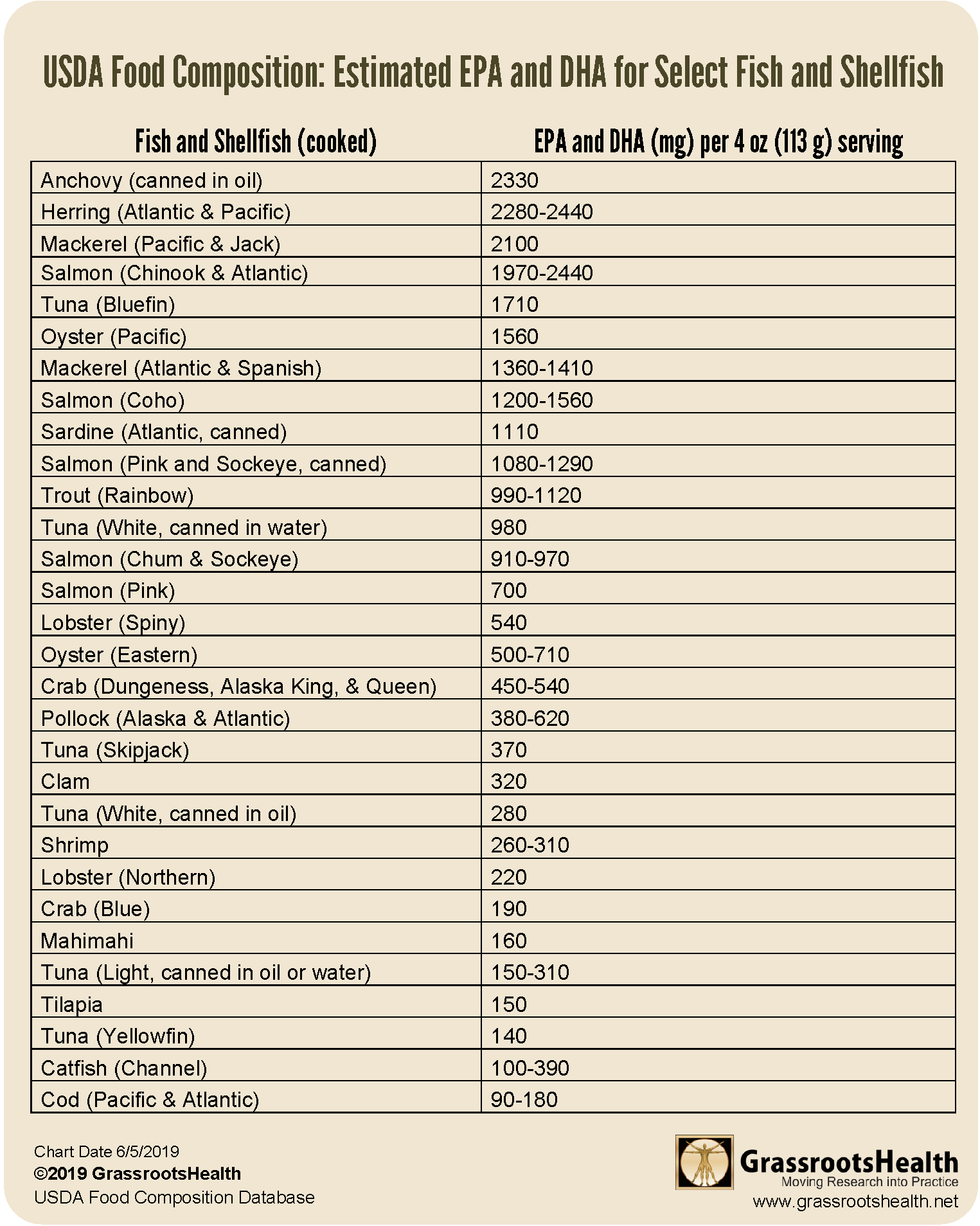 If you are trying to improve your health by consuming more seafood, be sure to pay attention to the amount of EPA and DHA in the type of seafood you are eating. If you don't see a particular seafood in the list above, check out the USDA Food Composition Database which includes EPA and DHA estimates for 242 different seafood products. (Note: the USDA Food Database provides EPA and DHA values in grams per 100 gram serving; the values in the chart above have been converted to reflect milligrams for a 4 ounce serving or 113 grams.)
Also, you don't have to guess if you are getting enough EPA and DHA, you can test your Omega-3 Index! The Omega-3 Index measures the amount of EPA and DHA in your red blood cells and reflects intake of EPA and DHA from food and dietary supplements over approximately the previous four months. Numerous studies point to an Omega-3 Index of 8% or greater as optimal for health and an index of less than 4% as deficient.
How do I know if my seafood intake is working to raise my Omega-3 Index?
What is your Omega-3 Index? Make sure you know your Omega-3 Index (target of at least 8%) and your vitamin D level (target of 40-60 ng/ml or 100-150 nmol/L), and are taking daily steps to keep both within range. Find out your levels today! Log on to the test selection page (click the link below) to get your tests and see for yourself if your levels can be improved.
Make sure you track your results before and after, about every 6 months!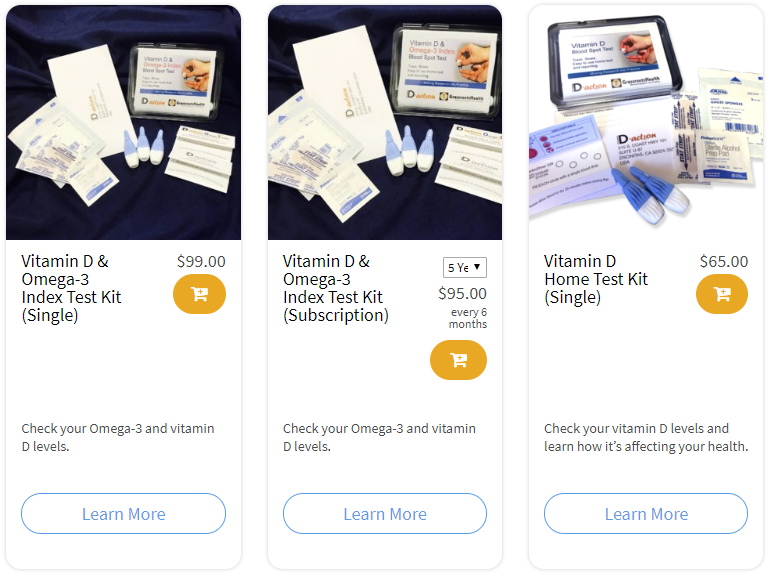 Click Here to Access the Test Page
How can I track my omega-3 intake and resulting level?
To help you track the omega-3s you are getting in your diet, along with your resulting Omega-3 Index, GrassrootsHealth has created an online tracking system called myData-myAnswers. You can track any of your supplemental and dietary nutrient intakes to see how they impact your levels and overall health. Check it out today!
How Can You Use this Information for YOUR Health?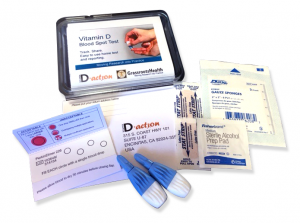 Having and maintaining healthy vitamin D and other nutrient levels can help improve your health now and for your future. Measuring is the only way to make sure you are getting enough!
STEP 1 Order your at-home blood spot test kit to measure vitamin D and other nutrients of concern to you, such as omega-3s, magnesium, essential and toxic elements (zinc, copper, selenium, lead, cadmium, mercury); include hsCRP as a marker of inflammation or HbA1c for blood sugar health
STEP 2 Answer the online questionnaire as part of the GrassrootsHealth study
STEP 3 Using our educational materials and tools (such as our dose calculators), assess your results to determine if you are in your desired target range or if actions should be taken to get there
STEP 4 After 3-6 months of implementing your changes, re-test to see if you have achieved your target level(s)