Published on March 3, 2021


03-03 established as Global Omega-3 Day to focus attention on the importance of omega-3s for our health

Today, March 3rd, 2021, marks the very first Global Omega-3 Day, initiated by the Global Organization for EPA and DHA Omega-3s (GOED)!
EPA (eicosapentaenoic acid) and DHA (docosahexaenoic acid) are two very important omega-3 fatty acids found in fatty fish and other marine sources, which are essential to our health. Higher omega-3s have been associated with improved cognitive function and cardiovascular health, lower risk of dementia, lower risk of cancer, longer life, and a reduced relative risk for death from any cause, including COVID-19. They are beneficial for normal vision, anti-aging, skin health, maternal health, immune system, brain health, heart health, normal liver function, joints and muscles, and more.
Much of the World is Deficient in Omega-3s
The Omega-3 Index is a blood test that measures the amount of omega-3 fatty acids (EPA and DHA) in red blood cell (RBC) membranes and is expressed as a percent of total RBC fatty acids. It is a long-term and stable marker of omega-3 status, and it reflects tissue levels of EPA+DHA.
An Omega-3 Index of over 8% is associated with the lowest risk of death from heart disease and below 4% with the highest.
While individual levels of omega-3s vary across the globe, most countries and regions have levels that are considered low to very low.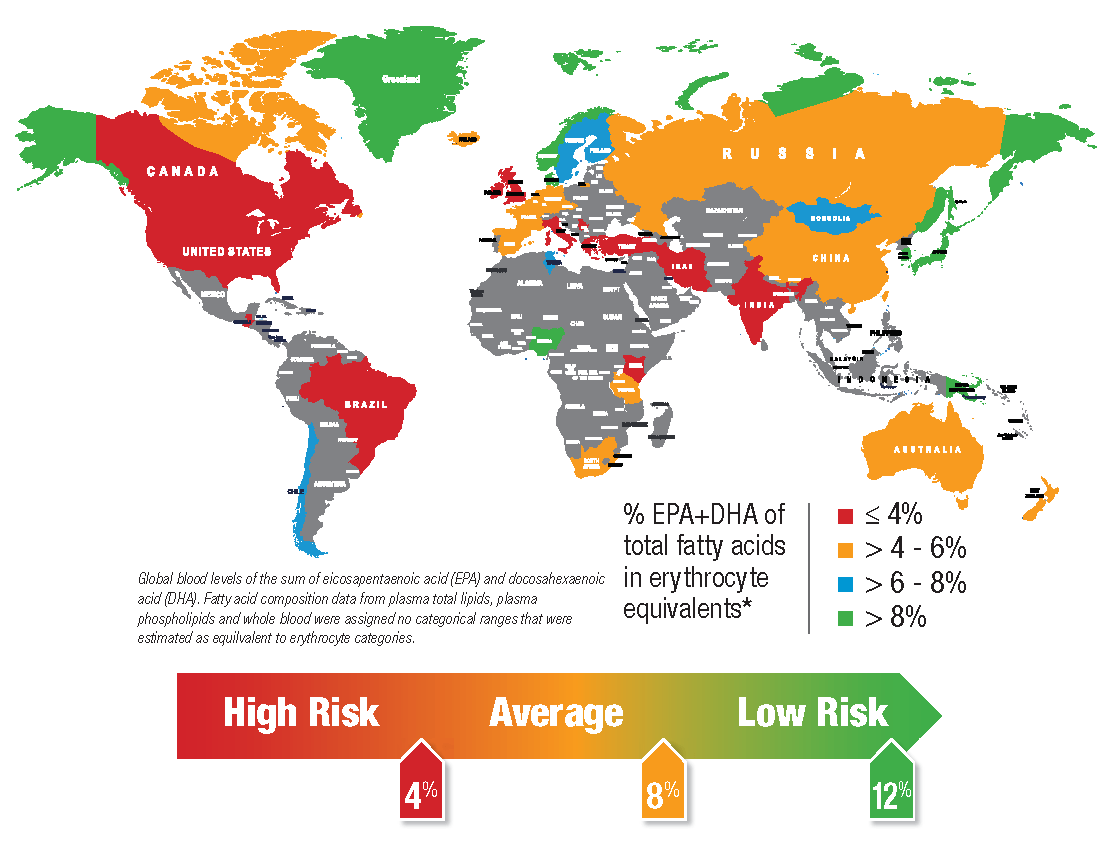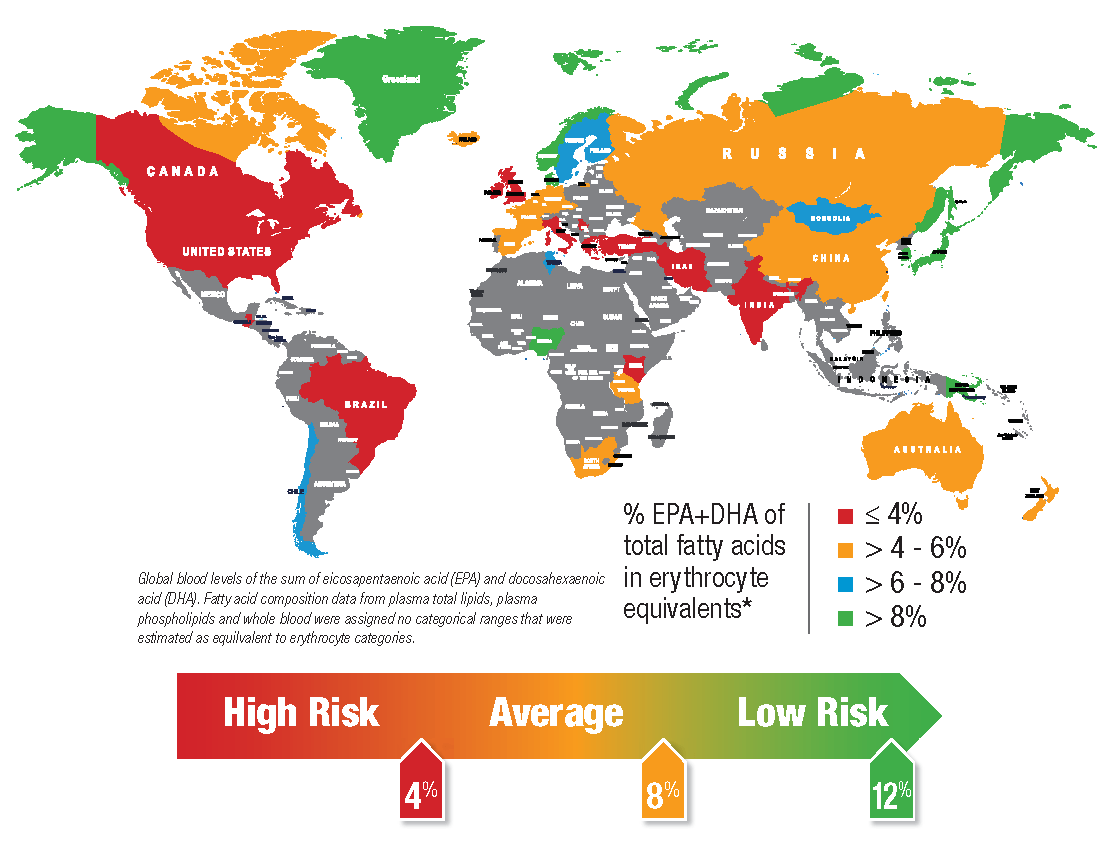 Amount of EPA+DHA needed to achieve an Omega-3 Index of 8%
In June of 2017, GrassrootsHealth launched an Omega-3 Call to Action to help bring awareness to omega-3 deficiency as a fast-evolving global health concern, by providing at-home testing for omega-3 status along with education on levels that are beneficial to health, and how to track and achieve those levels through diet and supplementation.
In November of 2019, using the data gathered, GrassrootsHealth published a paper that assessed the the EPA+DHA intake requirement to achieve an Omega-3 Index of 8% or higher. This analysis found that among the 265 participants who reported no fatty fish intake (to ensure no major sources of EPA+DHA input beyond supplements), ~1,300 mg/day of EPA+DHA was needed for 50% of the population to achieve an Omega-3 Index of 8%. Approximately 1,900 mg/day of EPA+DHA was needed for 90% of the population to achieve an Omega-3 Index of 8%.
We ran this analysis again in February of 2020, with almost twice as many participants, and found the EXACT SAME results: ~1,300 mg/day of EPA+DHA was needed for 50% of the population and ~1,900 mg/day was needed for 90% of the population to achieve and Omega-3 Index of 8%.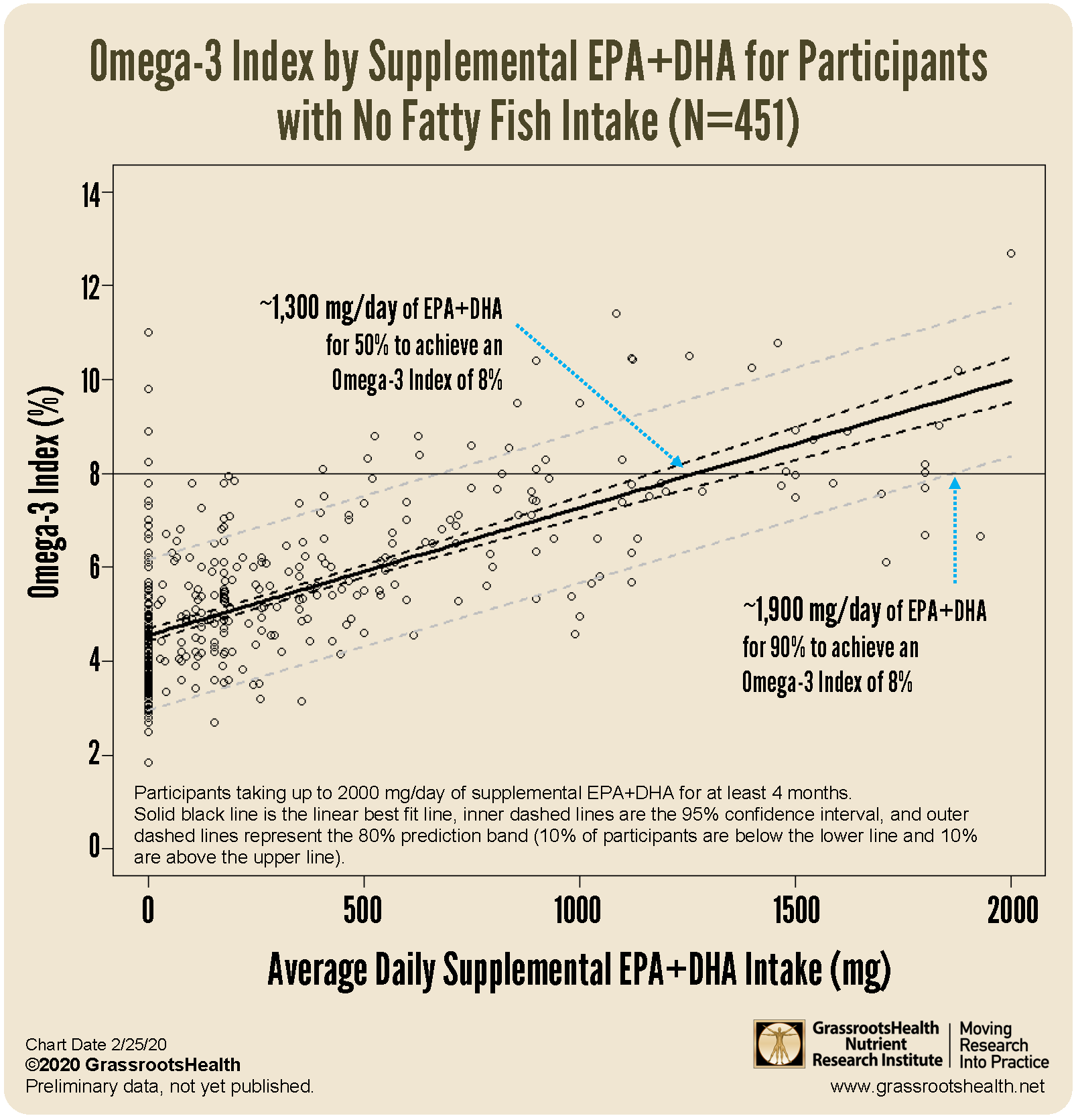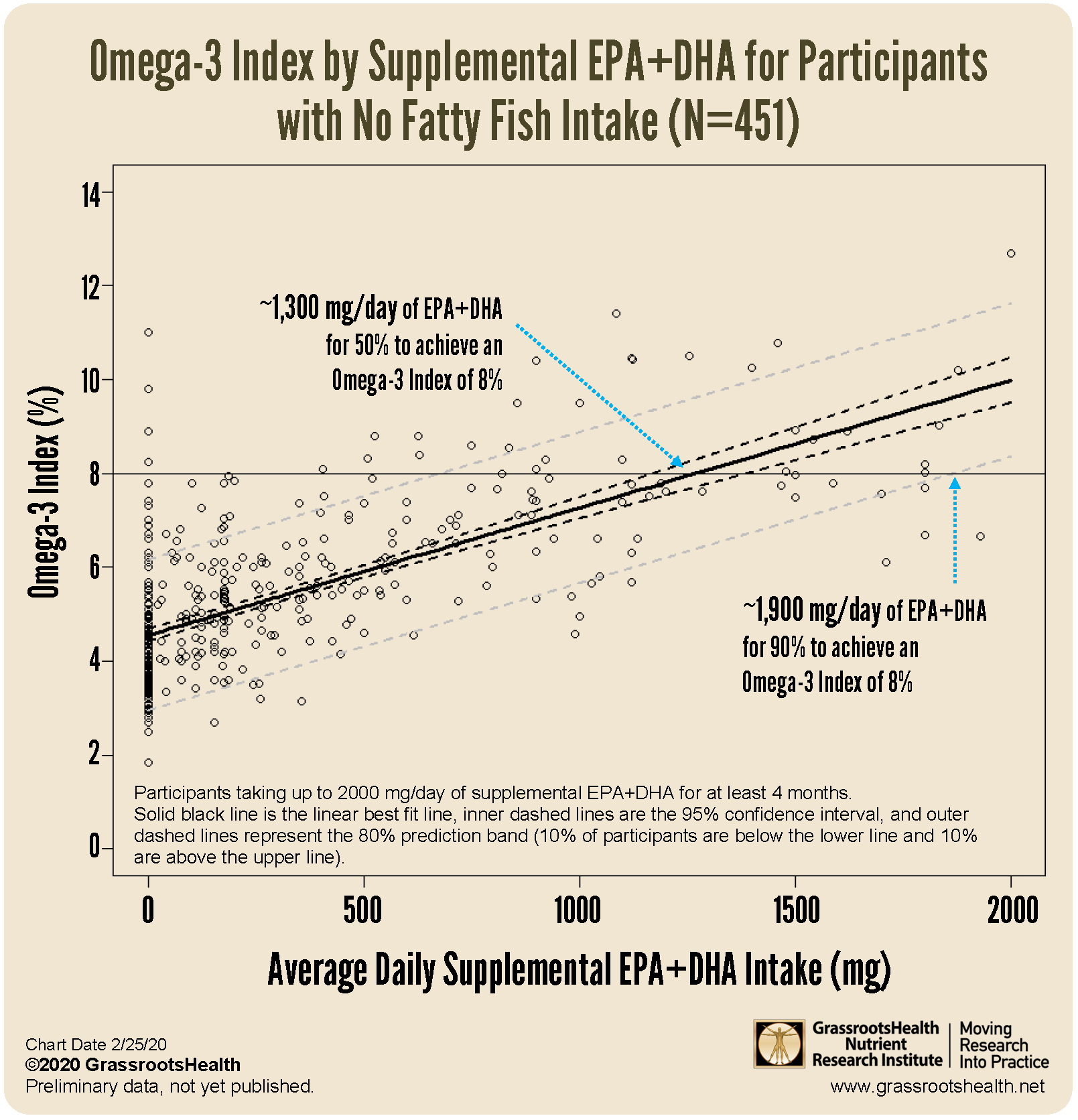 Variability in Response to Omega-3s
It is important to point out that, similar to the large variability seen with vitamin D dose response to intake, these intake amounts are averages and there is a large amount of variability in the omega-3 status for different people with the same intake amount. For example, our initial analysis showed that the range of response with 1000 mg of EPA+DHA per day was 5.7% to 10.2%. Therefore, we recommend that individuals measure their Omega-3 Index and determine a personalized dose.
Once results are received, consider your next steps for adjusting the Omega-3 Index, such as how to choose between the different types of omega-3 sources, how to evaluate and choose an omega-3 supplement, and how to achieve a desired Omega-3 Index using an estimated dose of EPA and DHA as determined by our Omega-3 calculator. Taking simple dietary steps to increase consumption of foods rich in EPA and DHA can also help increase your Omega-3 Index.
Can ALA Provide Enough Omega-3s?
ALA (alpha-linolenic acid) is another omega-3 fatty acid found in chia seeds, flax seeds, walnuts, and other nuts and seeds. The body uses ALA to make EPA and DHA, however, the conversion is not efficient enough to be able to rely on ALA as the only source of omega-3s – making marine based DHA and EPA essential components to a healthy diet or supplement routine.
The infographic below is an excellent road map to determining if you may or may not be getting enough of the right omega-3 fatty acids.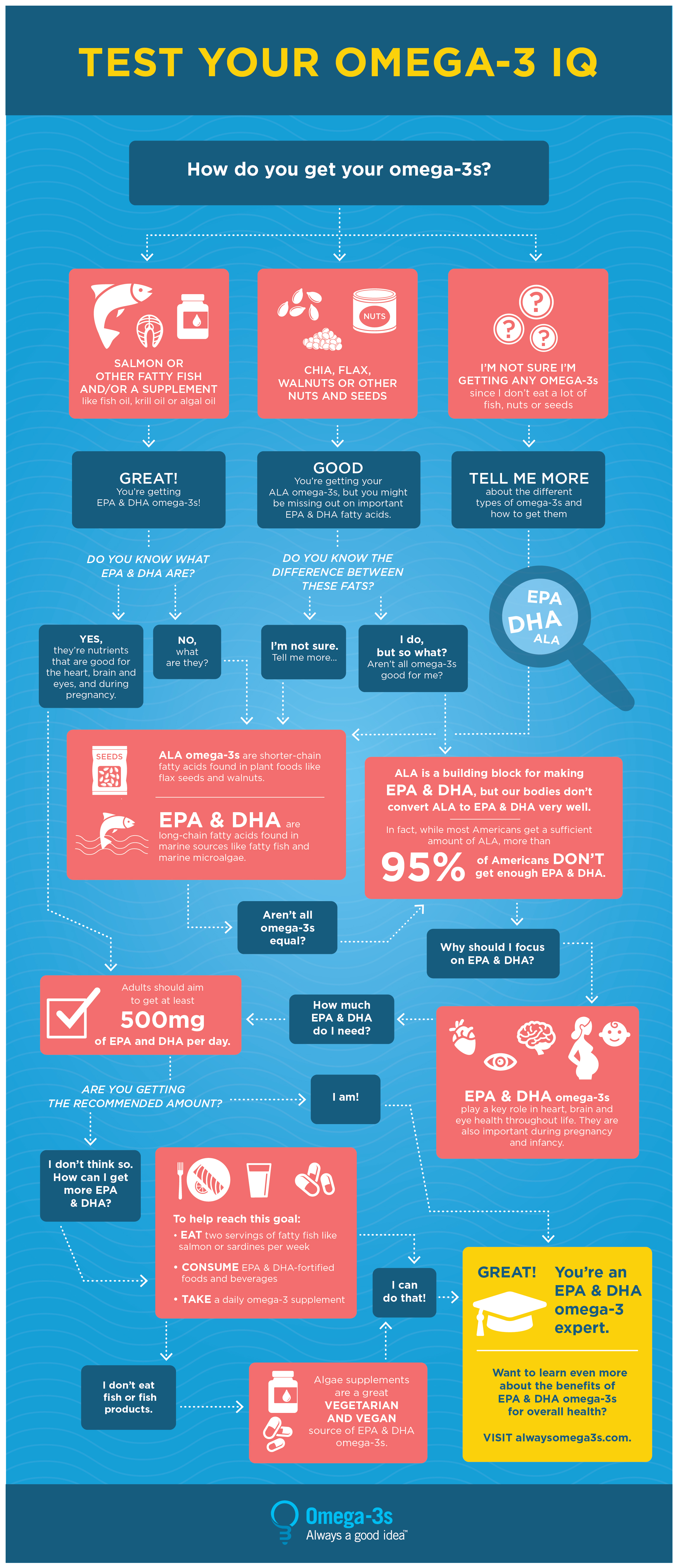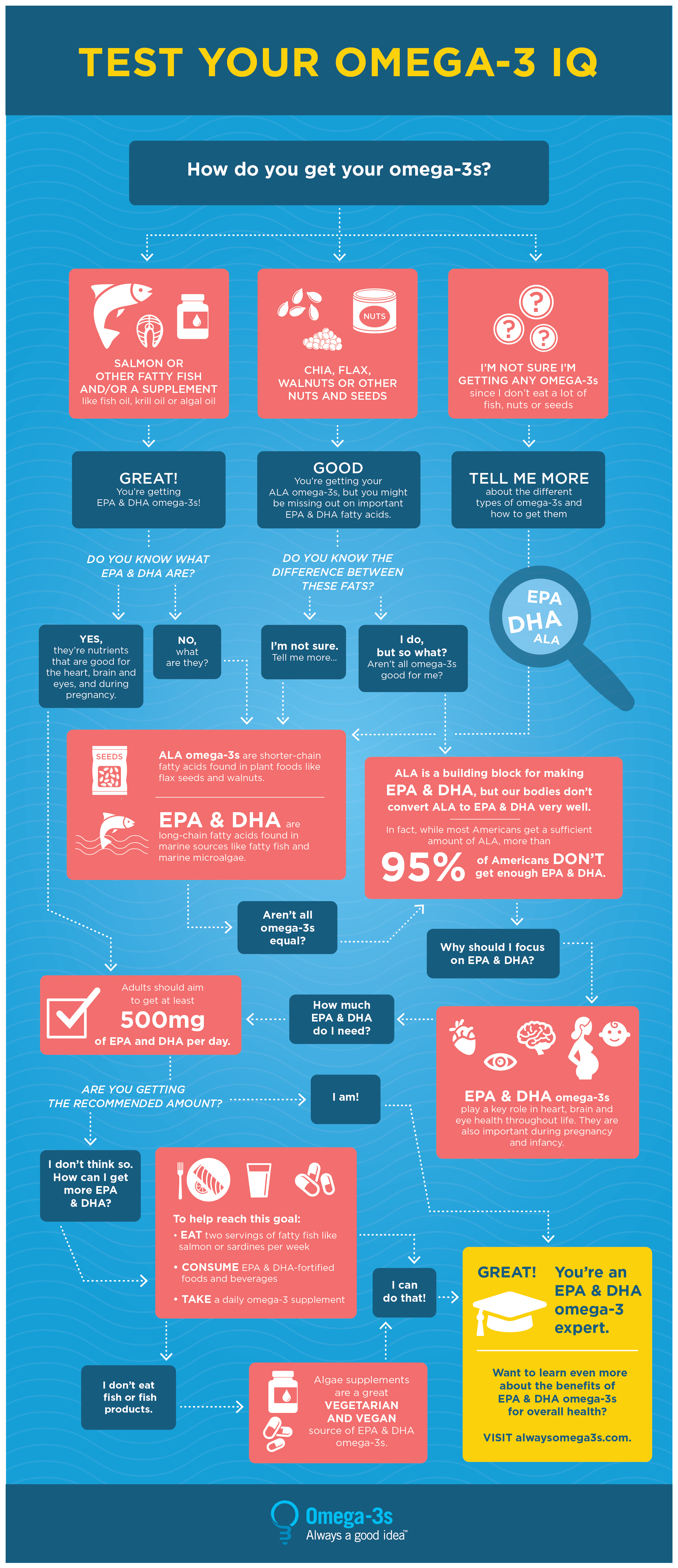 Do You Know Your Omega-3 Index?
Find out where your Omega-3 Index level is while contributing to one of the world's largest nutrient field trials – and help us answer questions about how omega-3s, vitamin D, and other essential nutrients can benefit our health.
By joining the GrassrootsHealth projects, you are not only contributing valuable information to our study, but you are also gaining knowledge about how you could improve your own health through measuring and tracking your nutrient status, and educating yourself on how to improve it. Do you know what your status of vitamin D, omega-3s, and other essential nutrients is? Could your levels be improved? Test now to find out!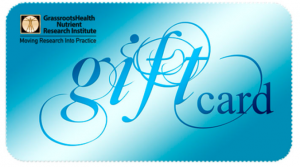 We now have a NEW GIFTING SERVICE that allows you to quickly send 'Gift Cards' to friends, family and coworkers who you consider might need immediate access to testing, and to Claim the Joy of Your Health TODAY. Give the gift today!
What does the Research Say about Vitamin D & COVID-19?
It's TIME to start saving lives! If you can help PREVENT the majority of the death, it's time! What's it costing you/us not to take action NOW?
There is much published research that supports a clear link between vitamin D and COVID-19 showing that higher vitamin D levels are related to: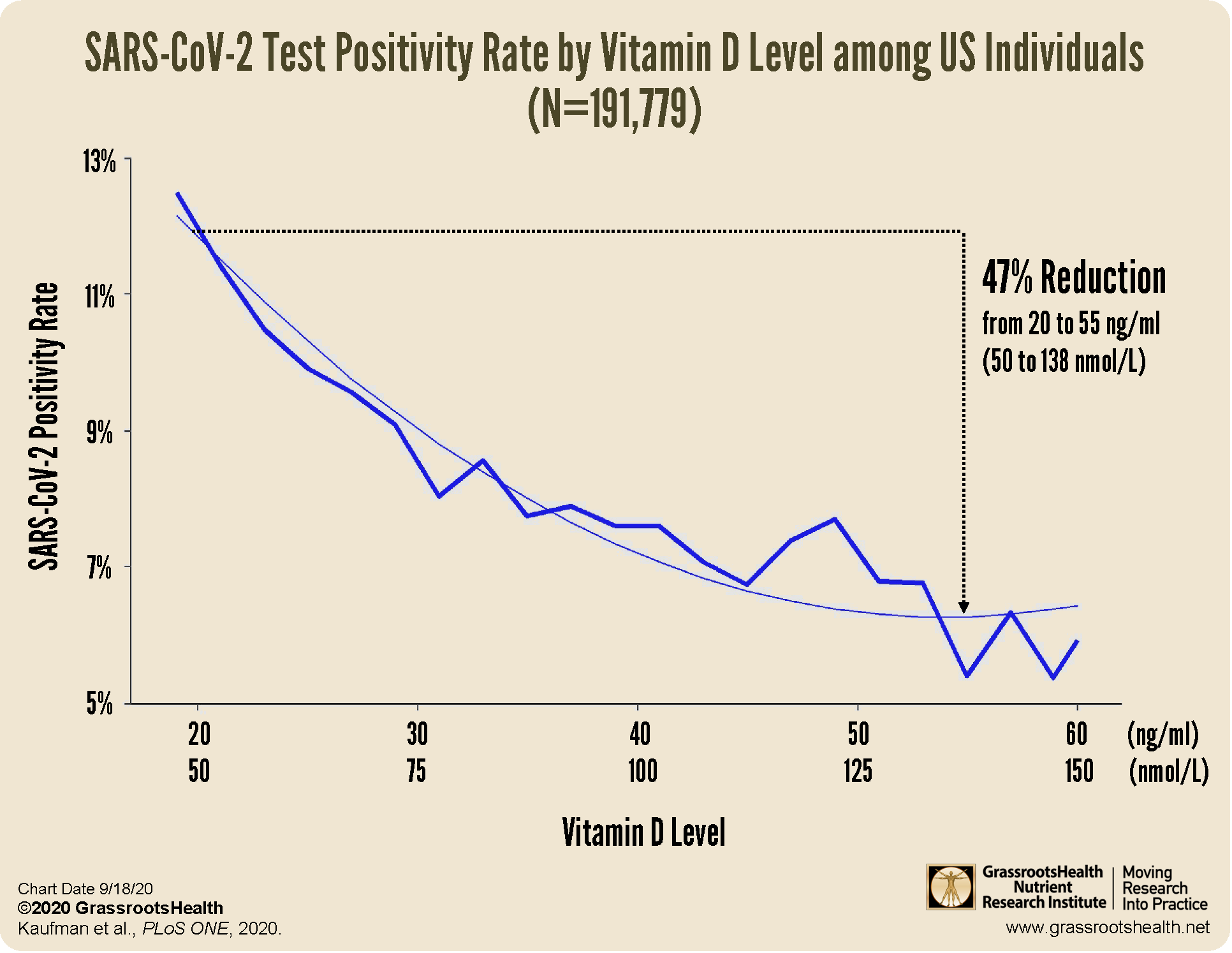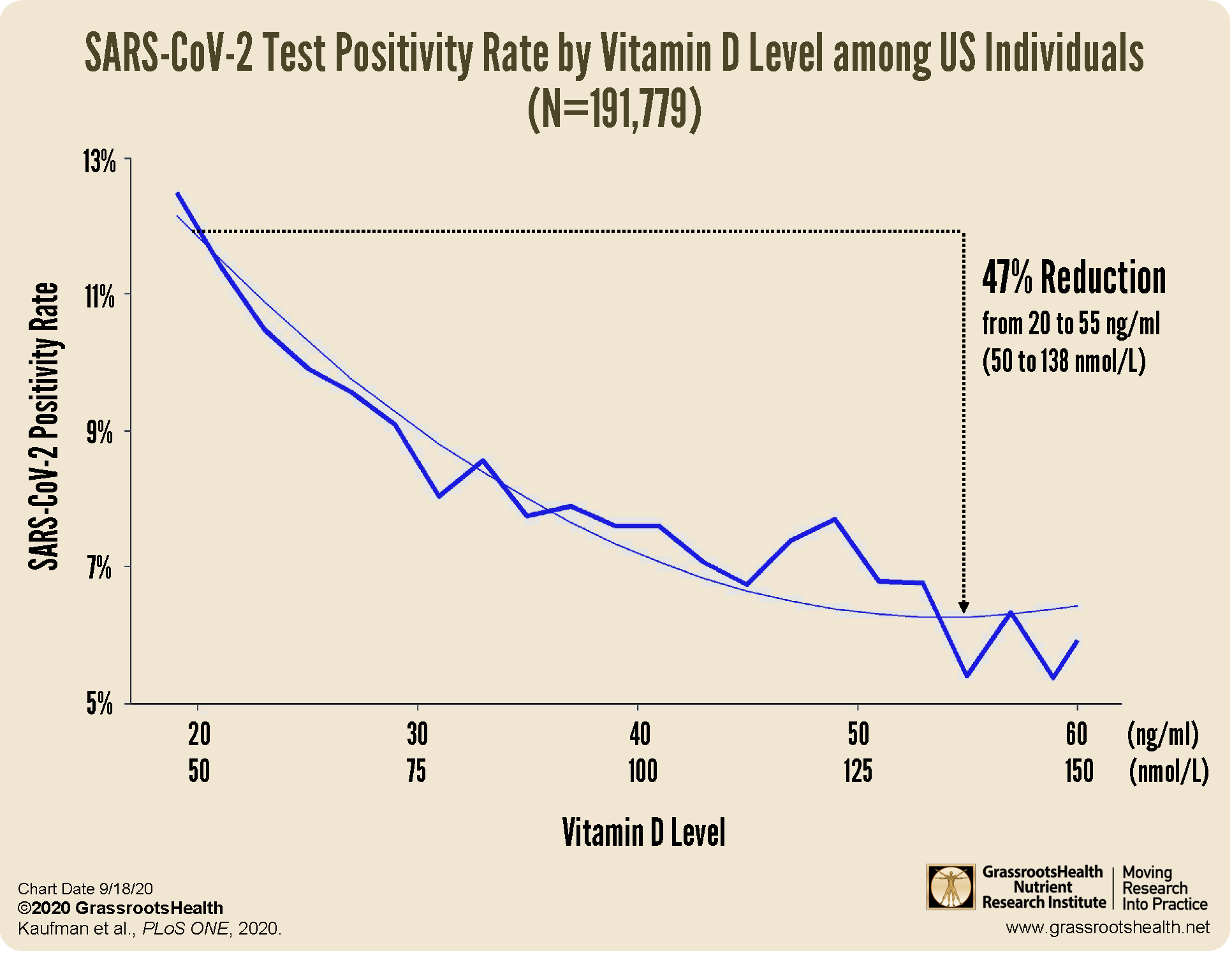 a decreased risk of testing positive for COVID-19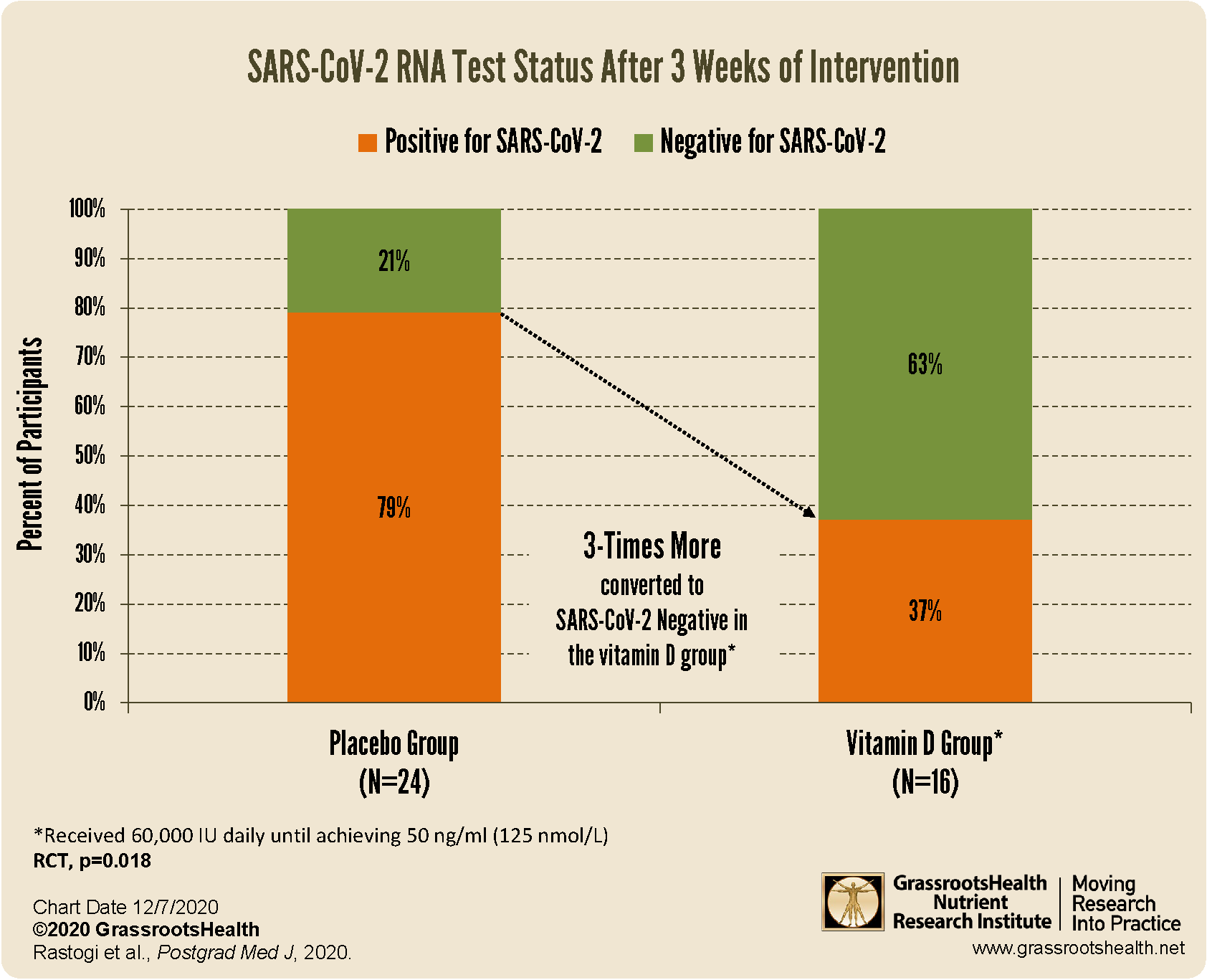 increased viral SARS-CoV-2 RNA clearance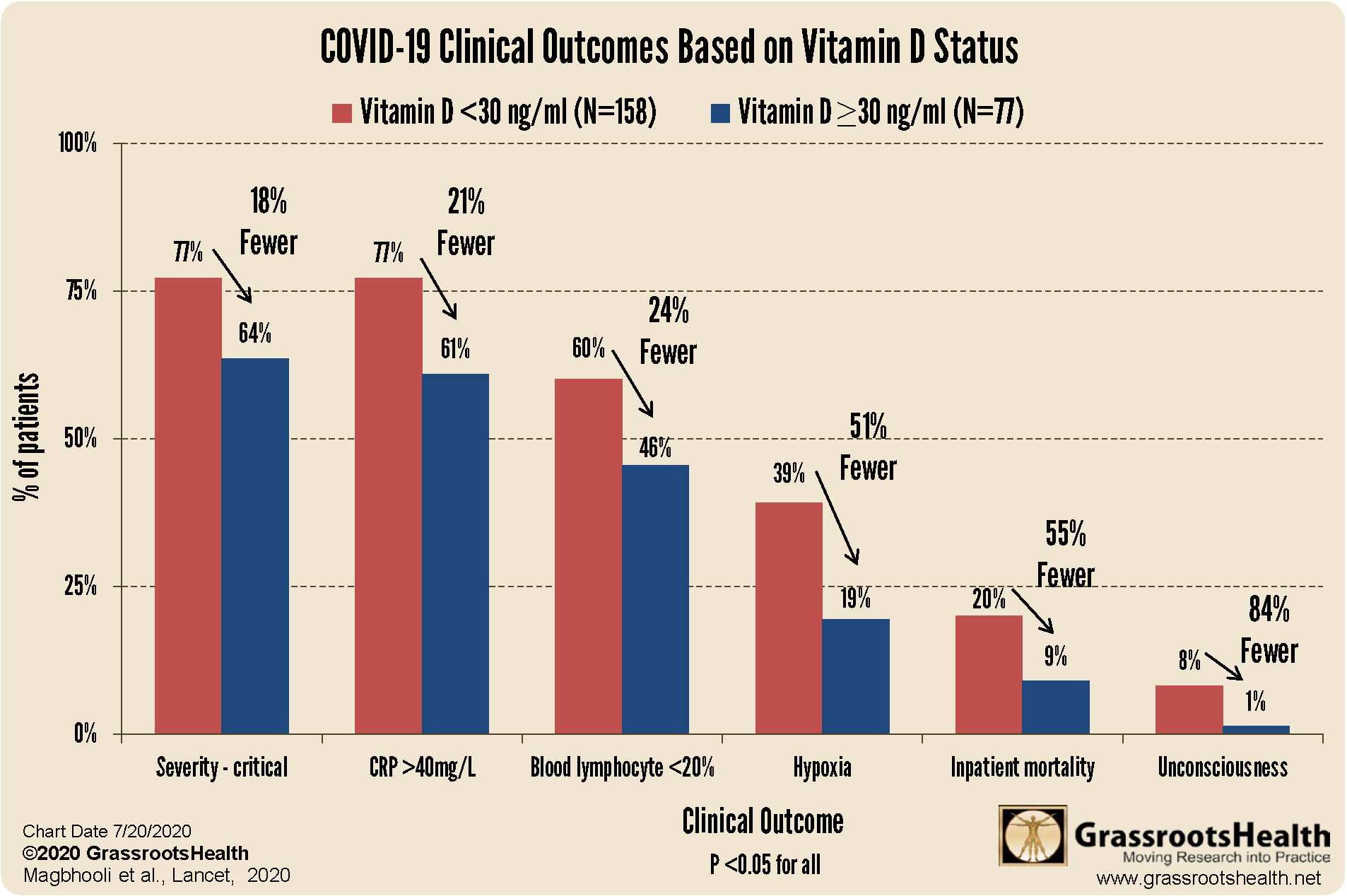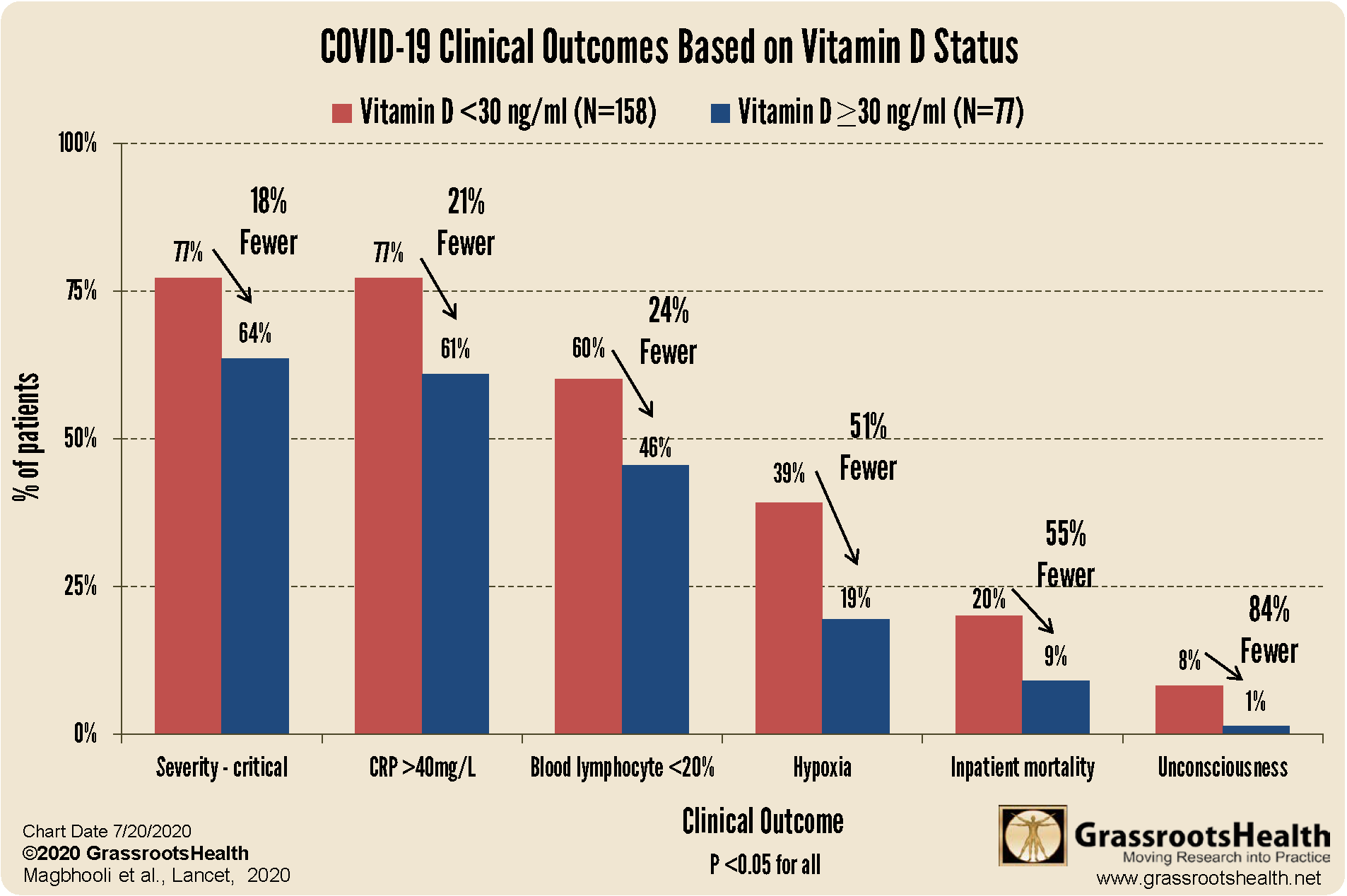 better clinical outcomes among patients with COVID-19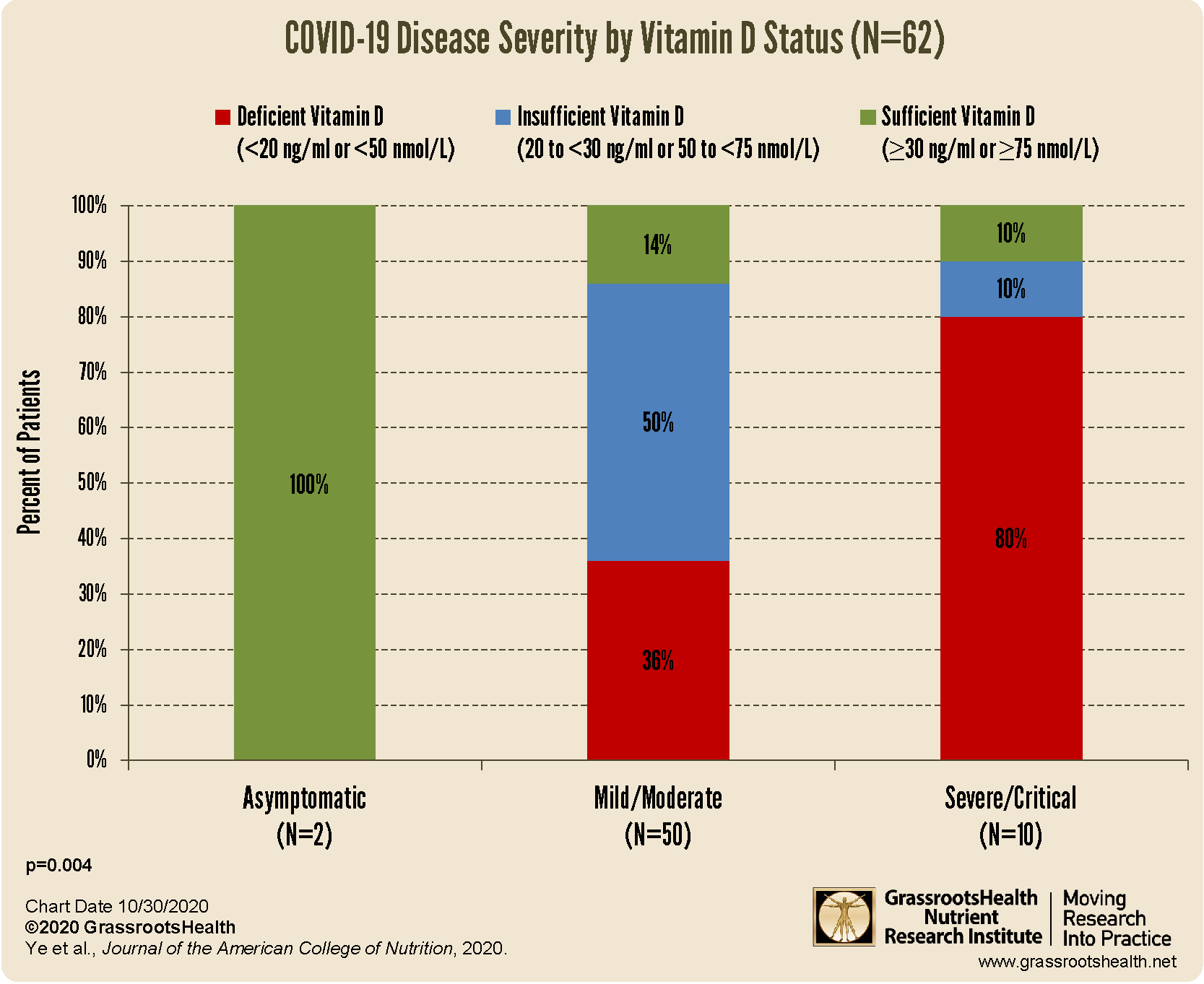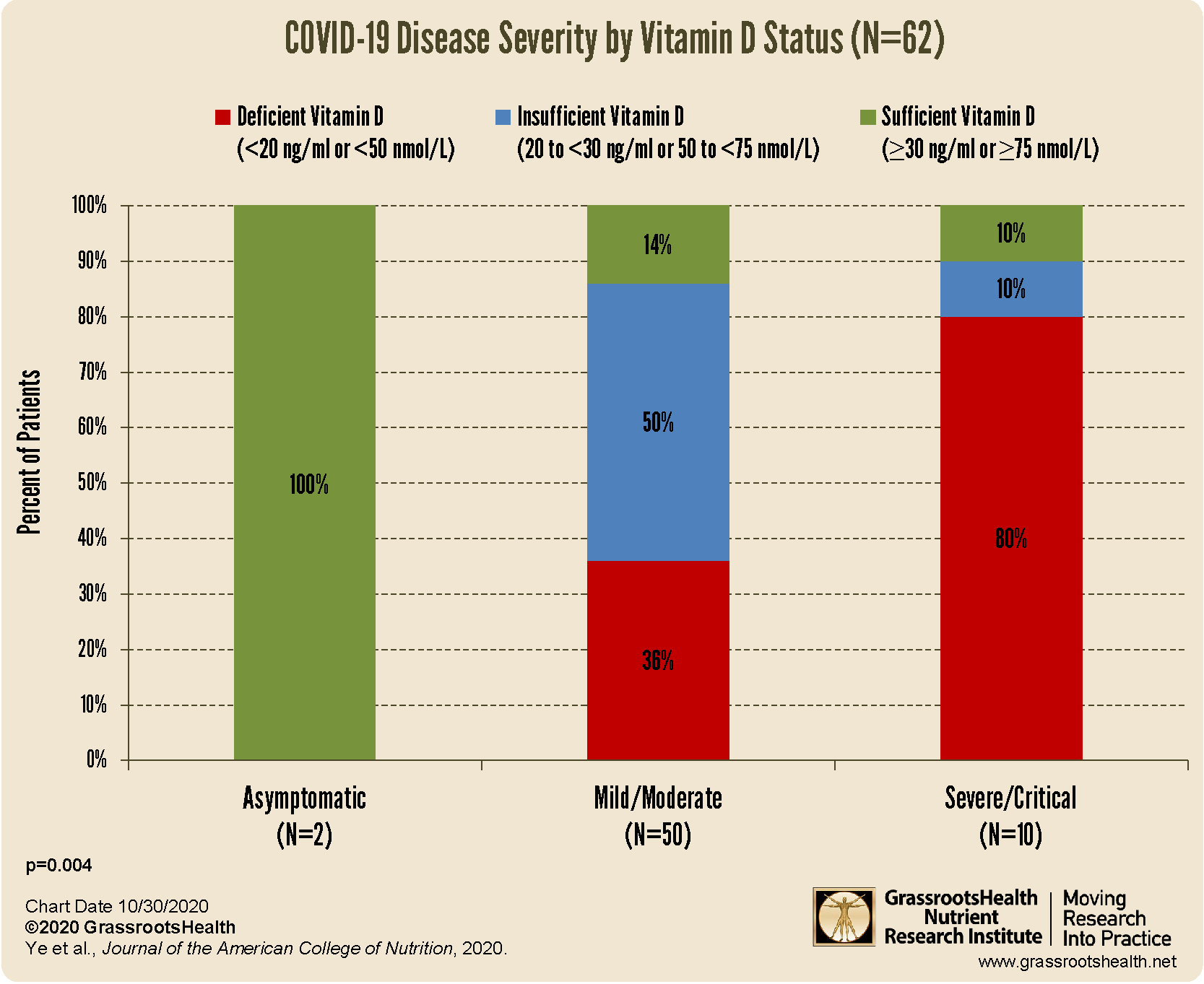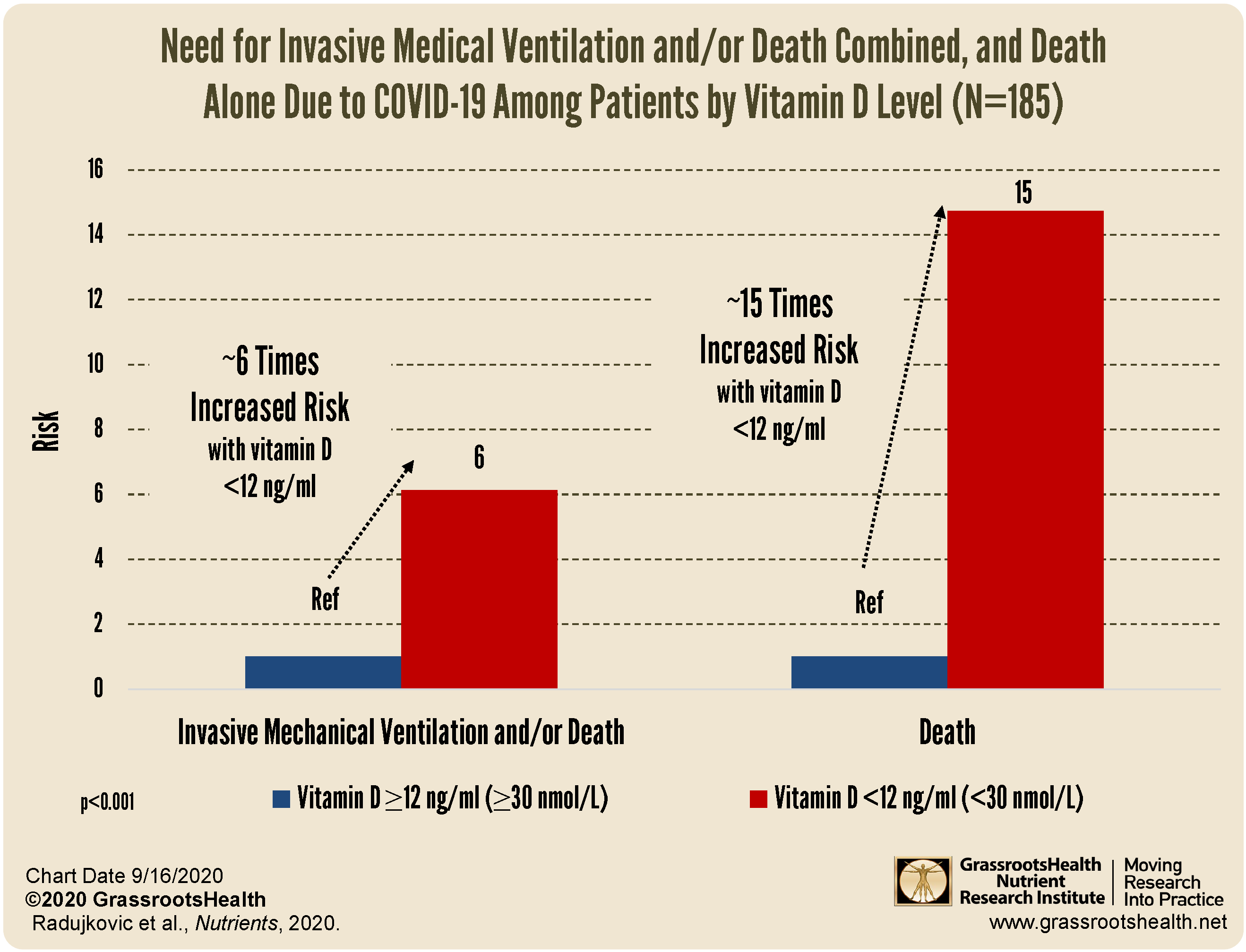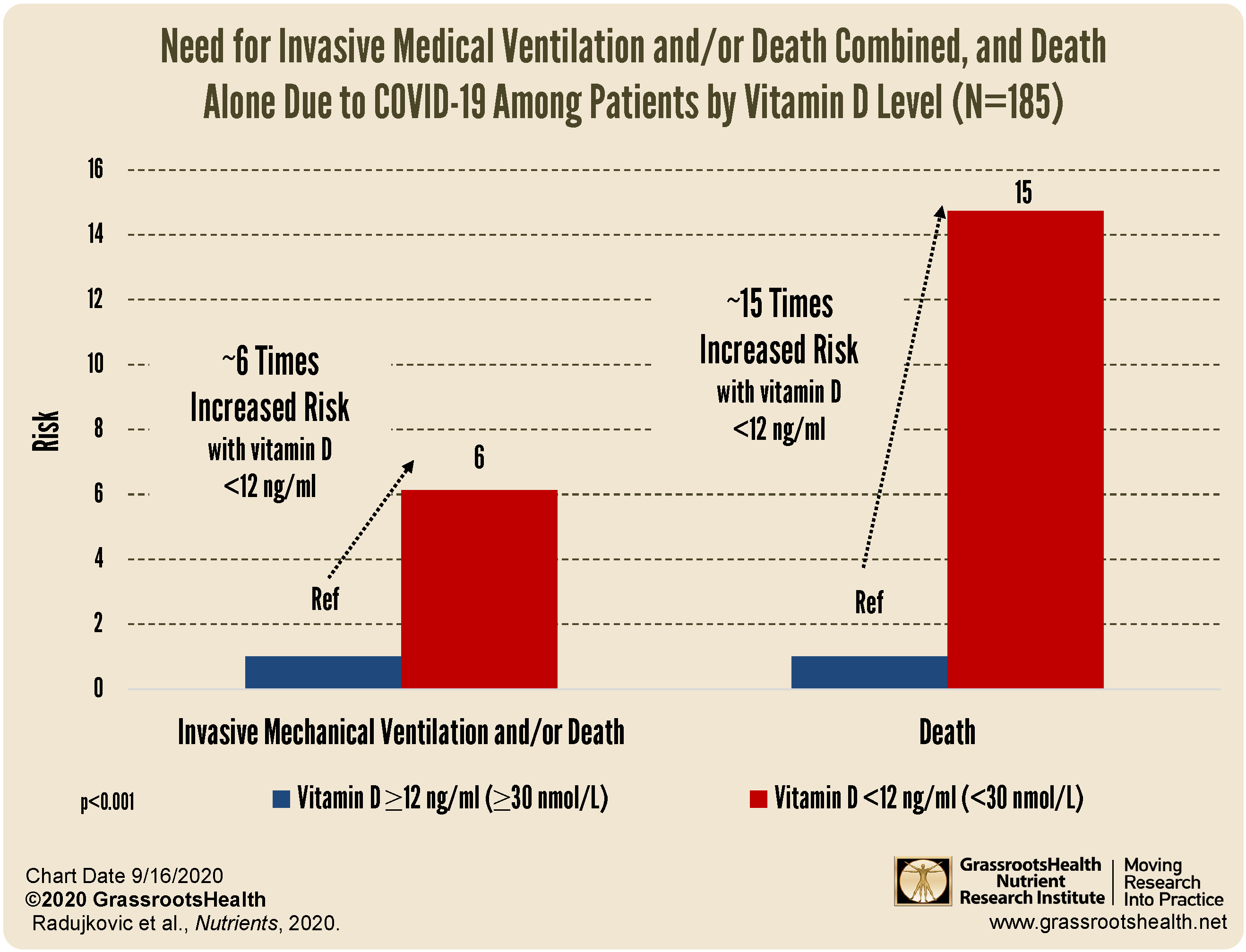 decreased risk of death due to COVID-19
Be sure to educate yourself on the benefits and importance of vitamin D for immune health, and take steps to ensure you and your loved ones are getting enough.
You can review all of the COVID-19 and immune health information we have shared on this page.
How Can You Use this Information for YOUR Health?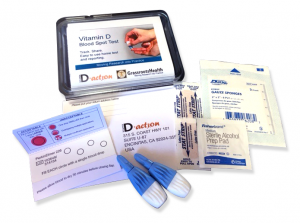 Having and maintaining healthy vitamin D and other nutrient levels can help improve your health now and for your future. Measuring is the only way to make sure you are getting enough!
STEP 1 Order your at-home blood spot test kit to measure vitamin D and other nutrients of concern to you, such as omega-3s, magnesium, essential and toxic elements (zinc, copper, selenium, lead, cadmium, mercury); include hsCRP as a marker of inflammation or HbA1c for blood sugar health
STEP 2 Answer the online questionnaire as part of the GrassrootsHealth study
STEP 3 Using our educational materials and tools (such as our dose calculators), assess your results to determine if you are in your desired target range or if actions should be taken to get there
STEP 4 After 3-6 months of implementing your changes, re-test to see if you have achieved your target level(s)