Published on September 3, 2019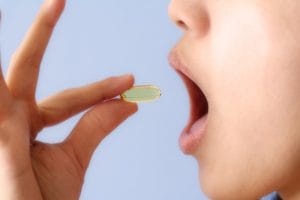 A Call to Action has been issued to alert the public to the importance of omega-3 fatty acids, through education, awareness, and measurement; encouraging individuals to monitor their own health outcomes in relationship to their Omega-3 Index, AA:EPA Ratio, and omega-3 intake. Healthy omega-3 levels have been associated with heart health, brain health, reduced inflammation, and a longer life.
How is omega-3 status measured?
In order to combine and compare data from multiple studies that used different omega-3 measurements to evaluate its status, a study by Stark et al. considered multiple sample types (e.g., plasma, serum, whole blood, red blood cells, etc.) and different fatty acid measurements (e.g., EPA+DHA+DPA) that have been used to determine the overall omega-3 status around the globe. Since the use of different metrics makes combining and comparing data from multiple studies difficult, the authors weighted the benefits of each and concluded, "In order to compare the omega-3 polyunsaturated fatty acid (PUFA) status across the globe, EPA+DHA in erythrocytes [the Omega-3 Index] was selected over other omega-3 PUFA blood biomarkers, as it has been well defined in the literature previously." This identified the Omega-3 Index as their biomarker of choice for defining omega-3 status.
What is your Omega-3 Index level?
The optimal range for the Omega-3 Index is suggested to be 8% or more. Less than 4% is undesirable, and 4-8% is in the intermediate risk zone. The majority of the US and Canadian populations are around 4%, while Japanese are typically above 8% due to the amount of fresh fish in their daily diet.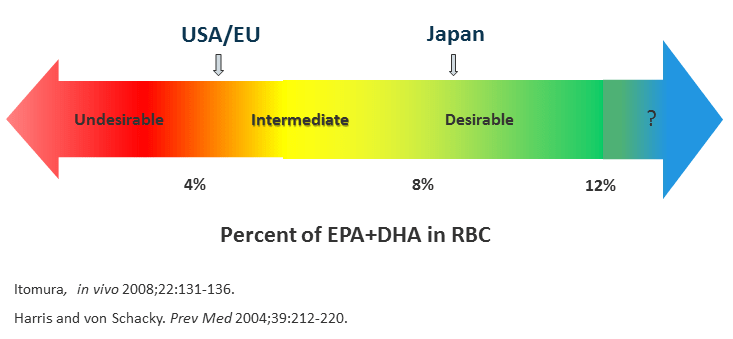 GrassrootsHealth offers participants the opportunity to measure their Omega-3 Index with an at-home blood test. You prick your finger, drop some blood on a specialized card, mail the card in, and complete an online questionnaire. Within 1-2 weeks from turning your sample in, you can know the relative amount of EPA and DHA in your blood, and therefore, your omega-3 status. And while the Omega-3 Index is often considered the most important measure for omega-3 status, it is also useful to know your status of other omega fatty acids with the AA:EPA ratio and the Omega-6:Omega-3 ratio, which you can choose to add to your Omega-3 Index blood spot test when purchasing.
How can you improve your Omega-3 Index?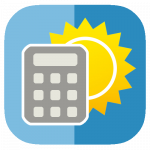 Once you have measured your Omega-3 Index, if it is not where you want it to be you can use a calculator to determine how much more EPA and DHA you may need on a daily basis to raise your current Omega-3 Index to your target index. This calculator was created based on results from a 5-month randomized, placebo-controlled fish oil supplementation study in 115 healthy individuals (Flock et al. JAHA 2013).
Next, choose how you would like to increase your omega-3 intake, whether through diet, supplements, or both. If you are trying to improve your health by consuming more seafood, be sure to pay attention to the amount of EPA and DHA in the type of seafood you are eating, as shown in the chart found here. While studies have shown that it is possible to achieve a higher Omega-3 Index through diet alone, it may be difficult to reach the recommended level of 8% or higher without supplementation.
How do you know if your changes are helping?
Make a change, then test again! Experts agree it takes at least 3-4 months for the change in blood levels to normalize after a change in intake/routine. Depending on how drastic a change you are trying to achieve, re-testing in 3-6 months is suggested. It may take a few test cycles to get your Omega-3 (and D) regimen where you want it, and measurement is key.
Find out your levels today! Log on to the shop (click the link below) to get your tests and see for yourself if your levels can be improved.
Make sure you track your results before and after, about every 6 months!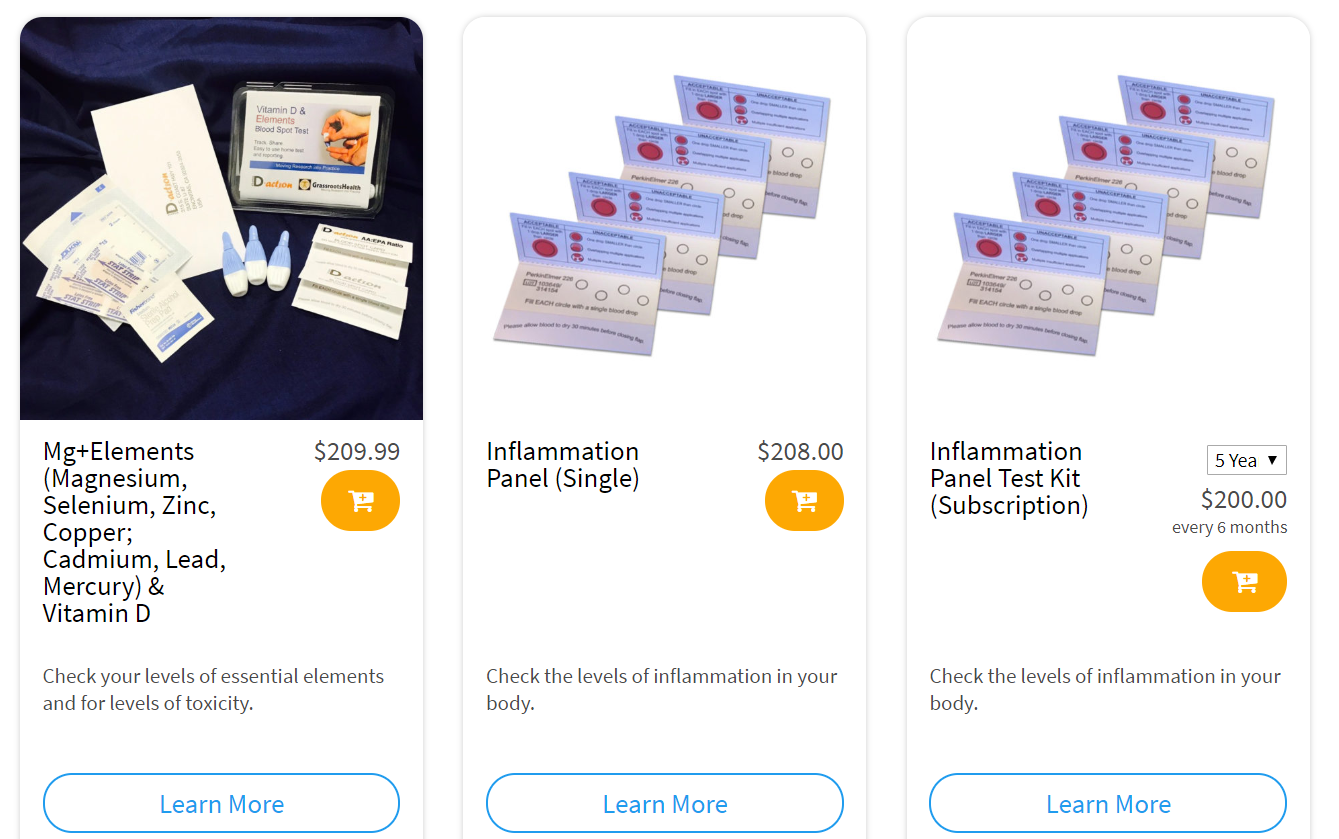 Click Here to Access the Shop Page
How can I track my nutrient intake and resulting levels?
To help you track your supplement use and nutrient levels, GrassrootsHealth has created an online tracking system called myData-myAnswers. For each specific supplement, you can track what days you take it, how much, and many other details. This will help you know your true supplemental intake and what patterns of use work for you to reach and maintain optimum nutrient levels. Check it out today!
How Can You Use this Information for YOUR Health?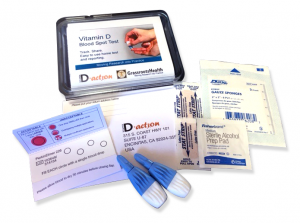 Having and maintaining healthy vitamin D and other nutrient levels can help improve your health now and for your future. Measuring is the only way to make sure you are getting enough!
STEP 1 Order your at-home blood spot test kit to measure vitamin D and other nutrients of concern to you, such as omega-3s, magnesium, essential and toxic elements (zinc, copper, selenium, lead, cadmium, mercury); include hsCRP as a marker of inflammation or HbA1c for blood sugar health
STEP 2 Answer the online questionnaire as part of the GrassrootsHealth study
STEP 3 Using our educational materials and tools (such as our dose calculators), assess your results to determine if you are in your desired target range or if actions should be taken to get there
STEP 4 After 3-6 months of implementing your changes, re-test to see if you have achieved your target level(s)