Published on April 14, 2021


The Australian Government has officially added omega-3 fatty acid supplementation to their list of recommendations for pregnant women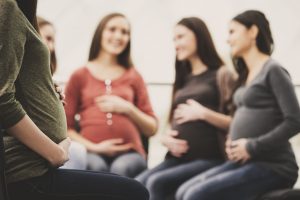 Omega-3 fatty acids are essential to a healthy pregnancy and baby, and are known to be important for many aspects of health. This includes being extremely important for vision and normal brain growth and development during pregnancy and infancy. Many studies have shown a relationship between omega-3 intake or status during pregnancy and outcomes such as infant immunity, time of gestation or preterm birth, birth weight, and even the incidence of postpartum depression.
Now, the Australian Government, Department of Health has officially made the recommendation for daily supplementation with omega-3 long-chain polyunsaturated fatty acids (800 mg docosahexaenoic acid [DHA] and 100 mg eicosapentaenoic acid [EPA]) during pregnancy, with the emphasis that they may reduce the risk of preterm birth among women who are low in omega-3s. This recommendation is included in the list of other lifestyle factors that contribute to the health and wellbeing of a woman and her baby during pregnancy. Other recommendations include eating a healthy diet, getting regular physical activity, not smoking, and avoiding alcohol, as well ensuring adequate folic acid, iron, calcium, and iodine intake, such as by taking a prenatal multivitamin.
Preterm Birth Risk Reduced with Omega-3s
A meta-analysis by Kar et al. looked at the relationship between omega-3 fatty acid supplementation and the risk of preterm birth by combining data from 9 randomized controlled trials, from a total of 5980 women. Specific outcomes measured were the effect of omega-3 fatty acid supplementation on the risk of preterm (<37 weeks gestation) and early preterm (<34 weeks gestation) birth. All women included in the studies had singleton pregnancies and were not on any other treatment for the prevention of preterm delivery. Omega-3 fatty acid intake was identified to include either EPA, DHA or both, with doses ranging from 133 mg per day to 3000 mg per day. Only 1 of the 9 studies gave less than 400 mg per day, and 7 of the 9 studies began supplementation before the end of the second trimester (24 weeks of gestation).
Six of the studies included early preterm birth as an outcome, and found that omega-3 intake was associated with a 58% reduced risk of early preterm delivery (p=0.0002). Overall, a 17% decreased risk of any preterm birth was seen among women who supplemented with omega-3s (p=0.03).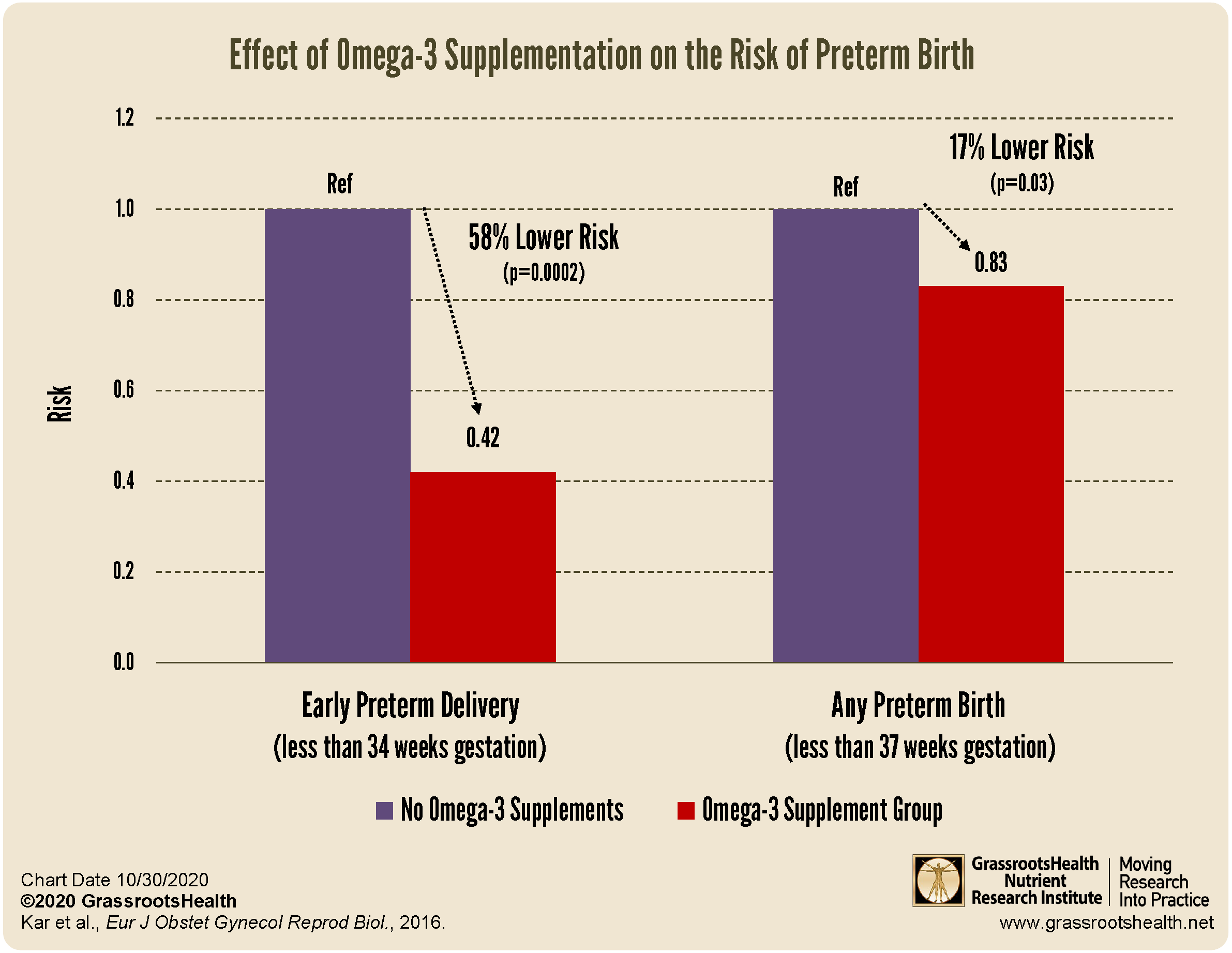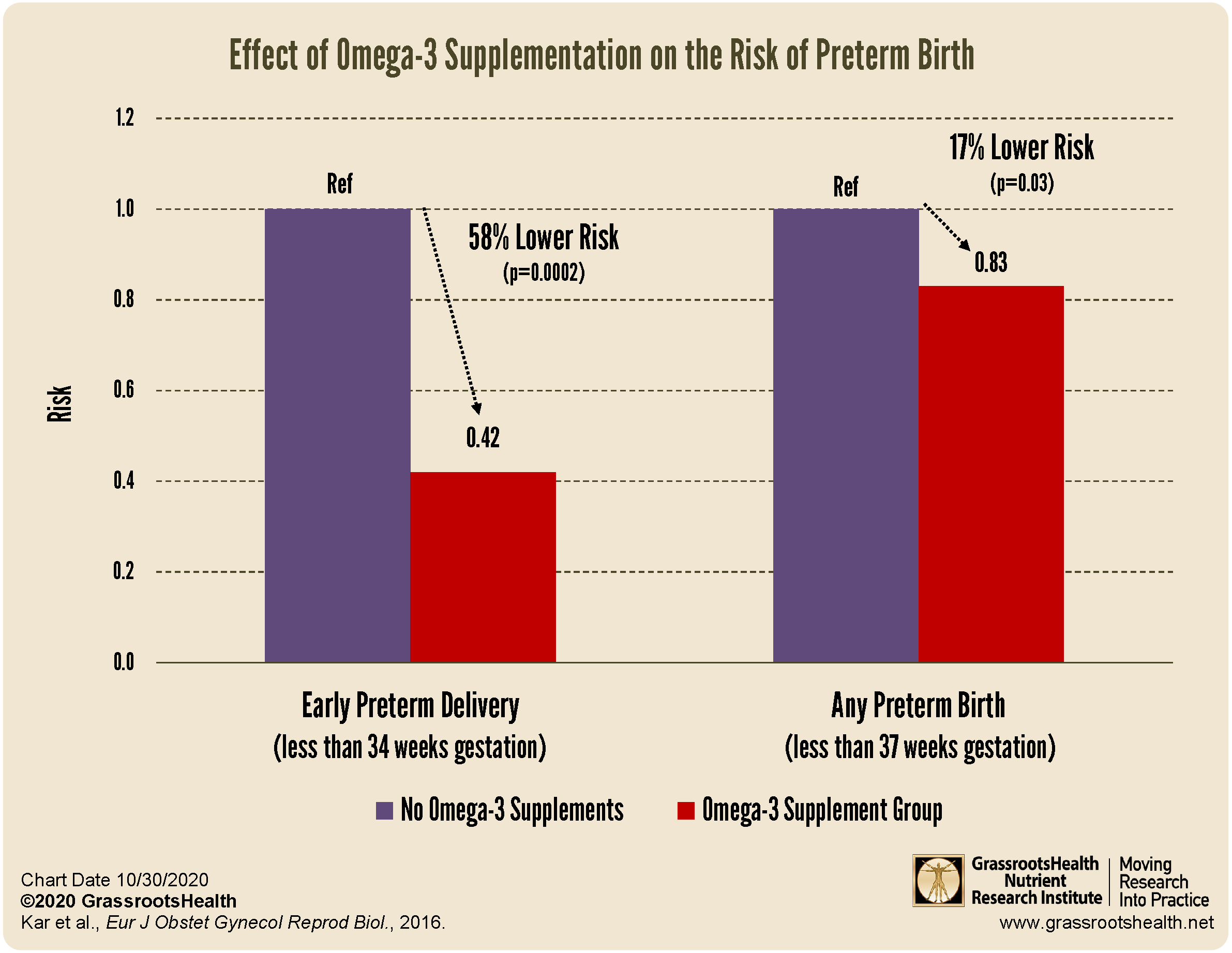 The review also found that, among the women who supplemented with omega-3s, there was a significant increase in the mean gestational age by nearly two weeks (p=0.01) and a significant increase in the mean birth weight by 122 g (p=0.001).
A Low Omega-3 Index Is a Risk Factor for Postpartum Depression
In a study by Markhus et al., researchers measured Omega-3 Index levels (the same measurement provided in D*action+Omega-3, which measures the amount of EPA and DHA in red blood cell membranes) and found a direct correlation between Omega-3 Index levels and postpartum depression. The study was done in Norway, examining women from a single community, whose Omega-3 Index levels were measured at 28 weeks gestation. The women were assessed for postpartum depression three months after delivery using the Edinburgh Postnatal Depression Scale (EPDS) with scores ranging from 0-30. A value of greater than or equal to ten usually equates to having postpartum depression.
Overall, only 6.9% of the women in the study had EPDS values of 10 or higher – but as can be seen in the chart below, the higher the Omega-3 Index, the lower the EPDS score. This paper describes a 'bend' in the curve at an Omega-3 Index around 5%, in others words, that is the point you want to be above to reduce the risk of postpartum depression. An Omega-3 Index of almost 8% was associated with an even greater risk reduction, and has also been associated with the greatest improvement in cardiovascular health, cognitive health, and healthy aging.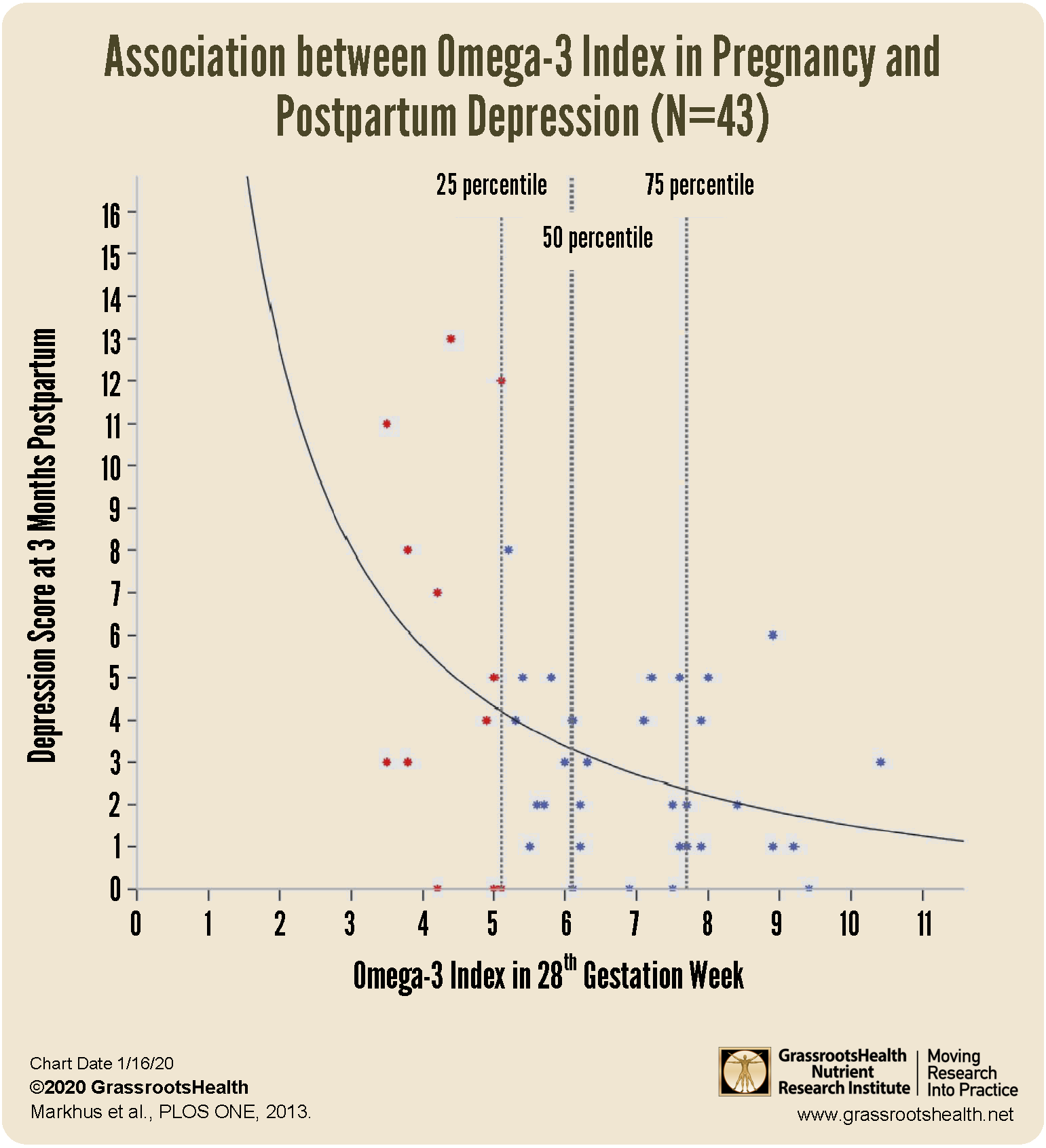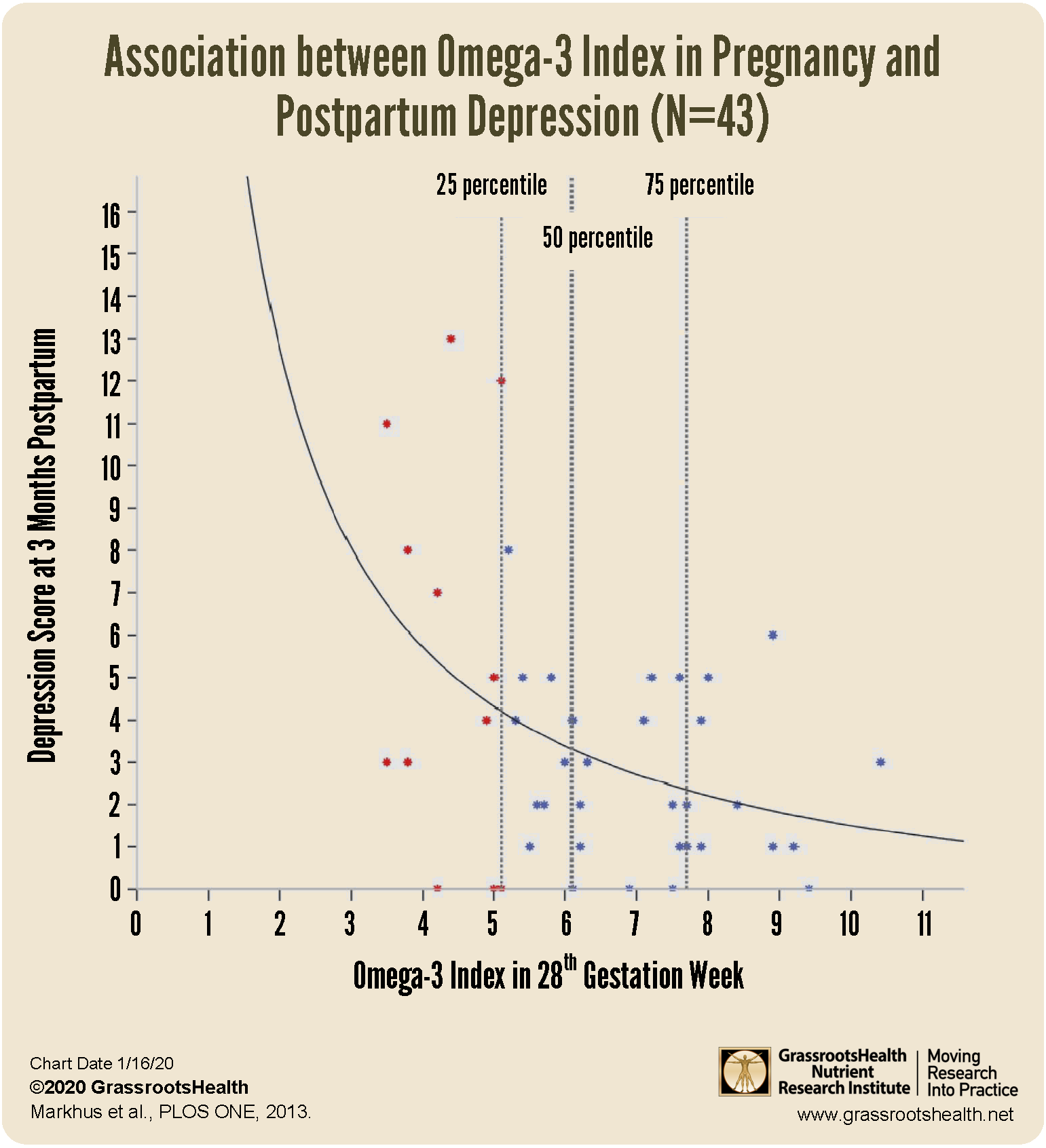 Omega-3 Supplementation in Pregnancy May Boost Babies Immunity
Granot et al. investigated whether DHA supplementation during pregnancy and lactation affected immune cell numbers and function in babies breastfed up to 4 months of age. The study found that the number of T cell subsets (discussed in a previous post) were affected by DHA supplements. Women who were supplemented with 400 mg DHA per day from the first trimester until up to 4 months after birth had babies who experienced lower levels of inflammation and higher numbers of immune cells known for fighting off viral infections. Overall, this research suggests that DHA supplementation specifically during pregnancy and breast feeding may result in an improved immune response of the infant.
How Much Omega-3s Do You Need?
An analysis of GrassrootsHealth data found that approximately 1,300 mg/day of EPA+DHA was needed for 50% of the population and 1,900 mg/day was needed for 90% of the population to achieve and Omega-3 Index of 8%. It is important to point out that, similar to the large variability seen with vitamin D dose response to intake, these intake amounts are averages and there is a large amount of variability in the omega-3 status for different people with the same intake amount. For example, our initial analysis showed that the range of response with 1000 mg of EPA+DHA per day was 5.7% to 10.2%. Therefore, we recommend that individuals measure their Omega-3 Index and determine a personalized dose.
Once results are received, consider your next steps for adjusting the Omega-3 Index, such as how to choose between the different types of omega-3 sources, how to evaluate and choose an omega-3 supplement, and how to achieve a desired Omega-3 Index using an estimated dose of EPA and DHA as determined by our Omega-3 calculator. Taking simple dietary steps to increase consumption of foods rich in EPA and DHA can also help increase your Omega-3 Index.
Vitamin D is also Essential for a Healthy Mom and Baby
Several studies have shown that achieving a vitamin D level of 40 ng/ml (100 nmol/L) during pregnancy is related to decreased risk of preterm birth and other complications in pregnancy and early childhood. In 2015, GrassrootsHealth partnered with the Medical University of South Carolina (MUSC) to initiate a new standard of care to screen all pregnant women at their hospitals for vitamin D levels and provide them with supplements to help get their levels up to at least 40 ng/ml. Overall, women who got their vitamin D level to at least 40 ng/ml (100 nmol/L) by the time of delivery had a 62% lower risk of preterm birth compared to women with levels under 20 ng/ml (50 nmol/L).
Healthy Omega-3 and Vitamin D Levels are Necessary for All Stages of Life – What are Yours?
By joining the GrassrootsHealth projects, you are not only contributing valuable information to our study, but you are also gaining knowledge about how you could improve your own health through measuring and tracking your nutrient status, and educating yourself on how to improve it. Do you know what your status of vitamin D, omega-3s, and other essential nutrients is? Could your levels be improved? Test now to find out!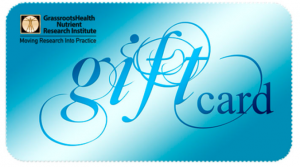 We now have a NEW GIFTING SERVICE that allows you to quickly send 'Gift Cards' to friends, family and coworkers who you consider might need immediate access to testing, and to Claim the Joy of Your Health TODAY. Give the gift today!
What does the Research Say about Vitamin D & COVID-19?
It's TIME to start saving lives! If you can help PREVENT the majority of the death, it's time! What's it costing you/us not to take action NOW?
There is much published research that supports a clear link between vitamin D and COVID-19 showing that higher vitamin D levels are related to: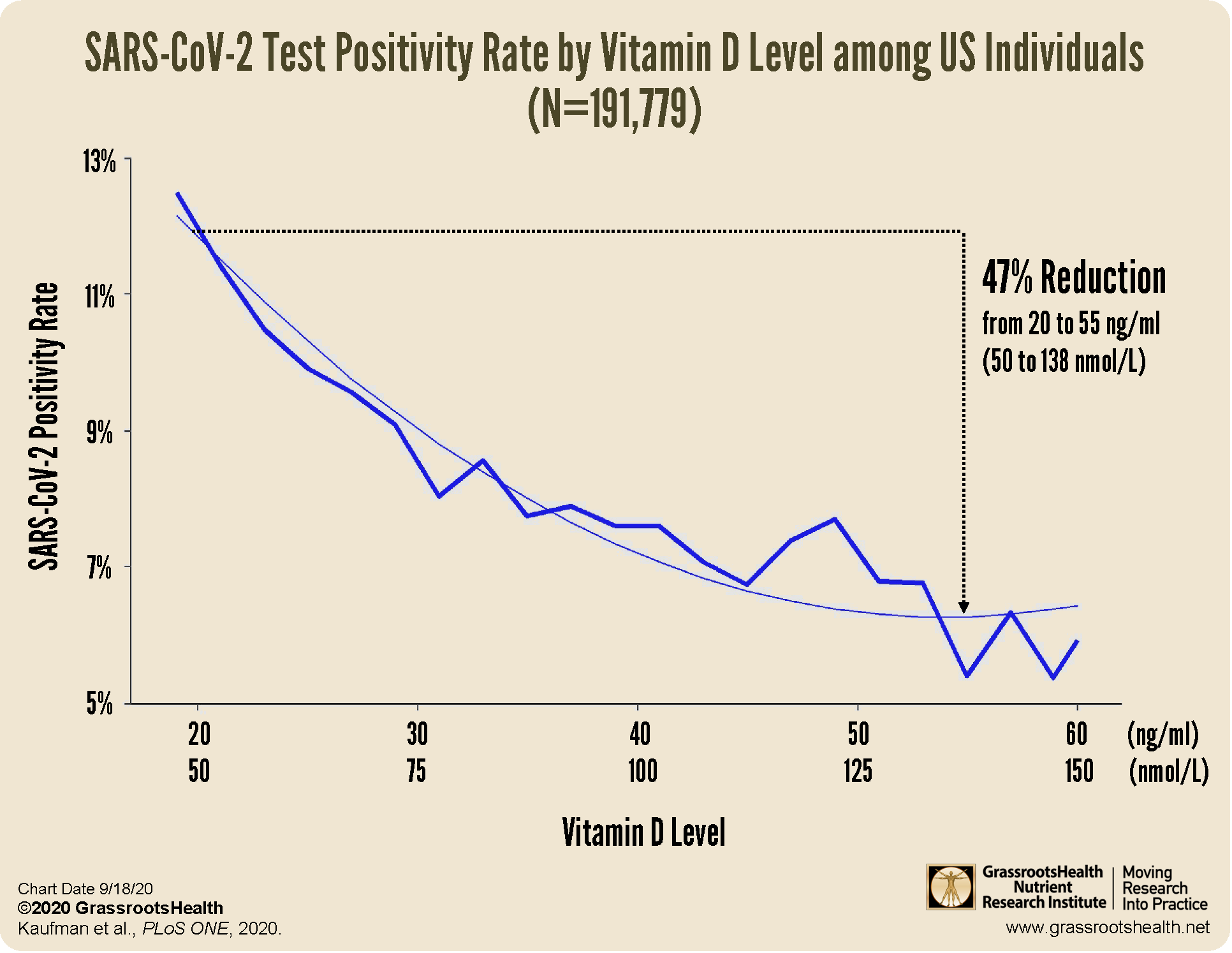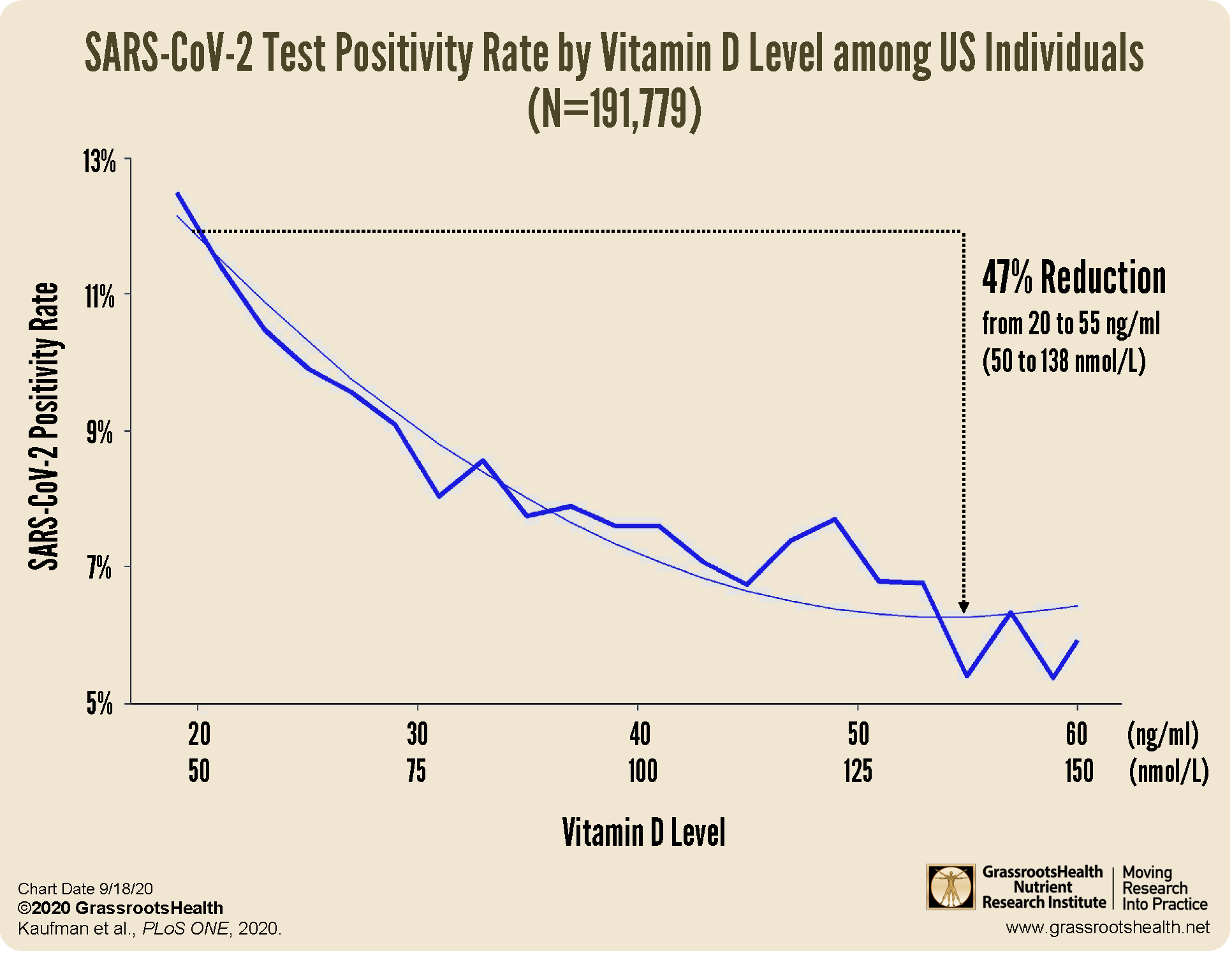 a decreased risk of testing positive for COVID-19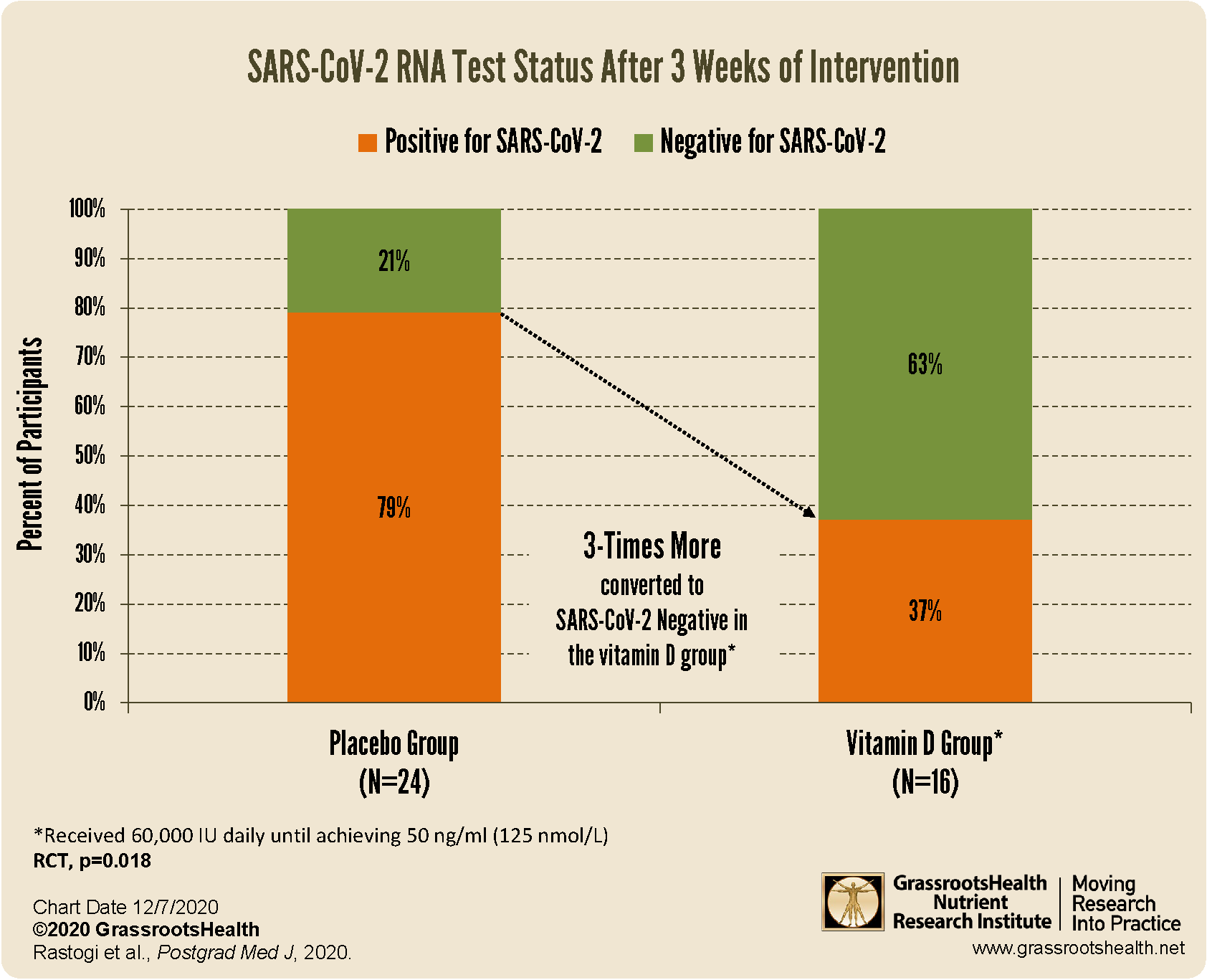 increased viral SARS-CoV-2 RNA clearance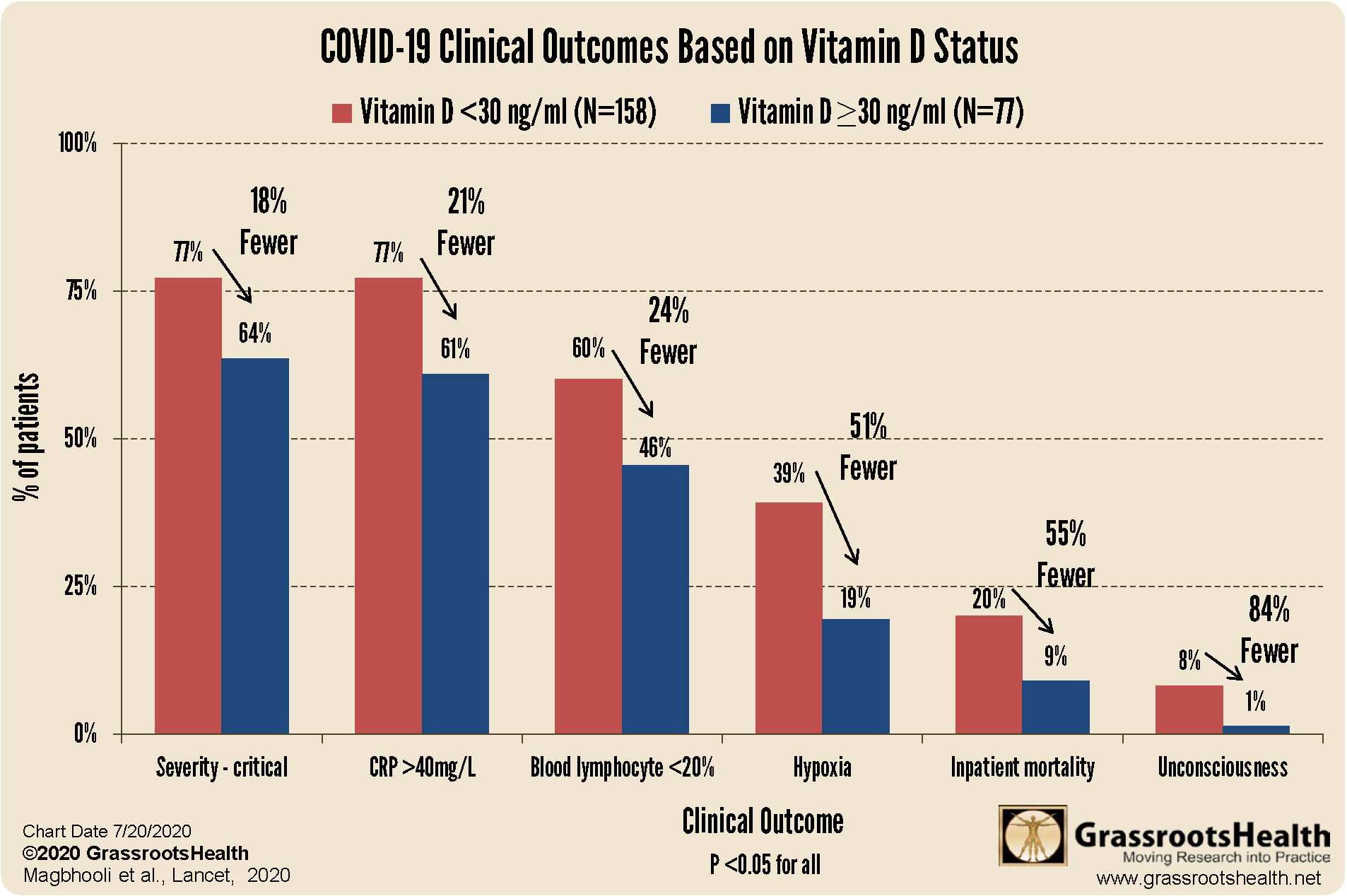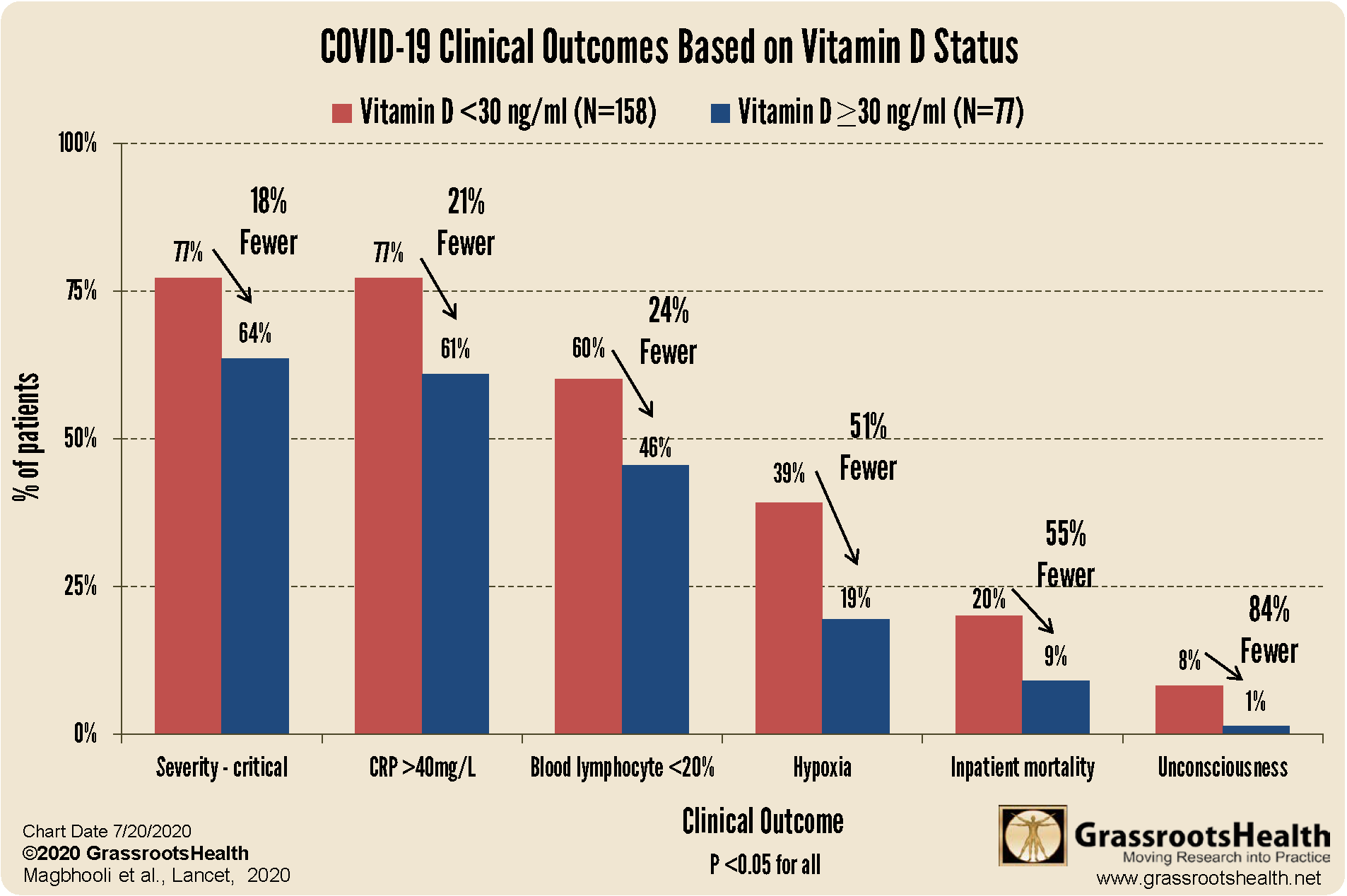 better clinical outcomes among patients with COVID-19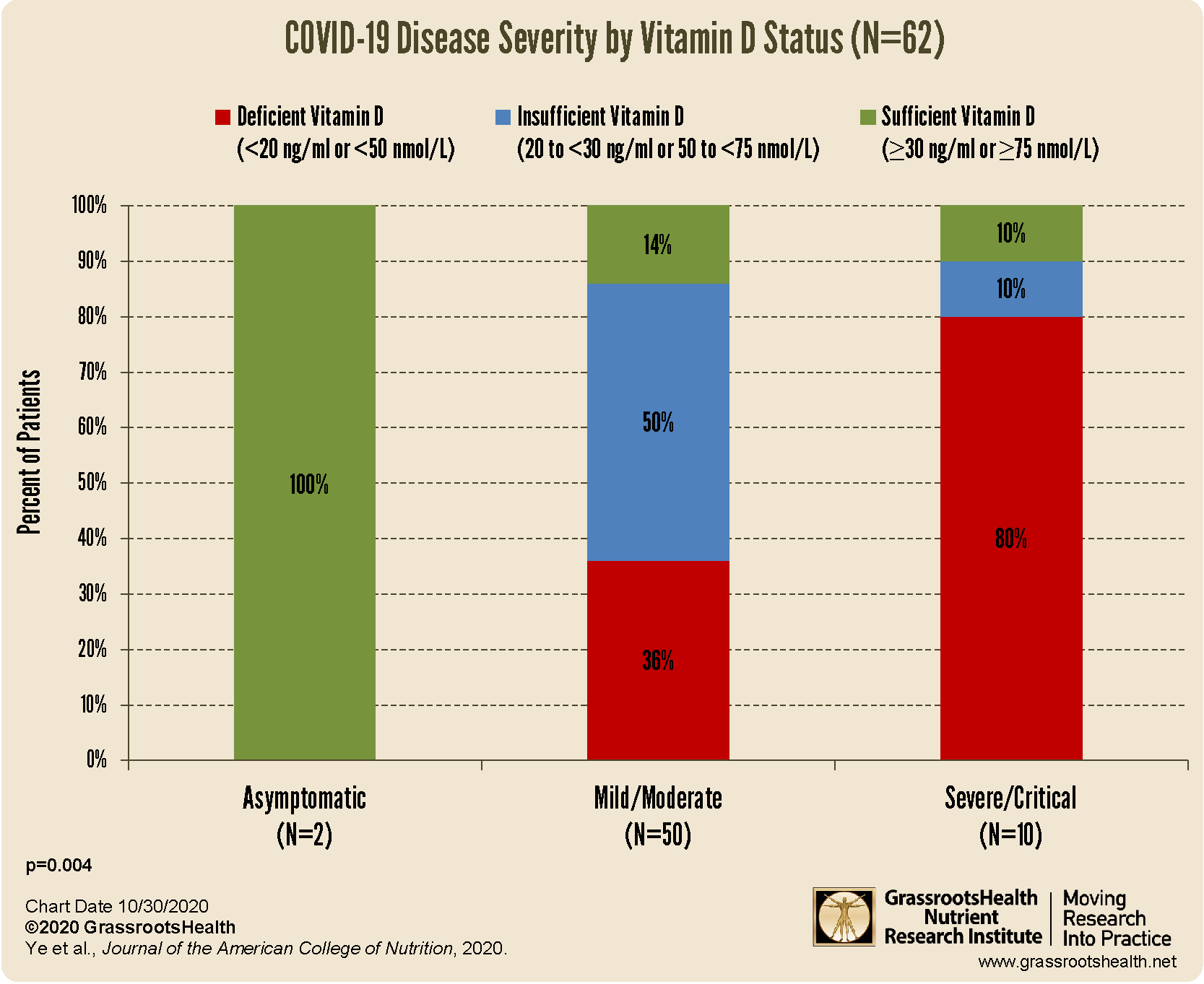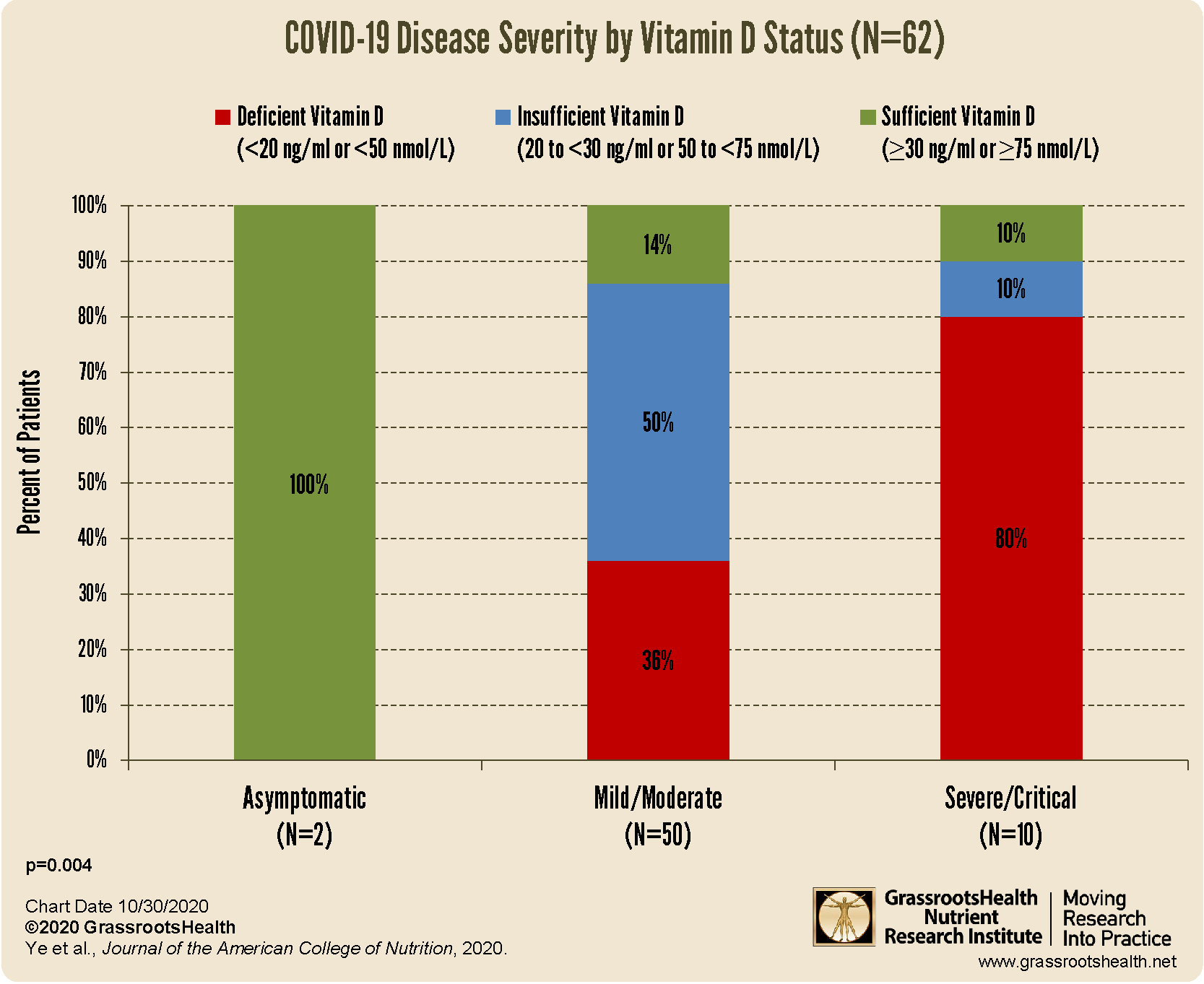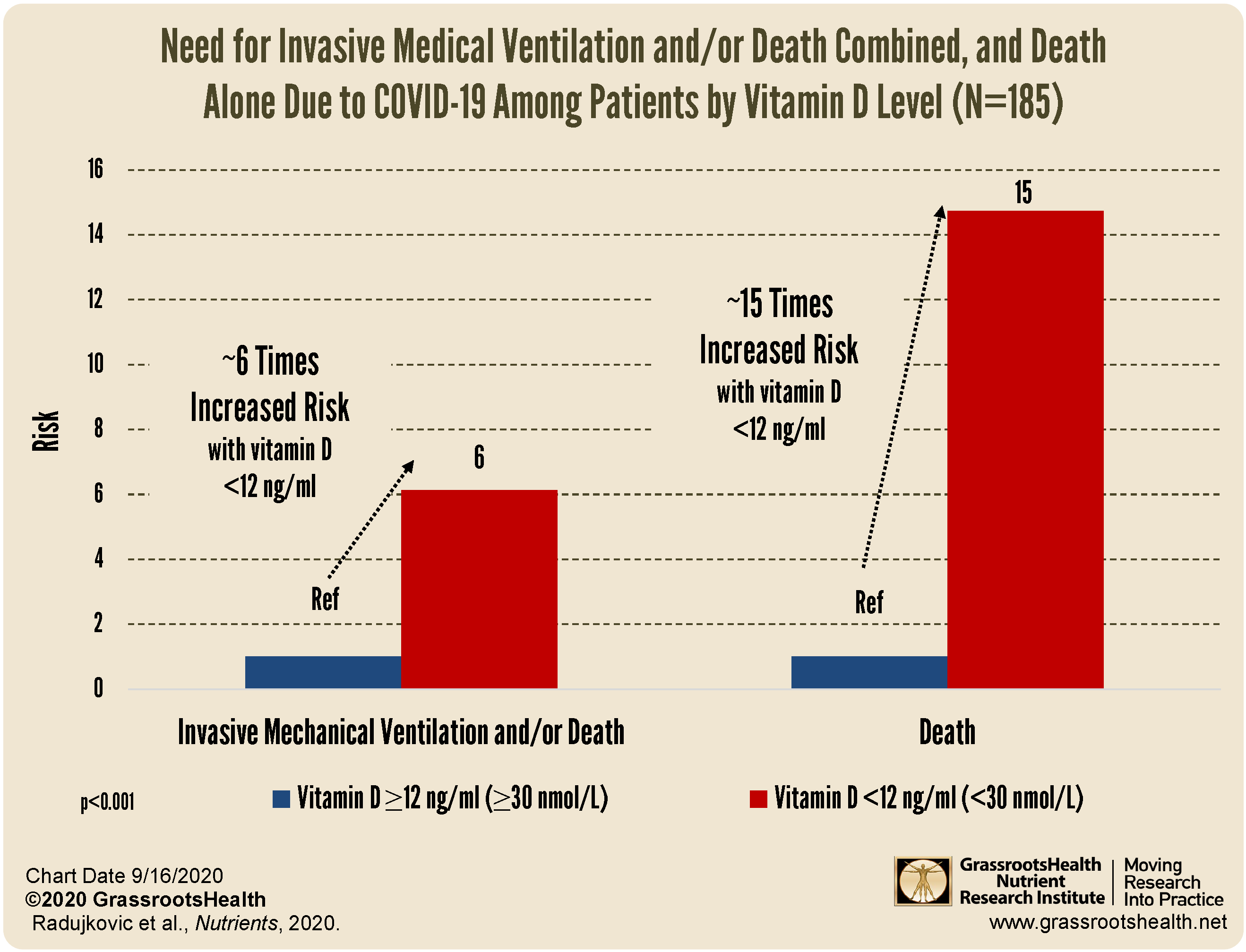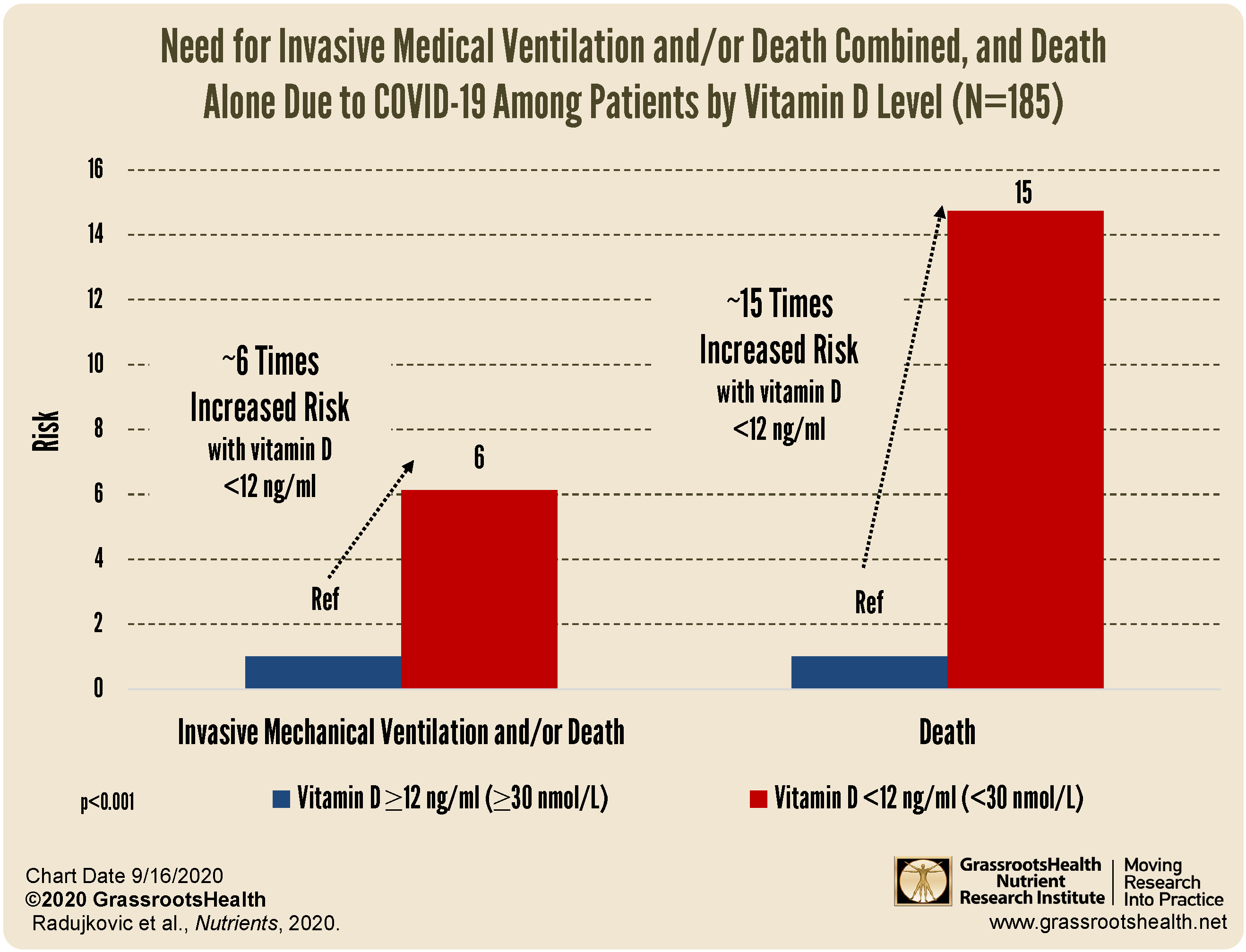 decreased risk of death due to COVID-19
Be sure to educate yourself on the benefits and importance of vitamin D for immune health, and take steps to ensure you and your loved ones are getting enough.
You can review all of the COVID-19 and immune health information we have shared on this page.
How Can You Use this Information for YOUR Health?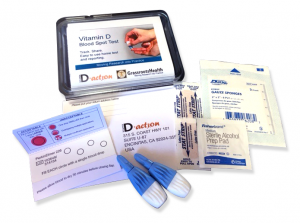 Having and maintaining healthy vitamin D and other nutrient levels can help improve your health now and for your future. Measuring is the only way to make sure you are getting enough!
STEP 1 Order your at-home blood spot test kit to measure vitamin D and other nutrients of concern to you, such as omega-3s, magnesium, essential and toxic elements (zinc, copper, selenium, lead, cadmium, mercury); include hsCRP as a marker of inflammation or HbA1c for blood sugar health
STEP 2 Answer the online questionnaire as part of the GrassrootsHealth study
STEP 3 Using our educational materials and tools (such as our dose calculators), assess your results to determine if you are in your desired target range or if actions should be taken to get there
STEP 4 After 3-6 months of implementing your changes, re-test to see if you have achieved your target level(s)