Published on February 18, 2019


Our Disease Incidence Prevention (DIP) chart has been instrumental as a communication tool in clinics, doctor's offices, and community centers across the country. It is a quick way to see how vitamin D levels can improve health outcomes. Our newer DIP chart focuses on pregnancy and the child and is a great way to visually share key vitamin D research for a healthy pregnancy, birth, and baby.
Disease Incidence Prevention – Pregnancy and Babies
GrassrootsHealth, in conjunction with key scientists, published this Disease Incidence Prevention (DIP) chart, focused on pregnancy. It is based on eight papers on preterm birth, pregnancy disorders, and common childhood disorders. It is a visual tool which quickly highlights how vitamin D can prevent some level of many common pregnancy disorders and alleviate some common and costly early childhood outcomes.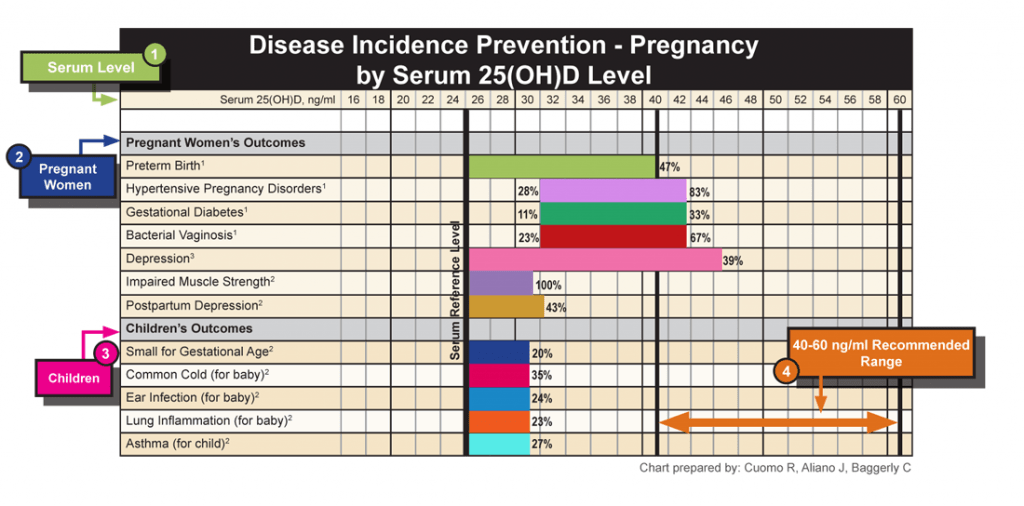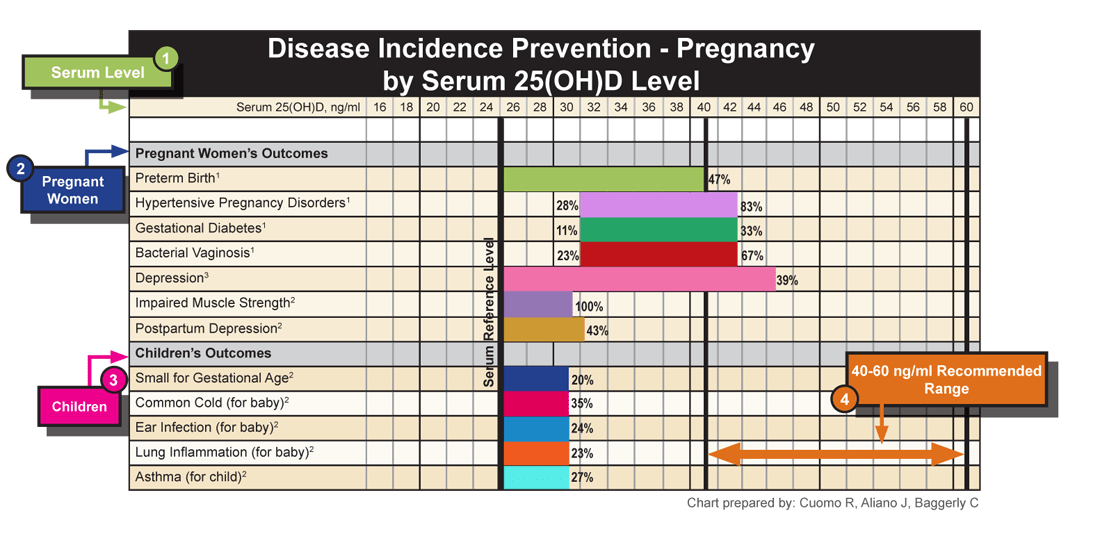 Why is 25 ng/ml important?
Since studies use different cut points for their low and high vitamin D level groups, we standardized all of the results to the same reference level of 25 ng/ml, which is the average vitamin D level in the US population. Using this consistent value for comparison, you can see the possible risk reduction in the general population from raising vitamin D serum levels.
D levels during pregnancy affect the health of the child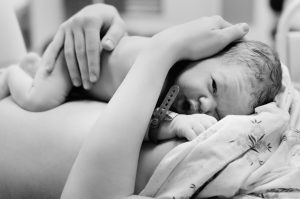 Most of you would probably not be surprised to hear that vitamin D also benefits the child in utero. This chart has the childhood data on the same page as pregnancy conditions and highlights studies that have shown how a mother's vitamin D level during pregnancy has affected the health of the child.
What is also especially interesting is that the effect extends beyond infancy, e.g., asthma in young people, and language and cognitive difficulties reported during school years.
What would happen at 40 ng/ml?
This chart demonstrates that at about 40 ng/ml, the incidence of several common pregnancy conditions and some childhood conditions could be reduced. There is a substantial reduction in risk of preterm births achieved by getting pregnant women to a serum level of at least 40 ng/ml, and it was demonstrated to be safe as well.
There are additional benefits, as shown in the chart, when levels reach the physiological range of 40-60 ng/ml. These research observations were also observed with the Protect Our Children NOW! project, implemented by GrassrootsHealth at the Medical University of South Carolina.
What can you do with this chart?
Make sure you know your own vitamin D level.
Share the chart with your friends, with your physicians, to make them aware of the effects of vitamin D.
Encourage pregnant women to test and get educated about vitamin D.
GrassrootsHealth is committed to the health and safety of our next generation. We will keep this chart updated with new research as we go forward.
What other nutrients are important for pregnancy?
There are several other nutrients that are essential to a healthy pregnancy, such as omega-3 fatty acids, magnesium, folate, and iron. It is important for any pregnant or breastfeeding mother to ensure an adequate intake of each of these to improve the chances of a healthier pregnancy and child. Testing is available for several of these nutrients with D*action home blood spot test kits for vitamin D, Omega-3 Index, and the new Magnesium plus Elements panel.
How can I track my vitamin D level and health?
To help you track your nutrient levels and health outcomes, GrassrootsHealth has created an online tracking system called myData-myAnswers. You can track details about your supplement use and nutrient levels. You can also track many pre-set health conditions, such as cognitive function, or add your own custom trackers. This will help you discover how your nutrient levels impact your health. Check it out today!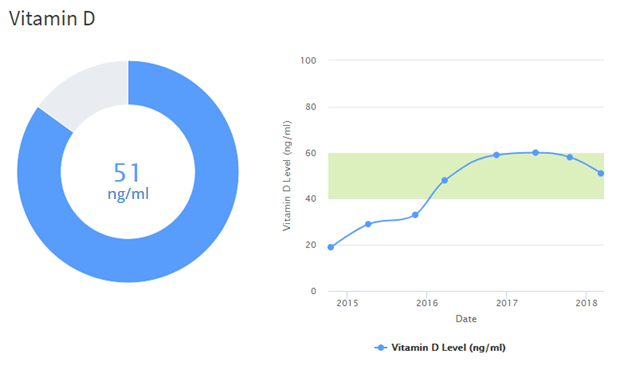 How Can You Use this Information for YOUR Health?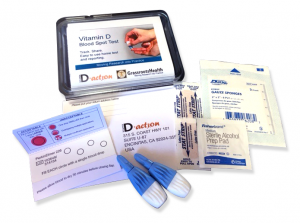 Having and maintaining healthy vitamin D and other nutrient levels can help improve your health now and for your future. Measuring is the only way to make sure you are getting enough!
STEP 1 Order your at-home blood spot test kit to measure vitamin D and other nutrients of concern to you, such as omega-3s, magnesium, essential and toxic elements (zinc, copper, selenium, lead, cadmium, mercury); include hsCRP as a marker of inflammation or HbA1c for blood sugar health
STEP 2 Answer the online questionnaire as part of the GrassrootsHealth study
STEP 3 Using our educational materials and tools (such as our dose calculators), assess your results to determine if you are in your desired target range or if actions should be taken to get there
STEP 4 After 3-6 months of implementing your changes, re-test to see if you have achieved your target level(s)