Published on September 29, 2021


Study shows women with higher vitamin D levels at the beginning stage of labor reported less pain during labor and after birth
Key Points
Vitamin D levels of at least 40 ng/ml (100 nmol/L) have been associated with multiple positive outcomes for prenatal and newborn health, including decreased risk of preterm birth, preeclampsia, gestational diabetes, and cesarean section
Vitamin D levels of at least 50 ng/ml (125 nmol/L) have also been associated with peak musculoskeletal performance
A recent study shows that vitamin D levels at the beginning stage of labor were related to the level of pain reported during and after birth; higher vitamin D levels were related to lower pain scores, with the greatest significance at the beginning and middle stages of labor and in the postpartum period
All women who are pregnant or are considering pregnancy should aim for a vitamin D level of at least 40 ng/ml
---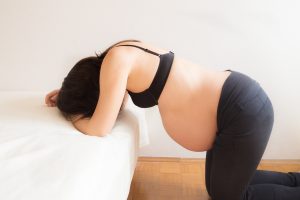 Vitamin D levels of at least 40 ng/ml (100 nmol/L) have been shown to improve health outcomes for both the mother's pregnancy and baby's overall health, and has been linked to a lower risk of preterm birth, pre-eclampsia, gestational diabetes, bacterial vaginosis, cesarean section, postpartum depression, and more. Unfortunately, more than 80% of pregnant women and virtually 100% of pregnant African American women have vitamin D levels below 40 ng/ml.
Vitamin D Levels Linked to Muscle Function & Pain
Vitamin D provides many benefits to musculoskeletal health, including having a role in muscle function, coordination, balance, inflammation, and tissue repair and healing after an injury. Vitamin D deficiency has been associated with neuromuscular diseases, muscle weakness and increased risk of injury, as well as chronic pain.
Proper muscle function is essential during the birthing process, with muscle contractions working to efficiently dilate the cervix and enable the mother to push the baby out of the uterus through the birth canal. Vitamin D is essential to proper muscle function, with cumulative research showing that peak musculoskeletal performance may occur with a vitamin D level of at least 50 ng/ml (125 nmol/L).  This relationship between vitamin D and muscle function could be one reason why a study found that women who had a vitamin D level below 15 ng/ml were almost 4 times more likely to have a primary cesarean section compared to women with higher levels of vitamin D.
Could Vitamin D Levels Affect Pain During Labor?
A study by Koyucu R. and Ozcan T. aimed to see if there was a relationship between vitamin D levels at the start of labor and the level of pain through each stage of labor and after birth. The study enrolled 127 women between the ages of 18 and 40 years old, who were pregnant to term (37-40 weeks), and were at the early active phase of labor with 2-3 cm cervical dilation. Women with complications that may have affected labor pain were excluded from the study. All women had their vitamin D levels measured at the beginning of labor. Labor pain was assessed using the Visual Analog Scale at the initial stage with 2-3 cm cervical dilation (VAS0), then at 4-7 cm (VAS1), and finally at 8-10 cm (VAS2). Postpartum pelvic pain (VASPP) and length of labor were also assessed and measured.
What did the study find?
The average vitamin D level among the women at the beginning of labor was 24 ng/ml (60 nmol/L). Average pain scores were 4.5 at VAS0, 6.5 at VAS1, 8.6 at VAS2, and 2 at VASPP.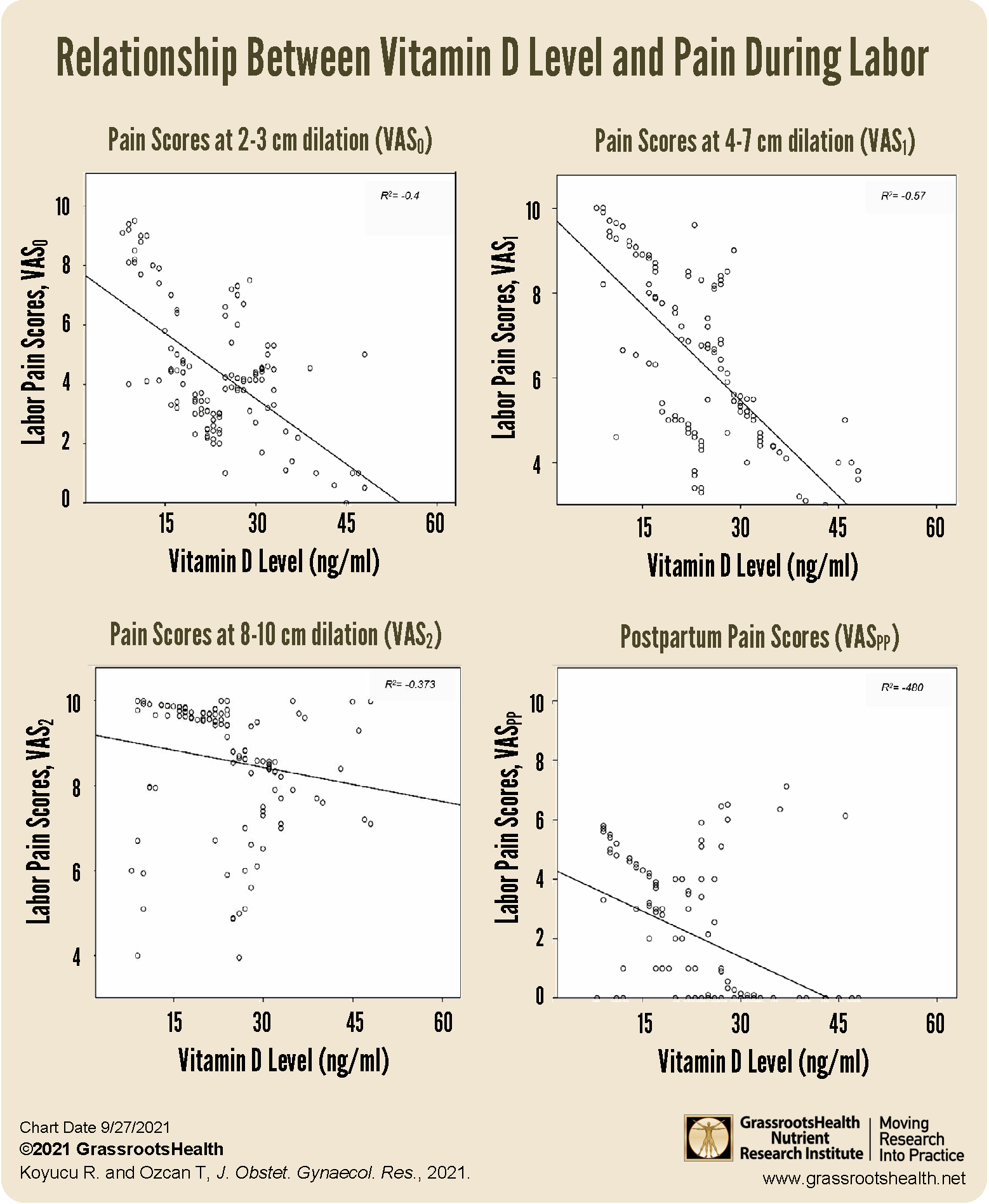 Click to Enlarge & Print
As illustrated in the charts above, there was a moderate negative correlation between vitamin D levels and pain during the initial and second phase (VAS0 and VAS1), and between VASPP. The correlation between the vitamin D level and pain at the final phase of labor (VAS2) was also there but was not as significantly correlated. There was no significant correlation between vitamin D levels and the length of labor.
Ensure a Minimum Vitamin D Level of 40 ng/ml for Pregnancy, Birth, and Baby
The benefits of vitamin D go well beyond pregnancy and birth. Vitamin D deficiency in newborns presents an increased risk for impairment in immune function, brain development, and skeletal development, among other things. Health conditions that have been associated with prenatal vitamin D deficiency include asthma, ear and lung infections, autism, type 1 diabetes and other autoimmune conditions, and an increased risk for certain cancers and cardiovascular disease later in life. See our Disease Incidence Prevention Chart for Pregnancy and Children for more details and resources.
Testing your vitamin D level regularly and taking steps to keep it at a target level of 40-60 ng/ml (100-150 nmol/L) is important for all stages of health, especially during pregnancy. To know if you are getting enough, make sure you test today!
The Importance of Getting Enough of All Nutrients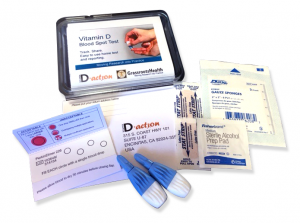 Having and maintaining healthy vitamin D levels and other nutrient levels can help improve your health now and for your future. Choose which to measure, such as your vitamin D, omega-3s, and essential minerals including magnesium and zinc, by creating your custom home test kit today. Take steps to improve the status of each of these measurements to benefit your overall health. You can also track your own intakes, symptoms and results to see what works best for YOU.
Enroll and test your levels today, learn what steps to take to improve your status of vitamin D (see below) and other nutrients and blood markers, and take action! By enrolling in the GrassrootsHealth projects, you are not only contributing valuable information to everyone, you are also gaining knowledge about how you could improve your own health through measuring and tracking your nutrient status, and educating yourself on how to improve it.
Help everyone Move Research into Practice with vitamin D and other nutrients! As a special birthday gift to everyone, in honor of the science, we have created a special scholarship fund for anyone to donate to that will go towards helping others participate. Your donation will allow anyone to get help with funding their participation when they need it.
Text-to-give: Text Daction to 44321 to add to our Scholarship Fund.
How Can You Use this Information for YOUR Health?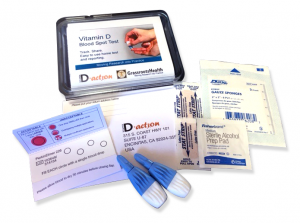 Having and maintaining healthy vitamin D and other nutrient levels can help improve your health now and for your future. Measuring is the only way to make sure you are getting enough!
STEP 1 Order your at-home blood spot test kit to measure vitamin D and other nutrients of concern to you, such as omega-3s, magnesium, essential and toxic elements (zinc, copper, selenium, lead, cadmium, mercury); include hsCRP as a marker of inflammation or HbA1c for blood sugar health
STEP 2 Answer the online questionnaire as part of the GrassrootsHealth study
STEP 3 Using our educational materials and tools (such as our dose calculators), assess your results to determine if you are in your desired target range or if actions should be taken to get there
STEP 4 After 3-6 months of implementing your changes, re-test to see if you have achieved your target level(s)