Published on September 2, 2022

Study shows high risk of vitamin D deficiency among those experiencing persistent, nonspecific musculoskeletal pain; supplementation decreased pain, suggesting that the pain could be due to vitamin D deficiency itself
Key Points
50 patients (ages 30-60 years old) suffering from chronic, non-specific musculoskeletal pain were given vitamin D and calcium to see what effect it had on pain levels; at the beginning of the study, 36% of the participants had severe chronic pain and 56% had moderate chronic pain, with an average pain score of 6.22 and an average vitamin D level of 17.38 ng/ml (43 nmol/L)
Pain scores dropped 43%, from an average of 6.22 to an average of 3.52; vitamin D levels also rose to 39.40 ng/ml (98 nmol/L)
Physical activity levels also increased significantly, while weight and waist to hip ratio decreased significantly; other noticed changes post-intervention included improvements in fatigue, sleep, and mood
---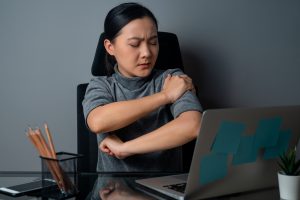 Vitamin D provides many benefits to musculoskeletal health, including having a role in muscle function, coordination, balance, inflammation, and tissue repair and healing after an injury. Vitamin D deficiency has been associated with neuromuscular diseases, muscle weakness and increased risk of injury, as well as chronic pain. In fact, an analysis of GrassrootsHealth participants showed a decrease in reported pain scores with increasing vitamin D levels.
What is Chronic, Non-Specific Musculoskeletal Pain?
Chronic, Non-Specific Musculoskeletal Pain (CNMP) is pain that is present in the bones, muscles, joints, or connective tissue of more than one region of the body that has been present for three months or longer. The cause or origin of the pain is usually unknown, and it often affects both the mental and physical wellbeing, as well as overall quality of life for those suffering from it.
Could Vitamin D Help with CNMP?
A study by Goyal and Agrawal enrolled 50 patients suffering from chronic, non-specific musculoskeletal pain to see how vitamin D and calcium supplementation affected their pain levels. All patients were between the ages of 30-60 years old, and were given doses of 60,000 IU vitamin D each week for the first month, followed by 60,000 IU vitamin D once per month for the next two months (learn why daily vitamin D intake is more beneficial). 1000 mg calcium was given on a daily basis for the entire 3 months. Along with pre- and post- intervention levels of vitamin D, calcium, and pain, levels of physical activity, fatigue, mood, and sleep were also compared.
Pain was measured on a scale of 0 (no pain) to 10 (worst pain), with 2 or less categorized as low, 4-6 as moderate, and 8-10 as severe pain. At the beginning of the study, 36% of the participants had severe chronic pain and 56% had moderate chronic pain, with an average pain score of 6.22 and an average vitamin D level of 17.38 ng/ml (43 nmol/L).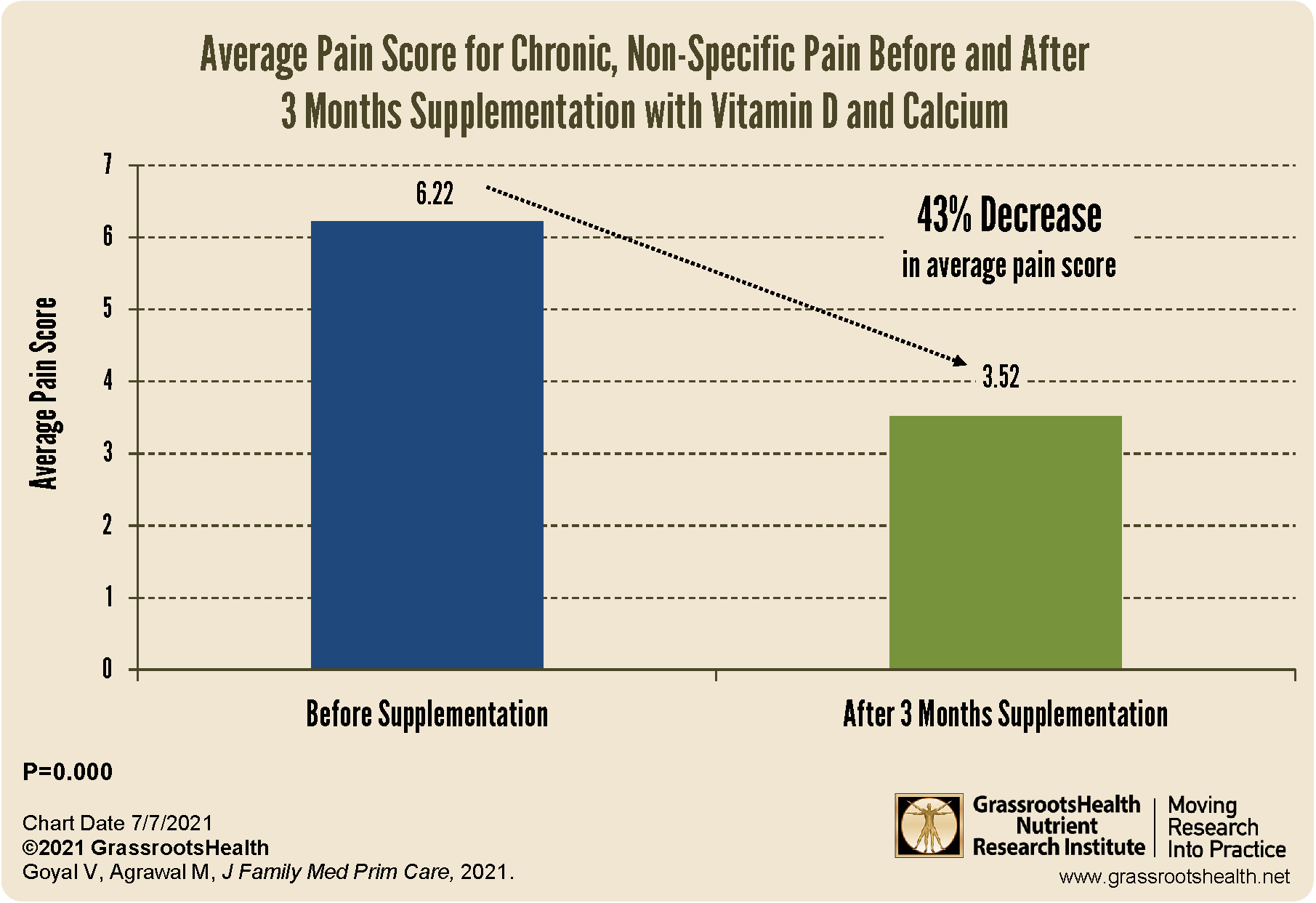 After three months of supplementation, the average pain level decreased significantly (by 43%) to 3.52, with an increased average vitamin D level of 39.40 ng/ml (98 nmol/L). Physical activity levels also increased significantly, while weight and waist to hip ratio decreased significantly among the participants. Other noticed changes post-intervention included improvements in fatigue, sleep, and mood.
This study showed that the risk of vitamin D deficiency was high among those experiencing persistent, nonspecific musculoskeletal pain; in fact, the authors suggest that the pain could be due to vitamin D deficiency itself.
Make Sure You Are Getting Enough Vitamin D and Other Important Nutrients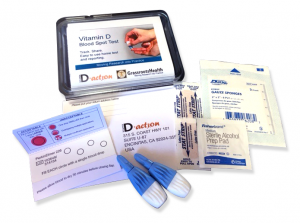 Measuring your vitamin D level and calculating a supplementation amount to help reach and maintain a target level, or taking loading doses to correct deficiency faster, could possibly make all the difference in overall health, wellbeing, and how a current disease situation progresses. Test your level now!
Create your custom home blood spot kit by adding any of the following measurements, along with your vitamin D:
Omega-3 Index (with or without Ratios AA:EPA and Omega-6:Omega-3)
Magnesium (with or without additional Elements – copper, zinc, selenium, mercury, cadmium, lead)
Having and maintaining healthy vitamin D levels and other nutrient levels can help improve your health, now and for the future. Enroll and test your levels today, learn what steps to take to improve your status of vitamin D (see below) and other nutrients and blood markers, and take action! By enrolling in the GrassrootsHealth projects, you are not only contributing valuable information to everyone, you are also gaining knowledge about how you could improve your own health through measuring and tracking your nutrient status, and educating yourself on how to improve it.
How Can You Use this Information for YOUR Health?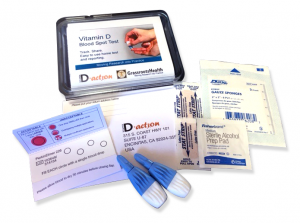 Having and maintaining healthy vitamin D and other nutrient levels can help improve your health now and for your future. Measuring is the only way to make sure you are getting enough!
STEP 1 Order your at-home blood spot test kit to measure vitamin D and other nutrients of concern to you, such as omega-3s, magnesium, essential and toxic elements (zinc, copper, selenium, lead, cadmium, mercury); include hsCRP as a marker of inflammation or HbA1c for blood sugar health
STEP 2 Answer the online questionnaire as part of the GrassrootsHealth study
STEP 3 Using our educational materials and tools (such as our dose calculators), assess your results to determine if you are in your desired target range or if actions should be taken to get there
STEP 4 After 3-6 months of implementing your changes, re-test to see if you have achieved your target level(s)