Published on December 10, 2020


Can Vitamin D Lower Covid Risk? — Dr. David Meltzer shares findings from his study on the show "The Doctors"
Today, we are sharing another video in which Dr. Ian Smith of the show The Doctors interviews Dr. David Meltzer from the University of Chicago about the findings of his recent study, which found that patients who had tested vitamin D deficient (less than 20 ng/ml or 50 nmol/L) were about 77% more likely to test positive for COVID-19 than patients whose vitamin D level was not deficient.
Our hope is for you to share this quick video clip along with our responses and details below with those around you and those who are in places of making a difference, to further the education about vitamin D and its role in helping to protect against COVID-19, and the steps to take to ensure a healthy vitamin D level.
Watch the Video
After watching the video, be sure to make note of our added details below!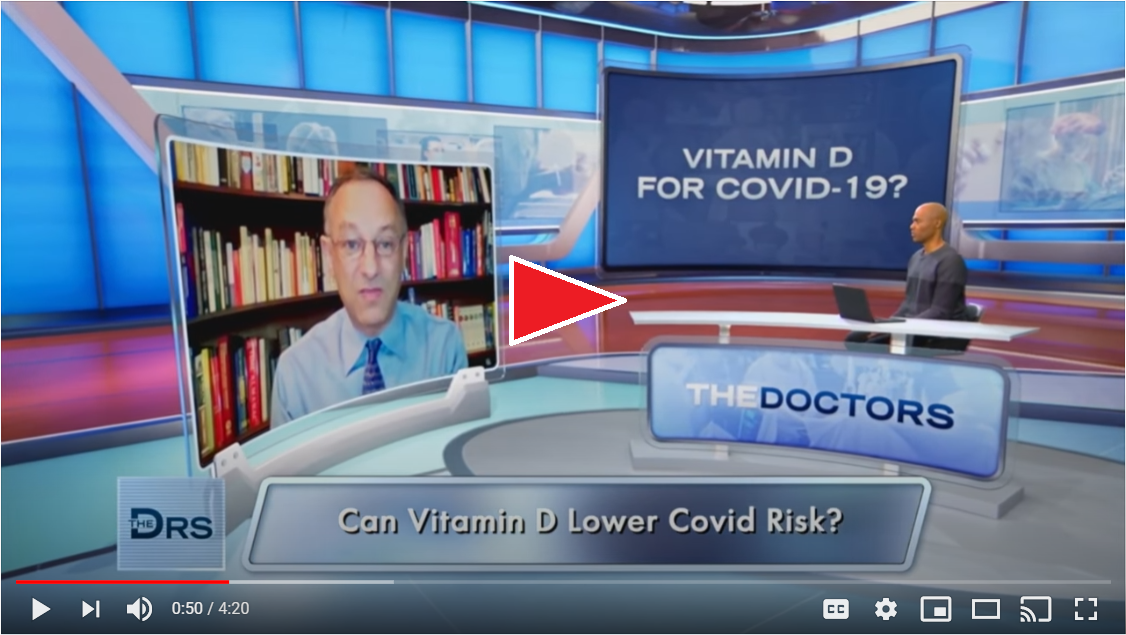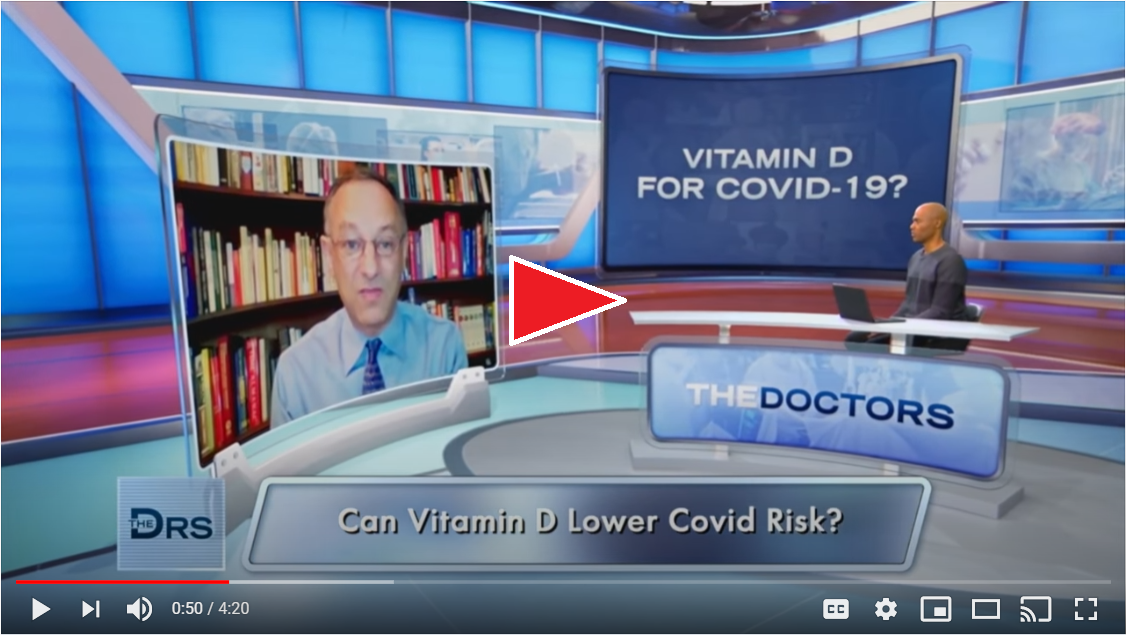 Can Vitamin D Lower Covid Risk?
Here is a quick summary of what this video discusses, along with additional information and details about vitamin D:
Vitamin D is a hormone – but it is important not to exclude its role as a vitamin or nutrient and what is called a signaling molecule
Vitamin D may be most well-known for its role in bone health, however it also helps to enhance immune and inflammatory responses – there are many ways vitamin D is involved in the immune response, from increasing white blood cells to fighting infection, modulating the expression of immune regulating genes, and decreasing inflammation
Dr. Meltzer's recent study found that vitamin D deficient people (whose vitamin D level had tested below 20 ng/ml or 50 nmol/L within the past year) were 77% more likely to test positive for COVID-19 than those who were not deficient
An earlier study mentioned showed a 70% lower incidence of viral respiratory tract infections among those who had been vitamin D deficient but were randomly assigned to take vitamin D, compared to those who did not receive vitamin D – some infections in this study were likely due to a coronavirus infection
At least half of the population does not have enough vitamin D!
Sunlight can be a source of vitamin D – however, several factors influence if and how much vitamin D you can make from sun, including where you live, time of day, season, skin color, clothing and sunscreen. Always important to remember not to burn!
Can you take too much vitamin D? Toxicity is very rare and difficult to achieve. The current RDA of 600-800 IU per day is way too low. 4,000 IU per day is considered safe, however, may not be enough for many to reach the scientists' recommended 40-60 ng/ml (100-150 nmol/L) vitamin D level.
Everyone needs vitamin D! Here's how to tell how much you might need, and who may need more – people who are overweight or who have darker skin are among those at increased risk of deficiency.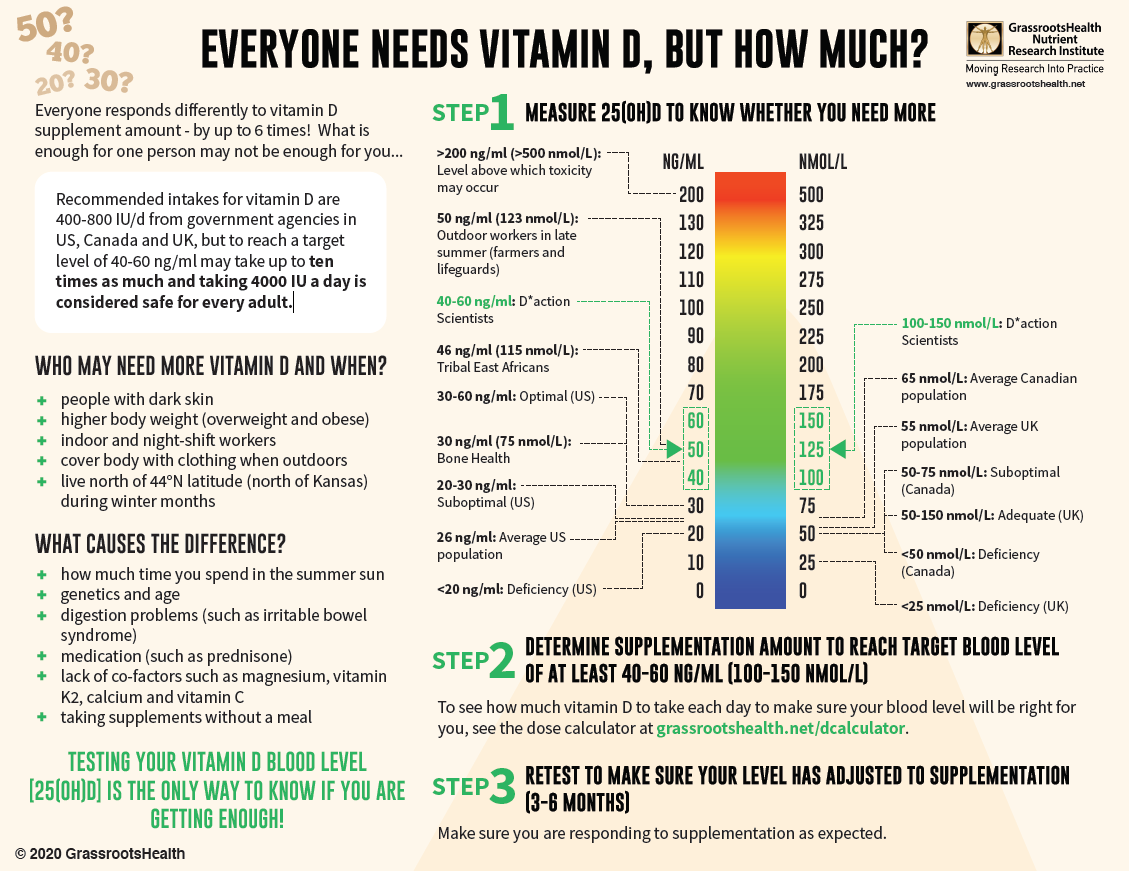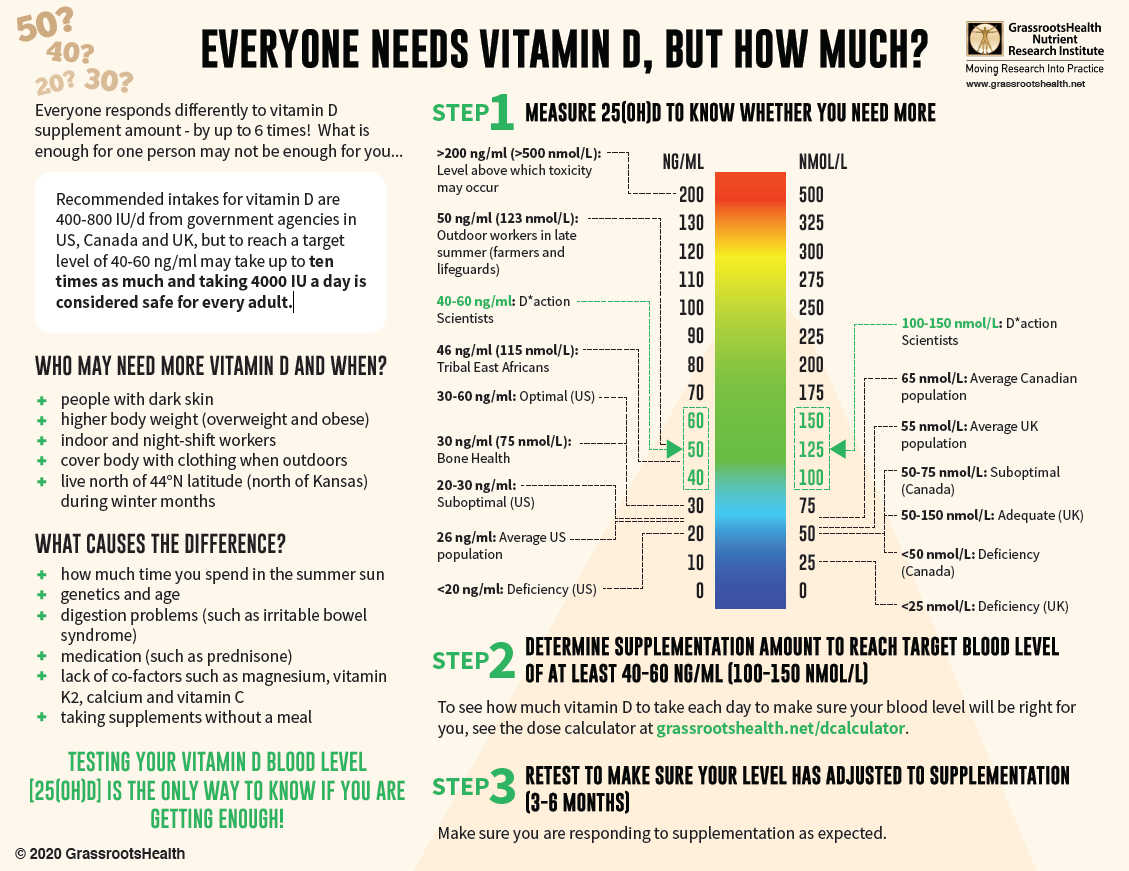 What does the Research Say about Vitamin D & COVID-19?
It's TIME to start saving lives! If you can help PREVENT the majority of the death, it's time! What's it costing you/us not to take action NOW?
There is much published research that supports a clear link between vitamin D and COVID-19 showing that higher vitamin D levels are related to: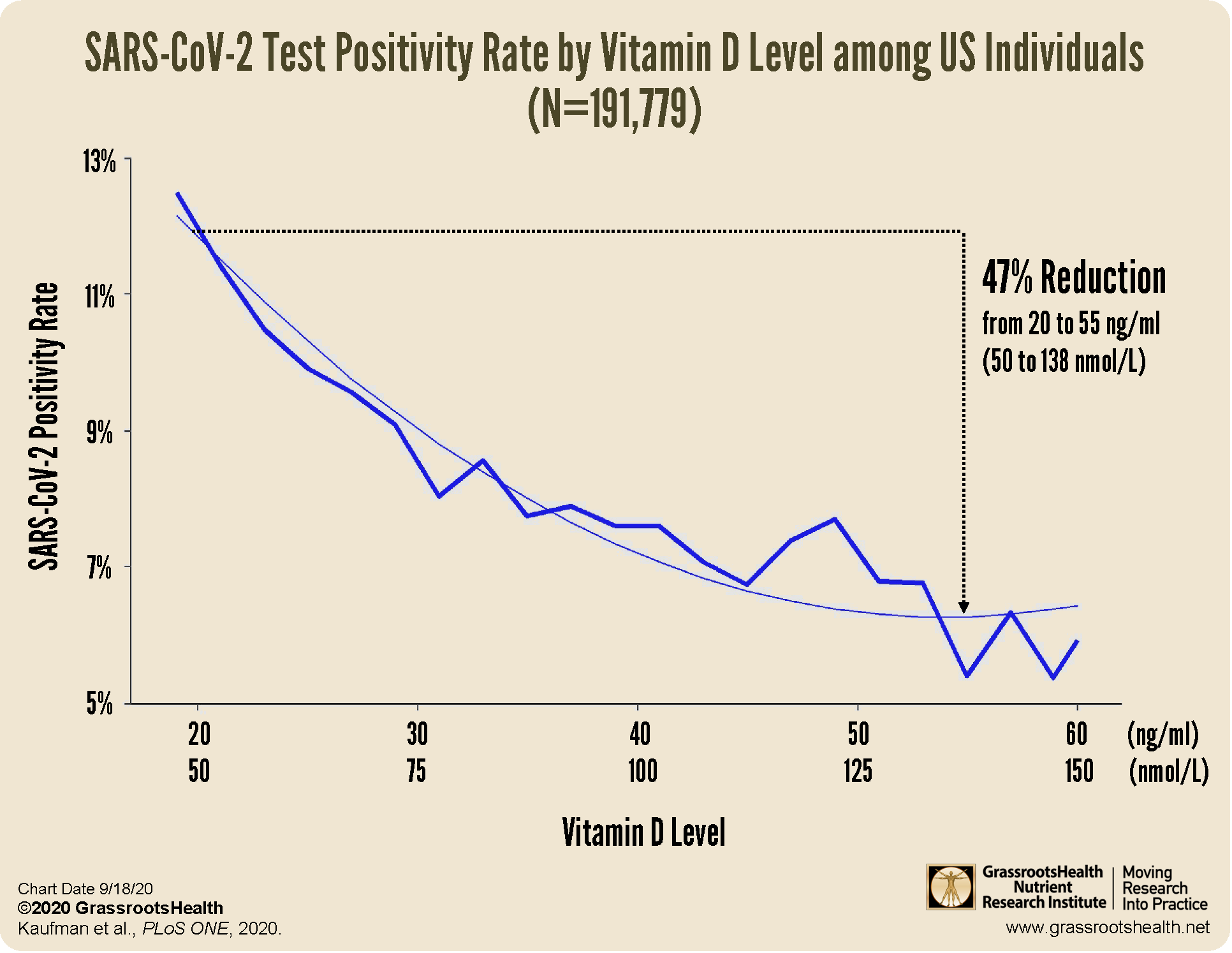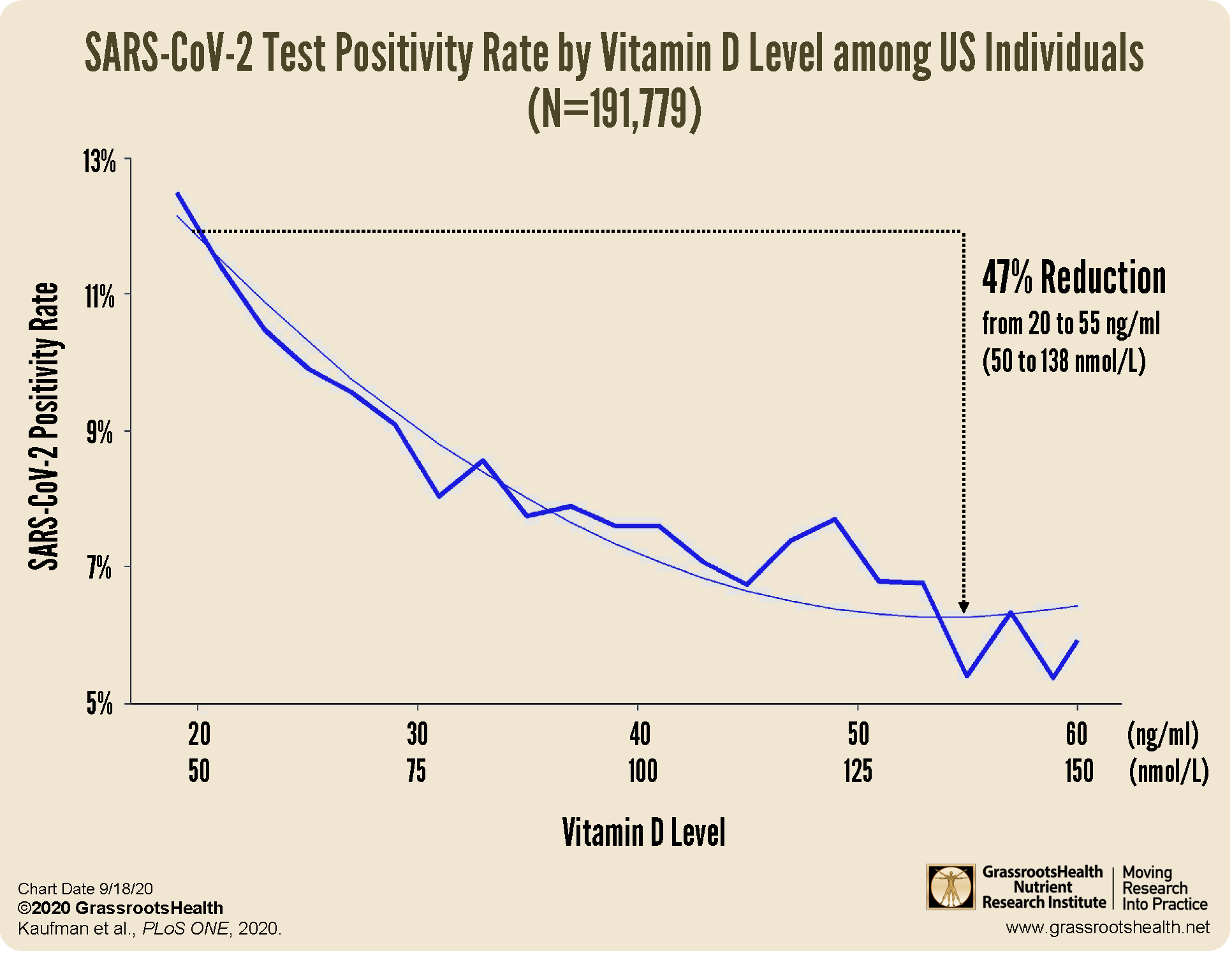 a decreased risk of testing positive for COVID-19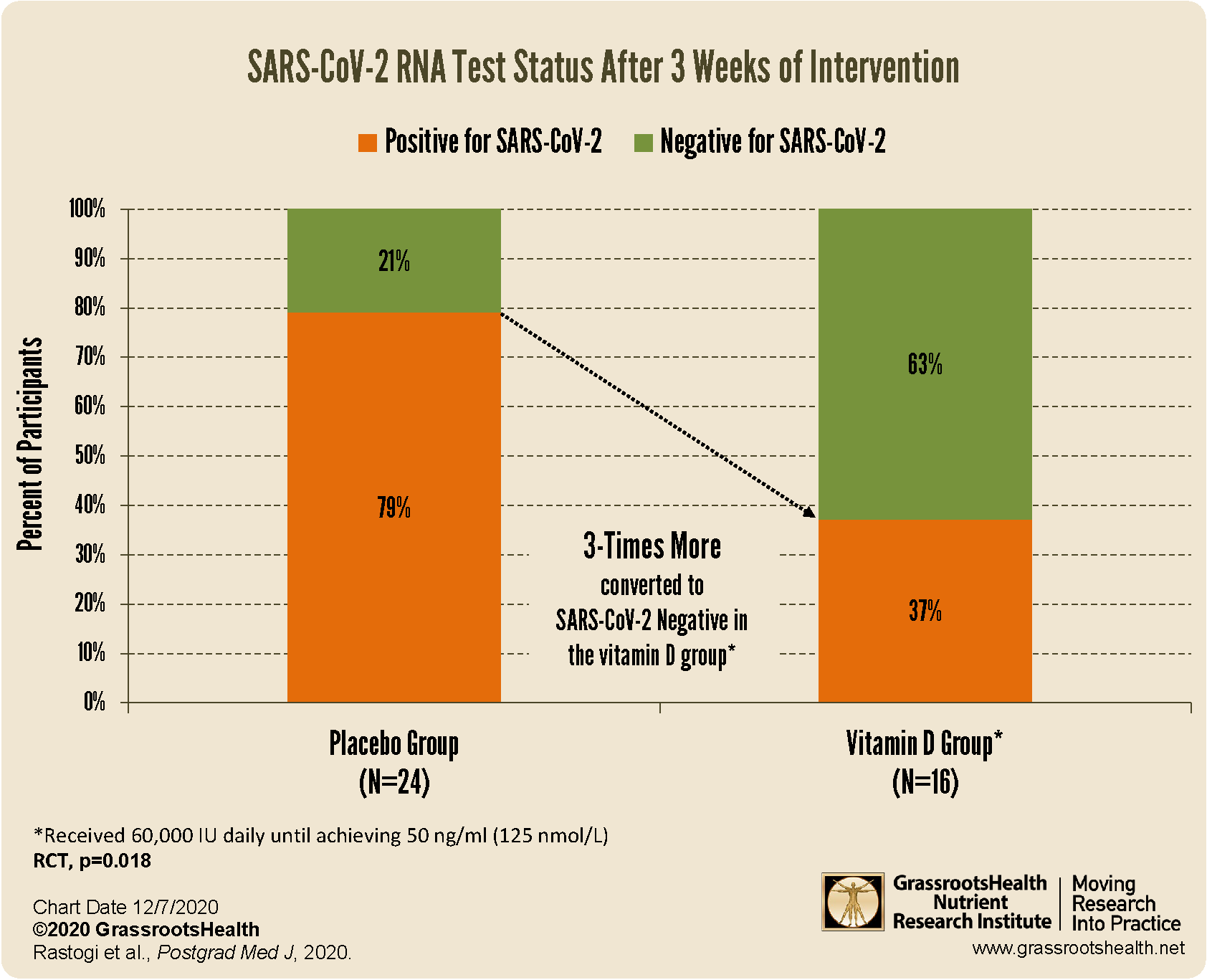 increased viral SARS-CoV-2 RNA clearance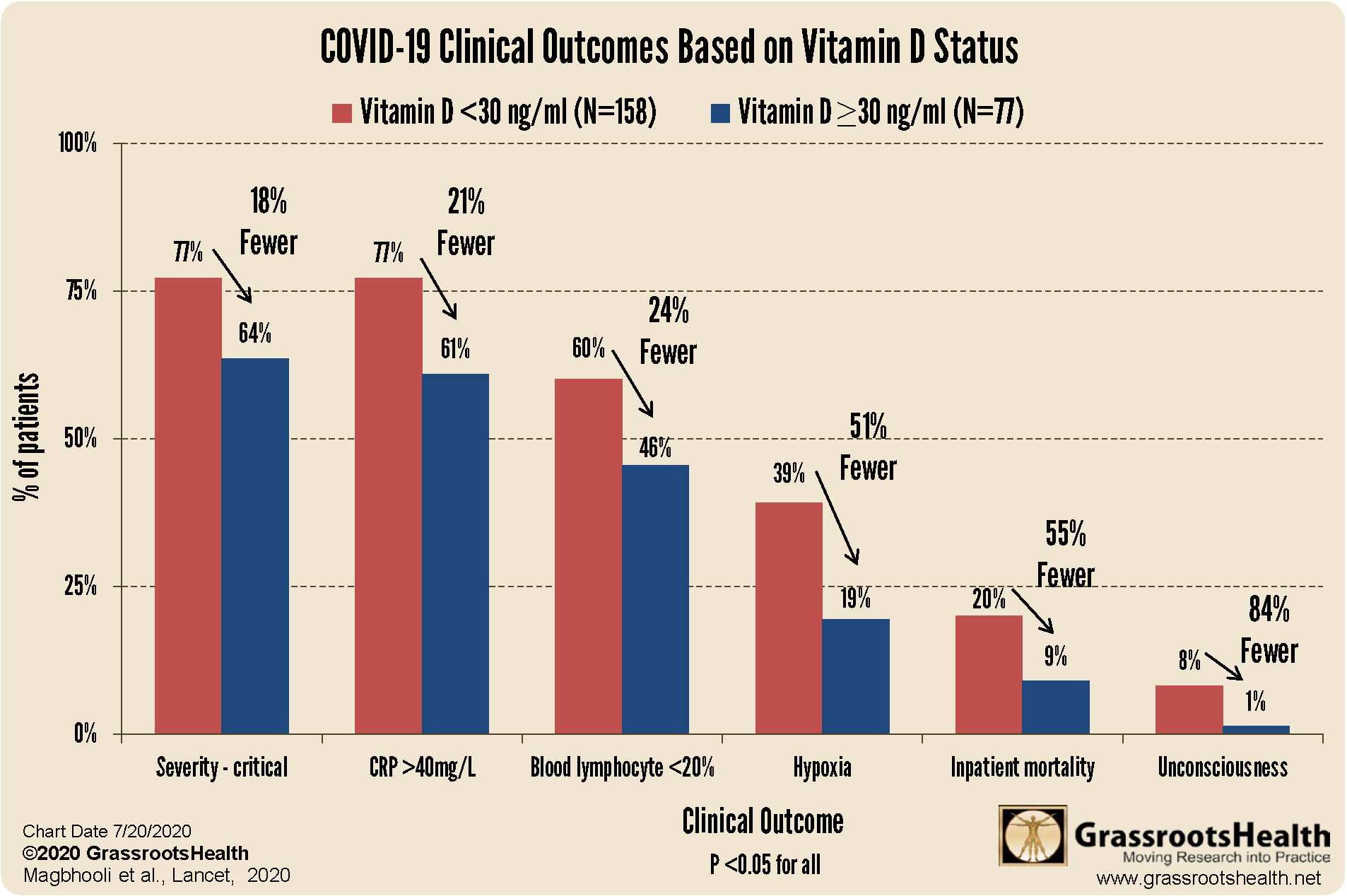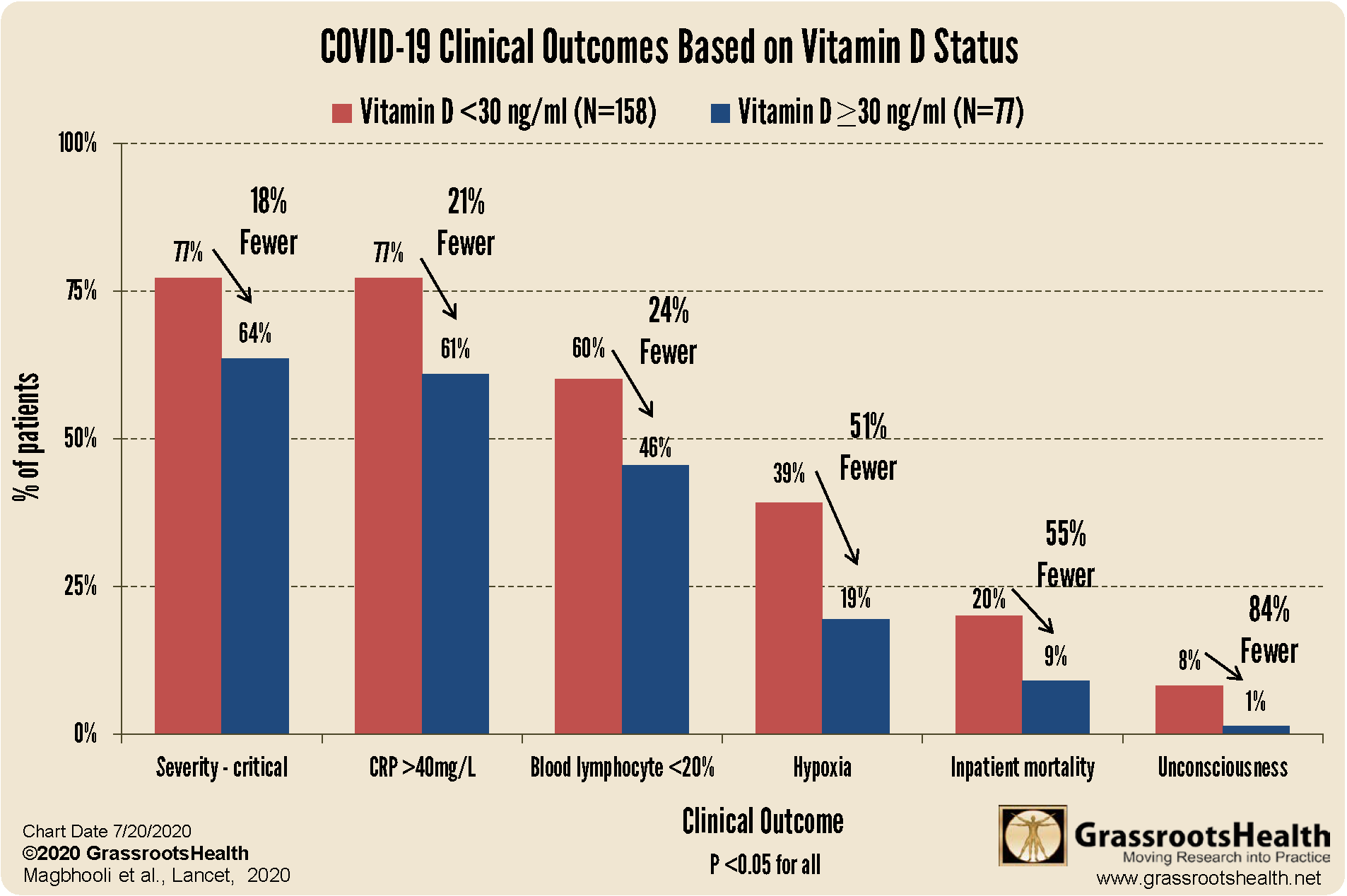 better clinical outcomes among patients with COVID-19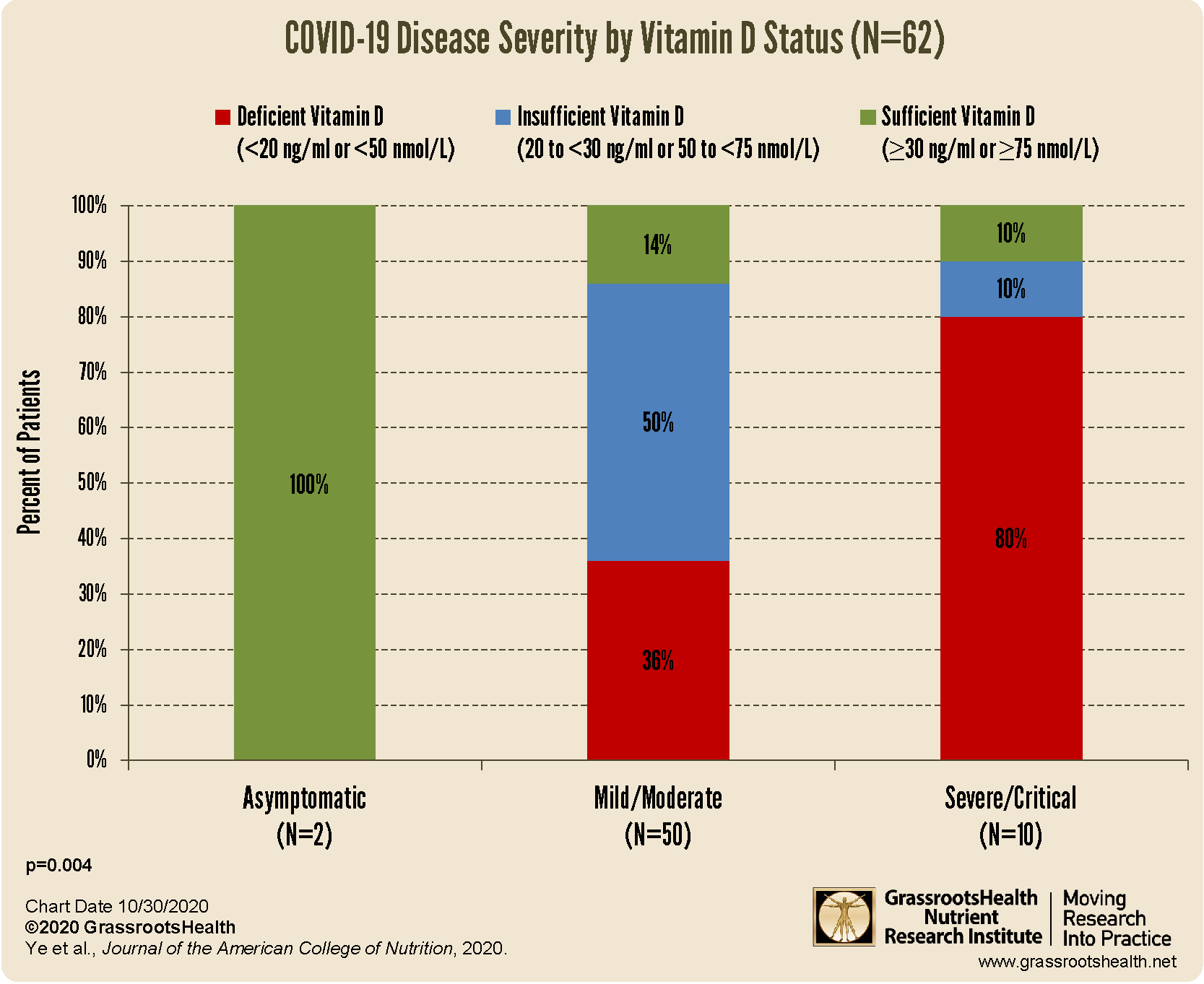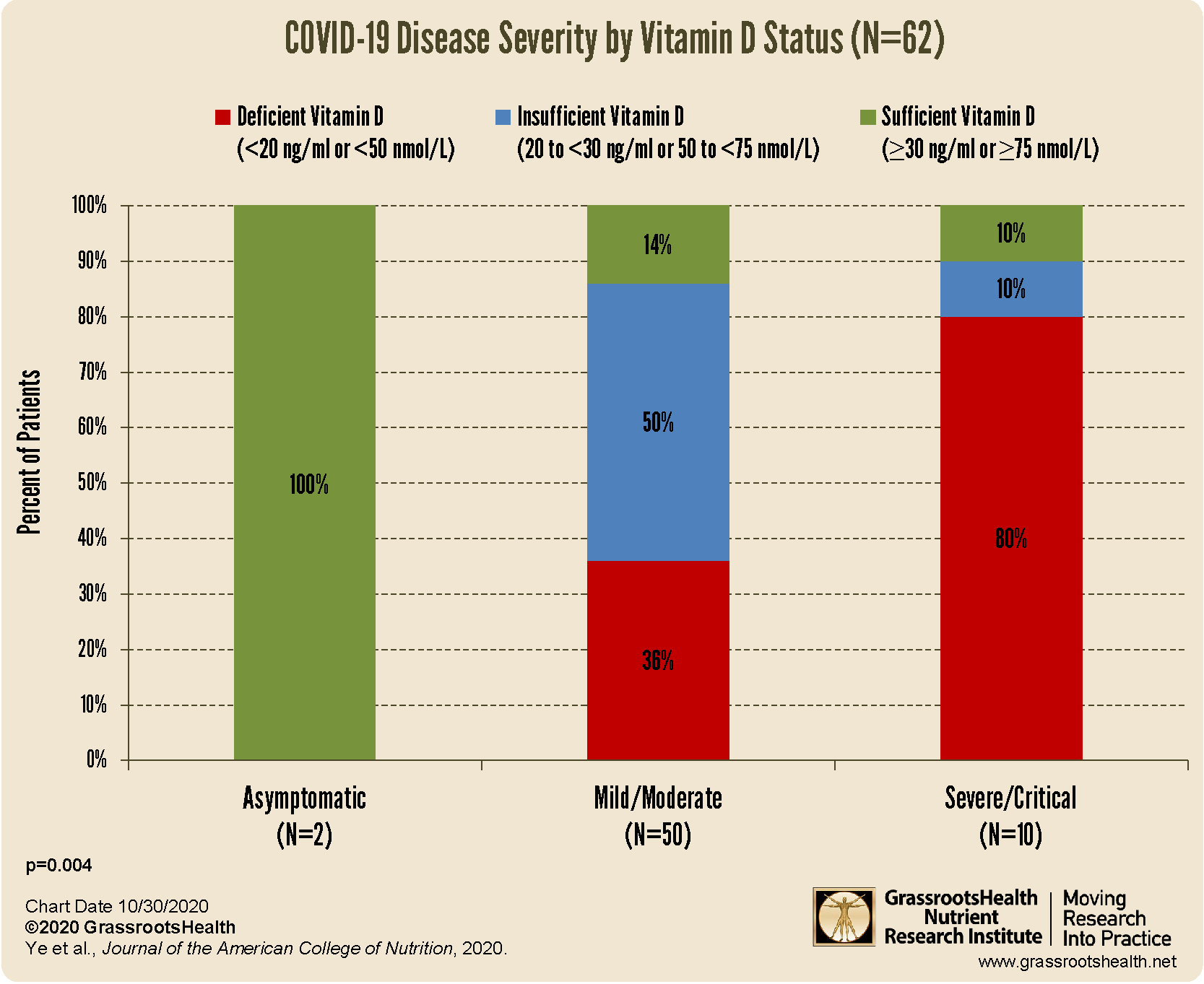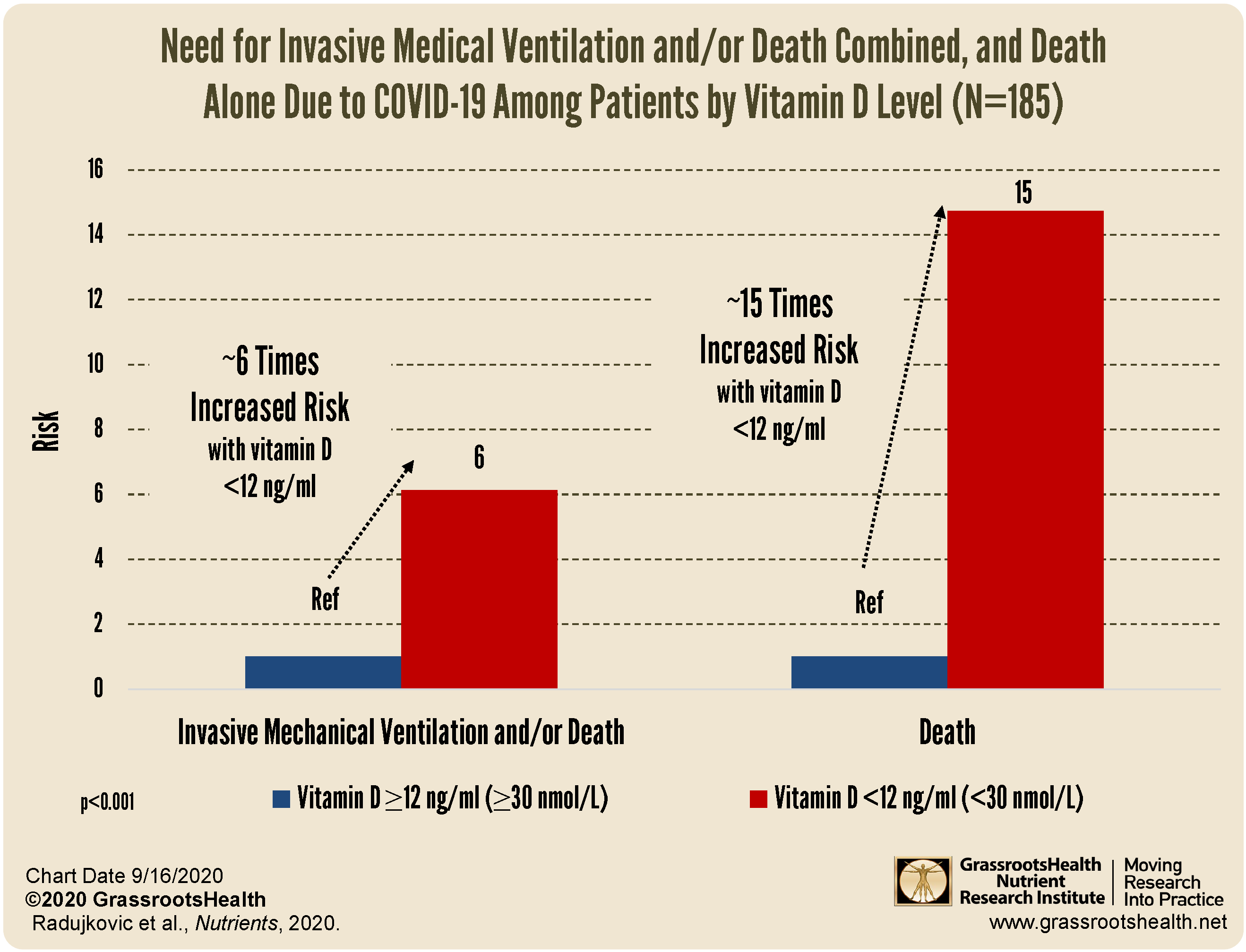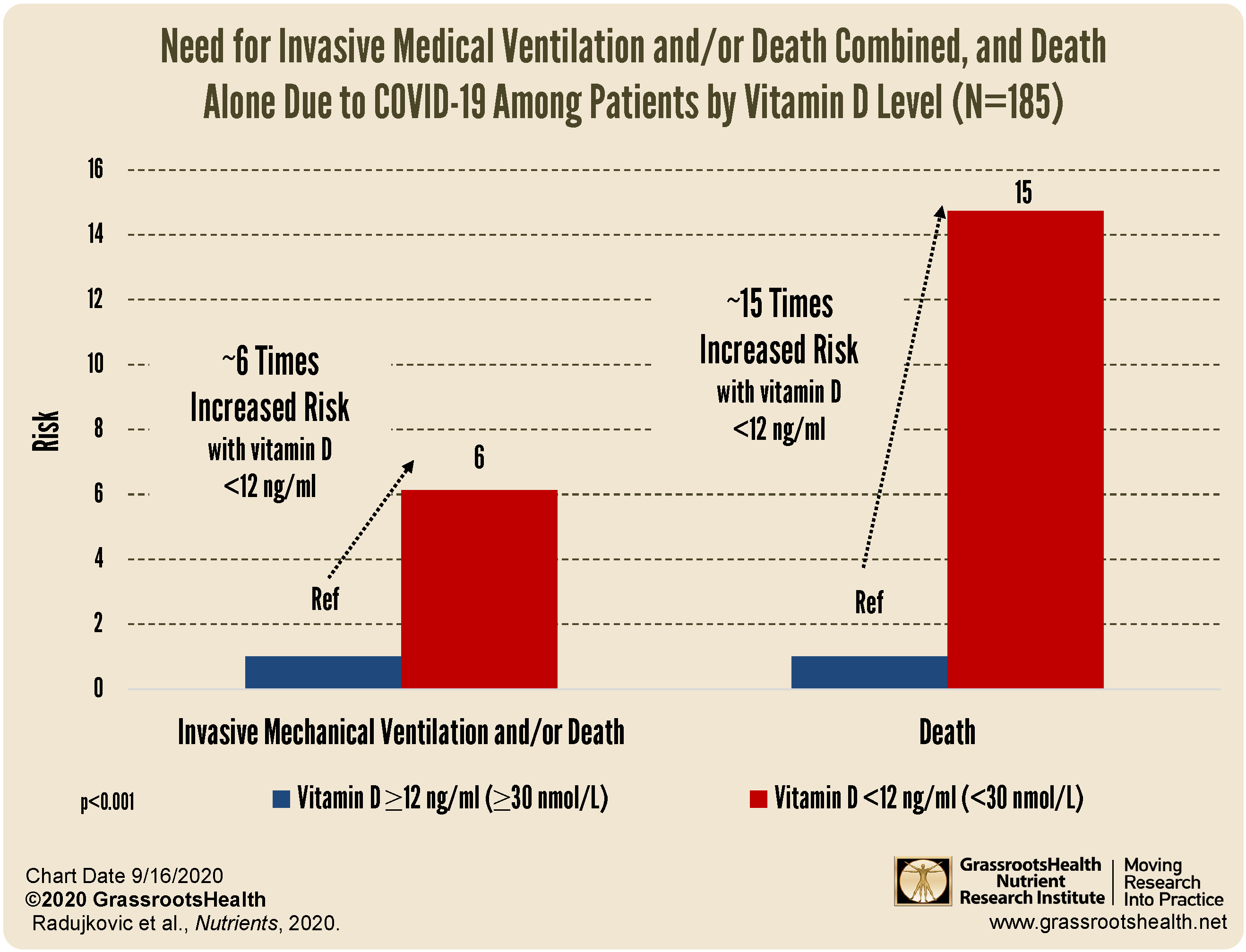 decreased risk of death due to COVID-19
Be sure to educate yourself on the benefits and importance of vitamin D for immune health, and take steps to ensure you and your loved ones are getting enough.
You can review all of the COVID-19 and immune health information we have shared on this page.
Ensure Vitamin D Levels of 40-60 ng/ml (100-150 nmol/L) for You, Your Children, Loved Ones
Correcting a vitamin D deficiency at any age and any time of life decrease potential disease severity and improve outcomes! Test your vitamin D level today, learn what steps to take to improve your level, and take action to achieve and maintain a vitamin D level of 40-60 ng/ml (100-150 nmol/L).
Using the GrassrootsHealth Custom Kit Builder, you can create a test kit that measures your status of vitamin D and other important nutrients (such as omega-3s, zinc and magnesium), as well as your CRP level to measure inflammation. Click here to build and order your test kit today – measure your status and take the steps necessary to improve them if needed; make an impact on your health today and for your future! When you know what your levels are, you can determine next steps to take and how much supplementation may be needed if you are not at your target levels.
Enroll now with the Full Immune Boost Panel (which includes tests for vitamin D, Omega-3 Index, magnesium, zinc, selenium, copper, and hsCRP), and get 10% off when you use coupon code BoostTen at checkout.
How Can You Use this Information for YOUR Health?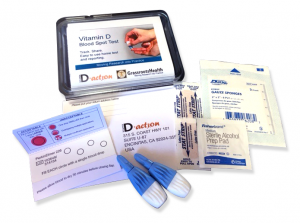 Having and maintaining healthy vitamin D and other nutrient levels can help improve your health now and for your future. Measuring is the only way to make sure you are getting enough!
STEP 1 Order your at-home blood spot test kit to measure vitamin D and other nutrients of concern to you, such as omega-3s, magnesium, essential and toxic elements (zinc, copper, selenium, lead, cadmium, mercury); include hsCRP as a marker of inflammation or HbA1c for blood sugar health
STEP 2 Answer the online questionnaire as part of the GrassrootsHealth study
STEP 3 Using our educational materials and tools (such as our dose calculators), assess your results to determine if you are in your desired target range or if actions should be taken to get there
STEP 4 After 3-6 months of implementing your changes, re-test to see if you have achieved your target level(s)