Published on September 12, 2023


Keeping your physical and mental health requires getting enough of certain essential nutrients as well as protecting your brain from inflammation and abnormal blood sugar levels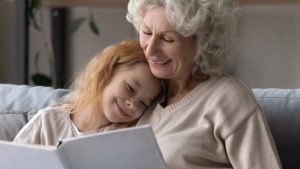 September is World Alzheimer's Month, a time to bring awareness to Alzheimer's disease, it symptoms, how it affects those living with Alzheimer's, and also, how to help prevent it.
Alzheimer's is just one of many conditions resulting from an unhealthy brain. In fact, other awareness topics related to brain health in September alone include World Suicide Prevention Day (9/10), Youth Mental Health Day (9/19), and Migraine Awareness Week (starting 9/24). Taking steps to keep your brain healthy can help address and prevent each of these conditions, not just Alzheimer's Disease.
Conditions Associated with the Brain
Here are some diseases and conditions that are related to a brain that is not functioning optimally, each of which can result in a combination of cognitive, mental, and emotional impairments:
Multiple Sclerosis
Stroke
Traumatic Brain Injury
Cognitive Impairment
Dementia, Alzheimer's Disease
Depression
Anxiety
Schizophrenia
Autism
ADHD
Parkinson's Disease
Epilepsy
Cluster Headaches
Migraines
And many more…
Nutrients Your Brain Requires for Healthy Functioning
Keeping your physical and mental health requires getting enough of certain essential nutrients, including those listed below. In fact, omega-3s, B vitamins, vitamin D, magnesium, and other nutrients, have demonstrated potential protective effects for cognitive health.
Vitamin D
Vitamin D has been biologically linked to emotional well-being, mood, cognition, and better mental health overall
Higher levels of vitamin D within the brain are associated with lower risk of dementia and Alzheimer's Disease, as well as better global cognitive function scores, a slower rate of cognitive decline, and better semantic and working memory.
A 12 year study of 916 participants ages 65 years and older found that those with vitamin D levels below 20 ng/ml (50 nmol/L) had double the risk of all-cause dementia and almost triple the risk of Alzheimer's specifically.
More studies on vitamin D and cognitive and mental/emotional health here
Omega-3 Fatty Acids
Vitamin D in combination with omega-3s can contribute to especially significant improvements in depression, anxiety, stress, and sleep scores; in one study, supplementing with both had a greater effect on anxiety, stress, and sleep than either on its own or placebo
For older adults assessed for cognitive orientation, memory, attention, and language, those with the highest Omega-3 Index levels had a 44% lower risk of impairment compared to those with the lowest levels
The recommended Omega-3 Index is 8% or higher – yet 85% of GrassrootsHealth participants were below this level
B Vitamins
Important! A study that originally set out to determine the effectiveness of vitamin B12 and folic acid on cognitive decline discovered a significant correlation with B vitamin supplementation only after considering the amount of omega-3 fatty acids in the blood. The study showed that individuals with higher plasma DHA levels benefitted more from vitamin B12 and folic acid use compared to those with lower DHA levels. Read More
Magnesium
Magnesium intake and levels have been related to attention and hyperactivity among children with ADHD, fatigue among multiple sclerosis patients, memory in patients with dementia, schizophrenia, Parkinson's disease, and other conditions. Read More
Vitamin C
The brain has the highest concentrations of vitamin C than any other tissue in the body, and vitamin C is involved in multiple critical brain functions. This study found that vitamin C supplementation resulted in significant improvements in attention, work absorption, and shorter reaction times when solving mathematical problems, as well as a distinct improvements in fatigue and work engagement. Read More
Probiotics
Research shows how the microbes in our gut can affect the way we think, feel, and act through the microbiome-gut-brain axis. Learn More
And others…
For the rest of this month, use the coupon code HAPPYBRAIN to get 15% off any of the following kits:
Promotion ends Sat, Sept. 30 at 11:59 PM PST
How Does Our Blood Sugar Level Affect Our Brain?
The brain is extra sensitive to blood sugar levels, as both high and low blood sugar can result in damage or certain symptoms. Thinking, attention, learning and memory are all closely linked to blood sugar levels and how efficiently the brain uses glucose. Therefore, it is essential to maintain steady, healthy blood sugar levels to help protect brain health and function.
HbA1c is a measure of how healthy average blood sugar levels have been in the recent few months, and is a better representation of blood sugar health than a single glucose measurement. Higher levels are associated with a higher risk of metabolic syndrome, diabetes, cardiovascular disease, cognitive diseases, and more.
The Connection Between Inflammation and Mental/Emotional Wellness
Managing chronic inflammation is extremely important for diseases associated with the brain and nervous system as multiple studies have found a direct correlation between high levels of inflammation and increased incidence of mental-emotional health problems. Previously, we reviewed a study assessing the effects of chronic inflammation on cognitive health, where higher levels of C-reactive protein (CRP) were related to an increase in cognitive decline.

For the rest of this month, choose from the Cognitive Health Test Kit or the Inflammation Panel Test Kit (with or without Magnesium) to measure the above levels, and get 15% off when you use the coupon code HAPPYBRAIN.
Create Your Custom Home Test Kit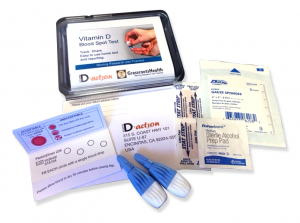 Measure your vitamin D levels at home as part of the D*action project! To know if you are getting enough, make sure you test today!
You can also measure your:
Vitamin D
Magnesium PLUS Essential and Toxic Elements
Omega-3 Fatty Acids
hsCRP
HbA1c
TSH
Type 1 Diabetes Autoantibodies
Did you know that each of the above can be measured at home using a simple blood spot test? As part of our ongoing research project, you can order your home blood spot test kit to get your levels, followed by education and steps to take to help you reach your optimal target levels. Start by enrolling and ordering your kit to measure each of the above important markers, and make sure you are getting enough of each to support better mood and wellbeing!
Create your custom home test kit today. Take steps to improve the status of each of these measurements to benefit your overall health. With measurement you can then determine how much is needed and steps to achieve your goals.  You can also track your own intakes, symptoms and results to see what works best for YOU.
How Can You Use this Information for YOUR Health?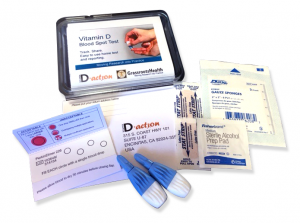 Having and maintaining healthy vitamin D and other nutrient levels can help improve your health now and for your future. Measuring is the only way to make sure you are getting enough!
STEP 1 Order your at-home blood spot test kit to measure vitamin D and other nutrients of concern to you, such as omega-3s, magnesium, essential and toxic elements (zinc, copper, selenium, lead, cadmium, mercury); include hsCRP as a marker of inflammation or HbA1c for blood sugar health
STEP 2 Answer the online questionnaire as part of the GrassrootsHealth study
STEP 3 Using our educational materials and tools (such as our dose calculators), assess your results to determine if you are in your desired target range or if actions should be taken to get there
STEP 4 After 3-6 months of implementing your changes, re-test to see if you have achieved your target level(s)