Published on July 3, 2023
Study finds a significant correlation between B vitamins and maintaining cognitive health, but only with higher levels of omega-3 fatty acid DHA in the blood — additional studies demonstrate cognitive benefits of getting enough omega-3s
Key Points
Omega-3s, B vitamins, as well as vitamin D, magnesium, and other nutrients, have demonstrated potential protective effects for cognitive health; another new study demonstrated significantly lowered risk of cognitive decline, dementia and Alzheimer's disease especially associated with omega-3 fatty acid intake
A study that originally set out to determine the effectiveness of vitamin B12 and folic acid on cognitive decline discovered a significant correlation with B vitamin supplementation only after considering the amount of omega-3 fatty acids in the blood
 The study showed that individuals with higher plasma DHA levels benefitted more from vitamin B12 and folic acid use compared to those with lower DHA levels
---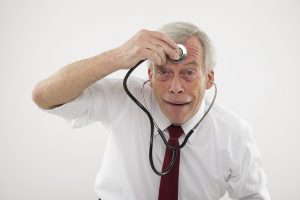 Interested in protecting your brain and maintaining a sharp mind?  More research has just been published to demonstrate the importance of omega-3 fatty acid intake for cognitive health.
A new study (June 2023) by Wei it al. analyzed data from 1135 dementia-free participants, with an average age of 73 years old, to evaluate the association between omega-3 supplementation and the development of Alzheimer's disease (AD) over a span of 6 years. The study found a 64% significantly reduced risk of AD among long-term omega-3 supplement takers.
Analysis of 48 additional longitudinal studies, including data from 103,651 participants, found a decreased risk of approximately 20% of all-cause dementia or cognitive decline among those with higher dietary omega-3 intake; this finding was strongest for those with higher DHA intake. More specifically, every additional .1 g/day of DHA or EPA was associated with an 8% to 9.9% lower risk of cognitive decline. The study also concluded that higher levels of DHA and EPA in the blood were also associated with a lower risk. DHA and EPA status can be measured specifically with the Omega-3 Index test, offered by GrassrootsHealth.
Omega-3s are also beneficial to cardiovascular health, immune health, metabolic health, and maintaining healthy levels of inflammation, among many other health benefits.
Measure Your Omega-3 Levels Today!
B Vitamins May Not have Significant Cognitive Health Benefit without Omega-3s
A study by van Soest et al., which originally set out to determine the effectiveness of vitamin B12 and folic acid on cognitive decline, discovered a significant correlation with B vitamin supplementation only after considering the amount of omega-3 fatty acids in the blood. The video below by Lifespan News, titled Vitamin B & Omega-3 Linked to Cognitive Health in New Study, gives a quick summary of these findings.
Watch the Video
After watching the video, be sure to make note of our added details below!
Video & Study Summary
The study included data from 191 healthy adults, ages 65 years or older, half of whom had been given daily vitamin B12 (500 ug) and folic acid (B9, 400 ug) for two years, and the other half who were given placebo
Omega-3 blood levels were obtained from all participants at baseline and blood level results were divided into groups of low, middle and high
Measurements of cognitive health included tests for global cognition, episodic memory, attention and working memory, information processing speed, and executive functioning
While the initial analysis showed a slight but insignificant association between B vitamin supplementation alone and higher overall cognitive scores after the two years, including the level of DHA in the analysis indicated a significant correlation between the B vitamin supplementation and participants with higher levels of DHA with maintaining cognitive function and health
As the study concludes, "This post-hoc analysis indicated that efficacy of B-vitamin supplementation in slowing cognitive decline relates to DHA status, with individuals with higher plasma DHA levels benefitting more from vitamin B12 and folic acid use."
This is not the only study to show how omega-3 fatty acids and B vitamins can benefit cognitive health…
Vitamin D, magnesium, and other nutrients are also important for cognitive health!
Why is it Important to Focus on Your Omega-3 Index vs Intake?
The Omega-3 Index is a blood test that measures the amount of EPA and DHA in red blood cell (RBC) membranes and is expressed as a percent of total RBC fatty acids. It is a long-term and stable marker of omega-3 status, and it reflects tissue levels of EPA+DHA.
An Omega-3 Index of over 8% is associated with the lowest risk of death from heart disease and below 4% with the highest.
While individual levels of omega-3s vary across the globe, most countries and regions have levels that are considered low to very low.
Measure Your Level Today!
Have you measured your Omega-3 Index, which shows you how much DHA and EPA are in your blood and tissues? Scientists recommend a target Omega-3 Index of 8% or higher. Testing is essential, as there is a large amount of variability in the omega-3 status for different people with the same intake amount (similar to vitamin D!). For example, a GrassrootsHealth analysis showed that the range of response with 1000 mg of EPA+DHA per day was 5.7% to 10.2%. Therefore, it is recommended that individuals measure their Omega-3 Index and determine a personalized dose using the Omega-3 calculator to achieve a minimum Omega-3 Index of 8%.
Measure Your Omega-3 Levels Today!
How Can You Use this Information for YOUR Health?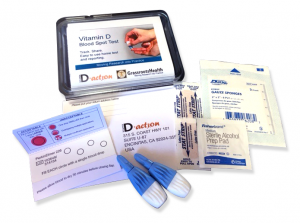 Having and maintaining healthy vitamin D and other nutrient levels can help improve your health now and for your future. Measuring is the only way to make sure you are getting enough!
STEP 1 Order your at-home blood spot test kit to measure vitamin D and other nutrients of concern to you, such as omega-3s, magnesium, essential and toxic elements (zinc, copper, selenium, lead, cadmium, mercury); include hsCRP as a marker of inflammation or HbA1c for blood sugar health
STEP 2 Answer the online questionnaire as part of the GrassrootsHealth study
STEP 3 Using our educational materials and tools (such as our dose calculators), assess your results to determine if you are in your desired target range or if actions should be taken to get there
STEP 4 After 3-6 months of implementing your changes, re-test to see if you have achieved your target level(s)