Published on June 13, 2022

Studies show potential benefit of omega-3 fatty acids for supporting mental-emotional wellness during menopause, and overall
Key Points
Women approaching menopause experience many physical and mental-emotional changes and are at a higher risk of various chronic diseases and health complaints, including cognitive impairment (such as memory problems, cognitive decline, and "brain fog") and emotional disorders (such as anxiety and depression)
Fish oil supplementation was shown to have an anti-anxiety effect, and helped to maintain inflammatory balance along with antidepressant and neuroprotective activities, and had neuroimmune-modulating actions; a study among the general population found that clinical anxiety symptoms were more likely to improve among those who took omega-3 supplements compared to those taking a placebo
Omega-3 supplementation was also related to less psychological distress, decreased depressive symptoms, and resulted in significant improvements in depression scores; in one study that measured omega-3 status, a significant negative correlation was found, where less depressive symptoms were seen with higher omega-3 levels
---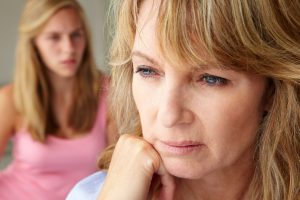 Women approaching menopause experience many physical and mental-emotional changes and are at a higher risk of various chronic diseases and health complaints, including cognitive impairment (such as memory problems, cognitive decline, and "brain fog") and emotional disorders (such as anxiety and depression). Studies have shown a potential role of omega-3 fatty acids in the prevention and treatment of both emotional disorders and cognitive disorders in general, but what about during menopause specifically?
A systematic review by Decandia et al. combined data from 17 studies (11 human studies and 6 animal studies) to see what effect omega-3s had on emotion (specifically anxiety and depression) and cognition during the menopausal transition.
Omega-3s and Anxiety
The review included 3 animal studies and one human study that evaluated effects of omega-3s on anxiety during menopause. The first study showed that fish oil supplementation did have an anti-anxiety effect. The second showed fish oils helped to maintain inflammatory balance along with antidepressant and neuroprotective activities and neuroimmune-modulating actions. While the last study did not find that omega-3 supplementation improved anxiety symptoms over placebo for women during menopause, another meta-analysis using findings from 19 different studies among the general population found that clinical anxiety symptoms were more likely to improve among those who took omega-3 supplements compared to those taking a placebo. The greatest effect was seen for those taking at least 2,000 mg per day of omega-3 fatty acids, and whose omega-3 fatty acid intake was at least 60% EPA.
Omega-3s and Depression
Five animal studies and 9 human studies were included in the review to look at the effect of omega-3 fatty acids on depression during menopause. The animal studies found that supplementation improved several biochemical markers correlating to depression, and also found that daily supplementation produced neuroprotective effects.
Several of the human studies demonstrated that omega-3 supplementation was related to less psychological distress, decreased depressive symptoms, and resulted in significant improvements in depression scores. In one study that measured omega-3 status, a significant negative correlation was found, where less depressive symptoms were seen with higher omega-3 levels, however, there were mixed results when looking at all studies combined.  A separate analysis by Murphy et al. supports previous findings that omega-3s may be important for treating depression among the general population, and found that higher omega-3 levels in the blood were significantly associated with a lower risk of moderately severe to severe depression, especially for those with higher EPA, as illustrated in the chart below.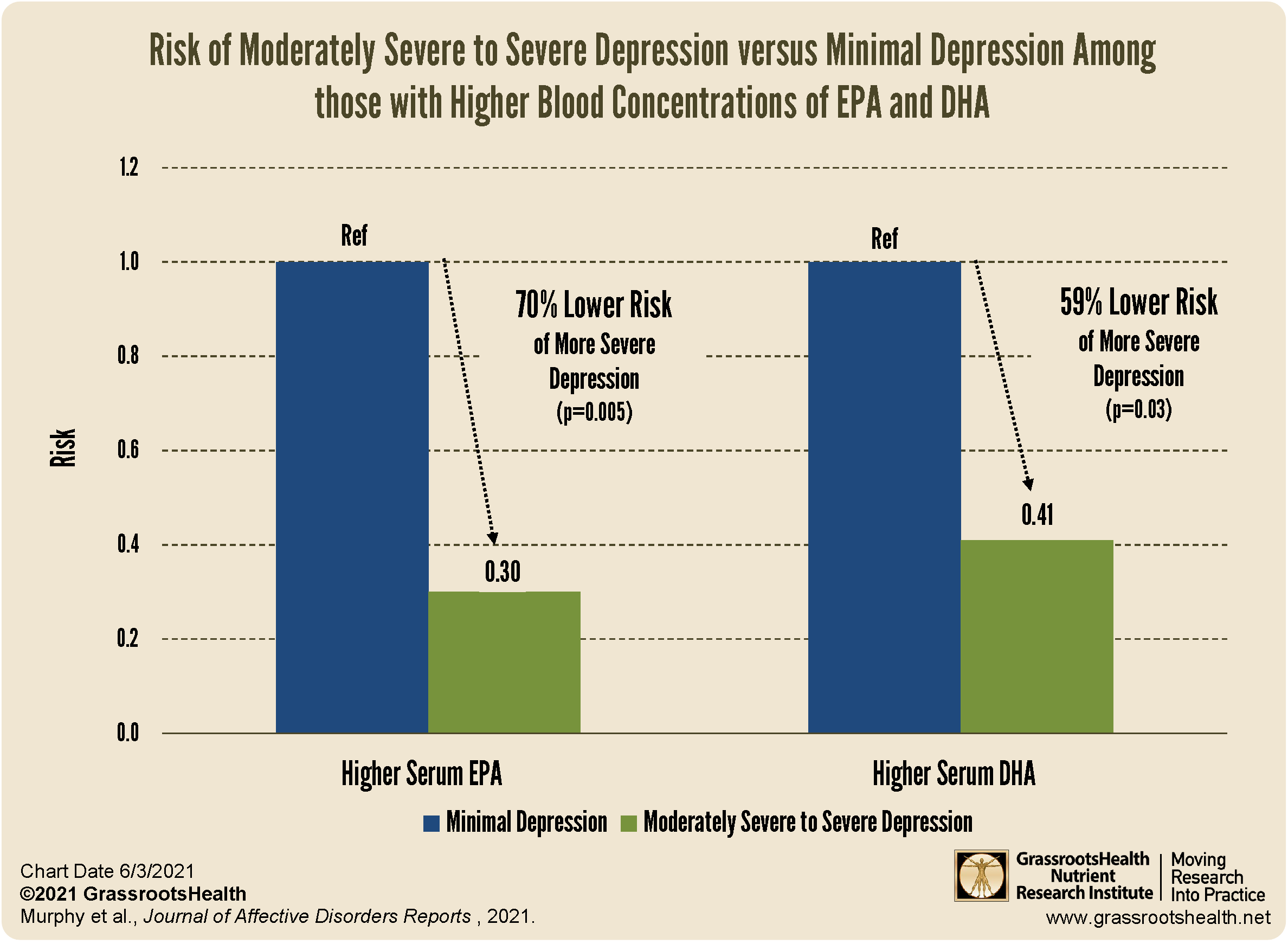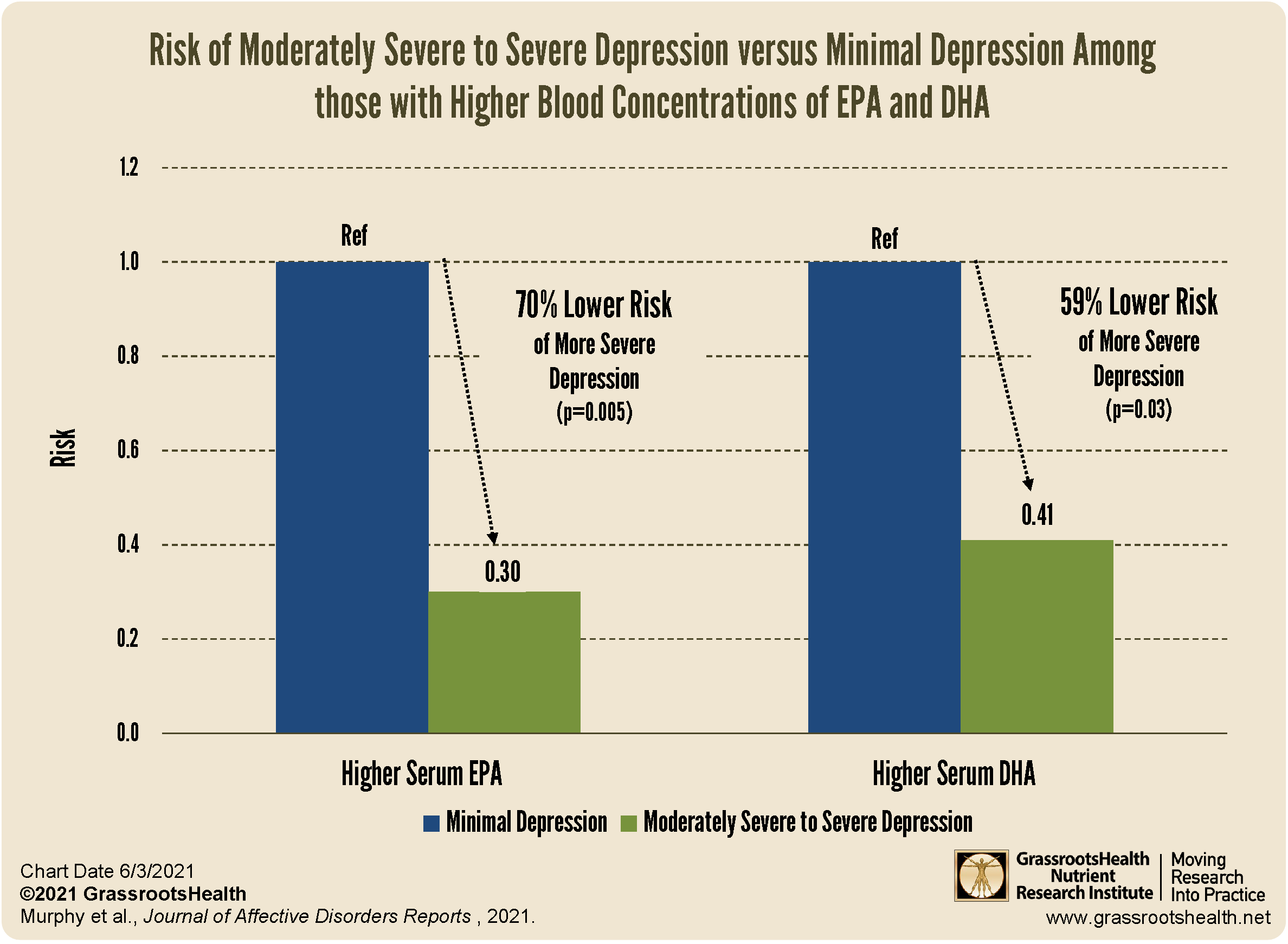 Omega-3s and Cognition
The Decandia et al. review included one animal study and 2 human studies that evaluated cognition during menopause. Positive effects on the brain were observed in the animal studies with omega-3 (specifically DHA) administration. One human study showed improvement in verbal memory and decreased psychomotor response among women taking omega-3 supplements, while the other did not find a significant correlation. A separate study assessing the association between Omega-3 Index, a biomarker of EPA and DHA status, and cognitive decline among older adults in general found that those with the highest Omega-3 Index levels (greater than 6.8%) had a 44% lower risk of cognitive impairment compared to participants with the lowest Omega-3 Index levels (less than 5.7%)
In Conclusion
The authors of the menopause review conclude, "Taken as a whole, most preclinical and clinical studies highlight that, during menopause, the n‐3 PUFA dietary supplementation beneficially affects anxiety, depression, and cognition, and exerts marked anti‐inflammatory and cell survival‐promoting effects."
When considering other studies on the effects of omega-3 supplementation on mental and emotional wellbeing among the general population, it is clear that omega-3 fatty acids can benefit overall mental and emotional wellness – for anyone!
Measure Your Status of Omega-3s Along with Your Vitamin D!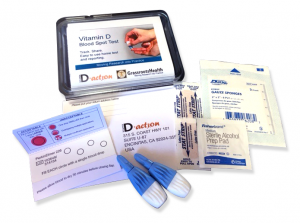 Having and maintaining healthy vitamin D, omega-3s, and other nutrient levels can help improve your health now and for your future. Choose which to measure, such as your vitamin D, omega-3s, and essential minerals including magnesium and zinc, by creating your custom home test kit today. Take steps to improve the status of each of these measurements to benefit your overall health. With measurement you can then determine how much is needed and steps to achieve your goals.  You can also track your own intakes, symptoms and results to see what works best for YOU.
Enroll in D*action and Test Your Levels Today!
How Can You Use this Information for YOUR Health?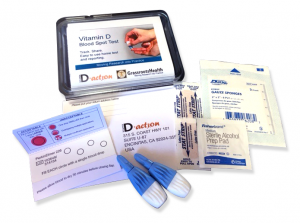 Having and maintaining healthy vitamin D and other nutrient levels can help improve your health now and for your future. Measuring is the only way to make sure you are getting enough!
STEP 1 Order your at-home blood spot test kit to measure vitamin D and other nutrients of concern to you, such as omega-3s, magnesium, essential and toxic elements (zinc, copper, selenium, lead, cadmium, mercury); include hsCRP as a marker of inflammation or HbA1c for blood sugar health
STEP 2 Answer the online questionnaire as part of the GrassrootsHealth study
STEP 3 Using our educational materials and tools (such as our dose calculators), assess your results to determine if you are in your desired target range or if actions should be taken to get there
STEP 4 After 3-6 months of implementing your changes, re-test to see if you have achieved your target level(s)