Becoming a participant of GrassrootsHealth means that you are joining thousands of people in collaborating on nutrient research – we call it "Citizen Science."
Since its founding, GrassrootsHealth has grown into the world's largest population field trial on vitamin D, thanks to the thousands of participants who have contributed as "Citizen Scientists." By joining the GrassrootsHealth project, everyone has provided valuable health information to make important health discoveries and methods to help Move Research into Practice — while also measuring their vitamin D level and receiving education and tools to help track, achieve and maintain healthy levels for themselves.
What is Citizen Science?
Citizen science welcomes everyone's participation in the discovery and sharing of scientific knowledge. Whether it is research on the environment, behavior of animals, or how certain things affect our health, participating through sharing your own observations and data can be of extreme value to projects relying on citizen scientists. This is real world evidence!
Learn more about other projects that have relied on the active participation of citizen scientists by watching the video below, created by the National Science Foundation.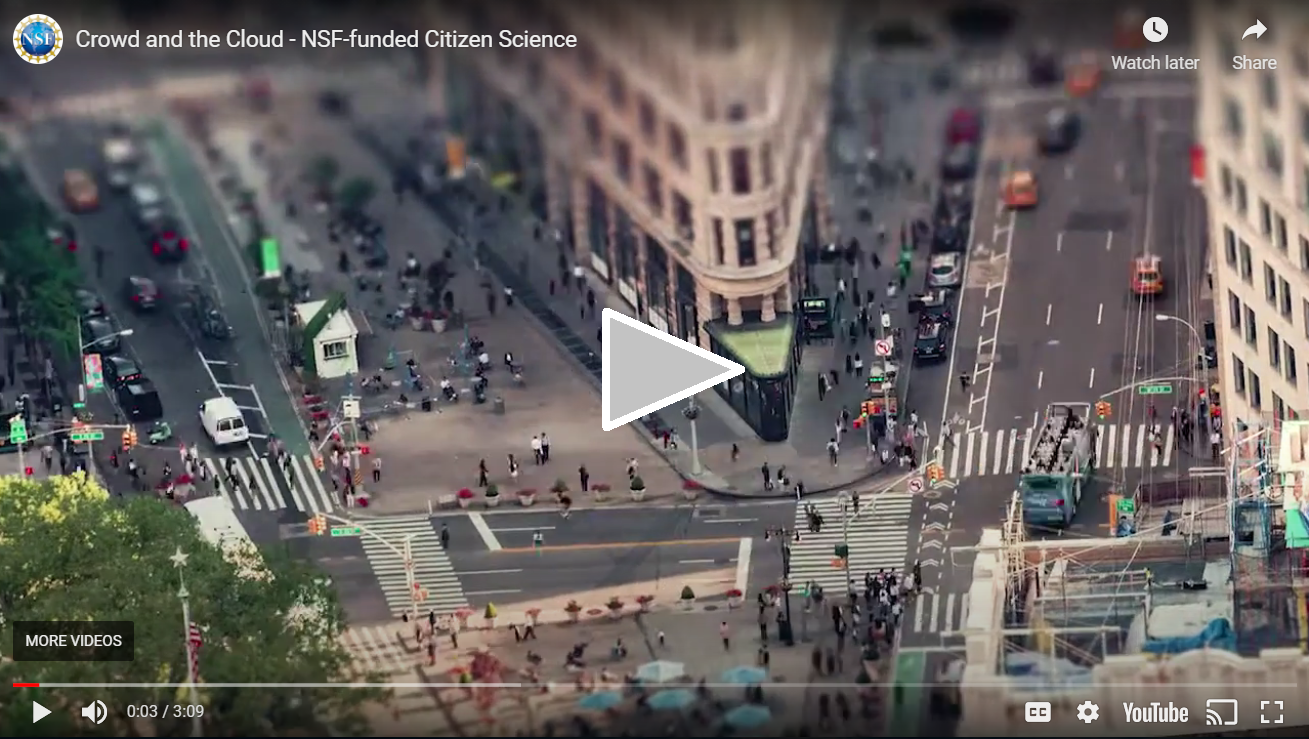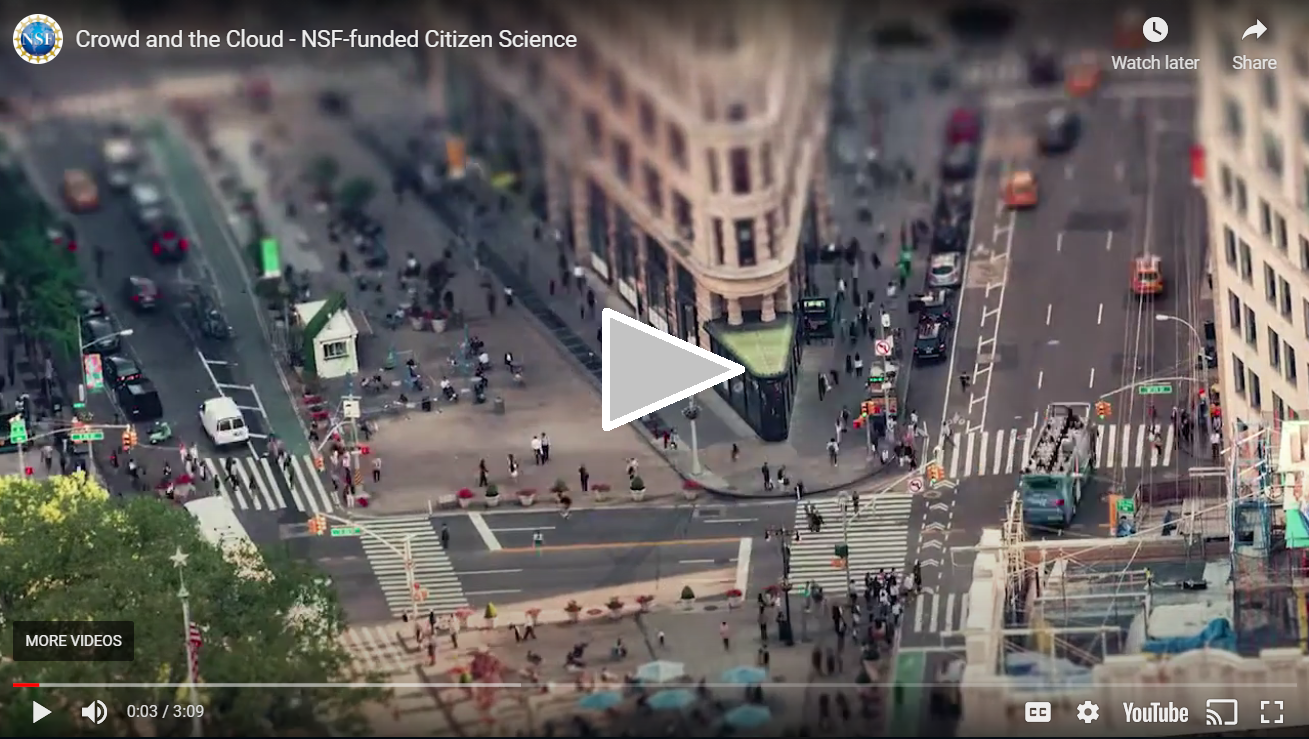 What Discoveries Have GrassrootsHealth "Citizen Scientists" Participated in Making AND Implementing?
As a citizen scientist in the GrassrootsHealth projects, you'll help everyone gain a better understanding of the role of nutrients in health and disease, and use the results to help inform public health officials to create change. Additionally, you can use your results to make informed decisions about nutrients that affect your health.
| | | |
| --- | --- | --- |
| Discoveries for YOU | Discoveries for EVERYONE | Discoveries into PRACTICE! |
GrassrootsHealth Invites You to Participate as a Citizen Scientists in the Nutrient*action Project!
What Can You Discover About Yourself as a Participant?
Up to 75% of the world-wide population is deficient in vitamin D, more than 80% are deficient in omega-3s, and over 45% of the US population is likely magnesium deficient. And we are still learning! By participating in the GrassrootsHealth project, you can answer questions such as
What are your nutrient levels, and how are they affecting YOU?
How do they track with your desired health outcomes?
How do your levels compare with those of 1000's of others with similar health targets?
What do nutrient researchers recommend?
What steps can you take to achieve those recommendations? Did they work for YOU?
The body's health outcomes are more closely associated with the specific blood measurements than with intake dosages. Everyone experiences a unique response to supplementation, nutrient intake, and how the nutrients interact, all of which can be influenced by several factors. Learn more about the wide variation in response for individuals at specific intake amounts of vitamin D, omega-3s, and magnesium, and how different co-nutrients can influence the dose-responses.
What Can You Help Everyone Discover? Top 3 Areas of Interest
Area of Interest #1 – Dose Response and the Effect of Co-Nutrients
Is it really true that one person can supplement with 1000 IU/day and have a vitamin D level of 50 ng/ml, while another takes 10,000 IU/day and only has 40 ng/ml? What can we surmise by reported supplementation and sun exposure versus the measured vitamin D level?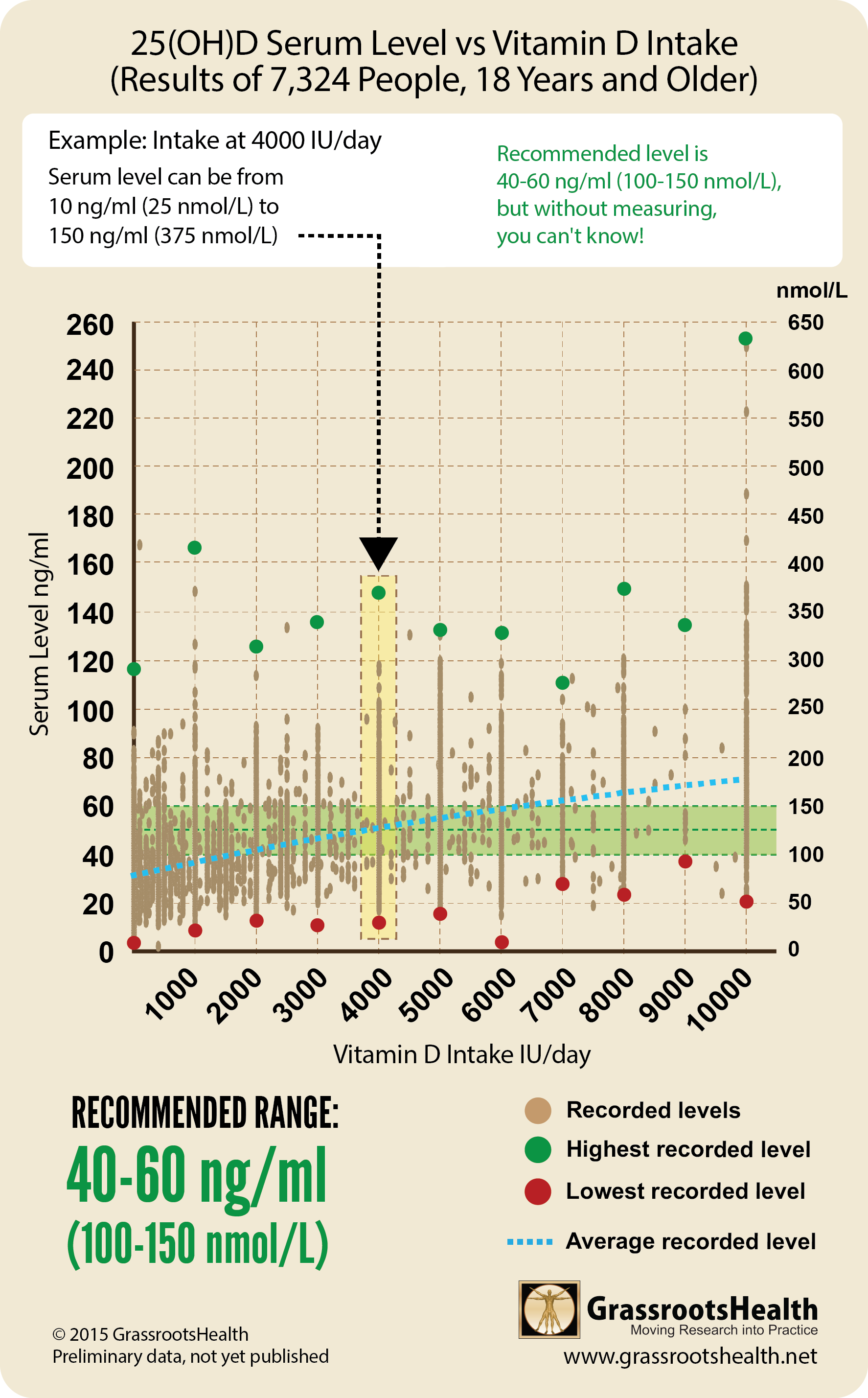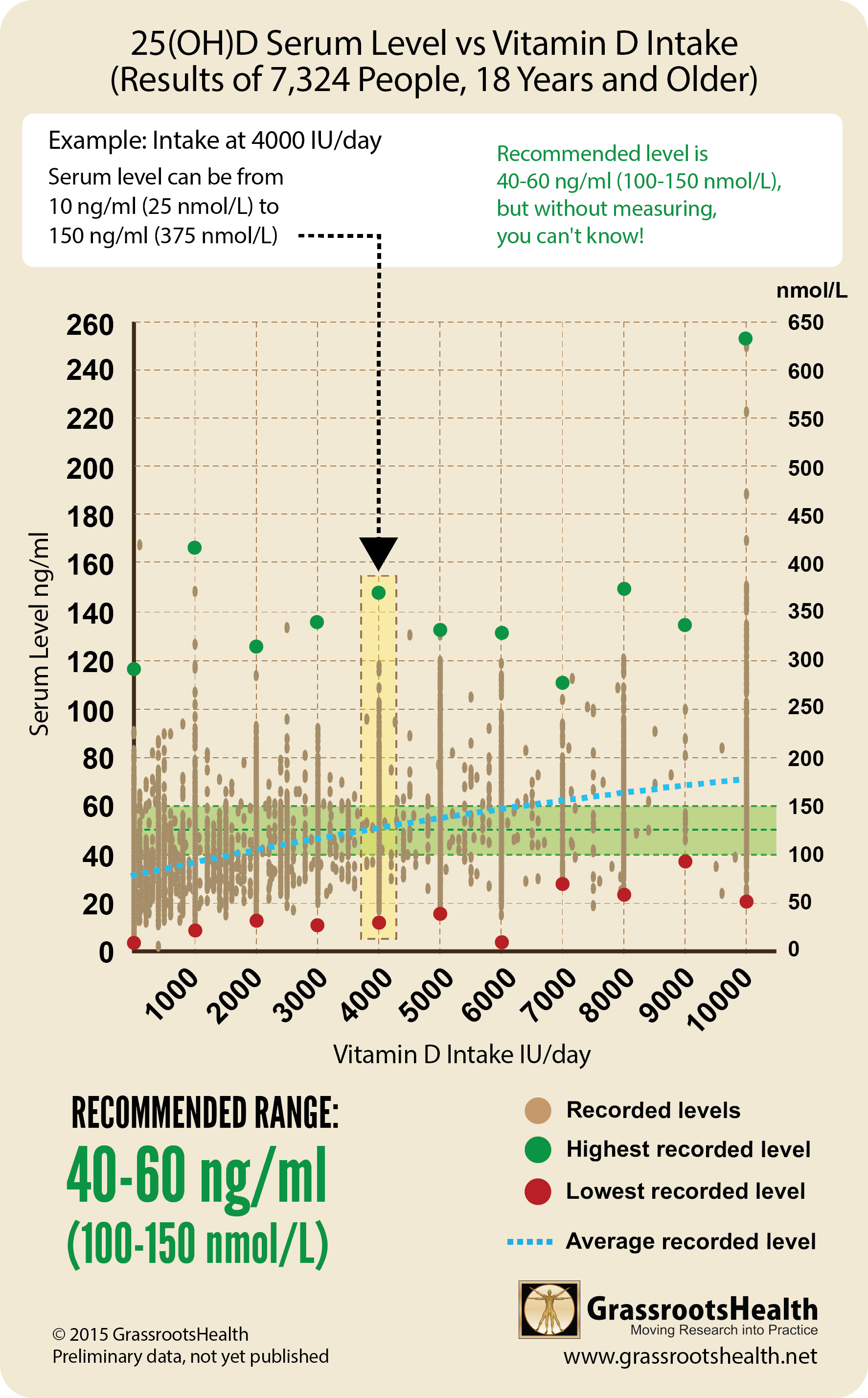 Above is a version of one of the first graphs we published. It is a dose-response curve using data from 7324 participants that shows the average dose response (how much the vitamin D level goes up with increased supplementation), as well as the wide variation of vitamin D levels at each level of intake. The curve also shows that the response is not linear – it is steeper at lower levels and then flattens out at higher levels. The vitamin D dose-response can be affected by intake of other nutrients, such as magnesium and vitamin K2 – another reason we ask about supplement intake in such detail. The same wide variation in individual response has also been shown with omega-3 supplementation and resulting Omega-3 Index levels — the individual response varies, which is why testing is so important!
We also used our vitamin D dose-response data – your data – to respond to the IOM regarding the current RDA. We helped publish a paper that used a statistical analysis to show how much supplementation it would take to get 97.5% of the population above 20 ng/ml. Based on GrassrootsHealth data — YOUR data, it would take approximately 7,000 IU/day for 97.5% of the population to achieve 20 ng/ml.
Area of Interest # 2 – Disease analysis
For vitamin D, most of the known research has been done in populations with low blood concentrations of 25(OH)D, with very low supplementation (< 2,000 IU/day), or with bulk supplementation (such as a single large dose given once a month). Our data set is unique in that many of our participants take over 4,000 IU/day and our average serum level is 44 ng/ml (110 nmol/L). What additional health benefits might we discover among such a large group of individuals with vitamin D levels in the range recommended by our scientists' panel, 40-60 ng/ml (100-150 nmol/L).
We have researchers on our panel of scientists who specialize in specific diseases or conditions, such as diabetes, cancer, or pregnancy. Our data can help them research relationships with vitamin D and the other values measured using diagnosis date, levels before diagnosis, and levels after diagnosis.
Because our cohort has a large number of participants with higher than average vitamin D levels, pooling our dataset with other datasets can allow studies to have a broader range of serum levels, more data, and thus improved statistical power – such as in the cancer publication that combined GrassrootsHealth data with data from Dr. Joan Lappe at Creighton University. Our dataset also includes other factors that might be important, such as gender, age, smoking status, exercise, latitude, weight, BMI, and occupation.
Overall we can explore which health conditions are associated with which measured levels of vitamin D and other nutrients. We can also drill down by disease and find what serum level range(s) are indicated for the prevention of that disease. From there we can compute how much disease could be prevented with target serum levels, such as vitamin D in the range of 40-60 ng/ml (100-150 nmol/L).
Area of Interest #3 – Fluctuations of Vitamin D Levels Over Time
Our database has also shown that many of our participants' vitamin D levels change throughout the year. By looking at the other data included in the questionnaire, we can try and correlate the vitamin D level change to other factors – including sun exposure, UV light, or intake amounts of other supplements.
When information from the questionnaire cannot explain observed differences, we may contact the participant to try to gather more information. For example, we know that a recent illness or injury can result in lower than usual levels, however sometimes we see that it is higher, sometimes much higher. With our additional questioning, we have learned that some people will take an extra-large dose for a few days if they feel a cold coming on, others have reported taking extra after an injury such as a sprained ankle. These extra-large doses can result in a temporary spike in D levels.
We have also learned from several anecdotes that foods and supplements that may not contain any vitamin D can have an impact on how we absorb the vitamin D we get from other foods/supplements.
Moving Research into Practice! Proven Implementation of the Discoveries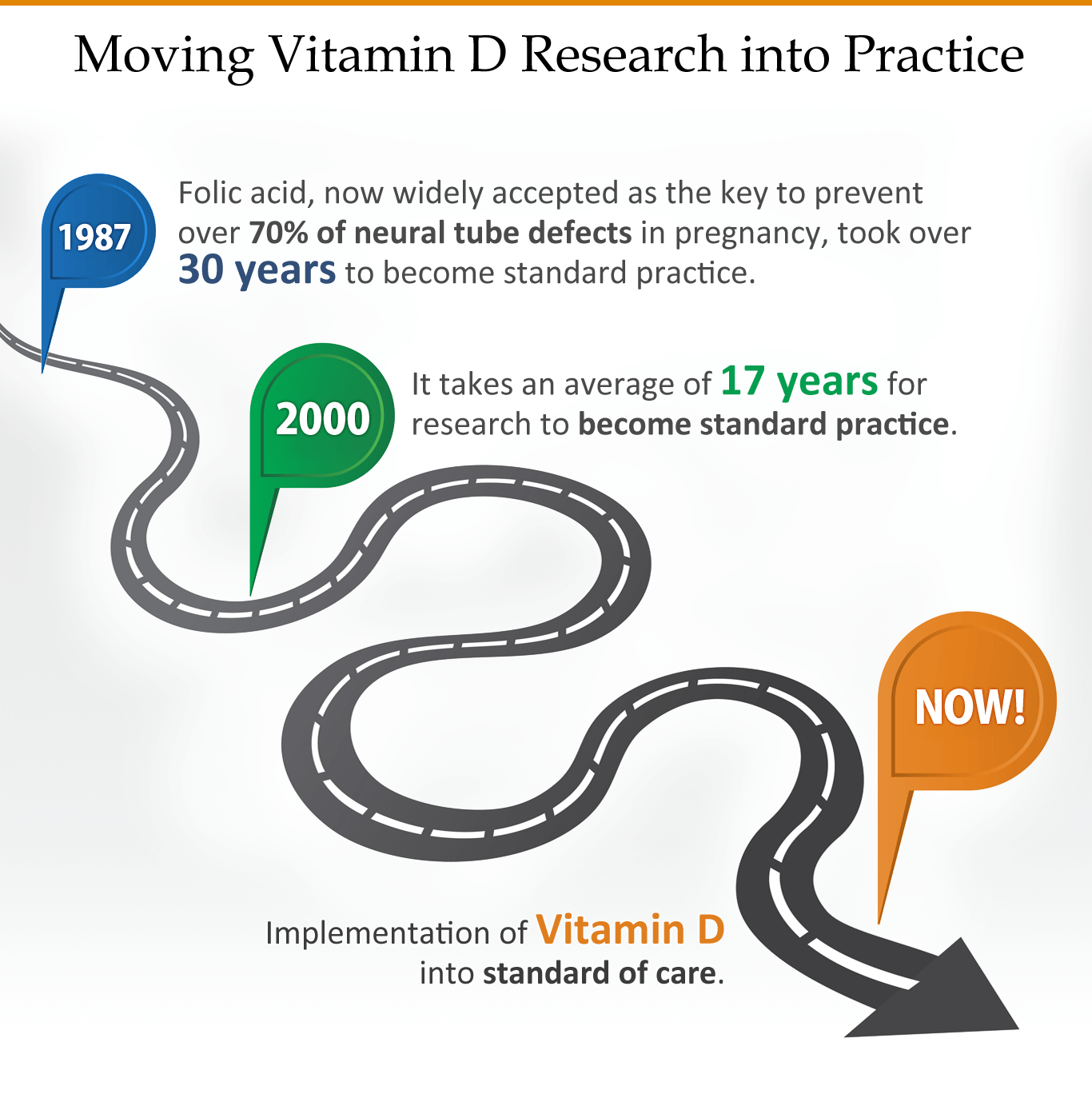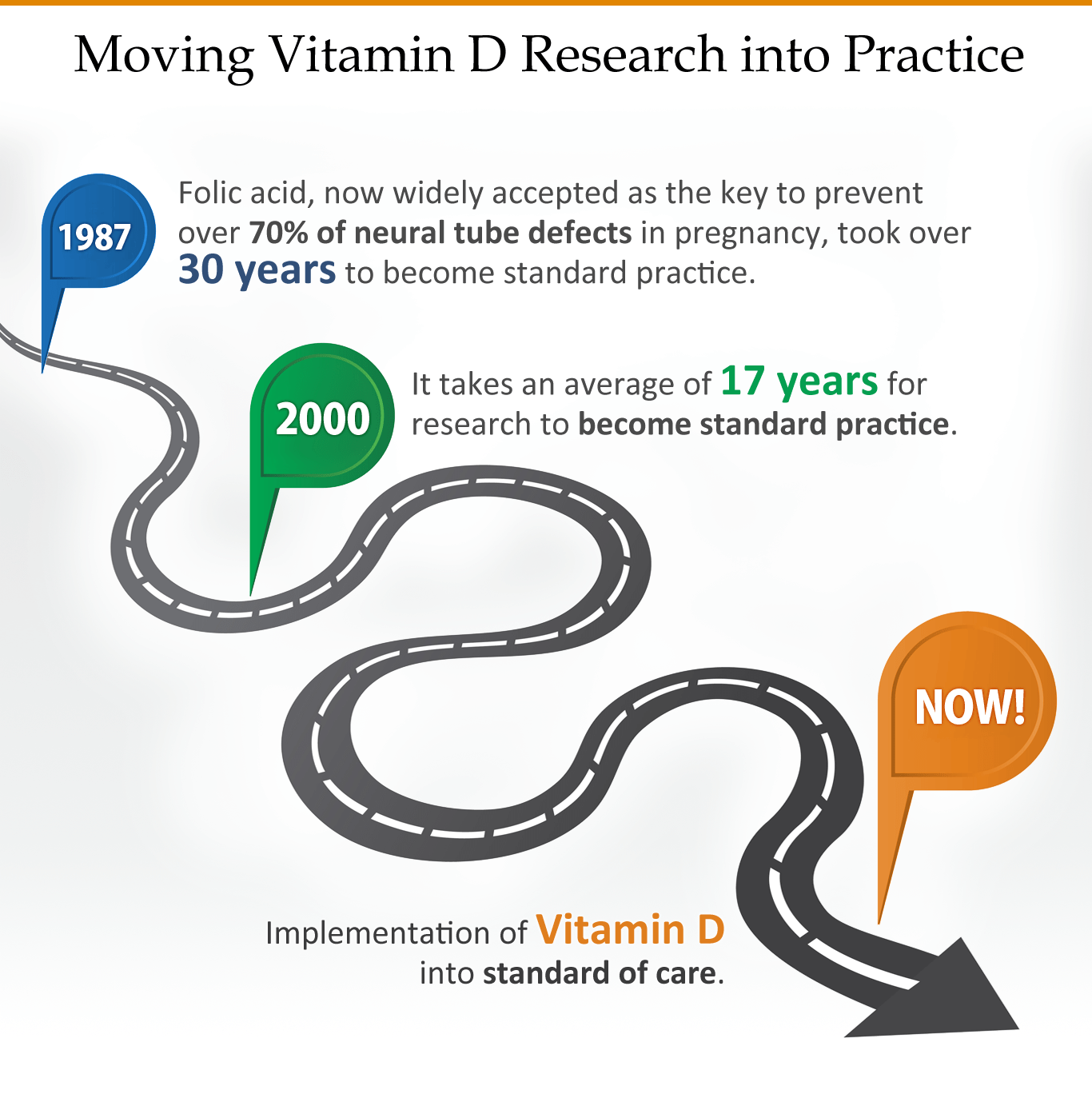 It takes an average of 17 years for nutrient research to become standard practice. GrassrootsHealth provides institutions and hospitals with a proven implementation model, tools, research and findings within 24 months. The basis is to
Test vitamin D levels and maintain ≥ 40 ng/ml
Improve health outcomes
Reduce costs
Track and report findings
For example, research demonstrates one potential complication of vitamin D deficiency in pregnancy is preterm birth. Preterm births are closely associated with cerebral palsy, mental impairment and permanent hearing loss among other deficiencies. According to the March of Dimes, approximately 9.6% of all babies in the US are born prematurely and carry an extra health care burden of $50,000 for hospital costs alone. Research has shown that raising vitamin D levels in pregnant women > 40 ng/ml can reduce over 50% of preterm births compared to women with levels < 20 ng/ml.
Protect our Children NOW! is a well-defined nutrient field trial for a hospital or clinic, which was first implemented at the Medical University of South Carolina (MUSC). Starting September 2015, MUSC, under the direction of Dr. Roger Newman, has implemented GrassrootsHealth's Protect our Children NOW! nutrient field trial in their practice. A new standard of care was created with the help of GrassrootsHealth for all pregnant women receiving prenatal care at that location to be screened for vitamin D deficiency and to raise their serum levels to at least 40 ng/ml as soon as possible during pregnancy. Educational materials for medical staff and patients were included, as well as an onsite project manager. It is typically funded by the location and/or insurance companies – as the project cost is much less than the projected health care savings. View the Protocol Here
The phenomenal results from year one of this project were published in PLOS One in 2017. For a 3-year update, read about the association between vitamin D level and preterm birth among all women, and the association among select subgroups of women.
All of this Thanks to YOU and ALL of our Citizen Scientists!
Please see our website for some of what our citizen scientists have helped us to discover AND implement, especially highlighted under our blog section "GrassrootsHealth Cohort Data," review the peer-reviewed research that has been published from the GrassrootsHealth vitamin D*action data, our "Resources" tab for more, and our Moving Research into Practice booklet for an easy-to-read summary.
Become a GrassrootsHealth Citizen Scientist and Learn About Your Levels Today!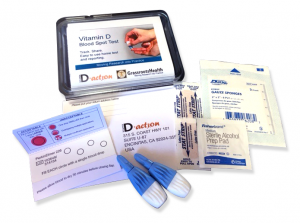 Having and maintaining healthy levels of these and other nutrients can help improve your health now and for your future. Choose which to measure, such as your vitamin D, omega-3s, and essential minerals including magnesium and zinc, by creating your custom home test kit today. Take steps to improve the status of each of these measurements to benefit your overall health. You can also track your own intakes, symptoms and results to see what works best for YOU.
Enroll and test your levels today, learn what steps to take to improve your status of vitamin D (see below) and other nutrients and blood markers, and take action! By enrolling in the GrassrootsHealth projects, you are not only contributing valuable information to everyone, you are also gaining knowledge about how you could improve your own health through measuring and tracking your nutrient status, and educating yourself on how to improve it.