Published on May 11, 2023

A recent study clearly demonstrates a pattern of decline in vitamin D3 production in response to sun exposure with age
Key Points
In a 2020 study, 30 individuals of similar skin type were exposed to a single bout of sensible sunshine exposure to compare the difference in vitamin D3 production between those who were older and those who were younger
An increase in vitamin D3 levels in response to sun exposure was seen for both groups, however, there was a trend showing less of a response among those in the older group, with age accounting for 20% of the variation in vitamin D3 production between the groups
A 13% decrease in the production of vitamin D3 can be seen with each decade of life, with an estimated 50% reduction at the age of 70 years old compared to the age of 20
---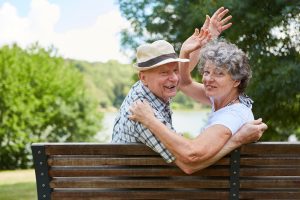 Older adults are considered an at-risk group for vitamin D deficiency. One of the most frequent questions we have received about sun exposure is if age affects the ability to make vitamin D from sunshine. A 2020 publication by Chalcraft et al. explored this question, and their results clearly demonstrate a pattern of decline in vitamin D3 production, in response to a single bout of sensible sun exposure, with age.
How did the study work?
The study enrolled 30 healthy participants with a skin type of either II or III who were not currently or recently supplementing with vitamin D. Participants were grouped by age; the younger group was between the ages of 20 and 37 years (n=18) and the older group was between 51 and 69 years of age (n=12).
Each participant was exposed to 30 minutes of mid-day sun exposure during late spring/early summer (on a sunny day when UVB radiation was available from the sun), with 15 minutes of exposure to the front of the body and 15 minutes to the back. Male participants wore shorts only and female participants wore shorts and a sports bra. Participants wore sunscreen on their faces and sun glasses.
Levels of both vitamin D3 and 25(OH)D were measured in the blood; vitamin D3 levels were taken at baseline and 24, 48, and 72 hours after exposure. 25(OH)D levels were taken at baseline and 72 for all participants, and 168 hours after exposure for older participants. Participants were also told to completely avoid sun exposure or fully cover up with clothing and sunscreen for 72 hours (younger group) or 168 hours (older group) following their session.
"This study is one of the first to evaluate and practically apply UVB exposure from natural sunlight to examine the effect of subcutaneous vitamin D3 synthesis in younger and older adults."
What did the study find?
An increase in vitamin D3 levels in response to sun exposure was seen for both groups, however, there was a trend showing less of a response among those in the older group with age accounting for 20% of the variation in vitamin D3 production between the groups. Peak vitamin D3 production was mostly seen between 24-48 hours post exposure; older participants tended to experience their peak later, closer to the 48 hour mark.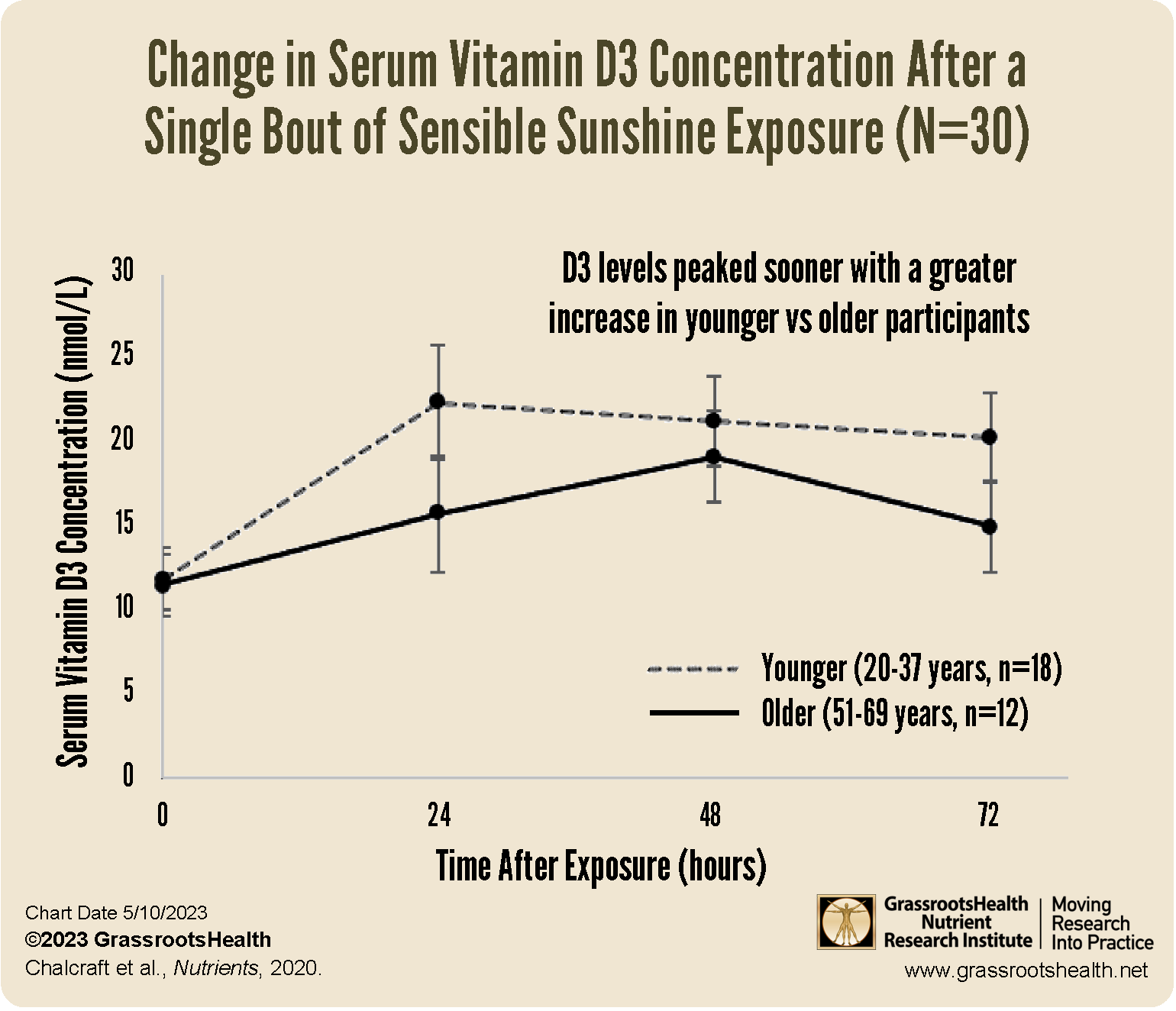 Click to Enlarge & Print
Using a model based on data from the study, a 13% decrease in the production of vitamin D3 can be seen with each decade of life, as illustrated below. While the authors conclude that vitamin D3 production is still possible later in life, estimated production is cut nearly in half at the age of 70 years compared to production at the age of 20.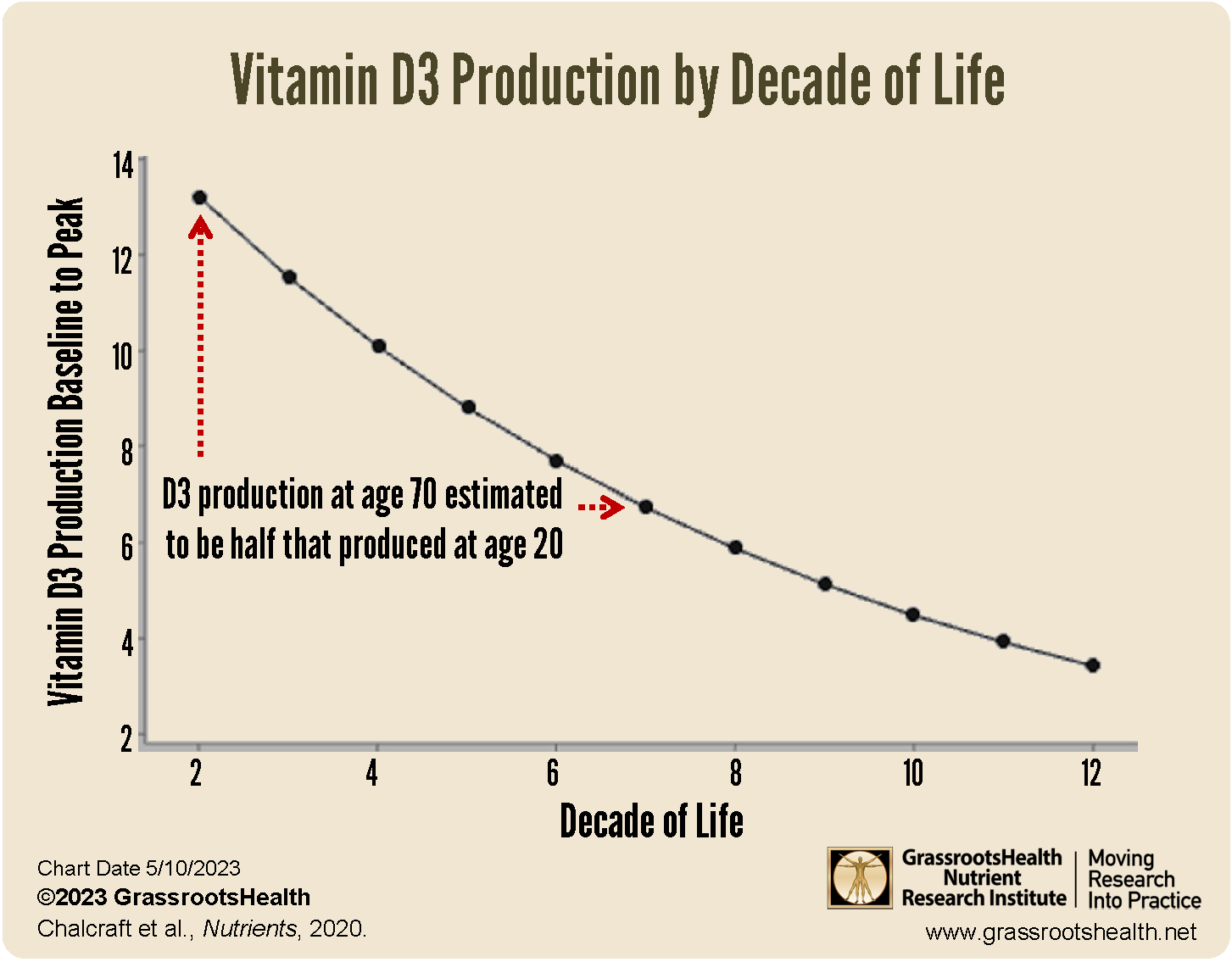 Click to Enlarge & Print
In this group, age was the single best predictor of vitamin D3 production among individuals of similar skin types. Baseline vitamin D level and lean body mass in combination with age were also strong predictors. The authors did not observe a change in 25(OH)D levels, most likely due to the fact that it was a one-time exposure session.  Also, the amount of vitamin D3 production from the 30 minute sunshine exposure was approximately 25 to 30% of that observed using sunbeds with delivery of 1 MED [minimal erythema dose (MED) is the amount of sunshine (or UVB) exposure that leads to a slight pinkness to the skin 24 hours later].
As stated by the authors,
"General public health efforts target sunscreen use, skin coverage with clothing and/or a sun hat and sun avoidance to reduce exposure to UVA and UVB radiation and prevent cancer and photo ageing. While these public health efforts are understandable from the viewpoint of prevention of non-melanoma skin cancer, they neglect the potential physiological benefits of mindful sunlight exposure that includes elevation of vitamin D status and the potential influence of sun exposure and vitamin D on health in ageing individuals."
---
Learn More About the Health Benefits of Sensible Sunshine Exposure in our Sunshine eBook!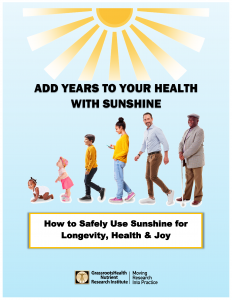 With our FREE Sunshine eBook, you will learn:
the health benefits of sunshine
what happens in our bodies when exposed to sunshine
how and when to make vitamin D from sun exposure and how this is different from taking a supplement
how to utilize sensible sun exposure to minimize the risks of sun exposure and maximize the benefits for skin and overall health
and more…
---
Make Sure You Are Getting Enough Vitamin D from Sun & Supplements – Test At Home!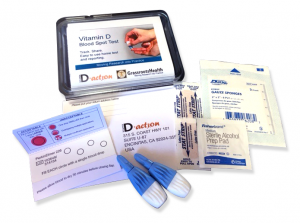 Having and maintaining healthy vitamin D levels and other nutrient levels can help improve your health now and for your future. Choose which additional nutrients to measure, such as your omega-3s and essential minerals including magnesium and zinc, by creating your custom home test kit today. Take steps to improve the status of each of these measurements to benefit your overall health. With measurement you can then determine how much is needed and steps to achieve your goals.  You can also track your own intakes, symptoms and results to see what works best for YOU.
Enroll in D*action and Test Your Levels Today!
How Can You Use this Information for YOUR Health?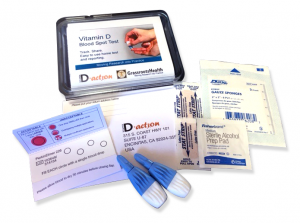 Having and maintaining healthy vitamin D and other nutrient levels can help improve your health now and for your future. Measuring is the only way to make sure you are getting enough!
STEP 1 Order your at-home blood spot test kit to measure vitamin D and other nutrients of concern to you, such as omega-3s, magnesium, essential and toxic elements (zinc, copper, selenium, lead, cadmium, mercury); include hsCRP as a marker of inflammation or HbA1c for blood sugar health
STEP 2 Answer the online questionnaire as part of the GrassrootsHealth study
STEP 3 Using our educational materials and tools (such as our dose calculators), assess your results to determine if you are in your desired target range or if actions should be taken to get there
STEP 4 After 3-6 months of implementing your changes, re-test to see if you have achieved your target level(s)