Published on March 11, 2020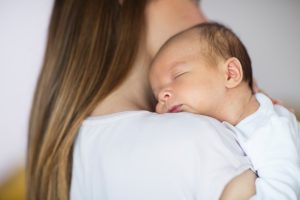 In response to an upcoming publication by Trivedi et al., Dr. Carol Wagner, a member of the GrassrootsHealth Scientist Panel, writes a compelling summary of the current status of vitamin D deficiency among new mothers and their infants. Vitamin D has many essential roles in the growth and development of a healthy baby, yet deficiency is rampant among pregnant and breastfeeding mothers and their infants. The problem is so pervasive that the American Academy of Pediatrics has addressed the issue, with recommendations to supplement all infants with 400 IU vitamin D from birth. Unfortunately, compliance in actually doing so is very low resulting in vitamin D deficient babies and children.
The Problem of Vitamin D Deficiency in Pregnant Women
Well aware of the problem of vitamin D deficiency in pregnancy and babies, GrassrootsHealth launched a project at the Medical University of South Carolina (MUSC) in 2015 to include vitamin D testing and supplementation as a part of the standard of care for all prenatal patients, with the goal of achieving a minimum prenatal vitamin D level of 40 ng/ml. Initial findings were published in 2017. Initial testing showed that the vast majority (89%) of pregnant women had vitamin D levels less than 40 ng/ml on their first vitamin D test and almost one-third (31%) had vitamin D levels less than 20 ng/ml. Black women had particularly low vitamin D levels; almost all (99%) were less than 40 ng/ml and approximately two-thirds (65%) were less than 20 ng/ml.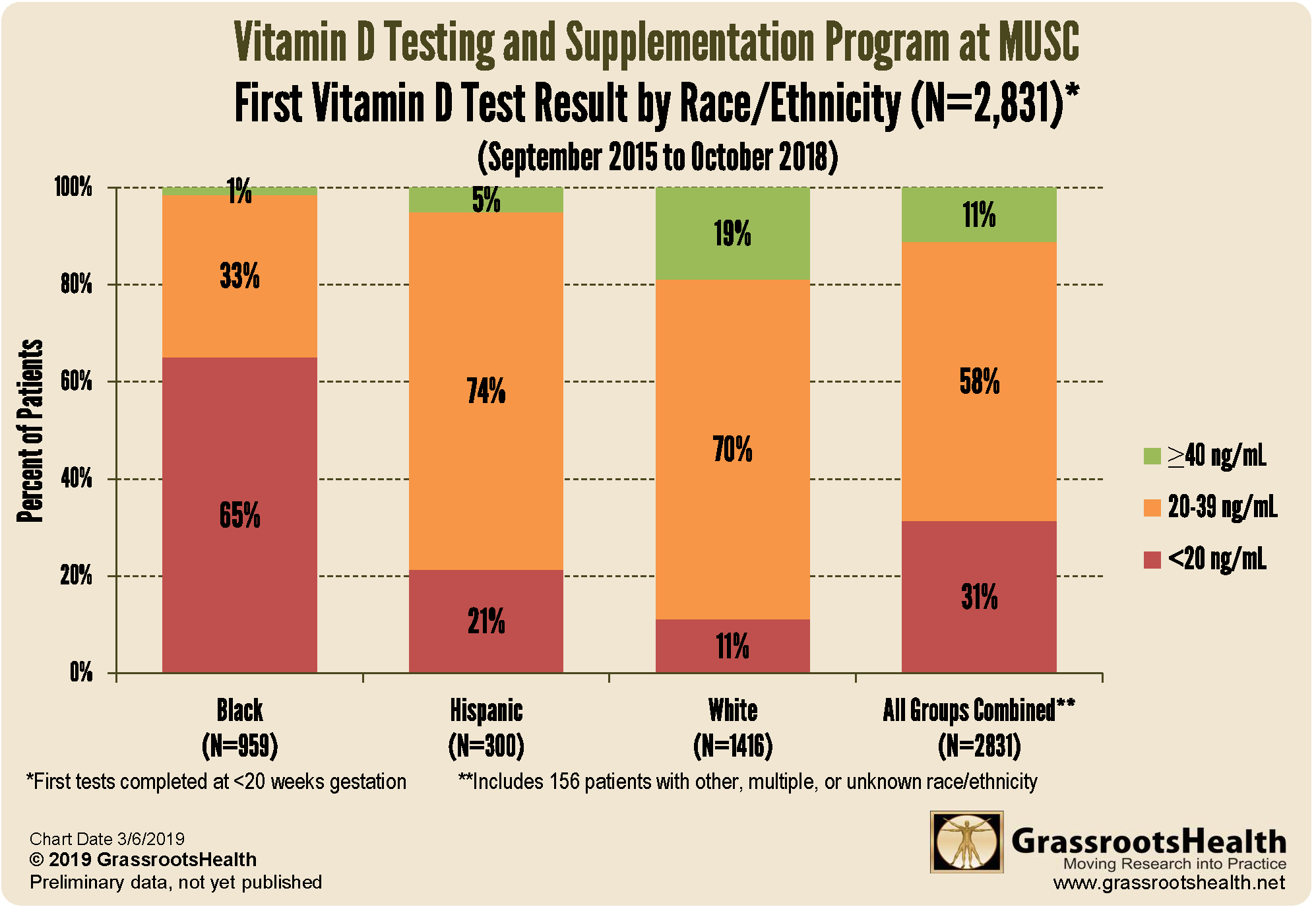 Testing women during pregnancy would not only give them and their babies the opportunity to become vitamin D replete during pregnancy, with a better chance for avoiding deficiency in the first years of life, but reaching a level of at least 40 ng/ml was also shown to decrease the risk of preterm birth by almost 50%, compared to women with a vitamin D level below 20 ng/ml.
What did the new study find?
The Trivedi cohort, as described by Dr. Wagner, consisted of 132 women and their exclusively breastfed newborns who lived in India. The women/infant pairs were randomized into two groups – one group of mothers would receive 60,000 IU vitamin D within 24-48 hours of delivery, as well as at 6, 10 and 14 weeks post partum; the other group would receive a placebo at those same times. The hypothesis was that bolus dosing the mothers would result in improved vitamin D levels for the infants. Some of Dr. Wagner's own research has already shown the effectiveness of supplementing breastfeeding mothers with vitamin D to provide the infant with its necessary daily allowance.
Rates of Vitamin D Deficiency for Newborns
Baseline vitamin D measurements showed that almost all women and infants had vitamin D levels of less than 20 ng/ml; 90.4% of the mothers and 88.6% of the infants had profound vitamin D deficiency, with vitamin D levels below 11 ng/ml!
Could Vitamin D Megadosing for Breastfeeding Mothers Provide a Solution?
Bolus oral doses of vitamin D or placebo were given to this group of women at the time of their infant well visits and/or vaccinations. This led to high compliance, and a huge improvement in the vitamin D status of the newborns.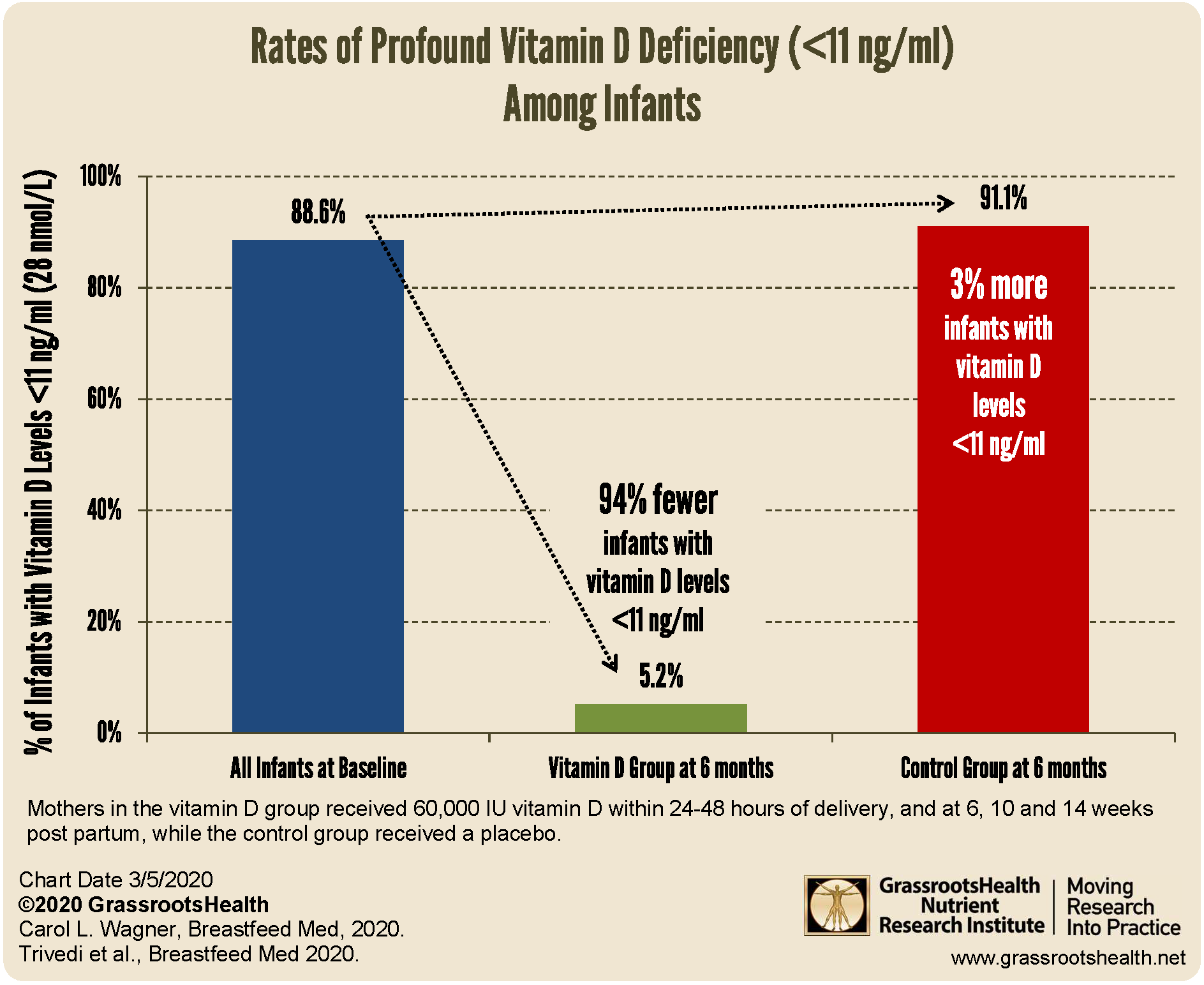 Why is this Important?
We know that most newborns and their mothers are deficient in vitamin D. There are already recommendations for infant vitamin D supplementation. However, even with this knowledge, compliance to supplement newborns is very low. The translation of the research into practice is missing.
This is an example of how the research can be moved into practice, so that the current knowledge is applied to how the system is already working in a way that all individuals (in this case newborns AND their mothers) can reap the benefits of vitamin D for health.
Test your vitamin D, and that of your children!
Make sure you know your vitamin D level, and take steps to keep it within a target of 40-60 ng/ml or 100-150 nmol/L! Through GrassrootsHealth Nutrient Research Institute, you can also test your essential elements magnesium, copper, zinc and selenium, toxins such as lead, mercury and cadmium, as well as your omega-3 levels, inflammation levels and thyroid stimulating hormone (TSH) level. Find out your levels today! Log on to the test selection page (click the link below) to get your tests and see for yourself if your levels can be improved.
Make sure you track your results before and after, about every 6 months!
How can I track my nutrient intake and levels over time?
To help you track your supplement use and nutrient levels, GrassrootsHealth has created the Personal Health Nutrient Decision System called


For each specific supplement, you can track what days you take it, how much, and many other details.  This will help you know your true supplemental intake and what patterns of use work for you to reach and maintain optimum nutrient levels.  Check it out today!
How Can You Use this Information for YOUR Health?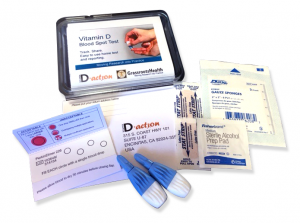 Having and maintaining healthy vitamin D and other nutrient levels can help improve your health now and for your future. Measuring is the only way to make sure you are getting enough!
STEP 1 Order your at-home blood spot test kit to measure vitamin D and other nutrients of concern to you, such as omega-3s, magnesium, essential and toxic elements (zinc, copper, selenium, lead, cadmium, mercury); include hsCRP as a marker of inflammation or HbA1c for blood sugar health
STEP 2 Answer the online questionnaire as part of the GrassrootsHealth study
STEP 3 Using our educational materials and tools (such as our dose calculators), assess your results to determine if you are in your desired target range or if actions should be taken to get there
STEP 4 After 3-6 months of implementing your changes, re-test to see if you have achieved your target level(s)