Published on November 24, 2020


Patients at high risk of ischemic events see 25% overall decreased risk among those taking 4g icosapent ethyl (E-EPA) per day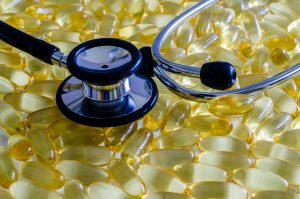 Ischemic events, "ischemic" meaning blocked blood and oxygen, are health consequences having to do with the heart, blood vessels, and blood supply, and include events such as heart attack, stroke, and angina. There have been many studies on the benefits of omega-3 fatty acids for cardiovascular health and the prevention of ischemic events. A meta-analysis of 40 randomized controlled trials that used supplementation of EPA and DHA found a preventive effect of supplementation on cardiovascular disease (CVD), with a stronger effect associated with higher doses especially for CVD events and heart attack. Another study found a significantly lower risk for all-cause mortality, cardiovascular disease mortality, and death from heart attack among habitual fish oil users. The VITAL trial, which focused on cancer and cardiovascular health, found several significant benefits among those assigned to omega-3s (1000 mg/day) vs. placebo.
These studies and more have shown that the intake of omega-3 fatty acids, specifically DHA and EPA, may benefit cardiovascular health and help prevent disease risk, as well as mortality. The following study was designed to test the effects of icosapent ethyl, a slightly modified, highly purified version of the omega-3 fatty acid eicosapentaenoic acid ethyl ester (E-EPA). One of its known effects is to lower triglyceride levels and therefore help prevent ischemic events.
REDUCE-IT Trial Determines Effect of E-EPA on Ischemic Events
Bhatt et al. conducted a study named REDUCE-IT – a multicenter, randomized, double-blind, placebo controlled trial. Trial enrollees included 8179 patients from 473 different sites in 11 countries, all who had either previous diagnoses of cardiovascular disease, or diabetes with an additional cardiovascular risk factor. The median age was 64 years. All patients were also on statins and had to have certain cholesterol blood markers in order to qualify for the study. Patients were then randomized to receive either 4g icosapent ethyl per day (2g twice daily) or placebo. Patients were then followed for a median of 4.9 years to see whether or not they experienced ischemic events, such as cardiovascular death, nonfatal heart attack, nonfatal stroke, and other outcomes involving cardiovascular health.
What were the results of this study?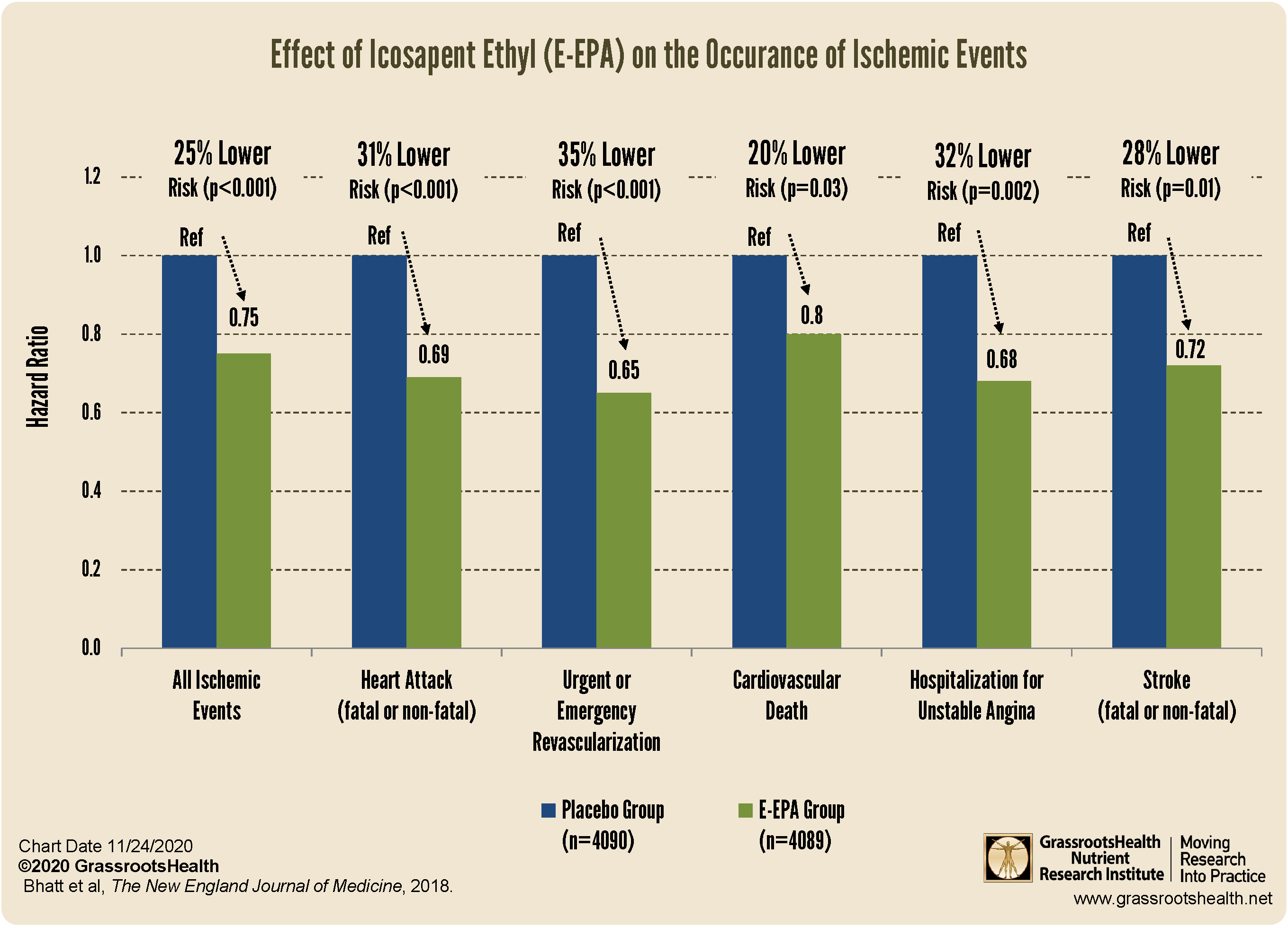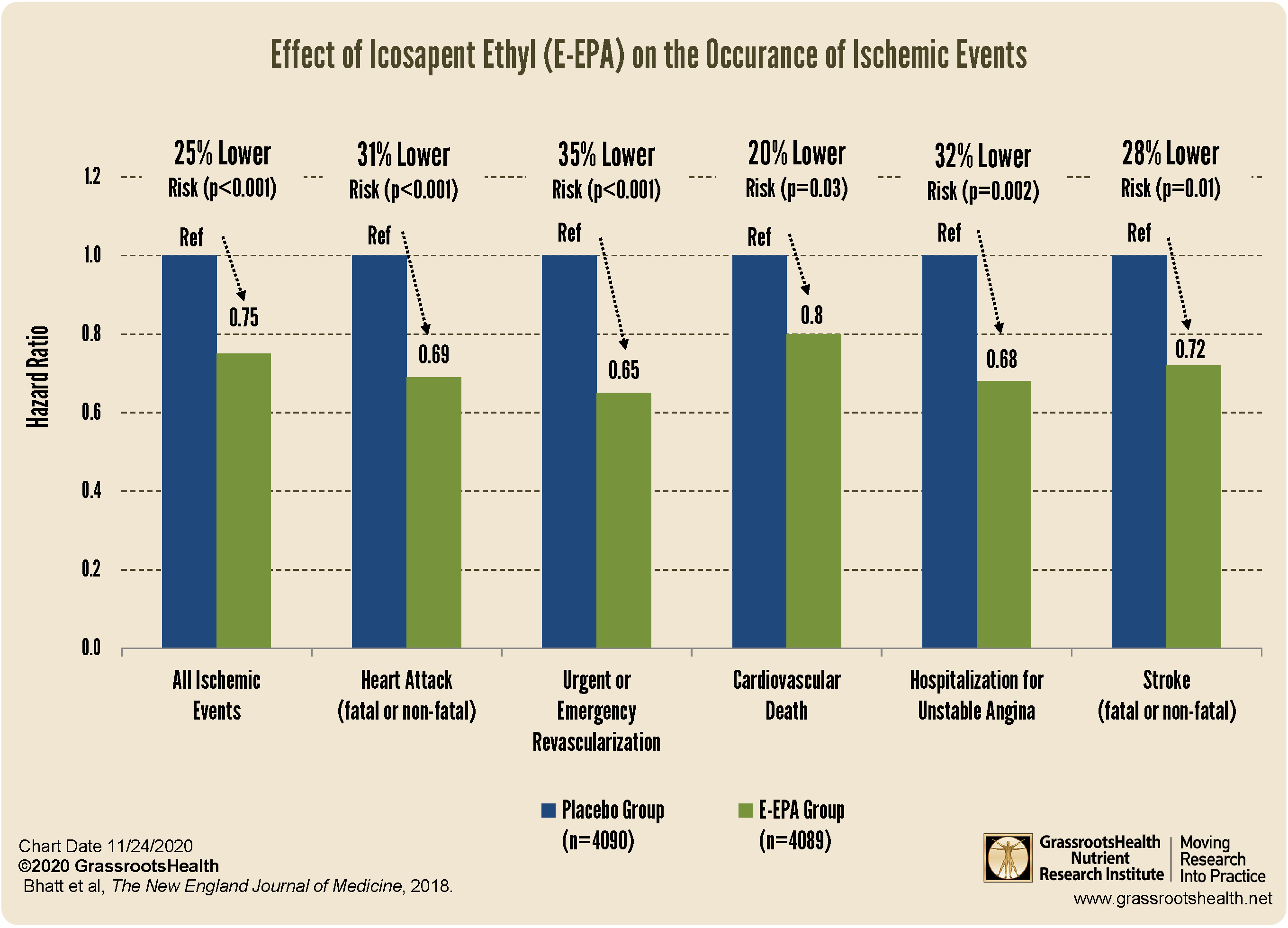 A total of 1606 of the tracked ischemic events occurred among all patients. Among those in the group receiving icosapent ethyl, 17% experienced one of the ischemic events listed above, compared to 22% in the placebo group – there was an overall 25% lower risk among the icosapent ethyl group (p<0.001).
Specifically, the icosapent ethyl group saw a 31% lower risk of having a fatal or nonfatal heart attack, a 35% lower risk of urgent or emergency revascularization (meaning the blood supply was restored), 20% lower risk of cardiovascular death, 32% lower risk of hospitalization for unstable angina, and a 28% lower risk for having a fatal or nonfatal stroke. Also seen after 1 year (from baseline) was a median drop in triglyceride level of 18% in the icosapent ethyl group, and a median increase of 2% in the placebo group (p<0.001).
In summary, this study found that among those with high triglyceride levels who were on statins and at risk of major ischemic events, taking 4g per day of a slightly modified, purified form of the essential fatty acid EPA significantly lowered the risk of ischemic events, including cardiovascular death.
How to Know You're Getting Enough Omega-3s?
The only way to make sure that your target level of omega-3s has been reached is to measure your Omega-3 Index. If your resulting level is below your target, using the Omega-3 Calculator to help determine a new supplementation amount along with information provided on how to support and maintain a healthy omega-3 level. Re-testing after 3 to 6 months allows you to ensure your target has been reached, or gives you the opportunity to adjust your routine as needed.
Don't Allow a Vitamin D Deficiency to Bring Your Health Down!
Correcting a vitamin D deficiency prior to getting sick may decrease disease severity and improve outcomes! Test your vitamin D level today, learn what steps to take to improve your level, and take action to achieve and maintain a vitamin D level of 40-60 ng/ml (100-150 nmol/L).
Using the GrassrootsHealth Custom Kit Builder, you can create a test kit that measures your status of vitamin D and other important nutrients (such as omega-3s, zinc and magnesium), as well as your CRP level to measure inflammation. Click here to build and order your test kit today – measure your status and take the steps necessary to improve them if needed; make an impact on your health today and for your future! When you know what your levels are, you can determine next steps to take and how much supplementation may be needed if you are not at your target levels.
Enroll now with the Full Immune Boost Panel (which includes tests for vitamin D, Omega-3 Index, magnesium, zinc, selenium, copper, and hsCRP), and get 10% off when you use coupon code BoostTen at checkout.
What Does it Take YOU to Get Your D to 40 ng/ml (100 nmol/L)?
Did you know your health could be greatly affected by making sure you have a vitamin D level of at least 40 ng/ml (100 nmol/L)? Help us help you.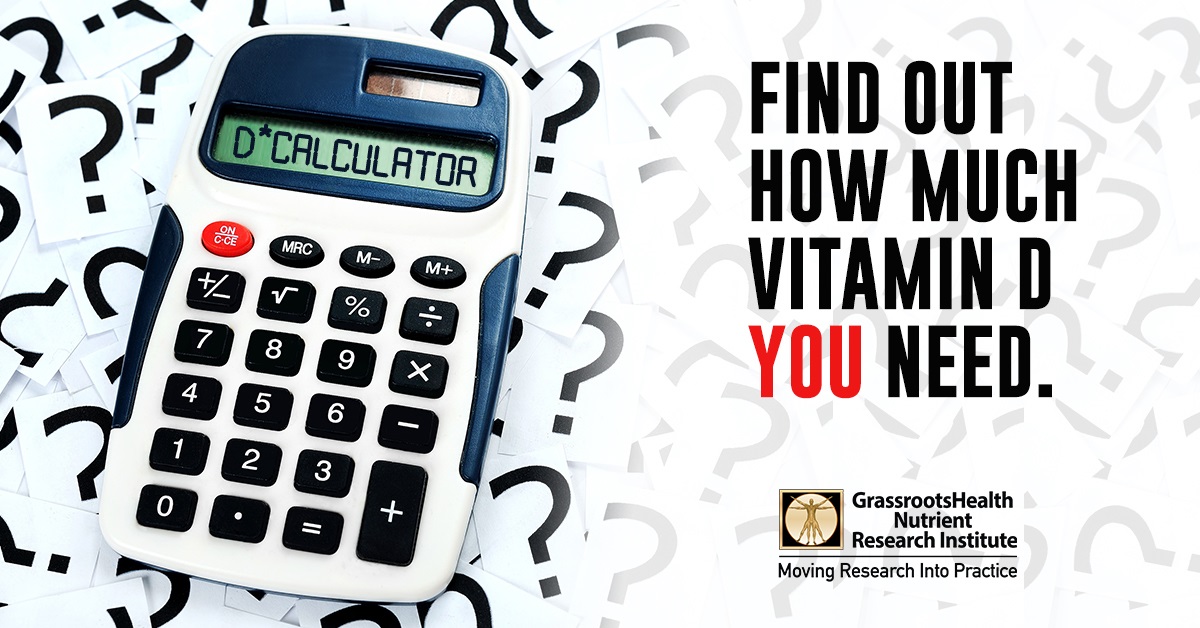 STEP 1 - Do you know what your vitamin D level is? If not, be sure to test today to find out.
STEP 2 – Determine your target level. Are you at your target level? Experts recommend a level of at least 40-60 ng/ml (100-150 nmol/L).
STEP 3 – Need to boost your level? Use the D*calculator to see how much vitamin D it may take to reach your target. Opt for the Loading Dose for a quicker boost.
STEP 4 – Optimize how your body absorbs and utilizes vitamin D with co-nutrients and these simple steps.
STEP 5 – Re-Test! This is an important step to make sure you have reached your target level, and to ensure you are not taking too much! Re-testing after 3-4 months is recommended.
STEP 6 – Adjust, Repeat…
Give your immune system the nutrients it needs to support a healthy you and protect yourself from unnecessary diseases, especially COVID-19.
NEWS ALERT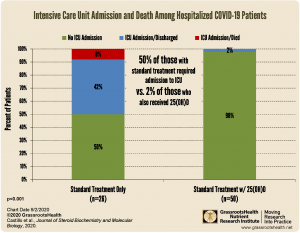 The first Randomized Controlled Trial on vitamin D and COVID-19 has shown a 96% lower risk of ICU admission for those receiving vitamin D (as 25(OH)D to quickly boost vitamin D blood levels) along with the standard treatment, compared to those receiving standard treatment alone.
These results support many previous observational studies showing a relationship between vitamin D levels and intake and COVID-19 severity.
Review the Latest Nutrient Research for COVID-19
GrassrootsHealth Nutrient Research Institute has launched the new Immune Boost project with the use of our myData-myAnswers nutrient health system that nearly 15,000 people are already using for their health. Specific markers that influence immune health are suggested for testing as part of this project including:
Vitamin D
Omega-3 Index
Essential elements magnesium, selenium, and zinc
hsCRP
Our goal is to demonstrate how one can use the Nutrient Research Model established by Dr. Robert Heaney to show the effect of vitamin D serum levels of at least 40 ng/ml (100 nmol/L) on risk reduction for all ethnicities in the population. Status and intake of other nutrients will also be analyzed for any type of relationship to immune status and symptom severity. Join the project today!
Please let us know if you're interested in helping sponsor this project.

CLICK HERE for updates and new information about the project.
Through GrassrootsHealth Nutrient Research Institute, you can also test your essential elements magnesium, copper, zinc and selenium, toxins such as lead, mercury and cadmium, as well as your omega-3 levels, inflammation levels and thyroid stimulating hormone (TSH) level. Find out your levels today! Log on to the test selection page (click the link below) to get your tests and see for yourself if your levels can be improved.
Make sure you track your results before and after, about every 6 months!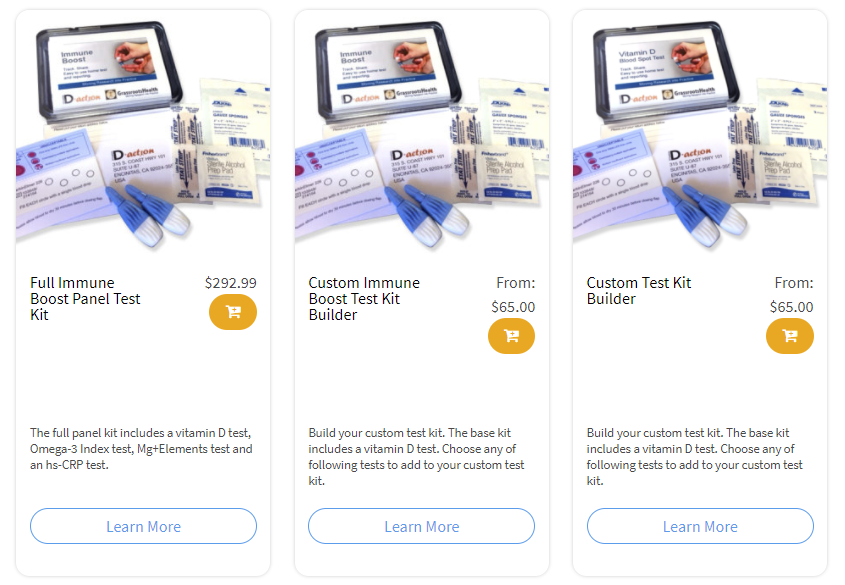 Click Here to Access the Test Page
How can I track my nutrient intake and levels over time?
To help you track your supplement use and nutrient levels, GrassrootsHealth has created the Personal Health Nutrient Decision System called

For each specific supplement, you can track what days you take it, how much, and many other details.  This will help you know your true supplemental intake and what patterns of use work for you to reach and maintain optimum nutrient levels. Check it out today!