Published on February 17, 2020

Magnesium is a mineral essential for many functions within the body including blood pressure regulation, bone health, blood glucose control, and vitamin D activation.  Magnesium deficiency is common world-wide and low magnesium levels have been linked to atrial fibrillation (irregular heart rate), hypertension, cardiovascular disease, insulin resistance, type 2 diabetes, and migraines.
One year ago, GrassrootsHealth started offering a magnesium test through our Magnesium*PLUS Focus project. Among the 440 participants who have tested their whole blood magnesium levels, 83% have levels between 30-49 mg/L (3.0-4.9 mg/dL).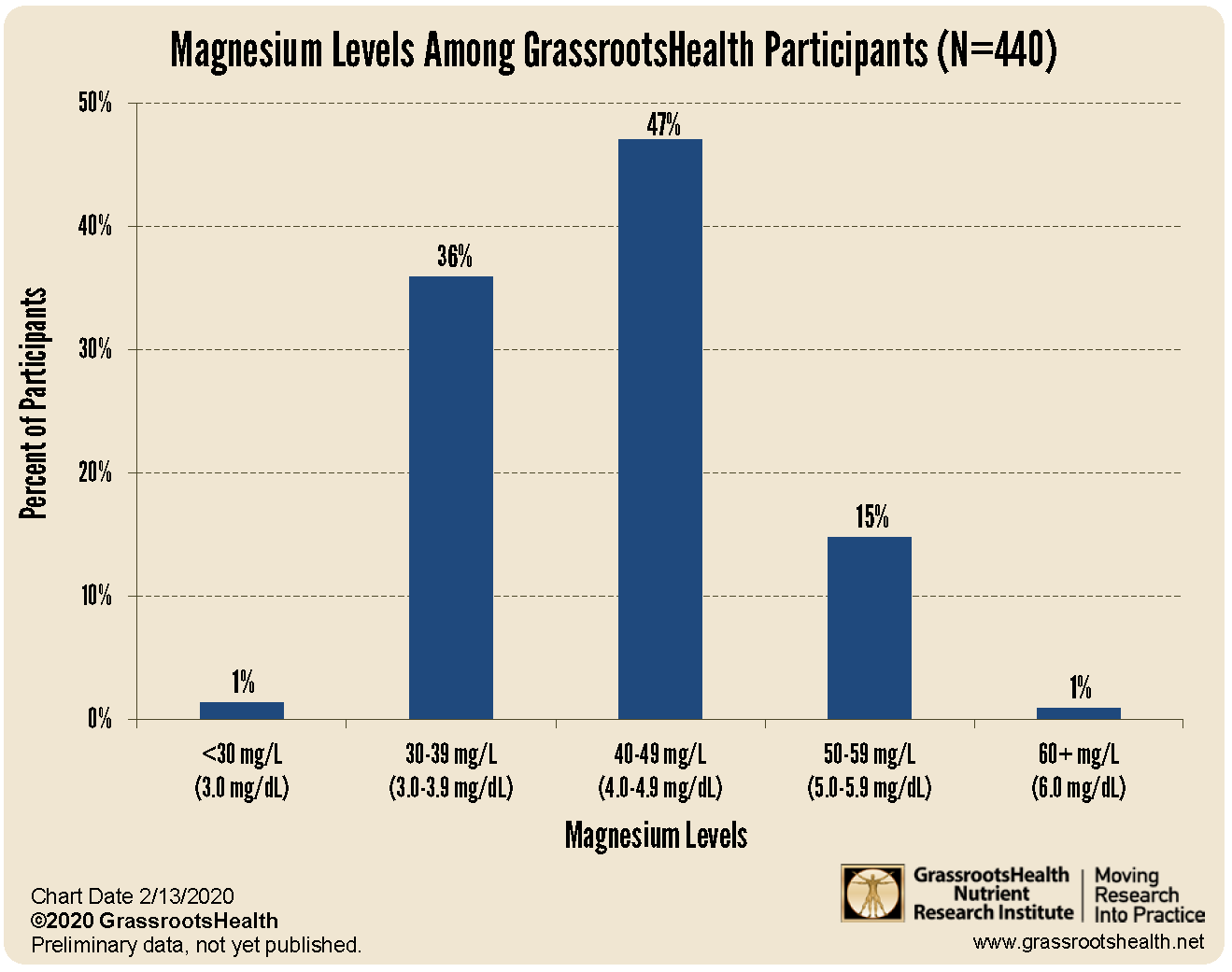 The average magnesium level (42 mg/L) is on the higher end of the lab reference range (27-49 mg/L), which indicates the range of typical results found in the population the lab serves but does not necessarily indicate the optimal range for health.
Several factors besides intake (featured in a previous post) may affect the amount of magnesium absorbed and the resulting level, such as the type of magnesium taken, certain drugs and disease conditions, and the product formulation.
We will be analyzing those values along with your reported health factors in this project. Thanks to all that are participating! This is one of the things that we will use with you/other population data to publish to be able to tell others what level you should have to see a change in any cholesterol measures! We need to have at least 2 tests from each individual to be able to do this.
Do you know your levels?
Make sure you know your vitamin D level, and take steps to keep it within a target of 40-60 ng/ml or 100-150 nmol/L! Through GrassrootsHealth Nutrient Research Institute, you can also test your essential elements magnesium, copper, zinc and selenium, toxins such as lead, mercury and cadmium, as well as your omega-3 levels, inflammation levels and thyroid stimulating hormone (TSH) level. Find out your levels today! Log on to the test selection page (click the link below) to get your tests and see for yourself if your levels can be improved.
Make sure you track your results before and after, about every 6 months!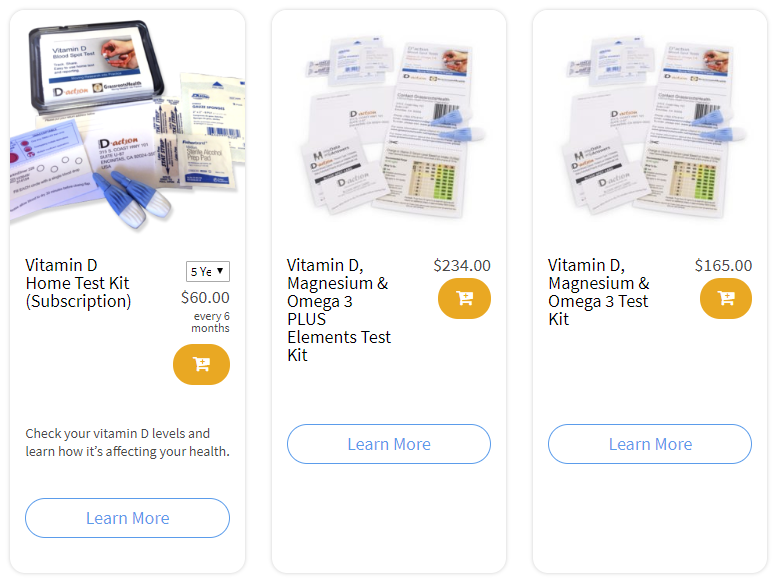 Click Here to Access the Test Page
How can I track my nutrient intake and levels over time?
To help you track your supplement use and nutrient levels, GrassrootsHealth has created the Personal Health Nutrient Decision System called


For each specific supplement, you can track what days you take it, how much, and many other details. This will help you know your true supplemental intake and what patterns of use work for you to reach and maintain optimum nutrient levels. Check it out today!
How Can You Use this Information for YOUR Health?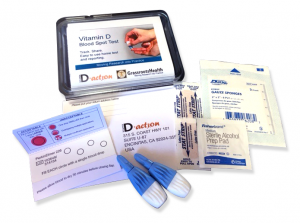 Having and maintaining healthy vitamin D and other nutrient levels can help improve your health now and for your future. Measuring is the only way to make sure you are getting enough!
STEP 1 Order your at-home blood spot test kit to measure vitamin D and other nutrients of concern to you, such as omega-3s, magnesium, essential and toxic elements (zinc, copper, selenium, lead, cadmium, mercury); include hsCRP as a marker of inflammation or HbA1c for blood sugar health
STEP 2 Answer the online questionnaire as part of the GrassrootsHealth study
STEP 3 Using our educational materials and tools (such as our dose calculators), assess your results to determine if you are in your desired target range or if actions should be taken to get there
STEP 4 After 3-6 months of implementing your changes, re-test to see if you have achieved your target level(s)