Published on August 7, 2023


"Laughably low recommendations" for vitamin D intake prevent forward progress in solving the vitamin D deficiency epidemic and reducing the associated adverse health conditions
Key Points
Prevalence of vitamin D deficiency is common – a 2018 study found that vitamin D deficiency and insufficiency are increasing at a global level – it is and has been a pandemic
Severe vitamin D deficiency, defined as less than 12 ng/ml, dramatically increases the risk of excess mortality, infections, and many other diseases, and should be avoided whenever possible
Another study found that higher levels of vitamin D were linked to a 59% lower risk of developing Alzheimer's Disease
---
Another excellent video from Dr. John Campbell, titled "Vitamin D and Dementia," posted on July 25th, begins with a discussion of the high prevalence of vitamin D deficiency, which has remained an epidemic for decades despite how easy it is to prevent and treat. This issue, along with growing research demonstrating the health benefits of getting enough vitamin D, was the reason Carole Baggerly founded GrassrootsHealth in 2007, starting with the Scientists' Call to D*action to address the vitamin D deficiency epidemic.
Since 2007, there have been thousands of research studies published linking vitamin D deficiency to a wide array of adverse health outcomes. Unfortunately, as Dr. Campbell points out in the video, there are also many studies of poor quality whose conclusions result in confusion among health practitioners and individuals about vitamin D, what levels to aim for, and how much to take.
Watch the Video
Video Summary
High Prevalence of World-wide Vitamin D Deficiency
Vitamin D deficiency is a low-hanging fruit that could easily be addressed for many diseases, not just dementia
Prevalence of vitamin D deficiency is common – a 2018 study found that vitamin D deficiency and insufficiency are increasing at a global level – it is and has been a pandemic
With deficiency defined as less than 20 ng/ml (50 nmol/L) and insufficiency defined as 20-25 ng/ml (50-62 nmol/L), one study found a prevalence of deficiency at 28.9% and insufficiency at 41.4% (The GrassrootsHealth scientists panel recommends a vitamin D level between 40-60 ng/ml or 100-150 nmol/L)
Obese adults have over 3 times higher prevalence of deficiency, as they need more vitamin D than normal weight individuals
Physically inactive individuals are twice as likely to be deficient in vitamin D
Another study quotes "Persons with higher vitamin D dietary intake or who used supplements had lower prevalence of at risk of deficiency or inadequacy." Unfortunately, most recommended doses are too low.
Could you still be at risk of having low vitamin D levels with your current vitamin D intake?
Take the quiz to find out!
Quality of Vitamin D Studies
A big problem behind ineffective dosing recommendations is an abundance of low-quality nutrient studies. Learn more about how to determine if a study has met certain guidelines for a well-designed nutrient study here.
Results from several very well-done intervention studies on vitamin D that did follow nutrient study guidelines include findings on preterm birth rates, improved thyroid function, cancer, and more
… Don't need to assume that vitamin D works, these studies show that it does!
Another study reviewed showed that severe vitamin D deficiency, defined as less than 12 ng/ml, dramatically increases the risk of excess mortality, infections, and many other diseases, and should be avoided whenever possible
Vitamin D treatment is a safe option – toxicity is difficult to achieve
Vitamin D and Dementia
A study by Ghahremani et al. looked at data from 12,388 participants who were dementia free at the beginning of the study to determine the effect of prescribed vitamin D supplementation on the risk of developing dementia over the ten-year study period. They found a 40% decreased risk of developing dementia among those taking vitamin D supplements.
Another study found that higher levels of vitamin D were linked to a 59% lower risk of developing Alzheimer's Disease
Alzheimer's Disease is an irreversible progression of intellectual decline – you cannot reverse it!
Vitamin D may promote the clearing of amyloid plaques to help prevent cognitive dysfunction
Current recommendations for vitamin D intake are too low… "laughably low recommendations" as Dr. Campbell puts it. "Strange that governments are admitting the problem but not advising any solution."
Clinical trials done correctly ARE showing the effectiveness of getting enough vitamin D
Can make up to 20,000 IU per day with sun yet most guidelines only suggest 400-600 IU per day
Getting Enough Vitamin D is Essential to Your Health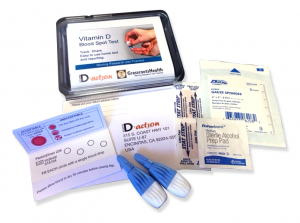 Measure your vitamin D levels at home as part of the D*action project! To know if you are getting enough, make sure you test today!
You can also measure your:
Vitamin D
Magnesium PLUS Essential and Toxic Elements
Omega-3 Fatty Acids
hsCRP
HbA1c
TSH
Type 1 Diabetes Autoantibodies
Did you know that each of the above can be measured at home using a simple blood spot test? As part of our ongoing research project, you can order your home blood spot test kit to get your levels, followed by education and steps to take to help you reach your optimal target levels. Start by enrolling and ordering your kit to measure each of the above important markers, and make sure you are getting enough of each to support better mood and wellbeing!
Create your custom home test kit today. Take steps to improve the status of each of these measurements to benefit your overall health. With measurement you can then determine how much is needed and steps to achieve your goals.  You can also track your own intakes, symptoms and results to see what works best for YOU.
How Can You Use this Information for YOUR Health?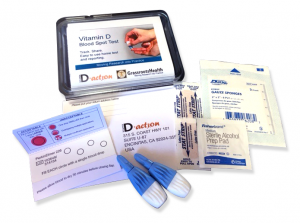 Having and maintaining healthy vitamin D and other nutrient levels can help improve your health now and for your future. Measuring is the only way to make sure you are getting enough!
STEP 1 Order your at-home blood spot test kit to measure vitamin D and other nutrients of concern to you, such as omega-3s, magnesium, essential and toxic elements (zinc, copper, selenium, lead, cadmium, mercury); include hsCRP as a marker of inflammation or HbA1c for blood sugar health
STEP 2 Answer the online questionnaire as part of the GrassrootsHealth study
STEP 3 Using our educational materials and tools (such as our dose calculators), assess your results to determine if you are in your desired target range or if actions should be taken to get there
STEP 4 After 3-6 months of implementing your changes, re-test to see if you have achieved your target level(s)