Published on April 19, 2021


An intake of at least 400 mg/day of magnesium from diet and supplements may decrease the risk of colorectal cancer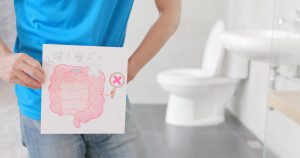 As the third most common cancer world-wide, colorectal cancer affects millions of lives each year, with approximately 860,000 deaths annually. Several studies have found a correlation between vitamin D levels and/or intake and colorectal cancer (CRC) outcomes and survival rates, as well as sun exposure and CRC risk.
What about Magnesium?
Magnesium is one of the most important co-nutrients for vitamin D metabolism and utilization, and adequate intake of magnesium is especially important for the use of vitamin D within the body. Magnesium has been shown to play a role in the inflammatory response and in DNA and cell repair. There has been additional evidence showing a potential relationship between magnesium, chronic inflammation, CRP levels, and the development of multiple types of cancer, including breast cancer.
Unfortunately, at least half of us do not get enough magnesium on a daily basis which may lead to health effects ranging from fatigue and loss of appetite, to tremors and muscle cramps. Severe magnesium deficiency can cause cardiac arrhythmias.
Could Magnesium Intake Decrease the Risk of Colorectal Cancer?
Gorczyca et al. studied the association between total magnesium intake (from the diet and supplements) and the risk of CRC among postmenopausal women. Data from the Women's Health Initiative was considered for inclusion, and 140,601 women were identified as being eligible for this particular study. Women were between the ages of 50-79 years, had no reported history of cancer at baseline (other than non-melanoma skin cancer), and women with a reported total magnesium intake greater than 900 mg/day were excluded. The average follow-up time was 13 years, during which a total of 2,381 cases of colorectal cancer were identified (1,982 had colon cancer while 438 had rectal cancer).
Data was divided into quintiles based on total magnesium intake per day: Less than 198 mg/day, 198-256.9 mg/day, 257-314.9 mg/day, 315-394 mg/day, and greater than 394 mg/day. Each quintile included data from around 28,000 women, with an average age of 63 years at baseline. Women in the highest magnesium intake group were more likely to be older, white, and have higher intakes of calories, dietary fiber, fat, calcium, folate, vitamin D, and vitamin B6, compared to women in the lowest magnesium intake group.
What did the study find?
The authors found an inverse association between the risk of CRC among the highest quintile of magnesium intake compared to the lowest, resulting in a 21% decreased risk between groups (P trend < 0.0001).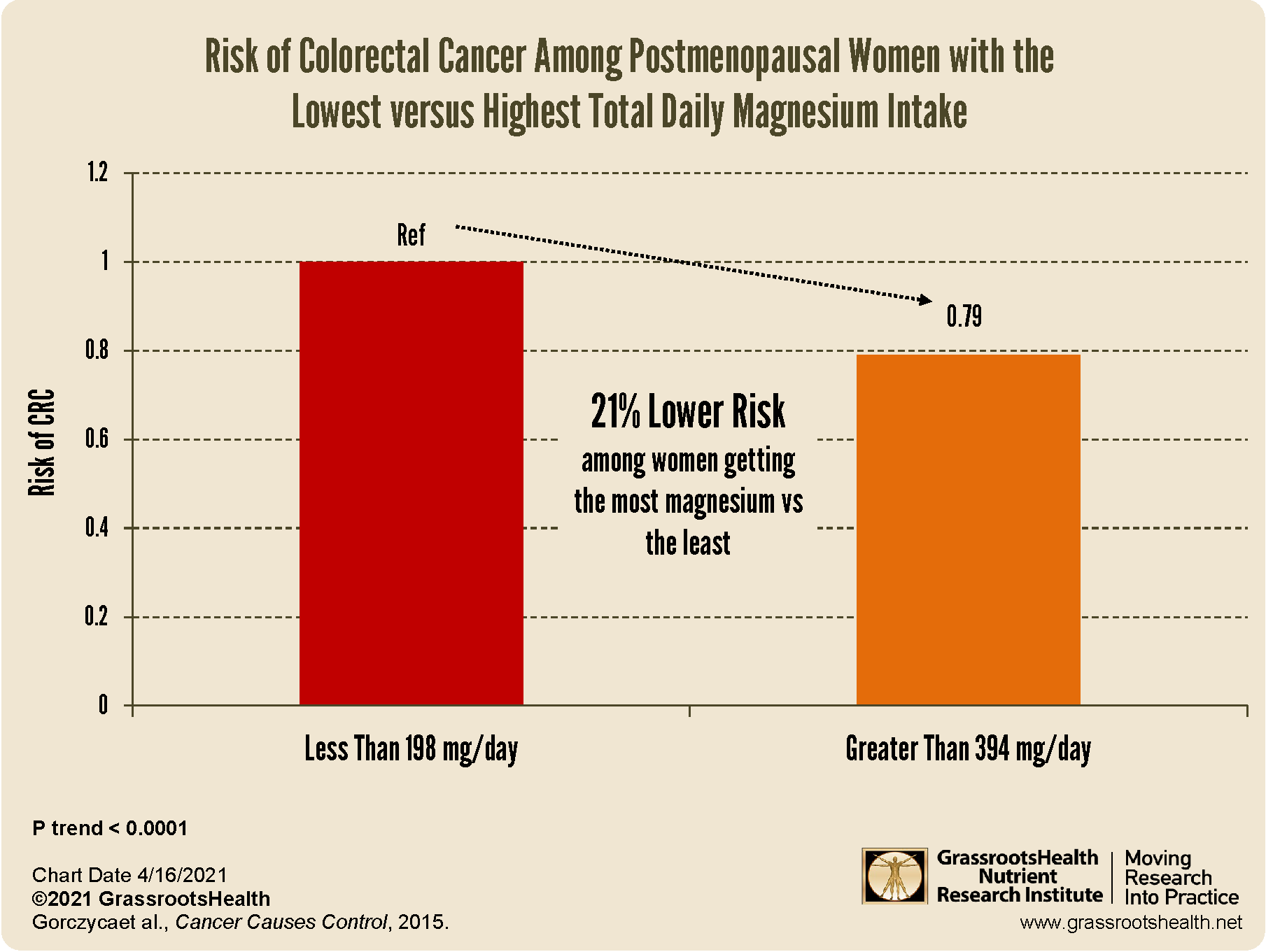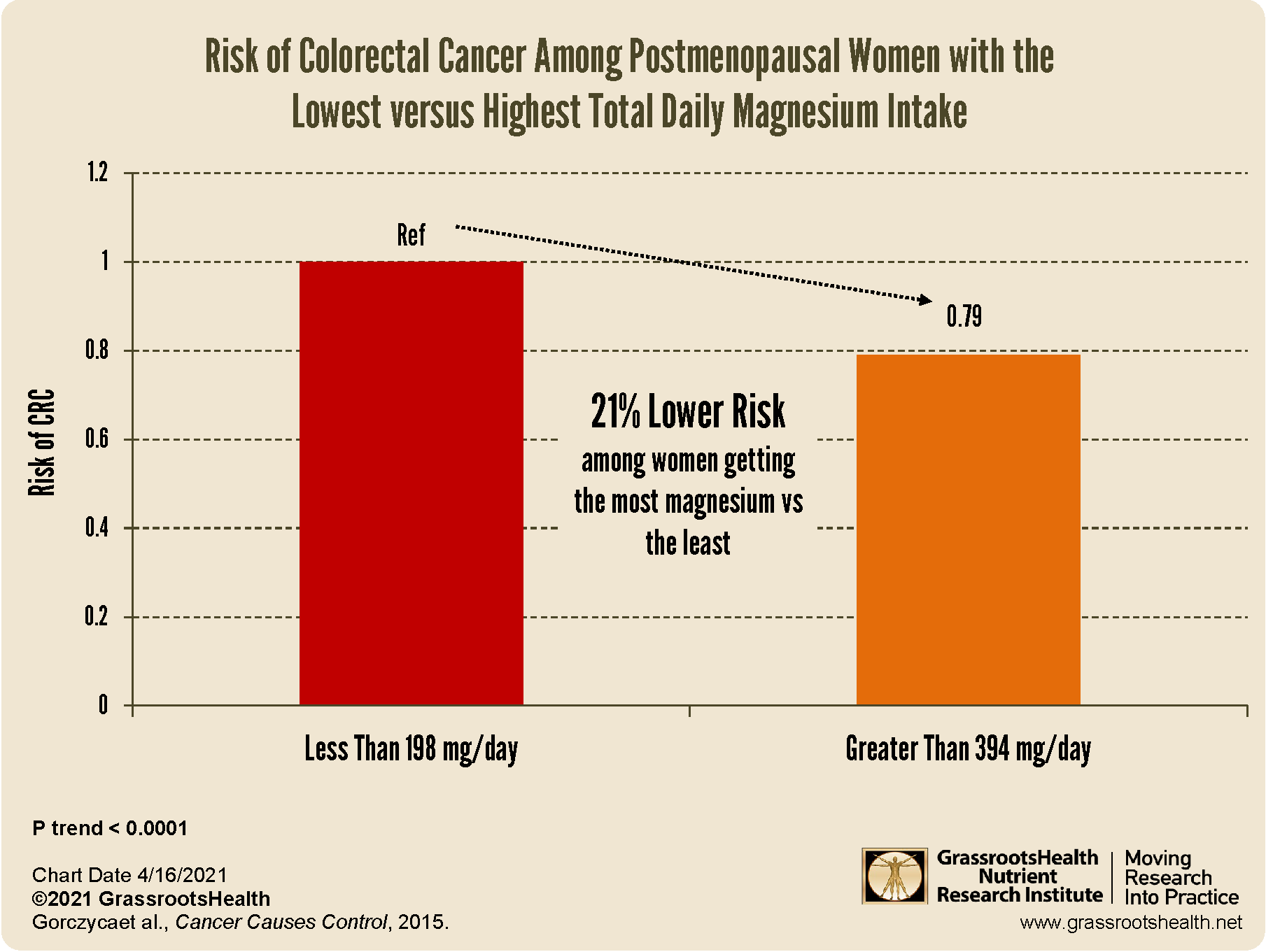 This association persisted when adjusted for other nutrient variables and lifestyle factors. Overall, the study found a significantly lower risk of CRC among postmenopausal women whose total daily magnesium intake was greater than 400 mg/day, as can be seen in the curve below, where the red line begins a steep decline around 400 mg/day of total magnesium intake.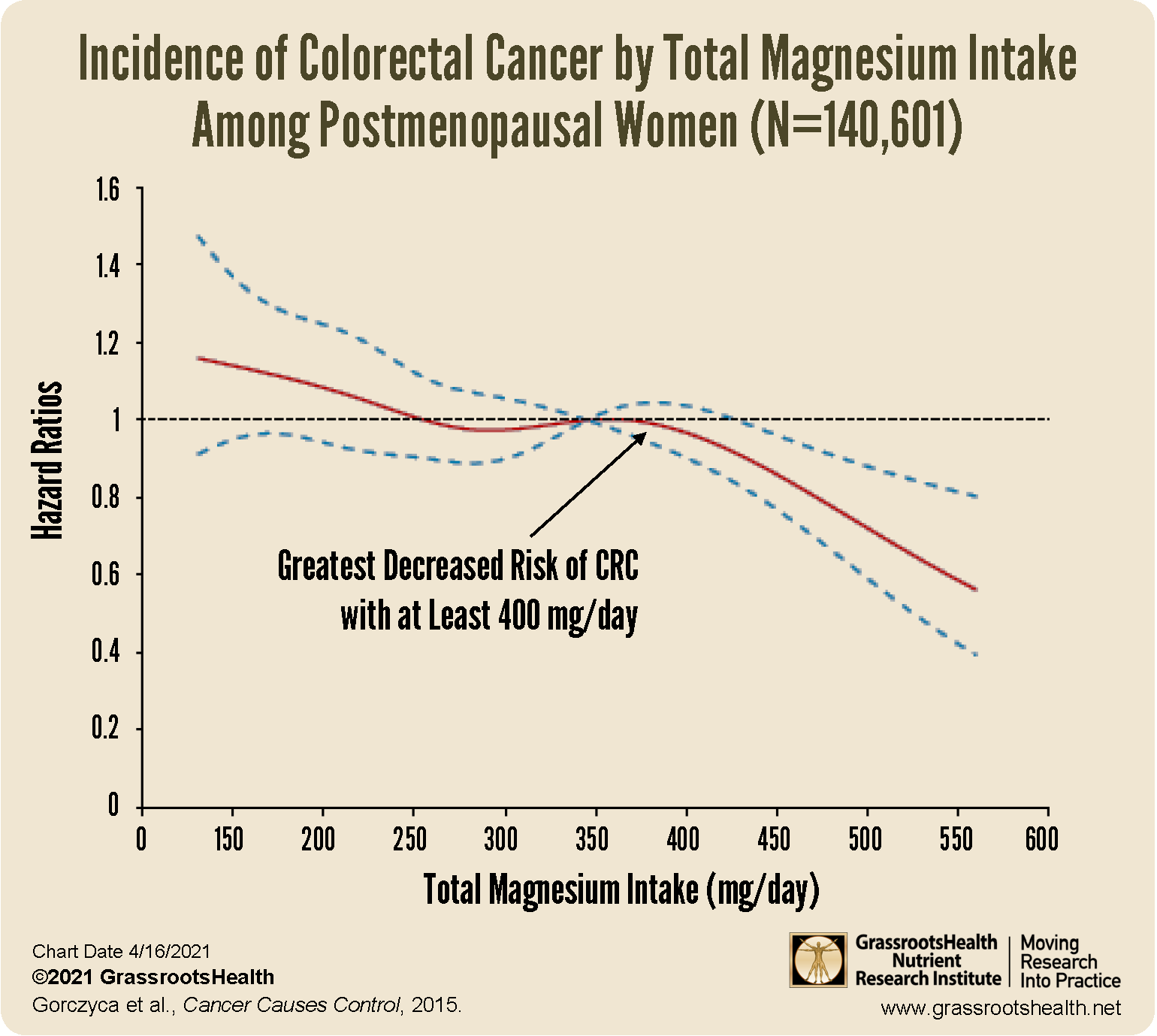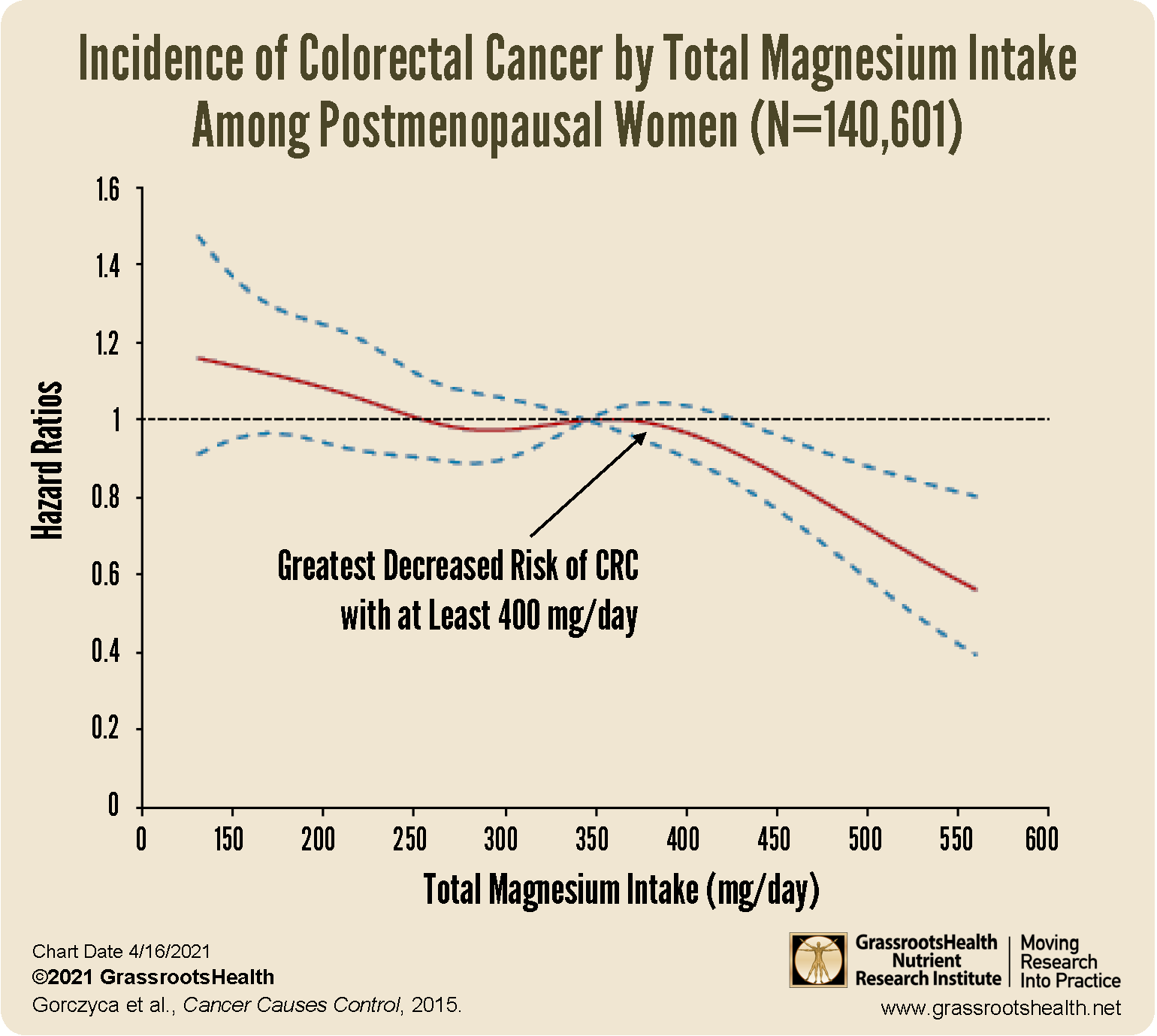 Are You Getting Enough Magnesium and Vitamin D?
With almost 90% of the general population having vitamin D levels below the recommended 40-60 ng/ml (100-150 nmol/L), it is obvious that most people need more vitamin D. While most of us cannot achieve a vitamin D level of 40-60 ng/ml from sun alone, either due to our lifestyle, where we live, or other circumstances, we can certainly reach those levels with the right amount of supplementation.
Below is a guide for how much you might need, and who may need more. Your levels can be tested safely at home – order your home test kit today.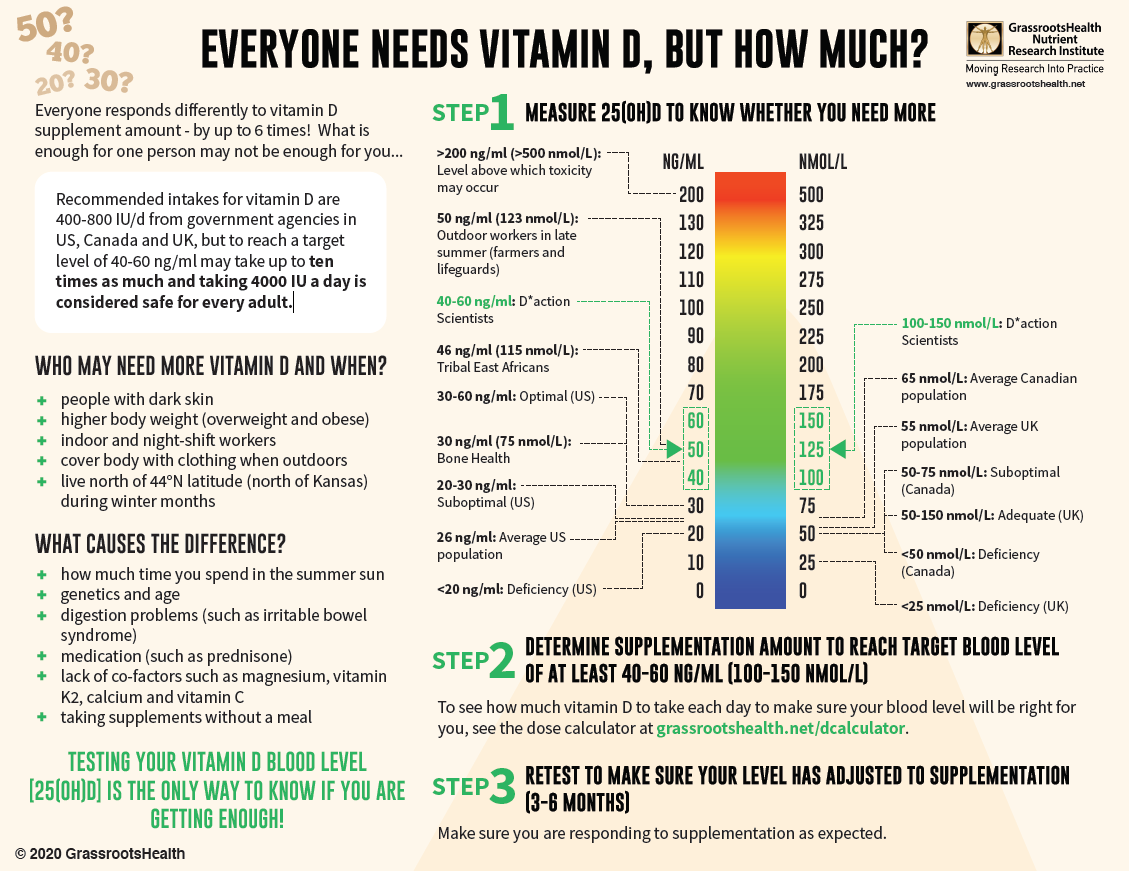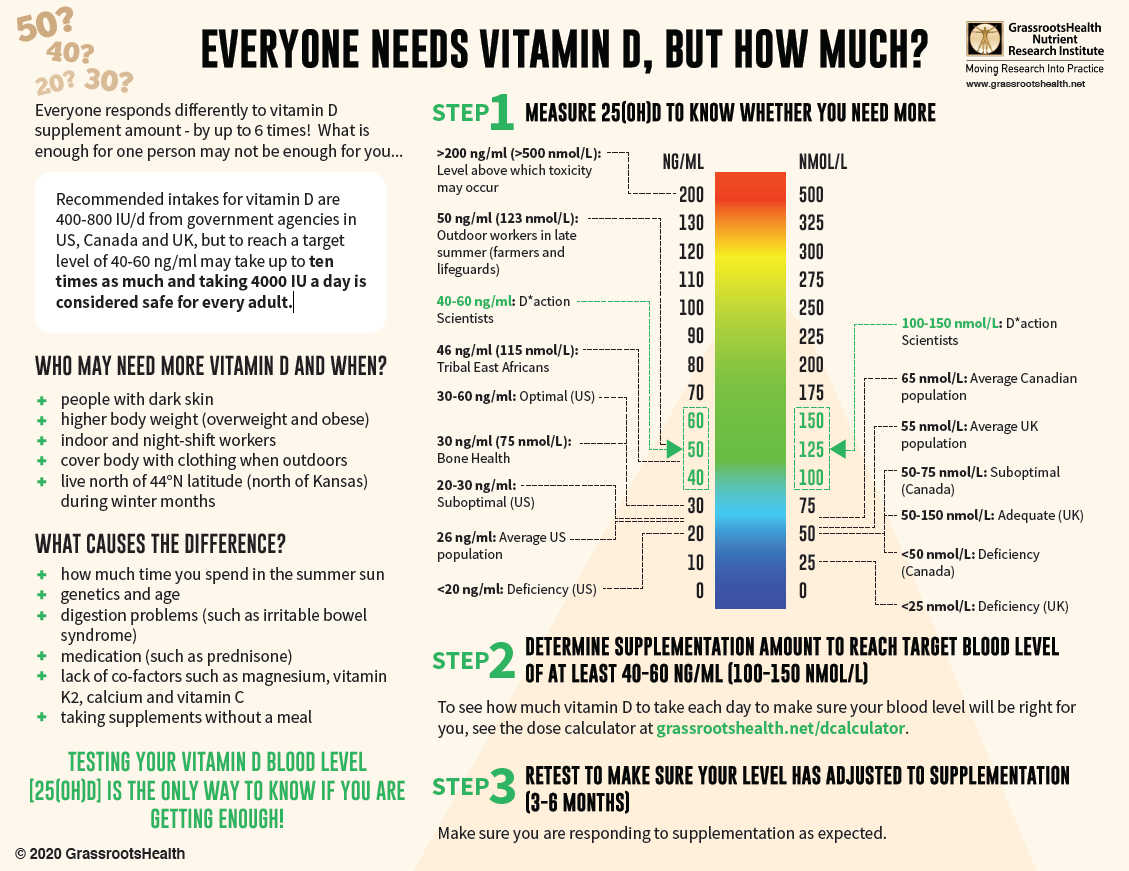 By joining the GrassrootsHealth projects, you are not only contributing valuable information to our study, but you are also gaining knowledge about how you could improve your own health through measuring and tracking your nutrient status, and educating yourself on how to improve it. Do you know what your status of vitamin D, omega-3s, and other essential nutrients is? Could your levels be improved? Test now to find out!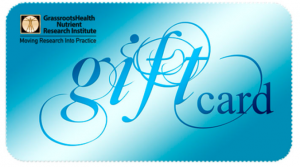 We now have a NEW GIFTING SERVICE that allows you to quickly send 'Gift Cards' to friends, family and coworkers who you consider might need immediate access to testing, and to Claim the Joy of Your Health TODAY. Give the gift today!
What does the Research Say about Vitamin D & COVID-19?
It's TIME to start saving lives! If you can help PREVENT the majority of the death, it's time! What's it costing you/us not to take action NOW?
There is much published research that supports a clear link between vitamin D and COVID-19 showing that higher vitamin D levels are related to: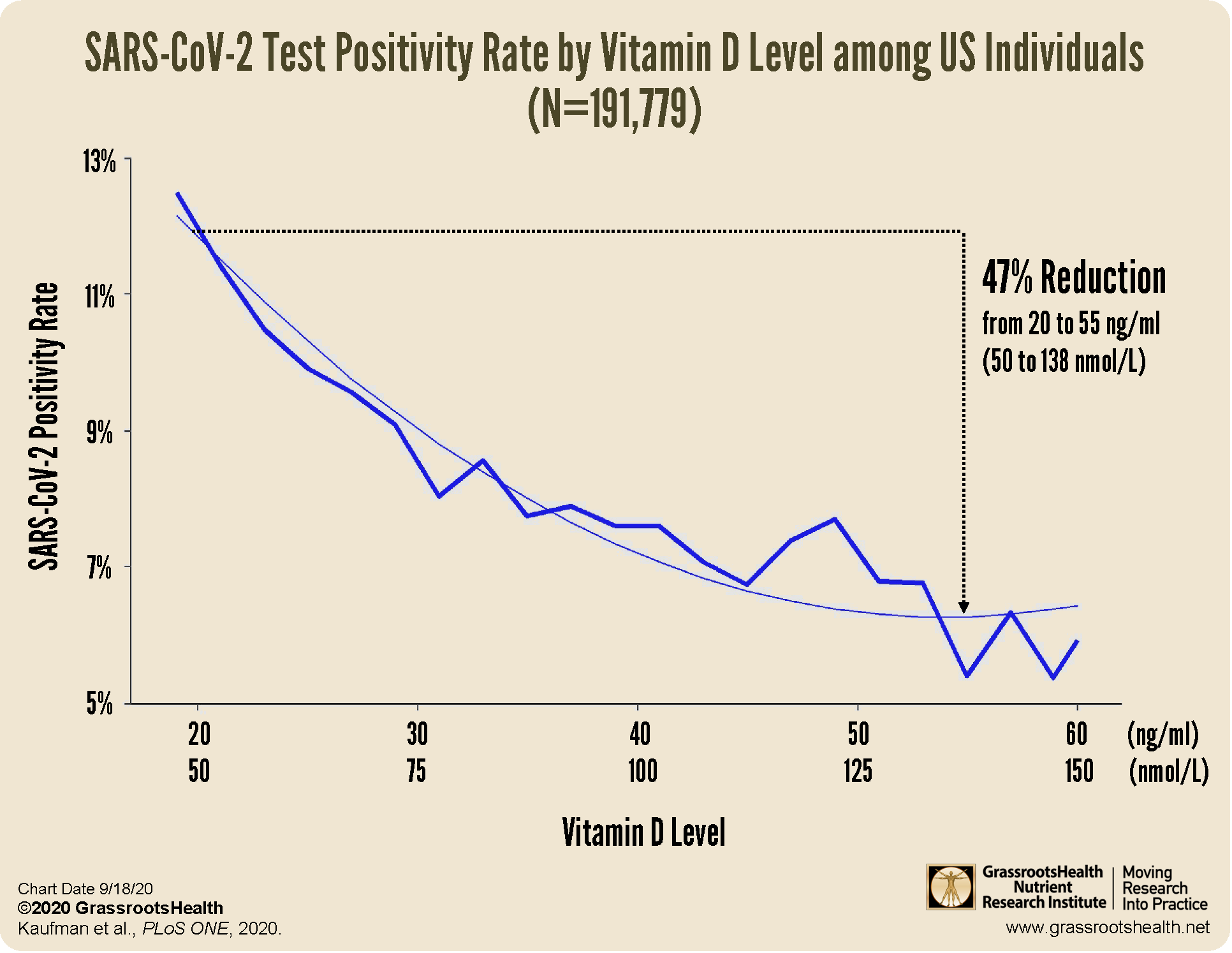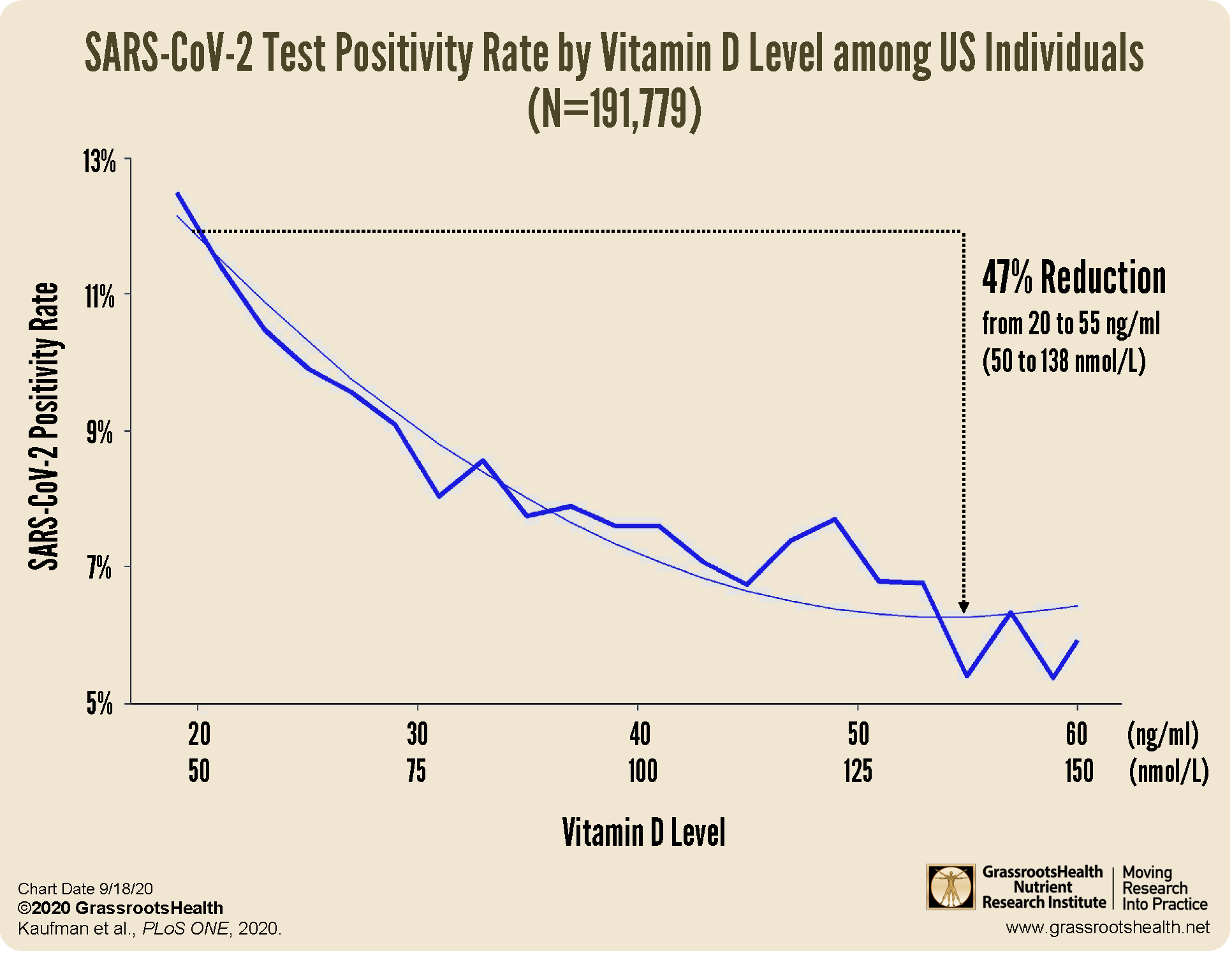 a decreased risk of testing positive for COVID-19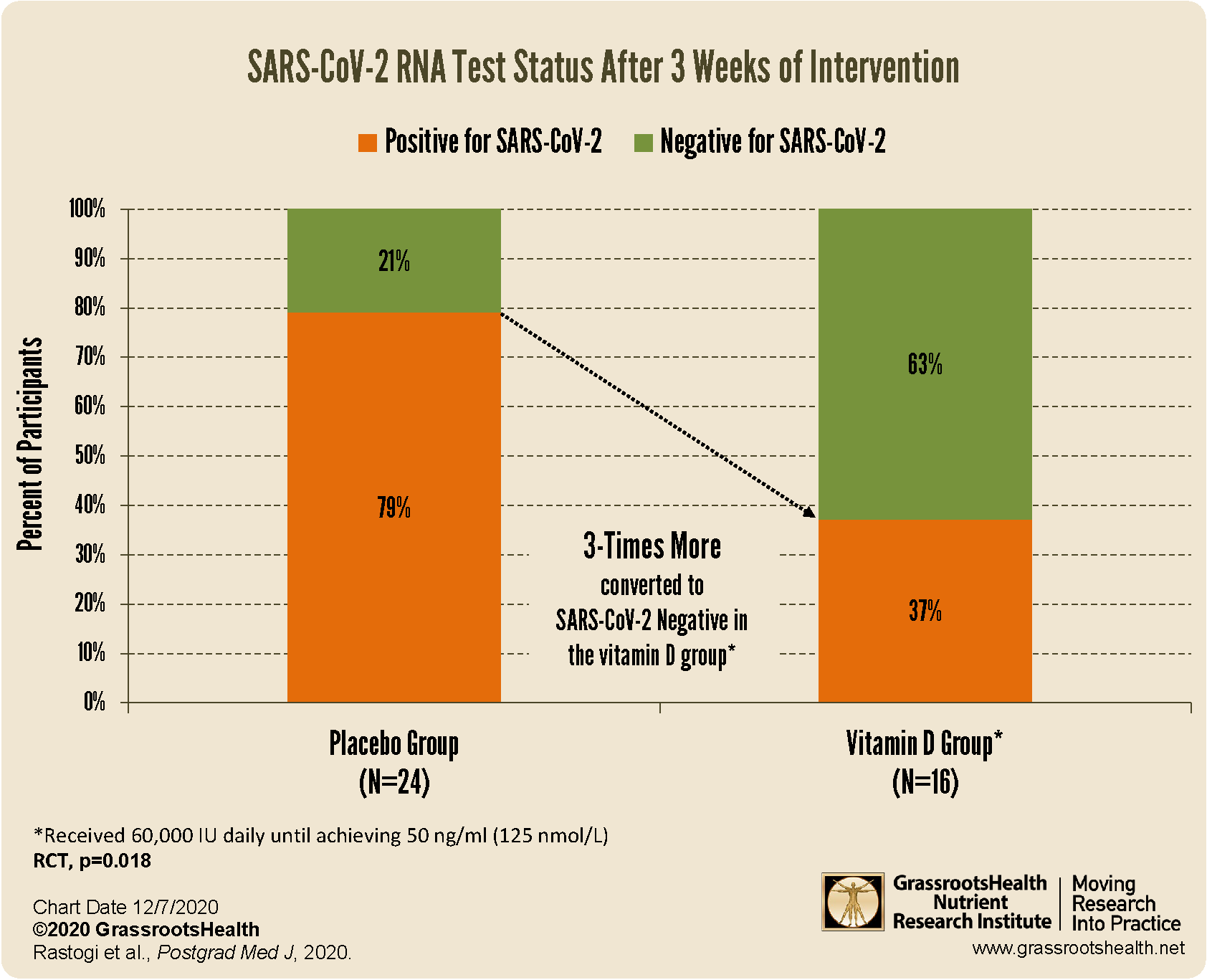 increased viral SARS-CoV-2 RNA clearance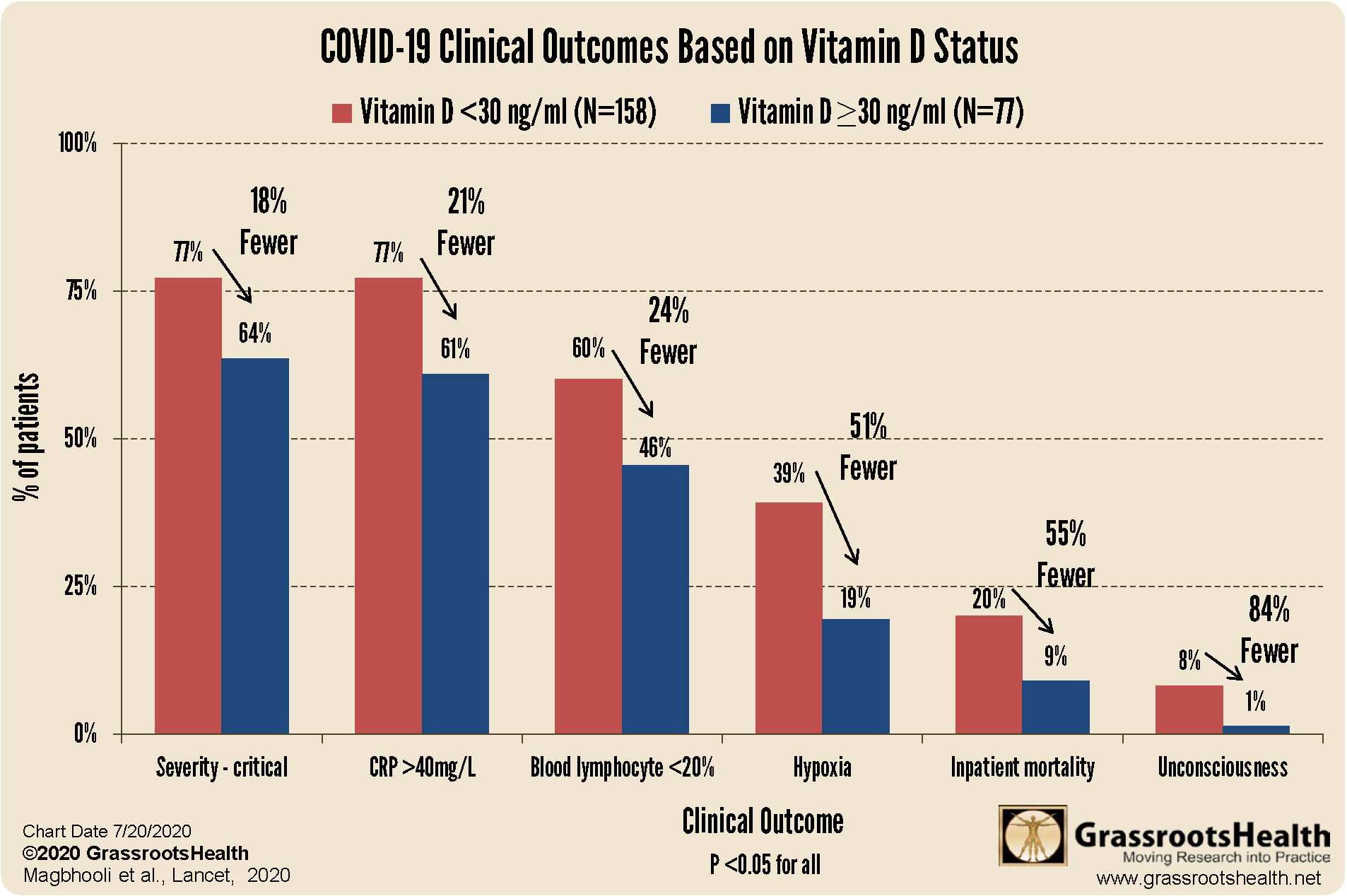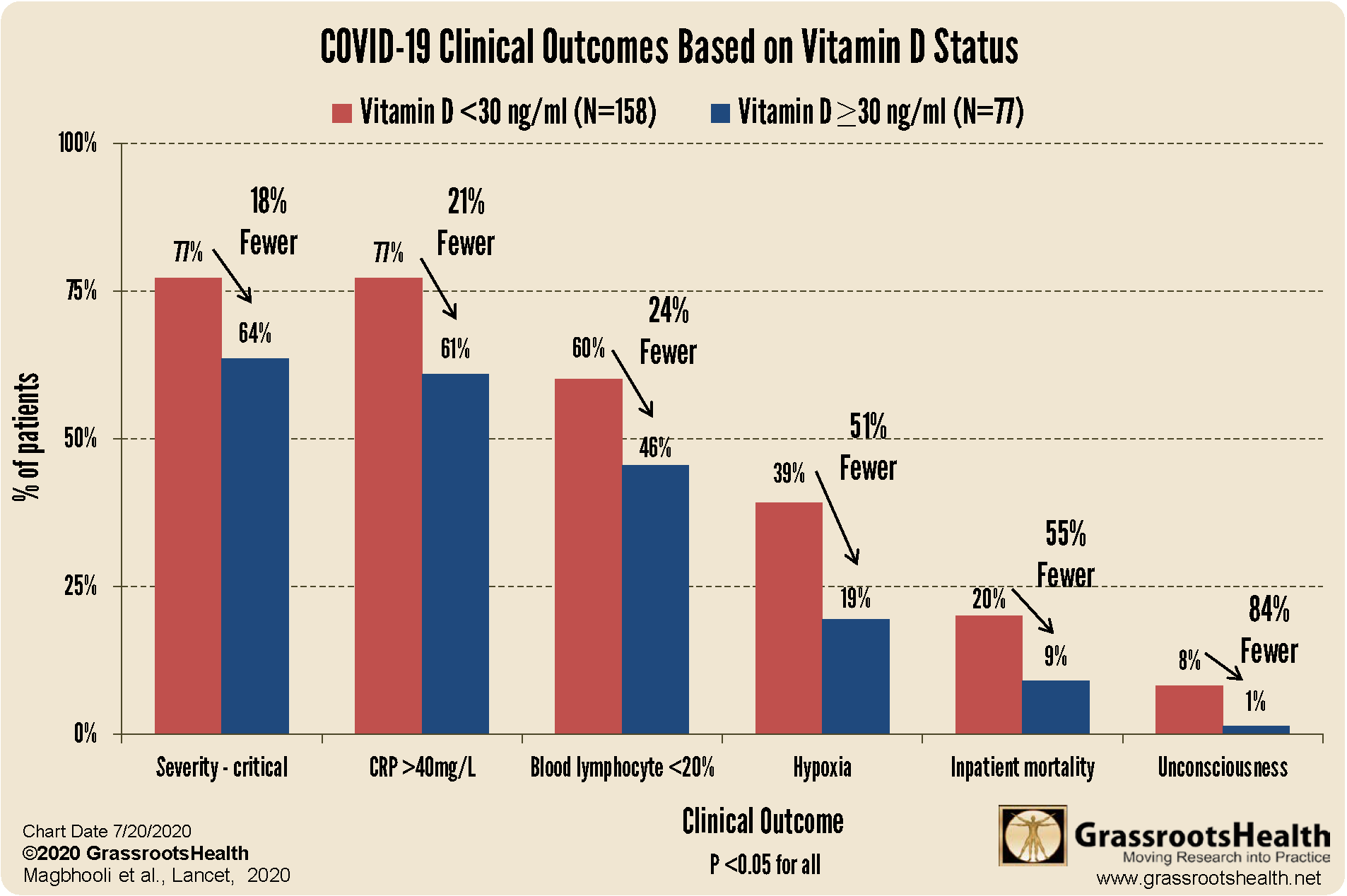 better clinical outcomes among patients with COVID-19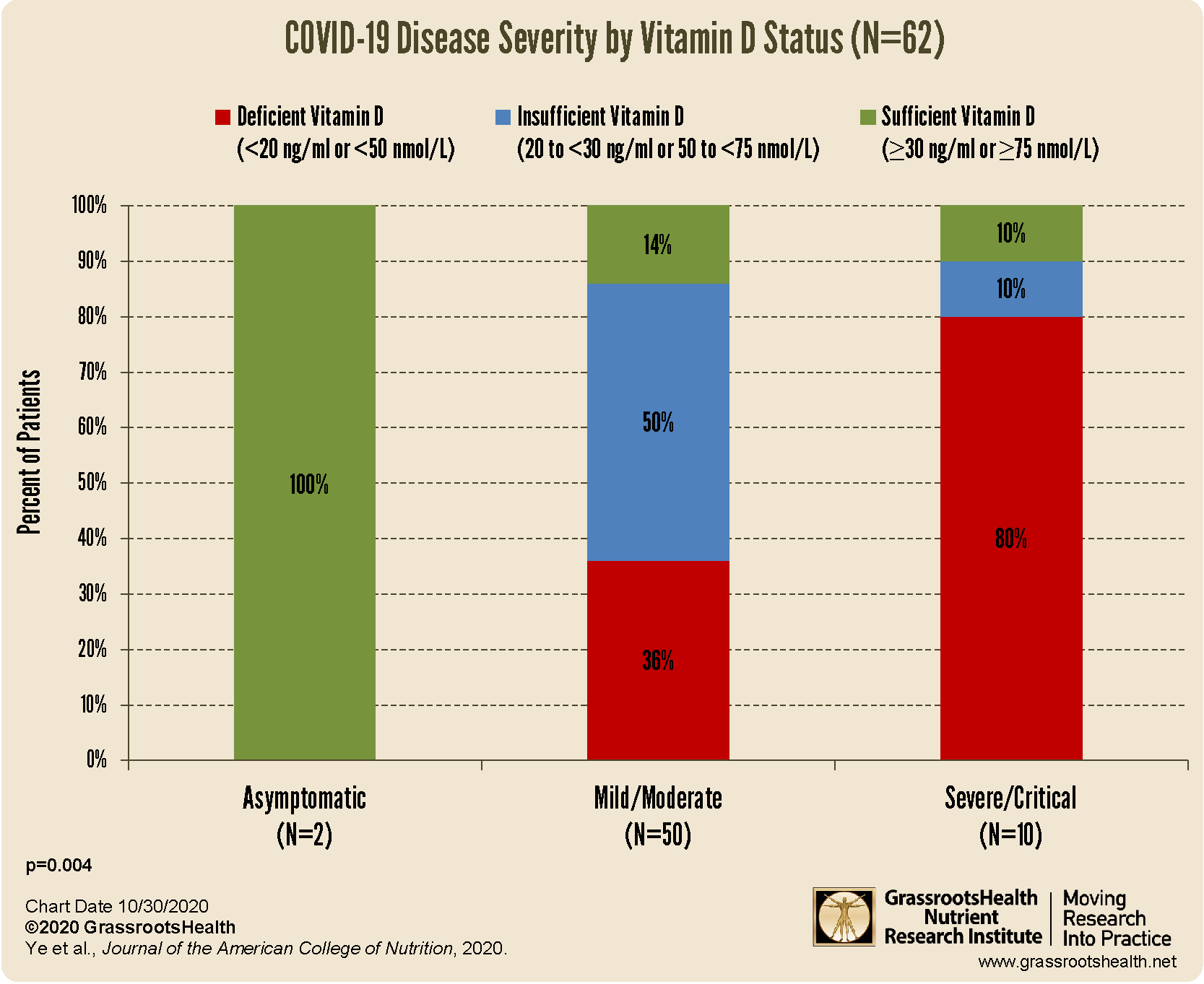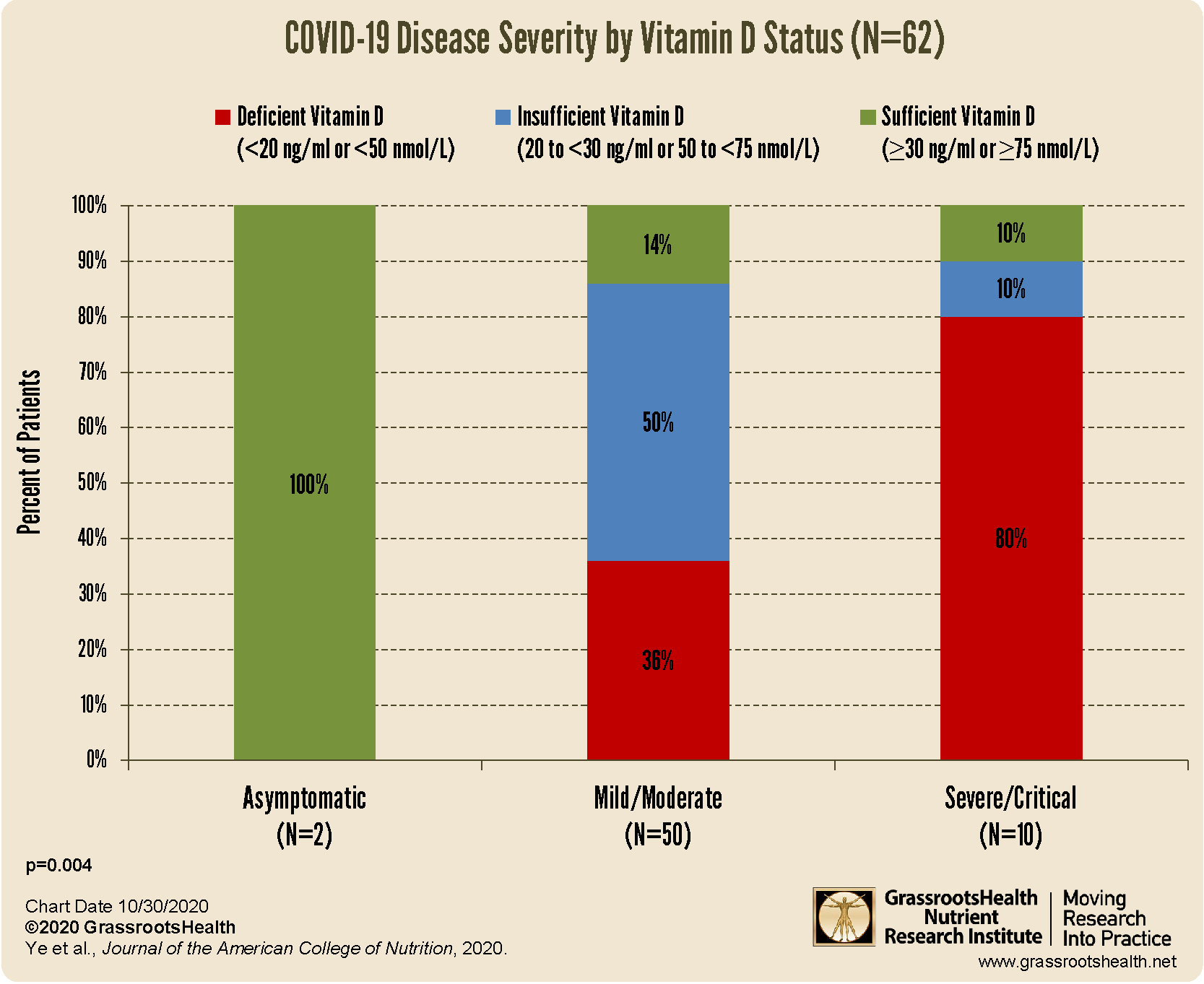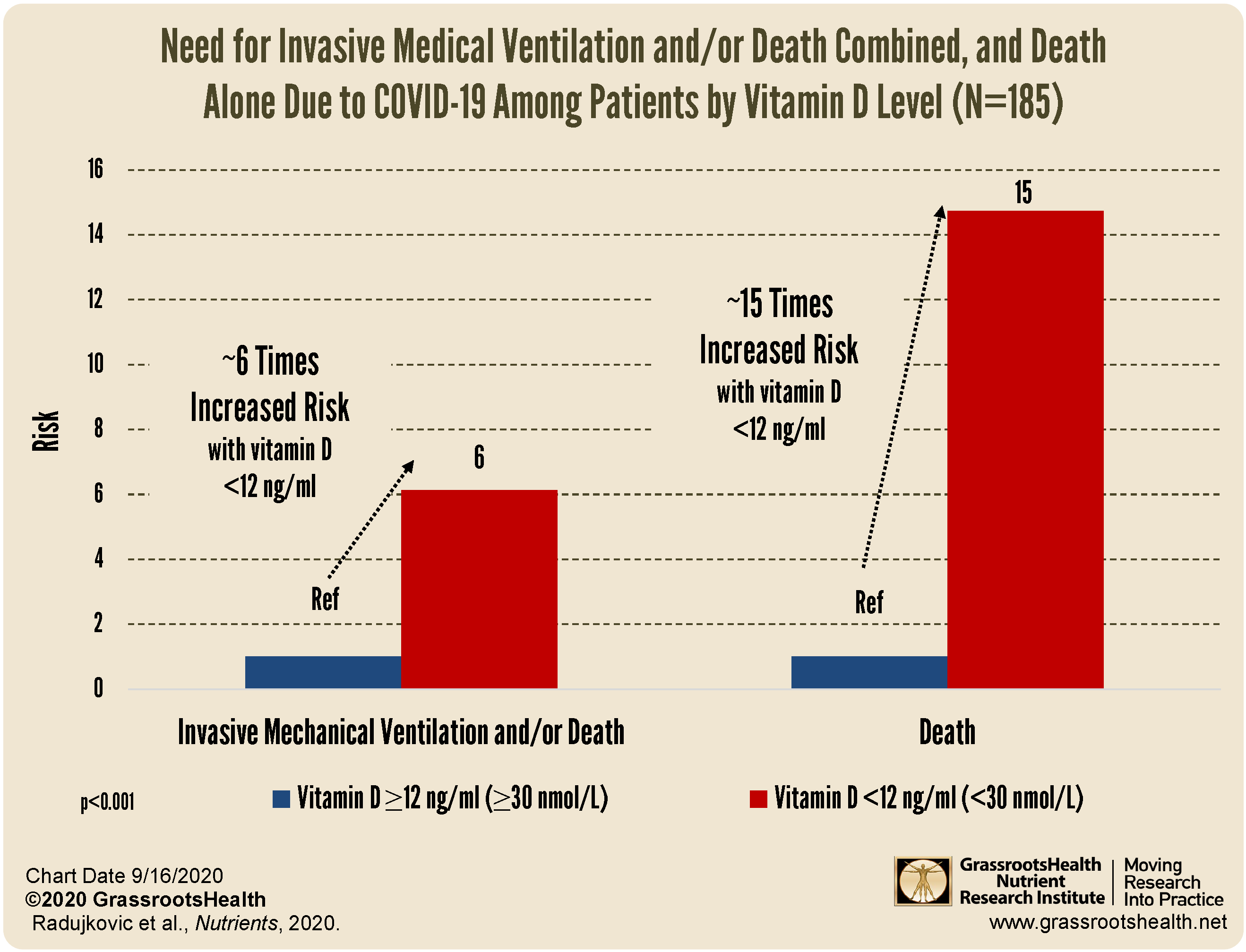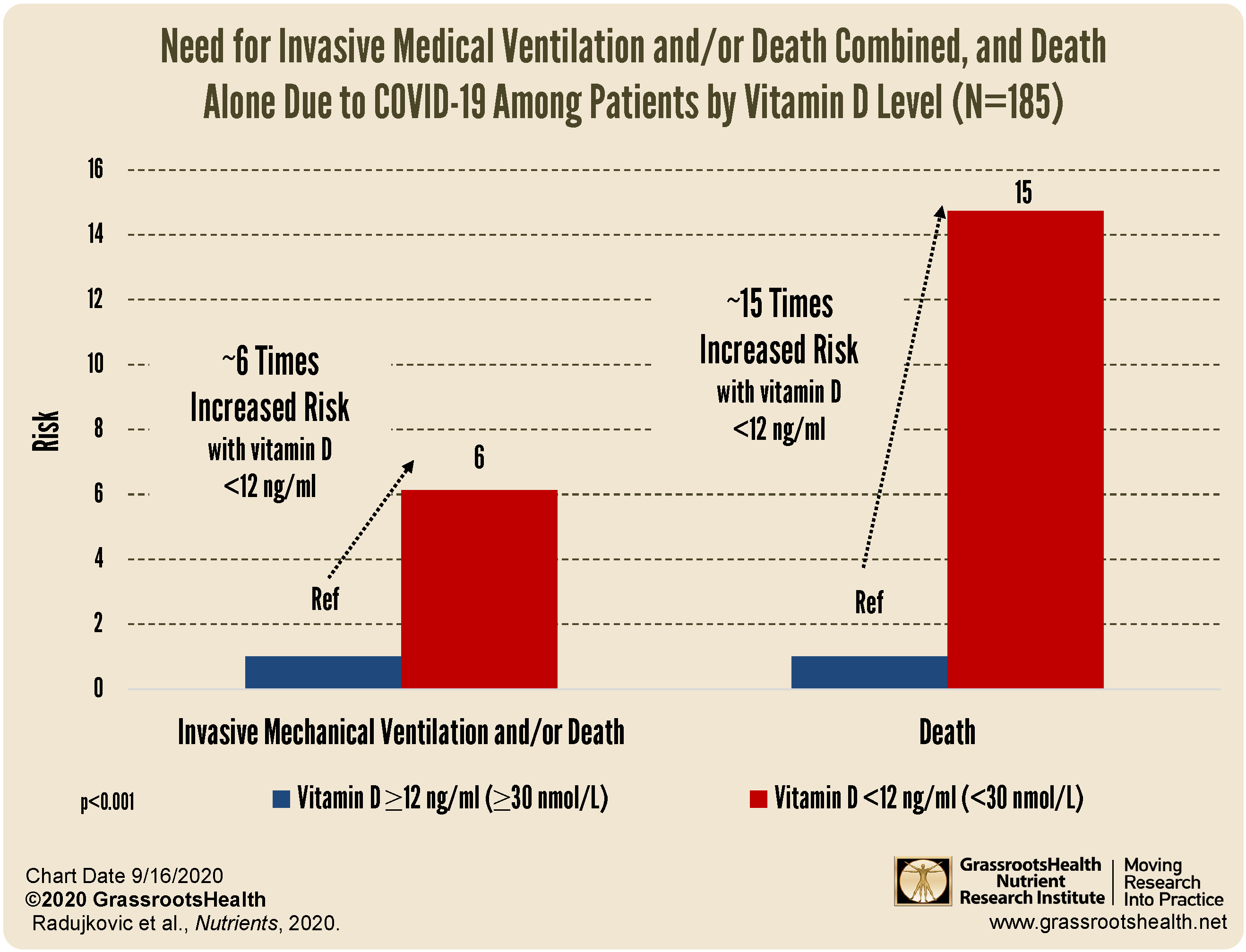 decreased risk of death due to COVID-19
Be sure to educate yourself on the benefits and importance of vitamin D for immune health, and take steps to ensure you and your loved ones are getting enough.
You can review all of the COVID-19 and immune health information we have shared on this page.
How Can You Use this Information for YOUR Health?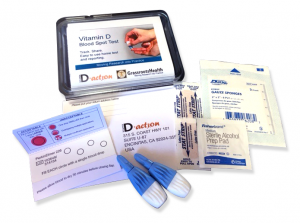 Having and maintaining healthy vitamin D and other nutrient levels can help improve your health now and for your future. Measuring is the only way to make sure you are getting enough!
STEP 1 Order your at-home blood spot test kit to measure vitamin D and other nutrients of concern to you, such as omega-3s, magnesium, essential and toxic elements (zinc, copper, selenium, lead, cadmium, mercury); include hsCRP as a marker of inflammation or HbA1c for blood sugar health
STEP 2 Answer the online questionnaire as part of the GrassrootsHealth study
STEP 3 Using our educational materials and tools (such as our dose calculators), assess your results to determine if you are in your desired target range or if actions should be taken to get there
STEP 4 After 3-6 months of implementing your changes, re-test to see if you have achieved your target level(s)