Published on February 28, 2018

Colorectal Cancer – the Statistics
Colorectal cancer is a combined term to include cancer of the colon and cancer of the rectum. Colorectal cancer is the third most common cancer worldwide. In the US, colorectal cancer is the fourth most common form of cancer and is the second leading cause of cancer death.
The number of new colorectal cancer cases in the US has been declining since the late 1990s; estimates for 2017 are 135,430 new cases and 50,260 deaths.
Men are more likely to have colorectal cancer than women. Using US data from 2010-2014 (the most recent available), there were 46.0 new cases each year for every 100,000 men and 35.1 new cases for every 100,000 women.
The median age at the time of diagnosis is 67 years, and almost a quarter (24.2%) of new cases are diagnosed in those who are between the ages of 65 – 74; 22.3% of new cases are in people aged 55 – 64; and 21.1% in those aged 75 – 84.
The US Preventive Services Task Force recommends screening for colorectal cancer for adults aged 50 – 75 and possible continued screening up to 85 years of age based on individual factors. Screening tests have been shown to be effective in finding precancerous polyps that can be removed before they turn into cancer.
What does vitamin D have to do with colorectal cancer? Thoughts from Cedric Garland, Dr.P.H., F.A.C.E.
Looking beyond the statistics, we checked in with Dr. Cedric Garland who published his first paper on the connection of sunlight and vitamin D with colon cancer back in 1980 (re-published in 2006) – and hasn't stopped researching it since.
That's right, information on the connection of sunlight and vitamin D with colon cancer has been published for almost 40 years! It's time we all became aware of that connection.
GrassrootsHealth: What is the one most important piece of information you believe everyone should know about colorectal cancer?
Cedric Garland: That most cases in the USA are due to vitamin D deficiency. With enough vitamin D to reach a serum 25(OH)D level in the range of 40-60 ng/ml, and adequate calcium, I say that 90% can be prevented.
The calcium should be mostly from food rather than supplements, and total intake should be no less than 1200 mg/day in females 9 years and older and 900 mg/day in males 9 years and older.
GrassrootsHealth: What is the most compelling image or chart you have seen (or made) to date that illustrates the association of vitamin D and colorectal cancer?
Cedric Garland: For the incidence of colorectal cancer this figure published in 2017 from a meta-analysis of 15 studies conducted in 14 countries shows a clear and significant lower risk of colorectal cancer with higher serum 25(OH)D concentrations.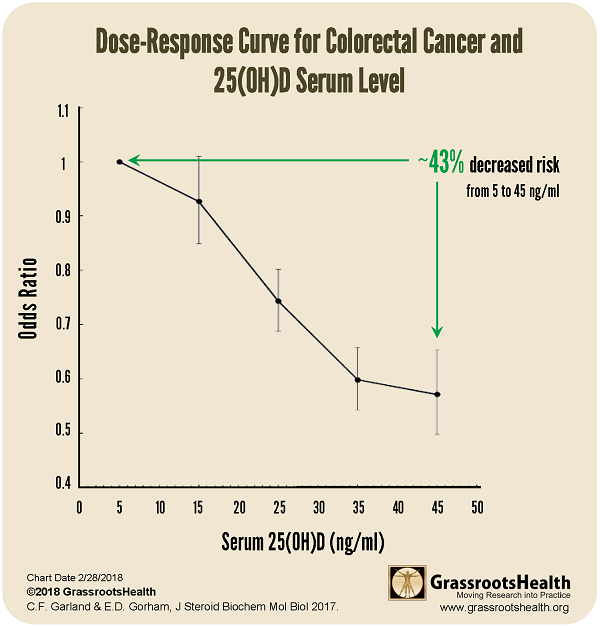 GrassrootsHealth: If someone has already been diagnosed with colorectal cancer, will vitamin D still help?
Cedric Garland: Vitamin D3 is likely to increase length of survival and otherwise help most people who are diagnosed with colorectal cancer, except the most advanced cases with widely disseminated metastases.
In colorectal cancer patients it would be wise to immediately test 25(OH)D level, and to immediately rule out hypercalcemia with a blood test for calcium level. Then aim for serum 25(OH)D in the range of 50-80 ng/ml unless there are contraindications such as preexisting hypercalcemia, Sarcoidosis or any active granulomatous disease such as Valley Fever.
This figure published in 2015 from a meta-analysis of four observational studies on 25(OH)D and colorectal cancer shows an overall trend that as 25(OH)D concentration goes up, risk of mortality goes down.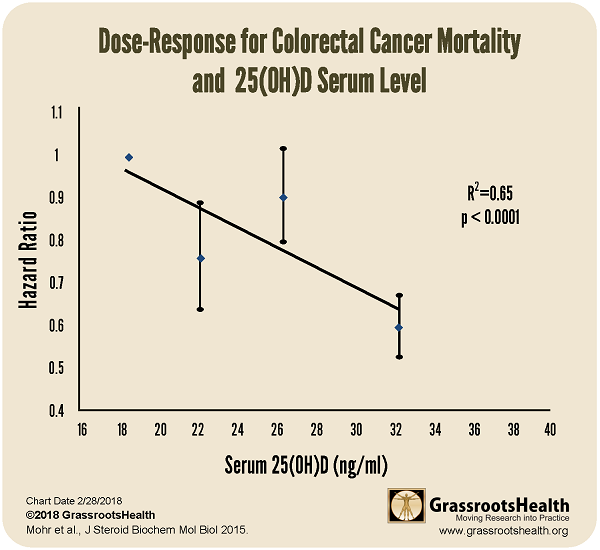 Now that you know, what should you do?
First of all, take care of yourself and your family. Test your vitamin D level and, if necessary, add supplements or sensible sun exposure to aim for a level in the range of 40-60 ng/ml to reduce your risk of colorectal cancer.
If you are 50 – 75 years old, talk to your doctor about colorectal cancer screening.
Spread the word – share this information with friends and loved ones.
References
National Cancer Institute
Colorectal Cancer Stat Facts (US)
World Cancer Research Fund International
Colorectal Cancer Facts & Figures
US Preventive Services Task Force
Final Recommendation Statement on Colorectal Cancer Screening
June 2017
Centers for Disease Control and Prevention
Colorectal Cancer
What Should I Know About Screening?
Do sunlight and vitamin D reduce the likelihood of colon cancer?
Cedric F. Garland, Frank C. Garland
International Journal of Epidemiology
April 2006 (reprint of original 1980 publication)
Read Paper
Dose-response of serum 25-hydroxyvitamin D in association with risk of colorectal cancer: A meta-analysis
Cedric F. Garland, Edward D. Gorham
The Journal of Steroid Biochemistry and Molecular Biology
April 2017
Read Abstract
Could vitamin D sufficiency improve the survival of colorectal cancer patients?
Sharif B. Mohr, et al.
The Journal of Steroid Biochemistry and Molecular Biology
April 2015
Read Abstract