Published on June 26, 2020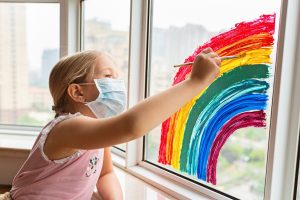 As of now, there has been much talk about vitamin D and its possible role in decreasing the risk of COVID-19 infection, and while there has not yet been a published randomized controlled trial (RCT) with vitamin D serum levels and COVID outcomes, mounting observational data is compelling.
In April of this year, GrassrootsHealth co-authored a paper, Evidence that Vitamin D Supplementation Could Reduce Risk of Influenza and COVID-19 Infections and Deaths, reviewing the current research around the role of vitamin D in immune function, specifically in response to viral infections of the respiratory system, along with mechanisms and proposed actions of vitamin D during the immune response. Observational data has since been published from COVID-19 cases, with results such as a very significant association between vitamin D level and COVID-19 severity and outcome, as well as studies showing improved COVID-19 outcomes with supplementation.
Why is vitamin D important for lung health and COVID-19?
Vitamin D is essential to a healthy, fully functional, immune response. Simply put – if the body does not have enough vitamin D (as well as several other nutrients), immune function will be hindered. The graphic below provides a very clear illustration of several ways vitamin D acts to directly protect the lungs, from its effect on the protective barrier of the lungs, to its involvement in the maturation of immune cells, and its role in regulating the inflammatory response and inhibiting the cytokine storm.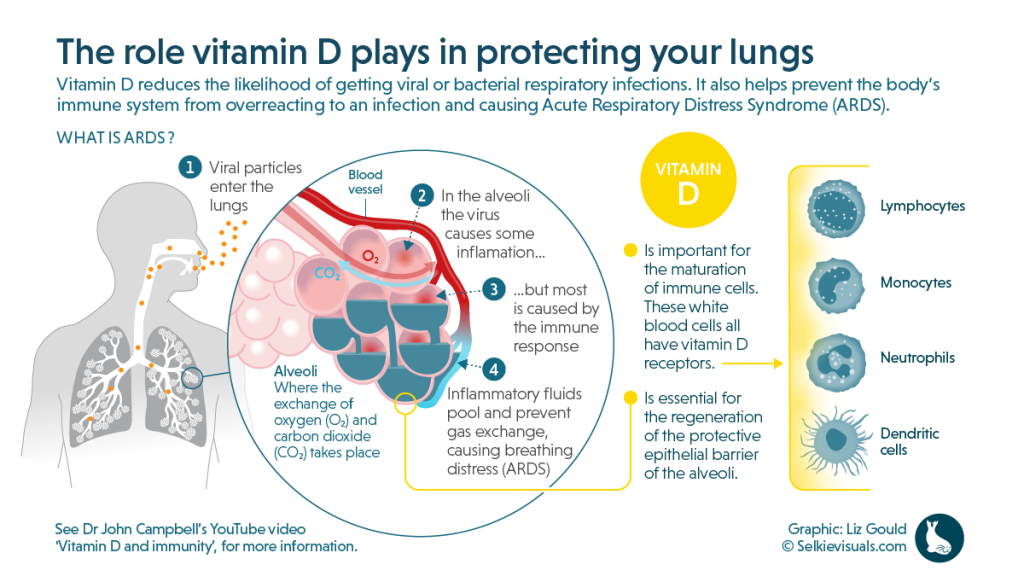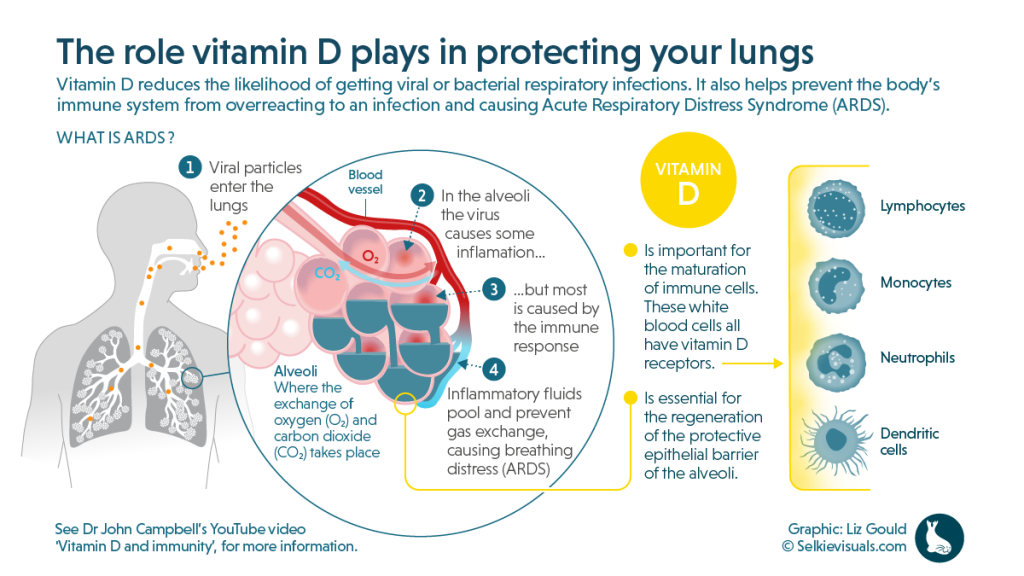 The video below, produced by Dr. John Campbell, explains this further and dives deeper into some of the evidence more specific to COVID-19 infection. Keep in mind that several papers referred to in the video suggest vitamin D doses that are too low for most people – a topic that is very clearly addressed in the recent post titled Current Recommendations are Too Low.
Please take a moment to read, watch and share!
Vitamin D and Immunity, Lots of Evidence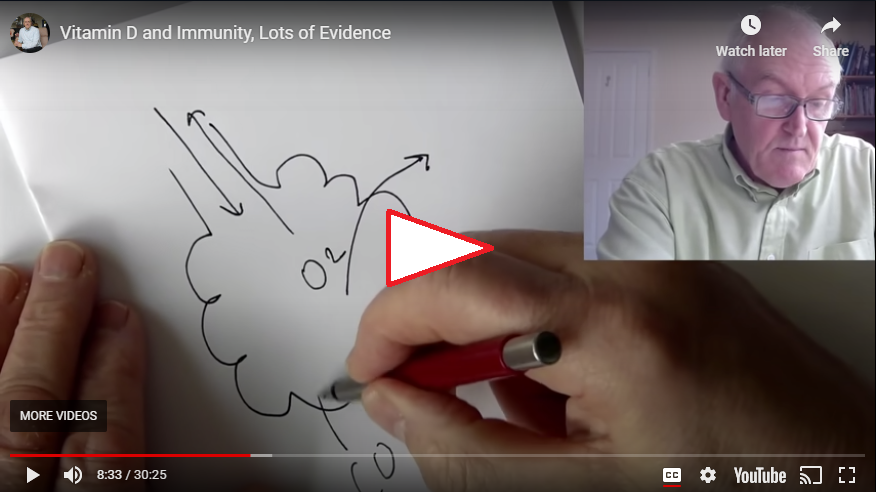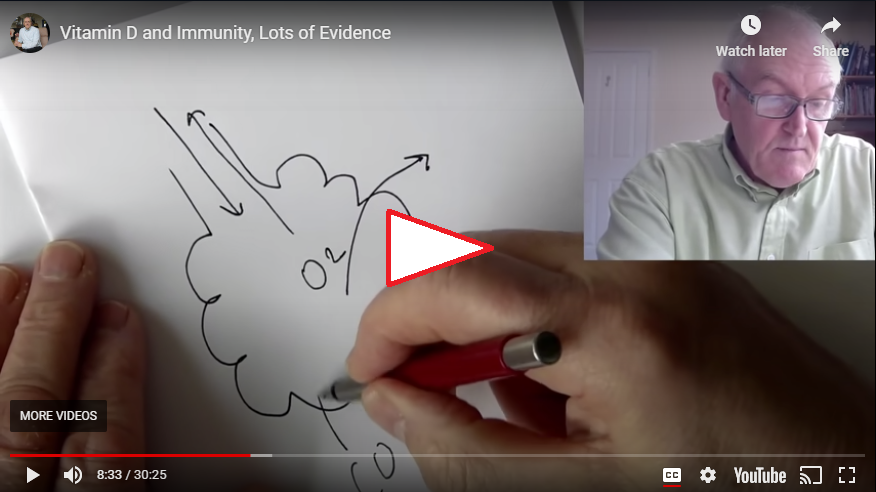 Video by Dr. John Campbell
BOTTOM LINE:
Vitamin D is necessary for normal immune function; low levels of D = REDUCED IMMUNITY
KEY POINTS:
Vitamin D deficiency predisposes the body to viral and bacterial infections
Most vitamin D is produced in the body from sun exposure, however, for those with darker skin, less vitamin D is produced over the same exposure time
A very well-done review of the paper Evidence that Vitamin D Supplementation Could Reduce Risk of Influenza and COVID-19 Infections and Deaths by Dr. Grant, GrassrootsHealth and others

Vitamin D induces the production of cathelicidins and defensins which lower viral replication rates, reduces concentrations of pro-inflammatory cytokines, and increases concentrations of anti-inflammatory cytokines

Description of how alveoli in the lungs work, and how they are affected by ARDS, inflammation
Prevalence and correlations of vitamin D deficiency in US adults – about 42% of the US population is deficient, however, rate rises to 82% in Black people and 70% in Hispanics
A review of the rates of deficiency in Ireland and current recommendations (recommended intakes are too low)
Review showing risk of respiratory infection in a study of 18,883 participants increased with lower blood vitamin D levels, and the effect was even stronger in those with underlying lung conditions
A review of other studies supporting vitamin D's effect in reduced risk/symptoms of respiratory infections
Biggest benefit seen among those who are currently low in vitamin D (Test Now!)
Maintaining sufficient vitamin D status is beneficial in prevention of acute respiratory infections and may therefore be of benefit in the COVID-19 pandemic

Ensure you are getting enough vitamin D to support a healthy immune response!
Testing your vitamin D level regularly and taking steps to keep it at a target level of 40-60 ng/ml (100-150 nmol/L) is important for all stages of health, and especially to help strengthen the immune response. Measure other co-nutrients as well, such as magnesium, zinc, and omega-3s, which are also important to immune function and inflammation. To know if you are getting enough, make sure you test today!
Are You Getting Enough Vitamin D to Help Yourself?
We're in a time of great crisis that could be greatly affected by making sure you and everyone you know has a serum level of at least 40 ng/ml. Help us help you.
Do you know what your vitamin D level is? Be sure to test today to find out, and take steps to keep it within a target of 40-60 ng/ml or 100-150 nmol/L! Give your immune system the nutrients it needs to support a healthy you and protect yourself from unnecessary diseases.
GrassrootsHealth Nutrient Research Institute is preparing to do a Community RCT with the use of our myData-myAnswers nutrient health system that over 15,000 people are already using for their health. We will demonstrate how one can use the Nutrient Research Model established by Dr. Robert Heaney to establish the effect of vitamin D serum levels of at least 40 ng/ml (100 nmol/L) on risk reduction with different ethnicities in the population. Please let us know if you're interested in helping sponsor this project.



CLICK HERE for updates and new information about the project.
Through GrassrootsHealth Nutrient Research Institute, you can also test your essential elements magnesium, copper, zinc and selenium, toxins such as lead, mercury and cadmium, as well as your omega-3 levels, inflammation levels and thyroid stimulating hormone (TSH) level. Find out your levels today! Log on to the test selection page (click the link below) to get your tests and see for yourself if your levels can be improved.
Make sure you track your results before and after, about every 6 months!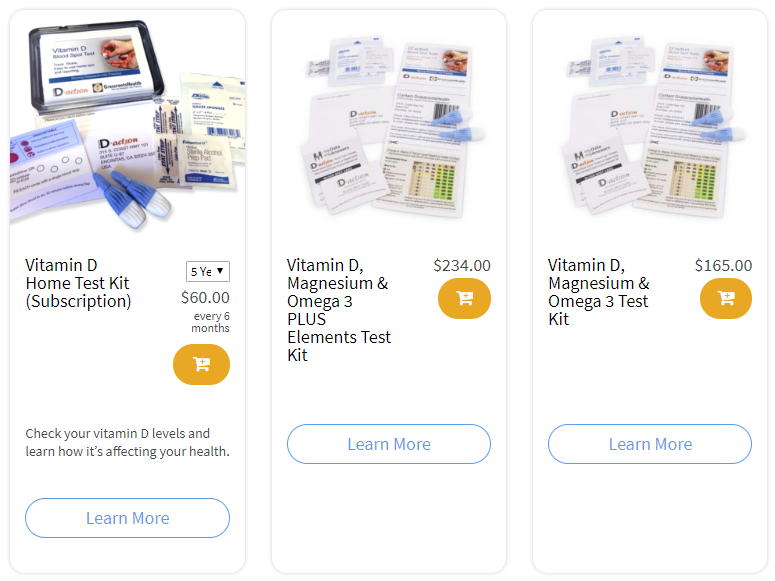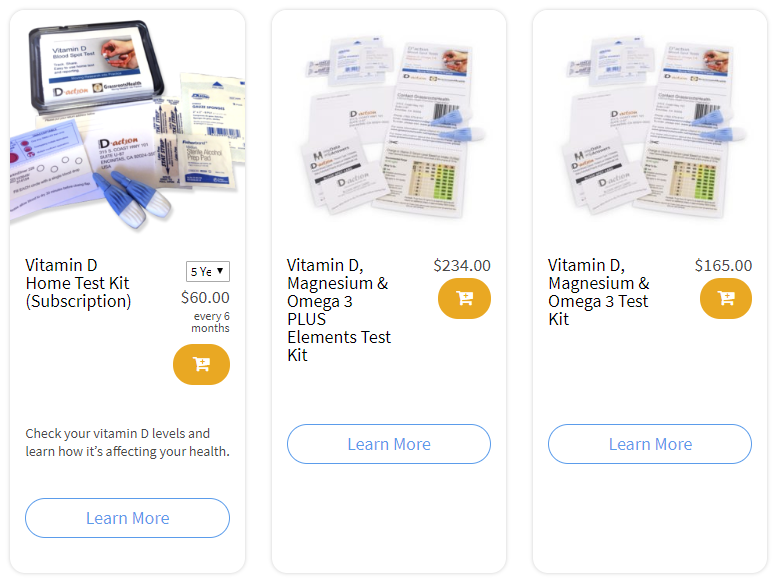 Click Here to Access the Test Page
How can I track my nutrient intake and levels over time?
To help you track your supplement use and nutrient levels, GrassrootsHealth has created the Personal Health Nutrient Decision System called


For each specific supplement, you can track what days you take it, how much, and many other details.  This will help you know your true supplemental intake and what patterns of use work for you to reach and maintain optimum nutrient levels.  Check it out today!
How Can You Use this Information for YOUR Health?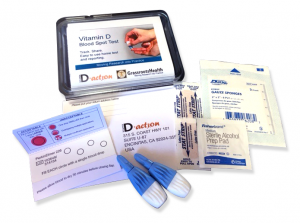 Having and maintaining healthy vitamin D and other nutrient levels can help improve your health now and for your future. Measuring is the only way to make sure you are getting enough!
STEP 1 Order your at-home blood spot test kit to measure vitamin D and other nutrients of concern to you, such as omega-3s, magnesium, essential and toxic elements (zinc, copper, selenium, lead, cadmium, mercury); include hsCRP as a marker of inflammation or HbA1c for blood sugar health
STEP 2 Answer the online questionnaire as part of the GrassrootsHealth study
STEP 3 Using our educational materials and tools (such as our dose calculators), assess your results to determine if you are in your desired target range or if actions should be taken to get there
STEP 4 After 3-6 months of implementing your changes, re-test to see if you have achieved your target level(s)