Published on August 11, 2021


Could applying vitamin D products to the skin help improve psoriasis and other skin conditions while also raising vitamin D levels?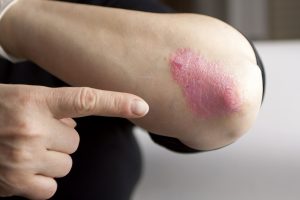 August is Psoriasis Action Month, dedicated to increasing awareness of psoriatic disease and educating others on treatment options for psoriasis. Psoriasis is thought to be an auto-immune disease, characterized by the cyclical appearance of raised, red patches covered by scaly, itchy skin, usually around the knees, elbows, trunk and scalp.
Vitamin D is an Approved Treatment for Psoriasis
Topical vitamin D was first approved by the US Food and Drug Administration (FDA) as an effective treatment for psoriasis in 1994. Sunshine exposure and artificial UV light (emitting both UVA and UVB light) have also shown to be beneficial for the treatment of psoriasis and several other dermatological conditions.
Vitamin D deficiency has been associated with psoriasis, eczema, and several other skin disorders. An observational case-control study found that low vitamin D levels were more common in psoriatic patients than in healthy controls, and that patients with the lowest vitamin D levels had the most severe disease for the longest duration of time. Another study by McCullough et al. reported findings from long-term hospitalized patients who were given 5000 to 50,000 IU per day of vitamin D. Three patients with psoriasis were given doses of 20,000 to 50,000 IU per day, and all showed marked improvements within 3 to 4 months, with no negative effects due to supplementation.
Could Using Vitamin D on the Skin Increase Vitamin D Levels?
A randomized controlled trial by Bubshait et al. looked to see how applying a topical vitamin D3 gel would affect vitamin D levels. The study enrolled 550 participants, ages 18-80, all with initial vitamin D levels below 30 ng/ml (75 nmol/L). The participants were split into two groups – the treatment group of 350 participants was given a topical vitamin D3 gel with 5000 IU per gram, and the control group of 200 participants was given an aloe vera gel. Participants were told to apply 1 gram of the gel daily over a 4 month period, after which vitamin D levels were re-assessed.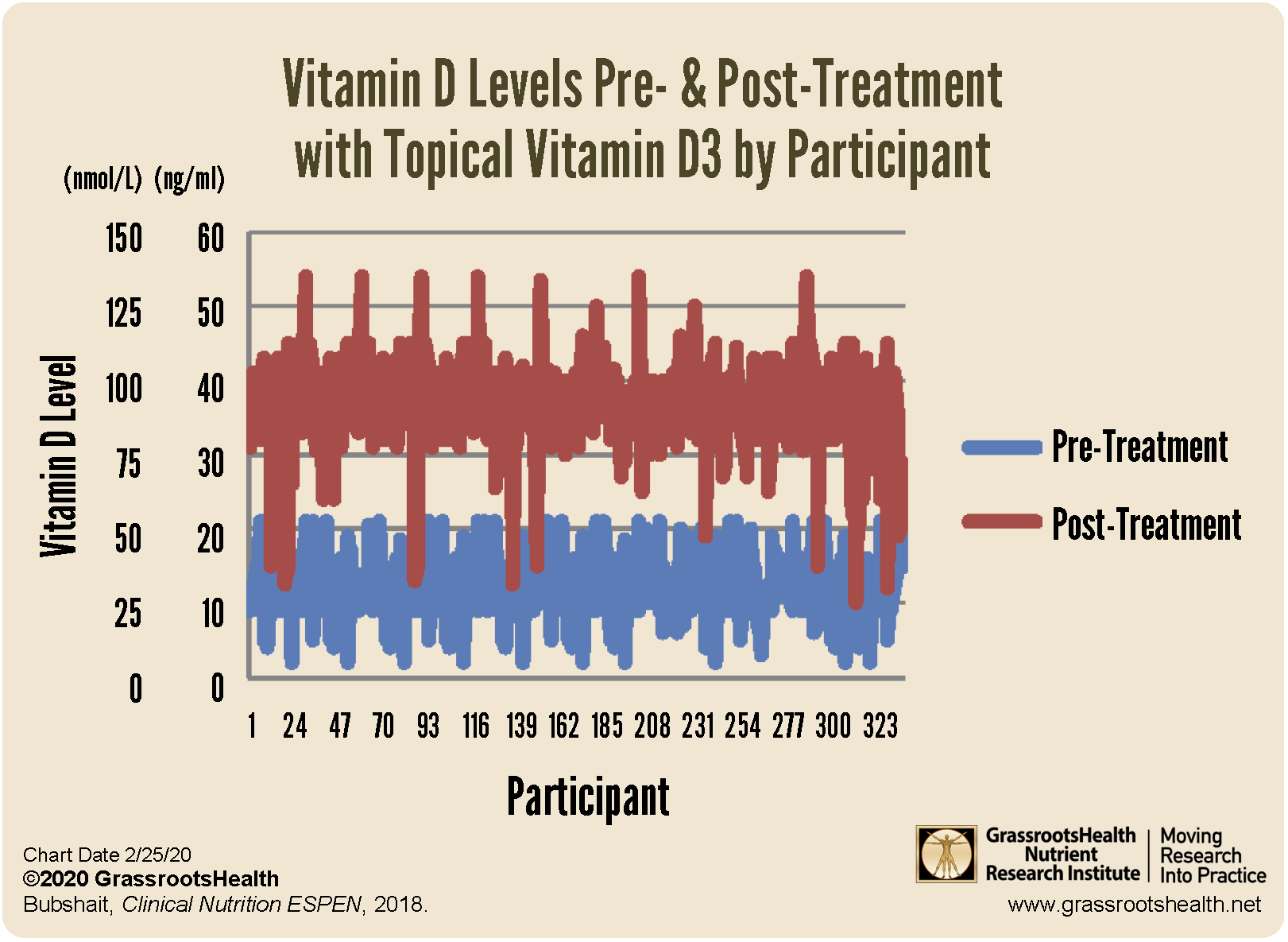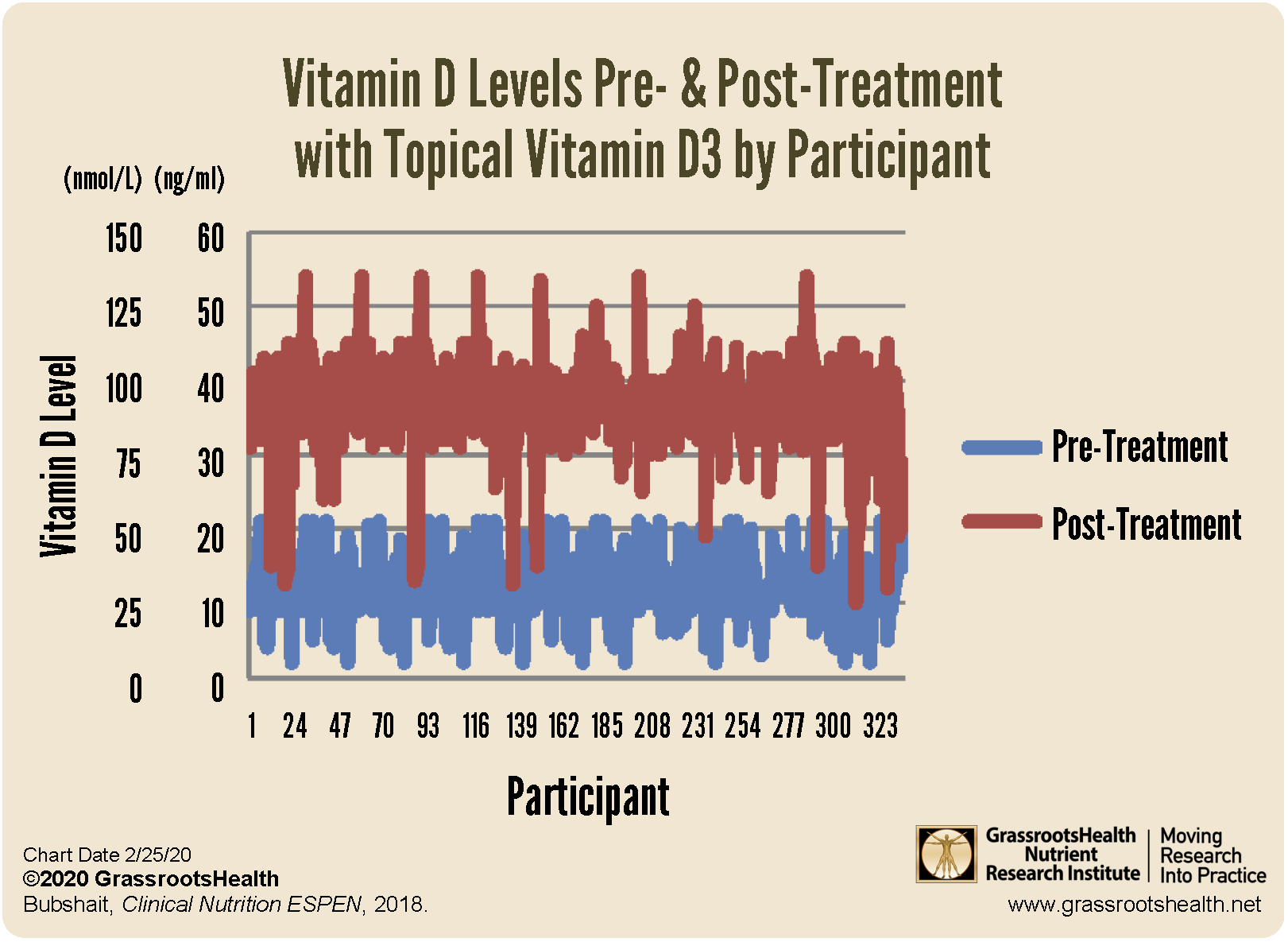 The treatment group began the study with an average vitamin D level of 11 ng/ml, and the control group had a starting average vitamin D level of 10 ng/ml. After 4 months of applying the topical gel, the treatment group had an average vitamin D level of 37 ng/ml, while the control group remained about the same.
As can be seen in the chart above, post-treatment vitamin D levels were much greater than pre-treatment levels after using the topical vitamin D supplement for 4 months, which provided 5000 IU per day of vitamin D through the skin. This study shows that topical vitamin D supplements may be a reliable alternative for those with certain skin disorders, or for individuals who struggle with oral supplements or prefer to avoid them.
Could Topical Vitamin D Benefit Other Skin Disorders?
Wat H. and Dytoc M. completed a systematic review of 165 published papers on the use of topical vitamin D treatments for skin disorders other than psoriasis. They found that topical vitamin D (in combination with other therapies or used by itself) also had a positive effect on skin conditions including vitiligo, congenital ichthyosis, lamellar ichthyoses, bullous ichthyosis, morphea, pityriasis alba, prurigo nodularis, polymorphous light eruption, Grover disease, and Hailey-Hailey disease, among others.
Do you use a topical vitamin D product, or are you considering one? How is it affecting you and your vitamin D level?
Let us know what your daily vitamin D routine is while testing your levels. Contribute your data as a citizen scientist – what other discoveries can we make together?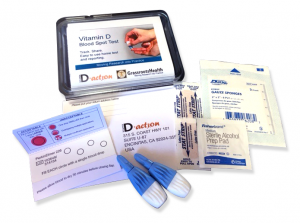 Having and maintaining healthy vitamin D levels and other nutrient levels can help improve your health now and for your future. Choose which to measure, such as your vitamin D, omega-3s, and essential minerals including magnesium and zinc, by creating your custom home test kit today. Take steps to improve the status of each of these measurements to benefit your overall health. You can also track your own intakes, symptoms and results to see what works best for YOU.
Enroll and test your levels today, learn what steps to take to improve your status of vitamin D (see below) and other nutrients and blood markers, and take action! By enrolling in the GrassrootsHealth projects, you are not only contributing valuable information to everyone, you are also gaining knowledge about how you could improve your own health through measuring and tracking your nutrient status, and educating yourself on how to improve it.
Help everyone Move Research into Practice with vitamin D and other nutrients! As a special birthday gift to everyone, in honor of the science, we have created a special scholarship fund for anyone to donate to that will go towards helping others participate. Your donation will allow anyone to get help with funding their participation when they need it.
Text-to-give: Text Daction to 44321 to add to our Scholarship Fund.
How Can You Use this Information for YOUR Health?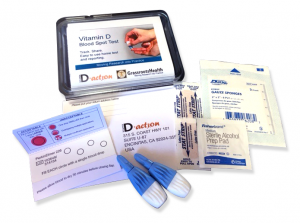 Having and maintaining healthy vitamin D and other nutrient levels can help improve your health now and for your future. Measuring is the only way to make sure you are getting enough!
STEP 1 Order your at-home blood spot test kit to measure vitamin D and other nutrients of concern to you, such as omega-3s, magnesium, essential and toxic elements (zinc, copper, selenium, lead, cadmium, mercury); include hsCRP as a marker of inflammation or HbA1c for blood sugar health
STEP 2 Answer the online questionnaire as part of the GrassrootsHealth study
STEP 3 Using our educational materials and tools (such as our dose calculators), assess your results to determine if you are in your desired target range or if actions should be taken to get there
STEP 4 After 3-6 months of implementing your changes, re-test to see if you have achieved your target level(s)