Published on February 26, 2020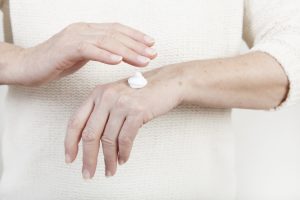 For some people, swallowing a daily pill is not an option, nor is it preferred, which can result in low compliance in taking supplements. While vitamin D supplements come in several other forms, such as liquids, chewable tablets, and gummies, digestive conditions such as irritable bowel disease, Crohn's disease, or celiac disease can limit the absorption of oral vitamin D in the gut. Also, those with diseases of the liver (e.g. fatty liver) or pancreas, who have had their gallbladder removed, or who have had bariatric surgery bypassing the small intestine are more likely to have trouble absorbing or metabolizing vitamin D. For these individuals, an increased dosage or other vitamin D metabolites may be needed (please consult with your physician if this is the case).
Could Topical Vitamin D Help?
A randomized controlled trial by Bubshait et al. enrolled 550 participants, ages 18-80, with initial vitamin D levels below 30 ng/ml. The participants were split into two groups – the treatment group of 350 participants was given a topical vitamin D3 gel with 5000 IU per gram, and the control group of 200 participants was given an aloe vera gel. Participants were told to apply 1 gram of the gel daily over a 4 month period, after which vitamin D levels were re-assessed.
The treatment group began the study with an average vitamin D level of 11 ng/ml, and the control group had a starting average vitamin D level of 10 ng/ml. After 4 months of applying the topical gel, the treatment group had an average vitamin D level of 37 ng/ml, while the control group remained about the same.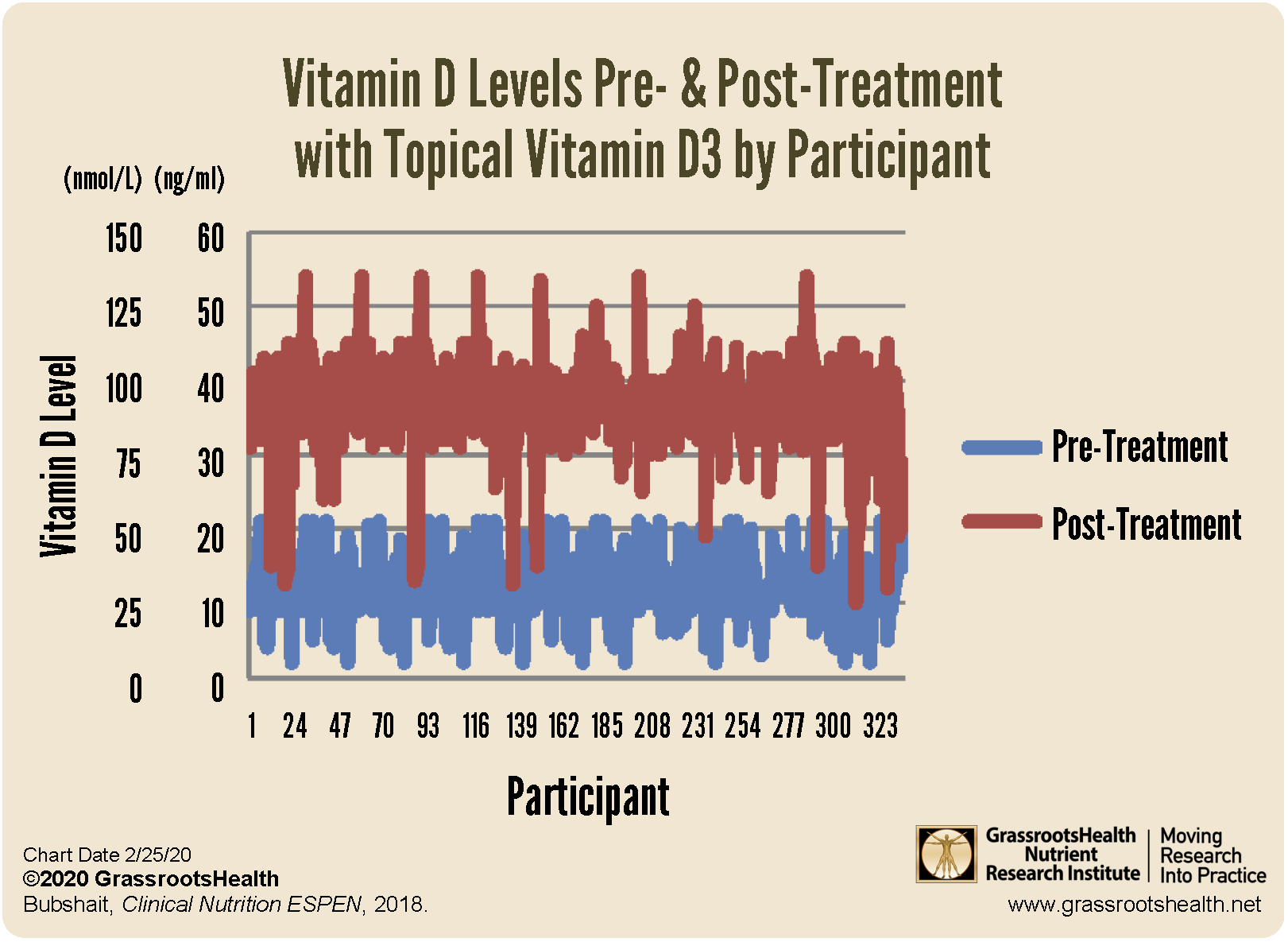 As can be seen in the chart above showing the treatment group, post-treatment vitamin D levels were much greater than pre-treatment levels after using a topical vitamin D supplement for 4 months, which provided 5000 IU vitamin D through the skin. This study shows that topical vitamin D supplements may be a reliable alternative for those who either struggle with oral supplements or prefer to avoid them.
How is your vitamin D supplement working for you?
Make sure you know your vitamin D level, and take steps to keep it within a target of 40-60 ng/ml or 100-150 nmol/L! Through GrassrootsHealth Nutrient Research Institute, you can also test your essential elements magnesium, copper, zinc and selenium, toxins such as lead, mercury and cadmium, as well as your omega-3 levels, inflammation levels and thyroid stimulating hormone (TSH) level. Find out your levels today! Log on to the test selection page (click the link below) to get your tests and see for yourself if your levels can be improved.
Make sure you track your results before and after, about every 6 months!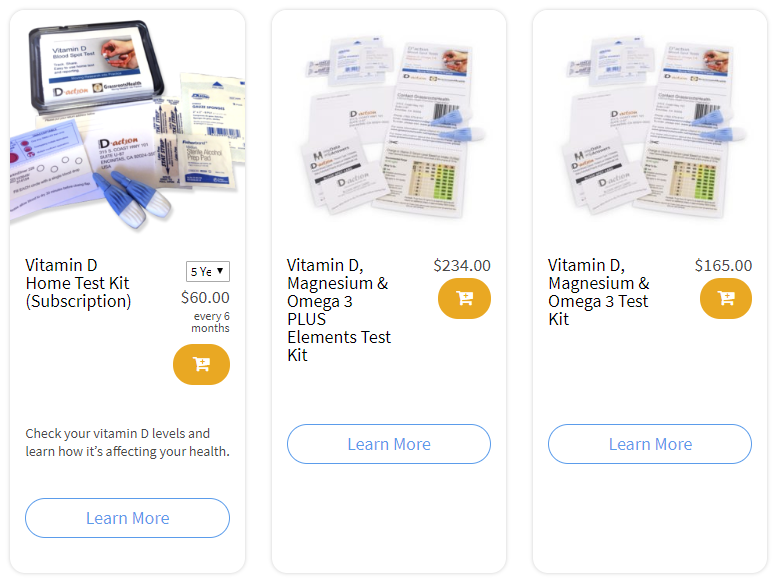 Click Here to Access the Test Page
How can I track my nutrient intake and levels over time?
To help you track your supplement use and nutrient levels, GrassrootsHealth has created the Personal Health Nutrient Decision System called


For each specific supplement, you can track what days you take it, how much, and many other details.  This will help you know your true supplemental intake and what patterns of use work for you to reach and maintain optimum nutrient levels.  Check it out today!
How Can You Use this Information for YOUR Health?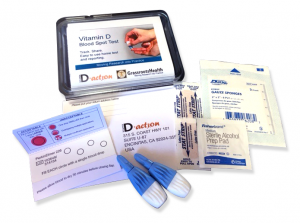 Having and maintaining healthy vitamin D and other nutrient levels can help improve your health now and for your future. Measuring is the only way to make sure you are getting enough!
STEP 1 Order your at-home blood spot test kit to measure vitamin D and other nutrients of concern to you, such as omega-3s, magnesium, essential and toxic elements (zinc, copper, selenium, lead, cadmium, mercury); include hsCRP as a marker of inflammation or HbA1c for blood sugar health
STEP 2 Answer the online questionnaire as part of the GrassrootsHealth study
STEP 3 Using our educational materials and tools (such as our dose calculators), assess your results to determine if you are in your desired target range or if actions should be taken to get there
STEP 4 After 3-6 months of implementing your changes, re-test to see if you have achieved your target level(s)