Published on June 3, 2020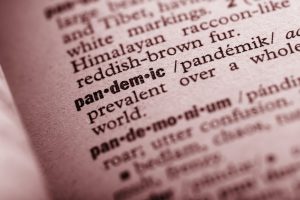 The COVID-19 pandemic, spurred by the novel coronavirus, has certainly captured the spotlight these last several months, and for good reason. With over 6 million confirmed cases and over an estimated 375,000 deaths world-wide to date, plus the resulting social and economic changes, lives and families across the globe have been affected in one way or several. In April of 2020, GrassrootsHealth was part of the team to publish the paper Evidence that Vitamin D Supplementation Could Reduce Risk of Influenza and COVID-19 Infections and Deaths to describe how vitamin D plays a critical role in immune function and response to viruses, including influenza and other known coronaviruses. Other observational studies have published data showing a strong correlation between vitamin D levels and the severity of the COVID-19 disease – with the most severe cases and death being associated with the lowest levels of vitamin D. Previous studies have also shown how vitamin D plays a direct role in regulating inflammation and the immune health of the lungs, including Acute Respiratory Distress Syndrome (ARDS), the main cause of death due to COVID-19.
Vitamin D is necessary for multiple functions within the body, but has the hype about vitamin D and its role in the body's response to COVID-19 been over-exaggerated?
Is vitamin D REALLY that important?
YES! Although of course you would expect such an answer, coming from GrassrootsHealth, but our answer is based on the evidence.
It is our goal, over the next week or so, to provide you with information and resources to answer the question, "Why should I care about vitamin D?" and to help dispel the myths and misconceptions surrounding it that may be preventing you and others from accepting it as an essential component to health. We will also discuss other nutrients essential to the function of vitamin D (and vice versa) within the body that should not be ignored.
An Introductory Video, to Start
We begin this series with a quick, easy-to-follow video about the importance of vitamin D for immune health.
The Ignored Pandemic: Vitamin D Deficiency, by Dr. Eric Berg, DC, is a great, simple video to watch and share with others who may not have much education or background on vitamin D. The video quickly discusses:
Overview of vitamin D's importance
Vitamin D's various roles in the immune system
Regulation of the inflammatory response (cytokine storm)
How different immune cells rely on vitamin D
Why are so many people deficient in vitamin D?? Reasons for deficiency
Sun, skin color and vitamin D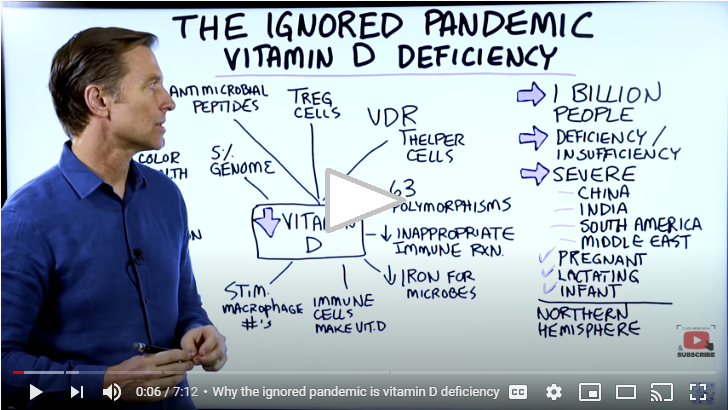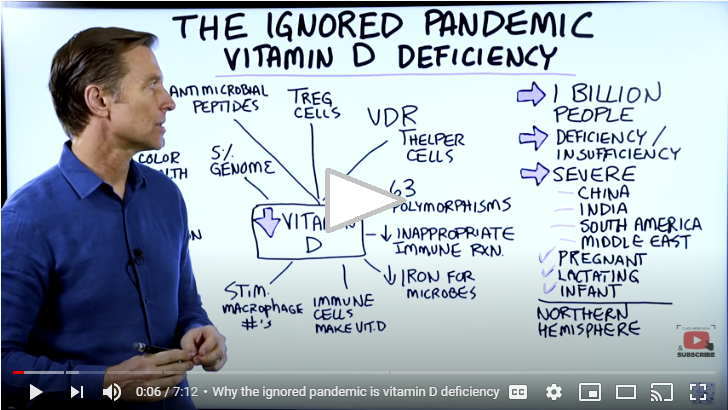 Take a quick watch and forward it to those you think could use the information!
We want to hear from you!
Is there a particular 'myth' you have heard about vitamin D? Or, something you have read or been told that makes you question whether vitamin D 'deserves' so much attention? Or whether you should be taking it and how much? Share with us by emailing jen @grassrootshealth.org what you have heard that makes you question vitamin D so that we can consider addressing it in our newsletters.
Do you know your nutrient status?
Do you need to be concerned about getting more vitamin D or other essential nutrients, such as magnesium, omega-3s and zinc? Test today and take the necessary steps to ensure your body has enough of each to support daily health!
Do You Have Enough Vitamin D to Support a Healthy Immune System?
We're in a time of great crisis that could be greatly affected by making sure you and everyone you know has a serum level of at least 40 ng/ml. Help us help you.
Do you know what your vitamin D level is? Be sure to test today to find out, and take steps to keep it within a target of 40-60 ng/ml or 100-150 nmol/L! Give your immune system the nutrients it needs to support a healthy you and protect yourself from unnecessary diseases.
GrassrootsHealth Nutrient Research Institute is preparing to do a Community RCT with the use of our myData-myAnswers nutrient health system that over 15,000 people are already using for their health. We will demonstrate how one can use the Nutrient Research Model established by Dr. Robert Heaney to establish the effect of vitamin D serum levels of at least 40 ng/ml (100 nmol/L) on risk reduction with different ethnicities in the population. Please let us know if you're interested in helping sponsor this project.


Through GrassrootsHealth Nutrient Research Institute, you can also test your essential elements magnesium, copper, zinc and selenium, toxins such as lead, mercury and cadmium, as well as your omega-3 levels, inflammation levels and thyroid stimulating hormone (TSH) level. Find out your levels today! Log on to the test selection page (click the link below) to get your tests and see for yourself if your levels can be improved.
Make sure you track your results before and after, about every 6 months!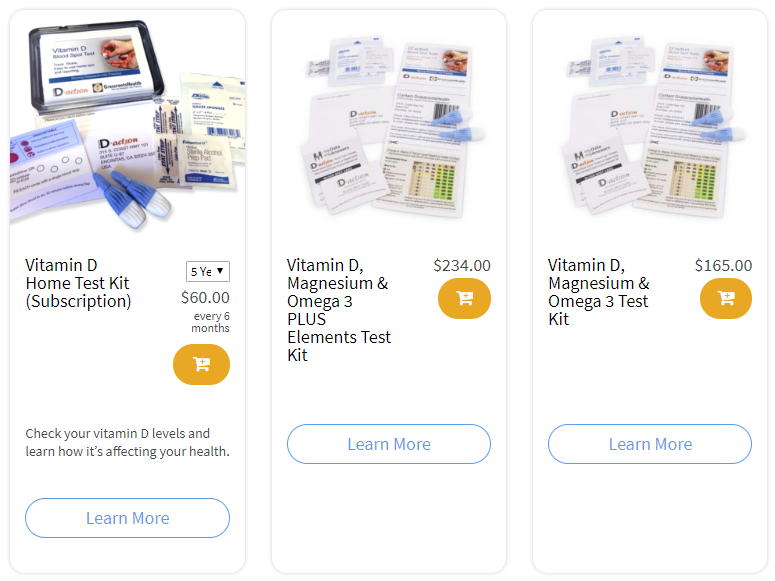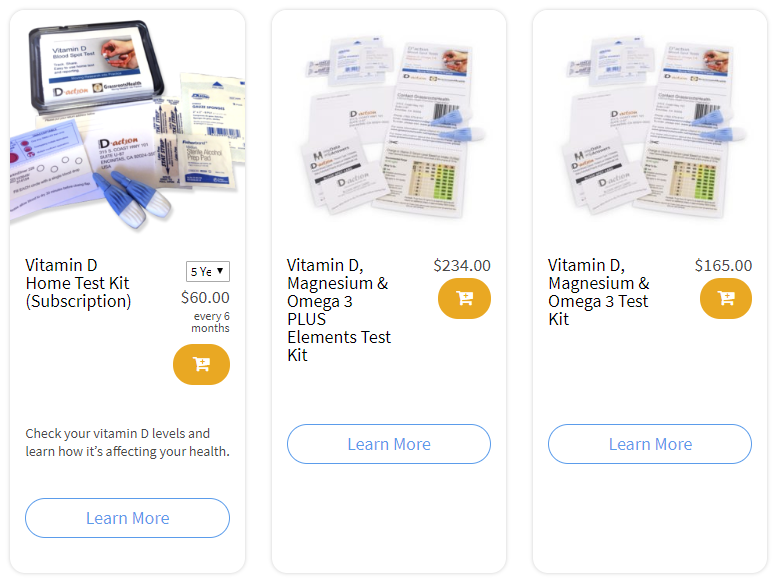 Click Here to Access the Test Page
How can I track my nutrient intake and levels over time?
To help you track your supplement use and nutrient levels, GrassrootsHealth has created the Personal Health Nutrient Decision System called


For each specific supplement, you can track what days you take it, how much, and many other details.  This will help you know your true supplemental intake and what patterns of use work for you to reach and maintain optimum nutrient levels.  Check it out today!
How Can You Use this Information for YOUR Health?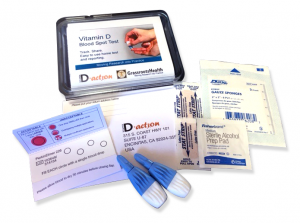 Having and maintaining healthy vitamin D and other nutrient levels can help improve your health now and for your future. Measuring is the only way to make sure you are getting enough!
STEP 1 Order your at-home blood spot test kit to measure vitamin D and other nutrients of concern to you, such as omega-3s, magnesium, essential and toxic elements (zinc, copper, selenium, lead, cadmium, mercury); include hsCRP as a marker of inflammation or HbA1c for blood sugar health
STEP 2 Answer the online questionnaire as part of the GrassrootsHealth study
STEP 3 Using our educational materials and tools (such as our dose calculators), assess your results to determine if you are in your desired target range or if actions should be taken to get there
STEP 4 After 3-6 months of implementing your changes, re-test to see if you have achieved your target level(s)