Published on August 31, 2023
Get 10% Off Test Kit Orders PLUS a Free Copy of the Vitamin D & COVID-19: A Summary of Published Research eBook
Happy Labor Day weekend!
Celebrate with this limited time offer for 10% off your next D*action home blood spot test kit, with any combination of tests, so that you can know where you stand with your vitamin D and other nutrient levels. PLUS, get our Vitamin D & COVID-19 Research Summary eBook for free with your purchase, for yourself or to share with others!
With flu season right around the corner, make sure you know your nutrient status so that you can take any necessary steps to help boost your immune system. Find out if you are getting enough essential nutrients to support your health and keep you healthy.
Use Code STAYHEALTHY10 for 10% off Your Test Kit Order PLUS the Free eBook
Hurry! This offer is available now until Tuesday, September 5th, 2023 at 11.59PM PST.*
GET YOUR TEST NOW!

FREE WITH YOUR PURCHASE!
Vitamin D & COVID-19: A Summary of Published Research eBook
Multiple studies have demonstrated a reduced risk of COVID-19 infection, severity, and death with increased vitamin D levels. The eBook, Vitamin D & COVID-19, A Summary of Published Research, is a condensed and concise compilation of much of this research in an easy-to-read and print PDF.
WHY SHOULD YOU TEST TODAY?
Your health must rely on a single matter: your actions. These actions include the nutrients you take, how often you take them, and how well your body is absorbing them. How do you know if they are working for you, and how do you keep track?
The answer: measure your nutrient levels until you have achieved your target, and know what you need to do and doses to take to maintain those levels. This is important to improving your health now and for your future.
Don't bet on your health, take action

NOW

!
Nearly 20,000 participants have taken action by measuring their vitamin D level and joining as a Citizen Scientist in the vitamin D*action study. You can too! Measure any combination of the following along with your vitamin D:
Omega-3 Index, including AA:EPA and Omega-3/6 Ratios – measure your omega-3 levels with the Omega-3 Index; get additional insights on the balance of essential fats in the body and how they may be contributing to inflammation and disease by adding the ratios
High Sensitivity C-Reactive Protein (hs-CRP) – a marker of inflammation in the body
HbA1c (Glycated hemoglobin) – measures the health of recent blood sugar levels
Magnesium, with additional elements such as Selenium, Zinc, Copper, Zinc:Copper Ratio and toxic elements Cadmium, Lead, and Mercury
Thyroid Stimulating Hormone (TSH)
Type 1 Diabetes Autoantibodies (T1D AABs) – T1D islet cell autoantibody detection indicates an autoimmune response against the cells of the pancreas and can be used as markers of the process that can cause type 1 diabetes
Build your custom kit by adding your choice of the options above, or choose from our top selling test combinations:
| Inflammation Panel | Vitamin D & Omega-3 Index | Immune Boost Panel |
| --- | --- | --- |
| | | |
| | | |
Take Action NOW, and Get 10% OFF your at-home test with the coupon code STAYHEALTHY10
There's nothing easier to getting your discount:
Go to our store by clicking on the following link: https://daction.grassrootshealth.net/tests/
Select the Tests you would like to get. We highly recommend the Custom Test Kit Bundle here.
Go to your cart, and apply the coupon code STAYHEALTHY10 in the Coupon Code field.
Click "Checkout" and finish the checkout and enrollment process.
Remember to complete your online questionnaire along with your test.

ENSURE HEALTHY NUTRIENT LEVELS BY TESTING TODAY
Having and maintaining healthy nutrient levels can help improve your health now and for your future. Choose which nutrients to measure with your vitamin D, such as your omega-3s and essential minerals including magnesium and zinc, by creating your custom home test kit today with our unique Labor Day weekend offer. Take steps to improve the status of each of these measurements to benefit your overall health. With measurement you can then determine how much is needed and steps to achieve your goals. You can also track your own intakes, symptoms and results to see what works best for YOU.
*Offer valid until Tuesday, September 5th, 2023 at 11.59PM PST. Valid on all at-home test kits from GrassrootsHealth except the T1D Prevention test kit; enrollment included. Not cumulative with other coupon codes.
Take steps for your own health to ensure optimal vitamin D levels – for your family and loved ones as well – by measuring at home today.
How Can You Use this Information for YOUR Health?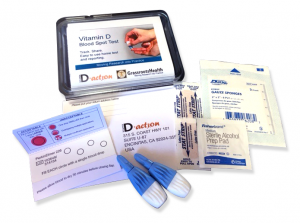 Having and maintaining healthy vitamin D and other nutrient levels can help improve your health now and for your future. Measuring is the only way to make sure you are getting enough!
STEP 1 Order your at-home blood spot test kit to measure vitamin D and other nutrients of concern to you, such as omega-3s, magnesium, essential and toxic elements (zinc, copper, selenium, lead, cadmium, mercury); include hsCRP as a marker of inflammation or HbA1c for blood sugar health
STEP 2 Answer the online questionnaire as part of the GrassrootsHealth study
STEP 3 Using our educational materials and tools (such as our dose calculators), assess your results to determine if you are in your desired target range or if actions should be taken to get there
STEP 4 After 3-6 months of implementing your changes, re-test to see if you have achieved your target level(s)