Published on September 16, 2021


Video Friday: Must-know information about biotin… Have you received a higher vitamin D result from another lab? This could be why.
Key Points
Supplemental biotin may interfere with certain immunoassay lab tests, leading to falsely high or falsely low results
Tests affected include troponin (used to help diagnose heart attacks), certain hormone assays, certain cancer assays, and vitamin D levels
None of the tests offered by GrassrootsHealth are affected by biotin interference, however, many of these tests run through doctors and hospitals are affected
It is essential to know if you take biotin and how much, and to let your health care providers know in case of the need for lab testing
---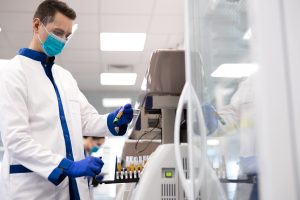 In 2017, the U.S. Food and Drug Administration (FDA) issued a safety warning to the public, and to doctors and laboratories, that biotin (vitamin B7) could interfere with certain laboratory tests, leading to falsely high or falsely low results.
While this does not affect any of the laboratory tests offered by GrassrootsHealth, we wanted to make our participants aware of the issue, as it may affect vitamin D results coming from another laboratory source, such as those from your doctor or hospital visit.
What Types of Laboratory Tests can be Affected by Biotin?
A type of laboratory test called an immunoassay can often be affected by excess biotin in the blood (either from a biotin supplement or from a B-complex), as many of these tests use biotin as part of its testing method. Unfortunately, immunoassays are one of the most common types of testing methods used by doctors and hospitals.
Examples of tests that can be affected by biotin include tests for:
Troponin (a test used to help diagnose heart attacks)
Thyroid hormone tests, such as thyroid stimulating hormone (TSH), thyroxine (T4) and triiodothyronine (T3) tests
Other hormones, such as parathyroid hormone (PTH), cortisol, follicle -stimulating hormone (FSH) and luteinizing hormone, as well as reproductive hormones such as testosterone
Cancer assays, such as prostate-specific antigen (PSA)
Vitamin D levels
When testing vitamin D levels using these immunoassays, biotin interference can cause a falsely high result. This has been known to create confusion for participants when testing their vitamin D levels through GrassrootsHealth and another lab (such as through their doctor) around the same time.
Does Biotin Affect Any of the GrassrootsHealth Tests?
None of the testing methods use for the tests offered by GrassrootsHealth are affected by biotin. For vitamin D specifically, the testing method used is called LC-MS/MS (liquid chromatography – mass spectrometry), which is considered the gold standard for 25(OH)D testing. (see below for more on the lab testing used by GrassrootsHealth)
Learn More with this Video: Impact of Biotin Interference in Lab Tests
The following video is by Tosoh Bioscience, a company that provides clinical diagnostic systems to doctors, hospitals, and laboratories. They give an excellent description of what biotin interference is and what tests it can affect. Watch the video, and take note of the summary below.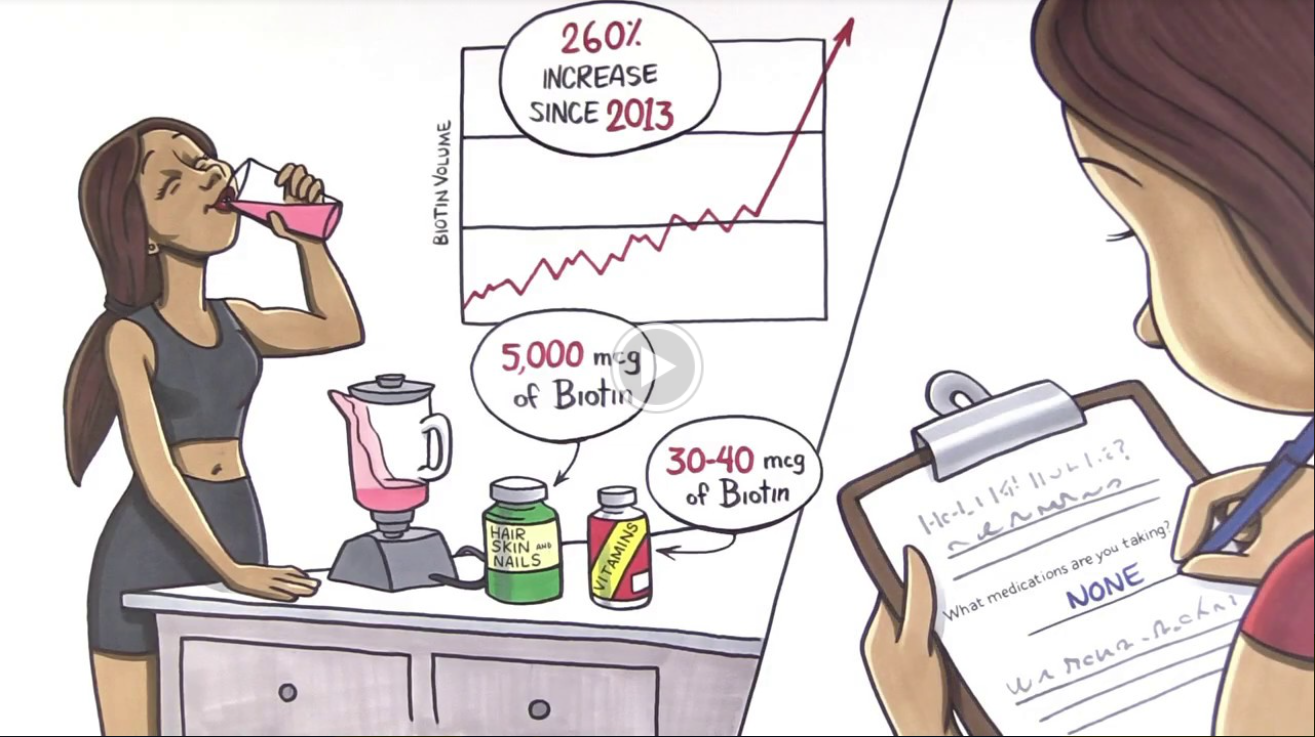 Biotin (vitamin B7) is found in foods such as eggs, fish, seeds
The average daily recommended amount of biotin ranges up to 35 mcg per day, which can easily be obtained through the diet
Supplements such as B-complex vitamins, multivitamins, prenatal vitamins, and those specifically for hair, skin and nails, can provide larger amounts of biotin, with some containing up to 5000-10,000 mcg biotin/day
When planning on getting laboratory testing done, it is necessary to refrain from taking biotin supplements for 8 hours to several days before testing – how quickly biotin is cleared from your blood depends on the dose taken and on the health of the kidneys
Notify your health care provider of biotin supplementation if testing is to be done
Not all lab tests are designed the same, and so not all will be affected by biotin; regardless, it is important to know if you are taking biotin and how much
Additional Information About Vitamin D and Other Tests Through GrassrootsHealth
GrassrootsHealth uses ZRT Laboratory for our vitamin D tests. Key considerations are that they are CLIA (Clinical Laboratory Improvement Amendments) certified, which ensures the lab conforms to federal regulations regarding testing, and that they participate in DEQAS, the Vitamin D Quality Assessment Scheme, which provides control samples to ensure assay accuracy. The blood spot assay is performed using LC-MS/MS, the gold standard in 25(OH)D testing. Validation tests against serum blood draws done at the same time as blood spot collection has shown a high level of agreement between the two testing methods – this document from ZRT gives more information.
Other tests run by ZRT Laboratory and not affected by biotin interference include the magnesium test, essential and toxic elements panel, hs-CRP, HbA1c, and thyroid stimulating hormone (TSH).
Remember to Check Important Co-Nutrients as Well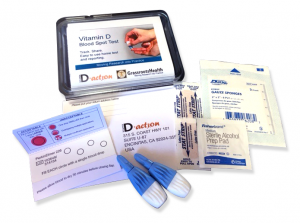 Having and maintaining healthy vitamin D levels and other nutrient levels can help improve your health now and for your future. Choose which to measure, such as your vitamin D, omega-3s, and essential minerals including magnesium and zinc, by creating your custom home test kit today. Take steps to improve the status of each of these measurements to benefit your overall health. You can also track your own intakes, symptoms and results to see what works best for YOU.
Enroll and test your levels today, learn what steps to take to improve your status of vitamin D (see below) and other nutrients and blood markers, and take action! By enrolling in the GrassrootsHealth projects, you are not only contributing valuable information to everyone, you are also gaining knowledge about how you could improve your own health through measuring and tracking your nutrient status, and educating yourself on how to improve it.
Help everyone Move Research into Practice with vitamin D and other nutrients! As a special birthday gift to everyone, in honor of the science, we have created a special scholarship fund for anyone to donate to that will go towards helping others participate. Your donation will allow anyone to get help with funding their participation when they need it.
Text-to-give: Text Daction to 44321 to add to our Scholarship Fund.
How Can You Use this Information for YOUR Health?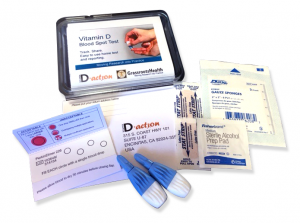 Having and maintaining healthy vitamin D and other nutrient levels can help improve your health now and for your future. Measuring is the only way to make sure you are getting enough!
STEP 1 Order your at-home blood spot test kit to measure vitamin D and other nutrients of concern to you, such as omega-3s, magnesium, essential and toxic elements (zinc, copper, selenium, lead, cadmium, mercury); include hsCRP as a marker of inflammation or HbA1c for blood sugar health
STEP 2 Answer the online questionnaire as part of the GrassrootsHealth study
STEP 3 Using our educational materials and tools (such as our dose calculators), assess your results to determine if you are in your desired target range or if actions should be taken to get there
STEP 4 After 3-6 months of implementing your changes, re-test to see if you have achieved your target level(s)