Published on May 27, 2020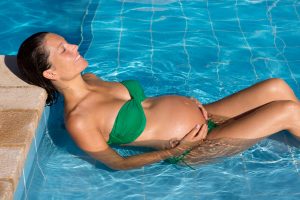 What if someone told you that sunshine exposure during pregnancy is related to a reduced risk of learning disabilities in children? Recent research shows consistent and promising evidence of a relationship between sunshine exposure and disease prevention. Moreover, low vitamin D status in children and low sunlight exposure during pregnancy has been linked to adverse health outcomes in children, including those related to learning and behavior.
Sun exposure during pregnancy lowers risk of learning disabilities in children
In a study by Hastie et al. of 422,512 Scottish schoolchildren, 79,616 (18.8%) had learning disabilities. Maternal records of total hours spent in the sun and total ultraviolet radiation (UV) exposure during pregnancy were collected and analyzed. Results showed a strong inverse relationship between time spent in the sun during pregnancy and the prevalence of learning disabilities in offspring. Children of women with the most sunshine and UVB exposure during pregnancy had the lowest risk of learning disabilities, whereas children of women with the lowest sunshine and UVB exposure during pregnancy had the highest risk. This study indicates a dose-response relationship between maternal sun exposure during pregnancy and incidence of learning disabilities in their children. This means that more sunshine exposure during pregnancy, specifically UVB light, is associated with a lower risk of learning disabilities in children.
As seen in the chart below, month of conception had an impact on the prevalence of children with learning disabilities. Increased prevalence of learning disabilities occurred in winter months of conception when sunlight and UV index are low.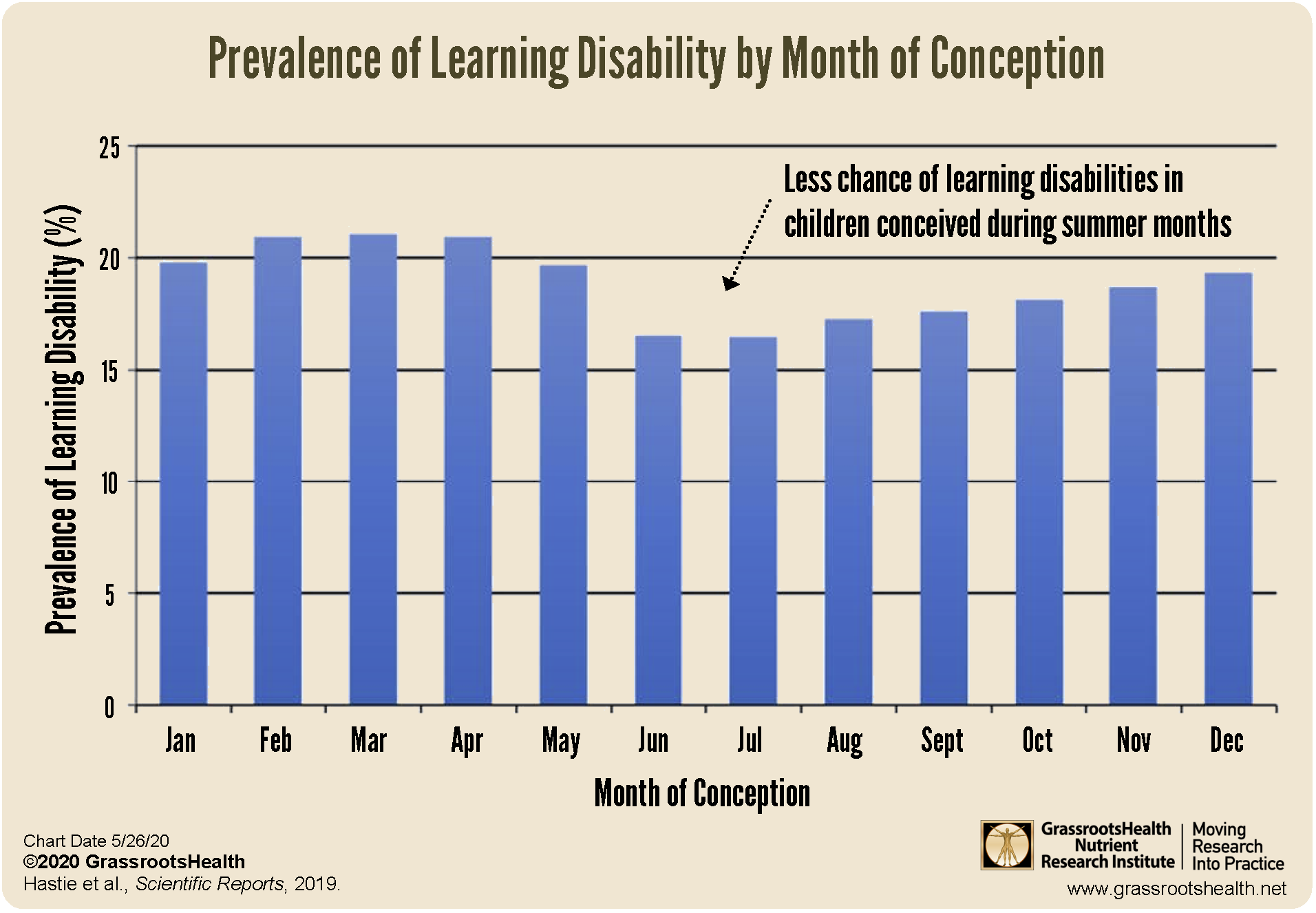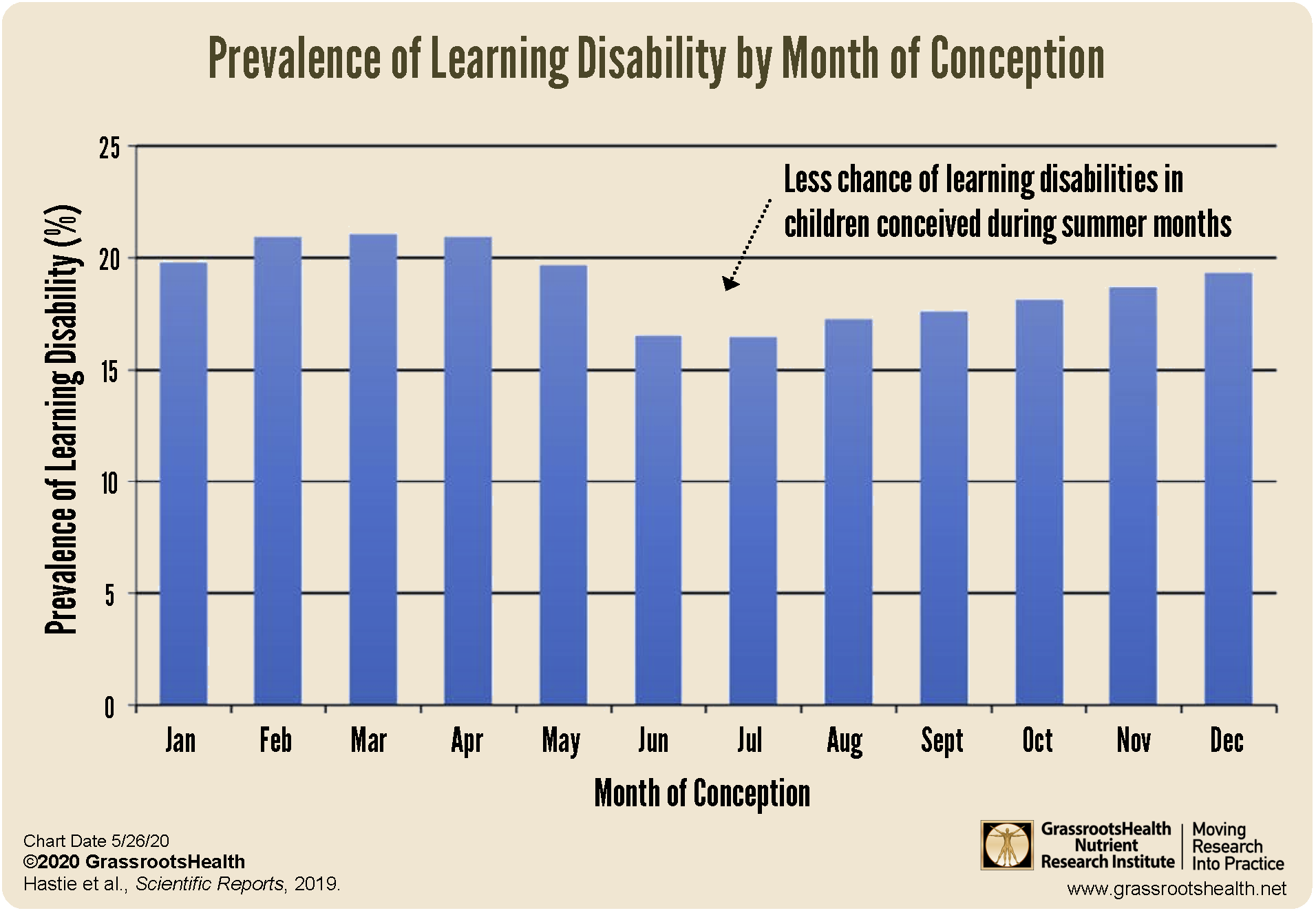 Vitamin D may help improve behavior in children
The "Barker Hypothesis" theorizes that certain diseases, including learning disabilities, may originate from nutritional deficiency during the perinatal period (pregnancy and early infancy). This is a plausible explanation for developmental and behavioral disorders like autism and Attention Deficit Hyperactivity Disorder (ADHD), which are commonly linked to low vitamin D status in children.
In a previous post we highlighted the benefits of vitamin D and magnesium supplementation in children with ADHD. The featured study randomly assigned a group of 66 children with ADHD, aged 6-12 years, to receive either 50,000 IU of vitamin D per week and 6 mg/kg of magnesium per day, or placebo for 8 weeks. At the end of the study, both vitamin D and magnesium levels increased significantly in the supplement group. Significant decreases were observed in conduct problem scores, social problem scores, and anxiety/shyness scores in children taking vitamin D and magnesium supplements.
We have also presented study results on the benefits of vitamin D and omega-3 fatty acid supplementation in those with autism spectrum disorder (ASD). This study randomly assigned either 2,000 IU/day of vitamin D, 722 mg/day of DHA (an omega-3 fatty acid), both vitamin D and DHA, or placebo for 12 months to 73 children with ASD. Results showed a higher proportion of children taking the vitamin D and/or DHA supplement showed at least 25% improvement in irritability compared to placebo, and a higher proportion of those taking vitamin D showed at least 25% improvement in hyperactivity compared to placebo.
Are your children getting enough sunshine and vitamin D?
This sunshine month, as always, it is important to remember that getting regular, proper sun exposure, without burning, is essential to good health – for reasons beyond vitamin D. However, it is still important to know what your vitamin D levels are; test today, and take the necessary steps to get your vitamin D level to your target range for health!
Do You Have Enough Vitamin D to Support a Healthy Immune System?
Do you know what your vitamin D level is? Be sure to test today to find out, and take steps to keep it within a target of 40-60 ng/ml or 100-150 nmol/L! Give your immune system the nutrients it needs to support a healthy you and protect yourself from unnecessary diseases.
Through GrassrootsHealth Nutrient Research Institute, you can also test your essential elements magnesium, copper, zinc and selenium, toxins such as lead, mercury and cadmium, as well as your omega-3 levels, inflammation levels and thyroid stimulating hormone (TSH) level. Find out your levels today! Log on to the test selection page (click the link below) to get your tests and see for yourself if your levels can be improved.
Make sure you track your results before and after, about every 6 months!
How Can You Use this Information for YOUR Health?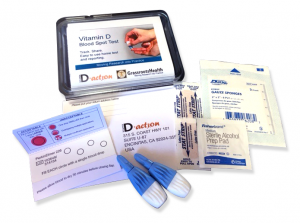 Having and maintaining healthy vitamin D and other nutrient levels can help improve your health now and for your future. Measuring is the only way to make sure you are getting enough!
STEP 1 Order your at-home blood spot test kit to measure vitamin D and other nutrients of concern to you, such as omega-3s, magnesium, essential and toxic elements (zinc, copper, selenium, lead, cadmium, mercury); include hsCRP as a marker of inflammation or HbA1c for blood sugar health
STEP 2 Answer the online questionnaire as part of the GrassrootsHealth study
STEP 3 Using our educational materials and tools (such as our dose calculators), assess your results to determine if you are in your desired target range or if actions should be taken to get there
STEP 4 After 3-6 months of implementing your changes, re-test to see if you have achieved your target level(s)