Published on November 6, 2019

Lower Vitamin D Levels = Increased Health Care Costs
After studying two North-East German health cohorts, which included records from over 7,000 patients, researchers concluded that there is "an influence of vitamin D deficiency on health care costs in the general population."
What did their population look like?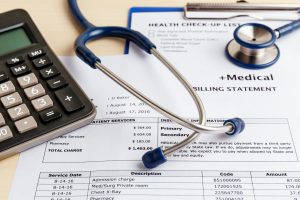 This study defined severely deficient as vitamin D levels less than 10 ng/ml (25 nmol/L); deficient as 10 to less than 20 ng/ml (50 nmol/L); and sufficient as 20 ng/ml or higher. Keep in mind GrassrootsHealth and 48 scientists recommend 40-60 ng/ml, but these were the cut off points the researchers used for their analysis. All participants were from the Pomerania region of North East Germany, about 52 degrees latitude. Approximately 8% of the patients were severely deficient, 41% were deficient, and 51% were sufficient. Women dominated the severely deficient group, while the other groups were more evenly matched between men and women.
Healthcare Costs
The researchers found that that those with lower vitamin D levels had higher health care costs. Just looking at the number of hospitalizations we see
Severely deficient
(less than 10 ng/ml)

Deficient
(10 to less than 20 ng/ml)

Sufficient
(20 ng/ml or higher)

102 visits (out of 580)
18%
469 visits (out of 2958)
16%
514 visits (out of 3679)
14%
A subset of data, with over 4,000 participants, adjusted for sex, age, month of blood sampling, years of schooling, unemployment, household income, type of insurance, and waist circumference found the following results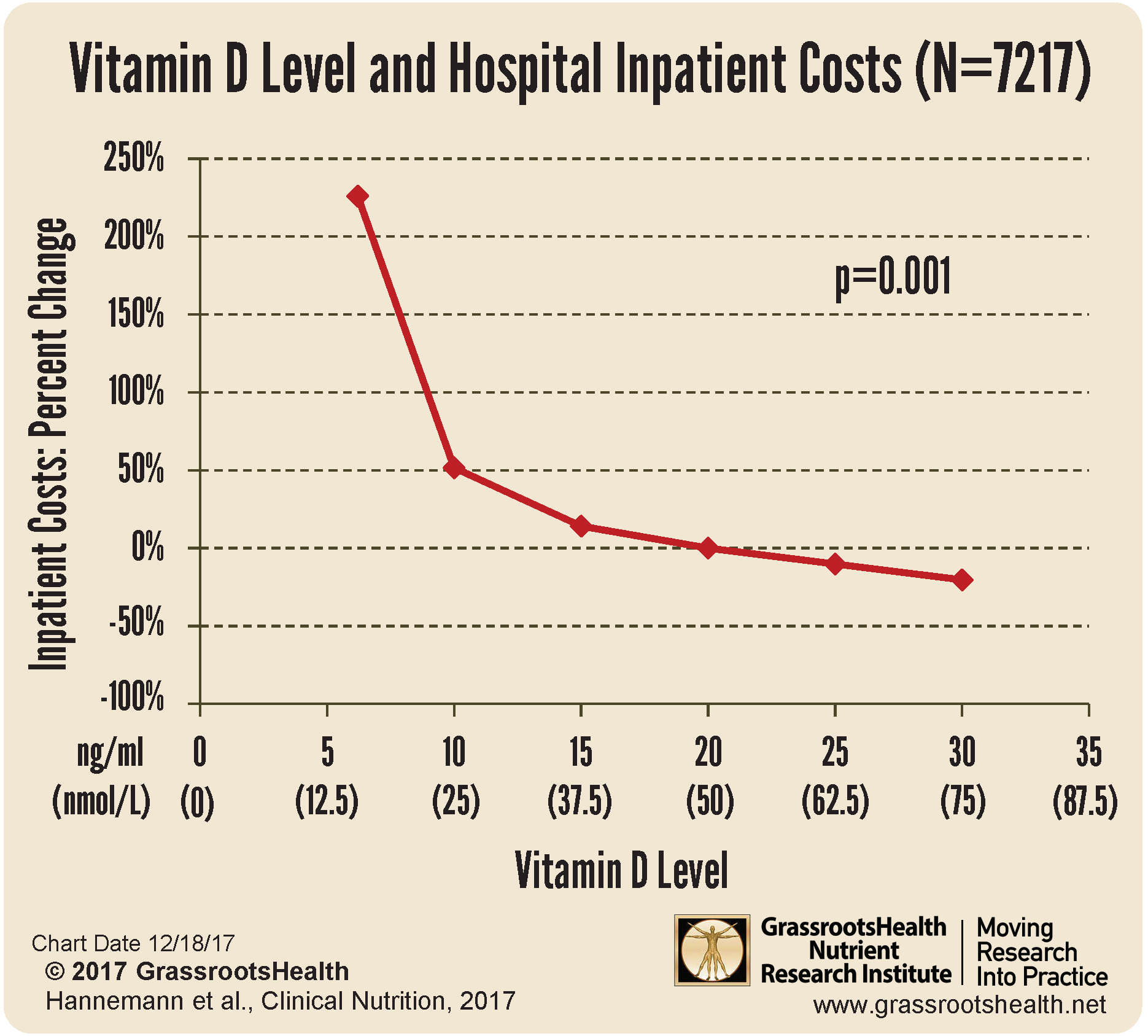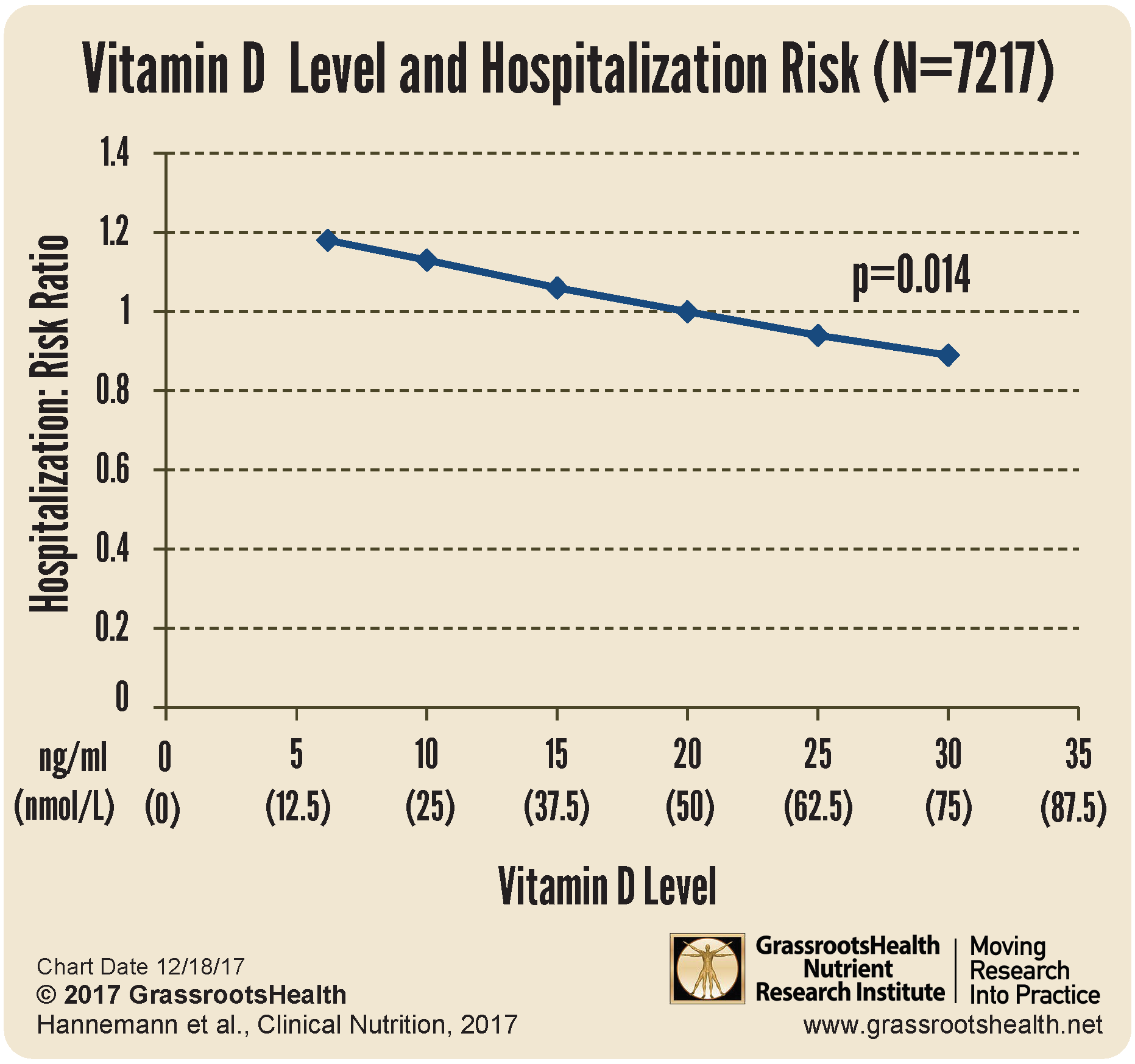 Additional Information
In a separate study of six Veteran's Administration Centers in the South-East US, researchers found that testing vitamin D levels, ideally more than once, lowered overall healthcare costs. Read more.
Could your vitamin D level be improved?
Make sure you know your vitamin D level, and take steps to keep it within a target of 40-60 ng/ml or 100-150 nmol/L! Through GrassrootsHealth Nutrient Research Institute, you can also test your omega-3 levels, inflammation levels and levels of essential nutrients and toxins. Find out your levels today! Log on to the shop (click the link below) to get your tests and see for yourself if your level can be improved.
Make sure you track your results before and after, about every 6 months!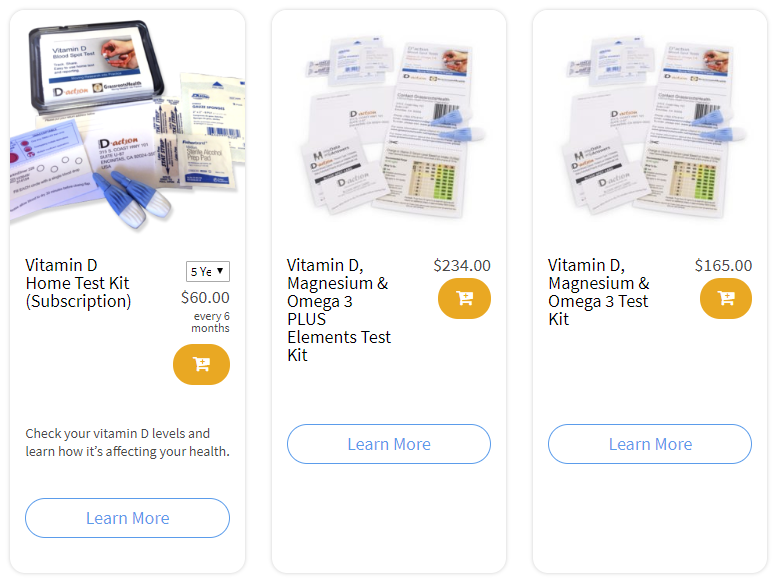 Click Here to Access the Shop Page
How can I track my nutrient intake and levels over time?
To help you track your supplement use and nutrient levels, GrassrootsHealth has created an online tracking system called myData-myAnswers. For each specific supplement, you can track what days you take it, how much, and many other details. This will help you know your true supplemental intake and what patterns of use work for you to reach and maintain optimum nutrient levels. Check it out today!
How Can You Use this Information for YOUR Health?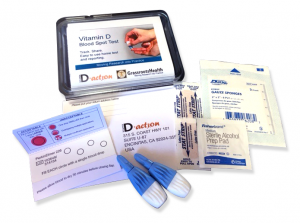 Having and maintaining healthy vitamin D and other nutrient levels can help improve your health now and for your future. Measuring is the only way to make sure you are getting enough!
STEP 1 Order your at-home blood spot test kit to measure vitamin D and other nutrients of concern to you, such as omega-3s, magnesium, essential and toxic elements (zinc, copper, selenium, lead, cadmium, mercury); include hsCRP as a marker of inflammation or HbA1c for blood sugar health
STEP 2 Answer the online questionnaire as part of the GrassrootsHealth study
STEP 3 Using our educational materials and tools (such as our dose calculators), assess your results to determine if you are in your desired target range or if actions should be taken to get there
STEP 4 After 3-6 months of implementing your changes, re-test to see if you have achieved your target level(s)