Published on April 3, 2023

See what can happen when vitamin D testing programs are implemented with the goal of getting everyone to the 40-60 ng/ml range… and help us all Move Research into Practice!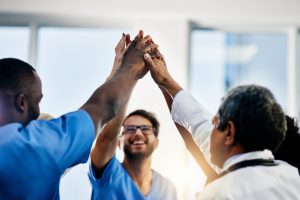 In our last two newsletters, we discussed the high prevalence of vitamin D deficiency, especially at this time of year, along with the importance of testing levels and taking informed action based on your results – whether that is through your doctor or on your own. We also shared information to pass along to your doctor or health care provider, should they be interested in learning more about vitamin D and how to incorporate research findings and evidence-based tools into their practice.
What Results Could be Seen if All Doctors Implemented Routine Vitamin D Testing with a Goal of 40-60 ng/ml (100-150 nmol/L)?
Imagine the health benefits that could be achieved if all doctors implemented vitamin D testing, education, and supplementation to get their patients up to 40-60 ng/ml (100-150 nmol/L)! According to research by Dr. William Grant,
"…given the multiple indications of significant health benefits from raising serum 25(OH)D concentrations above 30 or 40 ng/mL as well as the near absence of adverse effects, significant improvements in health at the individual and population levels could be achieved."
Outcomes from Vitamin D Testing Programs
Two examples of medical institutions and community wellness programs that have put such a vitamin D protocol into practice are outlined below.
Medical University of South Carolina (MUSC)
In September 2015, the Medical University of South Carolina (MUSC), along with GrassrootsHealth, initiated a new standard of care for pregnant women that included routine vitamin D testing and supplementation. MUSC Health is a comprehensive, urban medical center treating a large, diverse population of women. Results from year one were published in PLOS One in 2017.
All prenatal patients received routine vitamin D testing at their first prenatal visit; 89% had vitamin D levels less than 40 ng/ml (100 nmol/L) on their first vitamin D test and almost one-third (31%) had vitamin D levels less than 20 ng/ml (50 nmol/L)
99% of Black women had levels less than 40 ng/ml and approximately two-thirds (65%) were less than 20 ng/ml
Education of all OBs, over 20 doctors and health care providers, occurred through online continuing medical education (CME) courses provided by GrassrootsHealth. Educating the entire staff at MUSC was an important part of the project, so that all of the staff could buy into the new standard of care.
Educational materials were provided for the mothers to help them understand the importance of taking their supplements
An onsite project manager assisted in the education and follow through of all aspects of the program with staff and patients
Patients were supplemented with vitamin D and their vitamin D levels were re-tested at two additional time points during their pregnancy, or until they reached a minimum level of 40 ng/ml
FINDINGS: Preterm birth rates decreased as vitamin D levels increased. Women who achieved a vitamin D level at or above 40 ng/ml closest to delivery had a 49% lower rate of preterm birth compared to those with vitamin D levels less than 20 ng/ml.
Pure North (Canada)
Pure North S'Energy Foundation (PNSF), a former health and wellness clinic and a non-profit Canadian health foundation dedicated to delivering wellness programs and tracking health outcomes. One of their studies analyzed data from a group of 11,017 wellness program participants to determine if there was a relationship between vitamin D and thyroid function.
Vitamin D levels were measured for all patients
The dose of vitamin D supplementation for each participant was determined using a calculation similar to that used with the GrassrootsHealth vitamin D*calculator and a target level of at least 40 ng/ml (100 nmol/L)
Autoimmune thyroid disease was tracked, along with the incidence of hypothyroidism and subclinical hypothyroidism
FINDINGS: Patients experienced a 30% reduced risk of hypothyroidism, and a 32% reduced risk of elevated anti-thyroid antibodies with vitamin D levels of 50 ng/ml (125 nmol/L) or higher, as well as a significantly lower risk of reporting brain fog, low mood, unrefreshing sleep, weight gain, or low energy (symptoms of low thyroid function)
These results prove that incorporating a simple vitamin D protocol can make a BIG difference in health outcomes!
Wide-Spread Vitamin D Testing is Cost Effective Too
A 2008 study reported a retrospective chart analysis from a Veterans Affairs (VA) Hospital in the Southeastern United States. The study found that overall healthcare costs were 39% higher in veterans with vitamin D deficiency, as defined in this study by levels <20 ng/ml (50 nmol/L).
Patients with vitamin D deficiency were found to have:
more frequent clinic visits
more frequent ER visits
increased inpatient stay and inpatient services
For those patients with vitamin D test results, roughly 30-50% were vitamin D deficient on their initial test. The VA center with the lowest percentage of vitamin D deficiency also had more than 50% lower inpatient costs than the three centers with the highest rates of vitamin D deficiency. Also, patients who received one or more follow-up tests had 50% lower inpatient laboratory and pharmacy costs, as compared to those who only received one test.
They compared patients who were (1) both deficient and never had a follow-up test, with (2) those who were only deficient or had no follow-up test, and (3) those who were both sufficient and had at least one follow-up test. The first group had 70% higher total inpatient costs than the second group, and almost 300% higher costs than the third group. Because of this finding, the study authors proposed that as a standard practice, vitamin D levels should be checked once or twice a year until they are stable at the desired level.
A New Vitamin D Testing Program Announced Last Week!
An article on the front page of the Fargo Forum last week featured work from Dr. Beth Sanford, DNP, RN, and the North Dakota project she initiated with GrassrootsHealth. The article emphasized the importance of testing and the successful implementation of testing programs for hospitals and medical institutions – a new one being Vibra Hospital of Fargo, which cares for critically ill patients. The hospital will now be testing vitamin D status on all patients, with the goal of getting vitamin D levels into the 40-60 ng/ml (100-150 nmol/L) range to see how it helps with improving patient outcomes, including reducing infections.
"'We are monitoring [vitamin D] on all of our patients,' said Bonnie Vangerud, Vibra's chief clinical officer. 'We decided it would be an excellent quality improvement program… Many of them are in the 10 [ng/ml] range."

Vibra patients, most transferred from other hospitals, have an average length of stay of 25 to 30 days and often come with many coexisting illnesses, including respiratory illnesses, trauma, traumatic brain injury or stroke."
We are excited to see what comes of this program!
Proven Implementation – Request a Free Consultation Today!
GrassrootsHealth provides a proven implementation model, education, tools, research and findings to help those interested in moving vitamin D research into practice.
Test vitamin D levels and maintain ≥ 40 ng/ml
Education for providers and patients
Track to see how health outcomes improve
Reduce costs
Contact Dr. Sanford, who is also an Advisory Board Member of GrassrootsHealth, by emailing her at [email protected] for a free 30 minute consultation about starting a clinical innovation project today.
Are You Getting Enough Vitamin D?
The only way to know is to test your levels! Testing versus blind supplementation is essential to know for sure if what you are taking is the right amount for you. Once you test your vitamin D (and other levels) to know where you are NOW, you can account for any upcoming changes in lifestyle over the coming months and adjust your intake to reach (or maintain) your targets.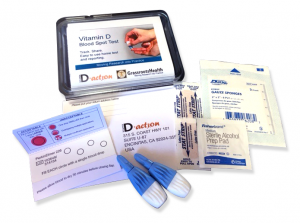 Measure your:
Vitamin D
Magnesium PLUS Elements
Omega-3 Fatty Acids
hsCRP
HbA1c
TSH
Type 1 Diabetes Autoantibodies
Did you know that each of the above can be measured at home using a simple blood spot test? As part of our ongoing research project, you can order your home blood spot test kit to get your levels, followed by education and steps to take to help you reach your optimal target levels. Start by enrolling and ordering your kit to measure each of the above important markers, and make sure you are getting enough of each to support better mood and wellbeing!
Create your custom home test kit today. Take steps to improve the status of each of these measurements to benefit your overall health. With measurement you can then determine how much is needed and steps to achieve your goals.  You can also track your own intakes, symptoms and results to see what works best for YOU.
Enroll in D*action and Test Your Levels Today!
How Can You Use this Information for YOUR Health?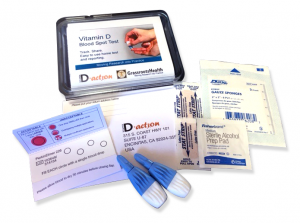 Having and maintaining healthy vitamin D and other nutrient levels can help improve your health now and for your future. Measuring is the only way to make sure you are getting enough!
STEP 1 Order your at-home blood spot test kit to measure vitamin D and other nutrients of concern to you, such as omega-3s, magnesium, essential and toxic elements (zinc, copper, selenium, lead, cadmium, mercury); include hsCRP as a marker of inflammation or HbA1c for blood sugar health
STEP 2 Answer the online questionnaire as part of the GrassrootsHealth study
STEP 3 Using our educational materials and tools (such as our dose calculators), assess your results to determine if you are in your desired target range or if actions should be taken to get there
STEP 4 After 3-6 months of implementing your changes, re-test to see if you have achieved your target level(s)