Published on June 28, 2023

A second group of North Dakota project participants have received their vitamin D results to find a majority are very deficient
Key Points
A special project in the Fargo/Moorhead metro (North Dakota area) previously enrolled 49 participants between the end of December, 2021, through February, 2022 to measure vitamin D levels; only one participant had a level of at least 40 ng/ml, with 45% below 20 ng/ml and 20% below 10 ng/ml
Results from another group of 31 North Dakota area participants showed 61% were below 20 ng/ml (50 nmol/L), which is much worse than the 23% of the general US adult population below 20 ng/ml, according to NHANES
Projects like this make it very clear that vitamin D deficiency is still a major problem! Share the vitamin D*action project using the link below, along with a 15% off coupon code FIRST15 for their first home test kit order, and their answers to the risk assessment questions will count as their initial questionnaire
---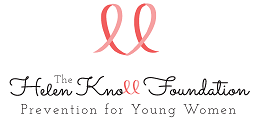 A big thank you to the David Knoll Foundation for sponsoring our latest group of participants into the North Dakota Vitamin D Project, with a specific goal of continuing validation for the Vitamin D Deficiency Risk Assessment Quiz. This quiz was designed to help individuals and practitioners better understand the risk factors that contribute to vitamin D deficiency and how it relates to specific health outcomes.
Donate to Further These Efforts
Want to Start a Project in Your Area? Let us know by emailing [email protected] today.
North Dakota Project: Average Vitamin D Level Worse than that of General Population (NHANES)
This group of 31 participants in the Fargo/Moorhead metro (North Dakota area) were enrolled and tested in May of 2023. All but one of the participants indicated taking vitamin D from a supplement, however, the dose was only 800 IU per day.
Among this group of participants testing in the spring of this year
The average vitamin D level was 21 ng/ml (52 nmol/L); this is lower than the average vitamin D level of 28 ng/ml (69 nmol/L) among the general US population, according to NHANES data
3% were below 10 ng/ml (25 nmol/L)
61% were below 20 ng/ml (50 nmol/L), compared to 23% of the general US adult population
94% were below 40 ng/ml (100 nmol/L), compared to 87% of the general US adult population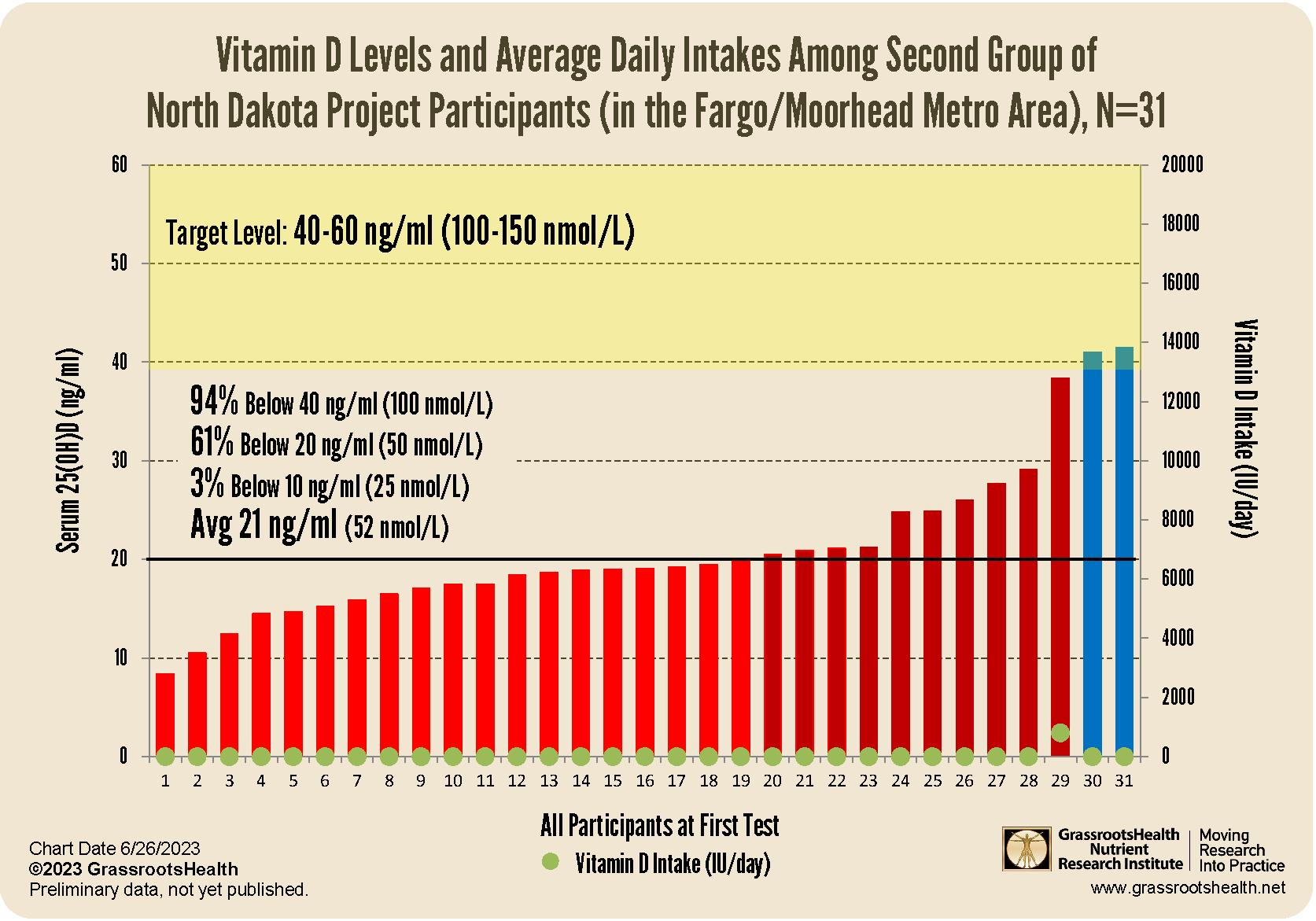 Click to Enlarge & Print
The initial group of North Dakota Project participants (N=49) tested between the end of December, 2021, and February, 2022. 8 of these participants indicated that they were currently taking a vitamin D supplement; doses ranged from 400 IU to 5000 IU, taken daily, most days, weekly or monthly.  When combining the two groups together (N=80)
The average vitamin D level was 20 ng/ml
14% had vitamin D levels below 10 ng/ml
49% had vitamin D levels below 20 ng/ml
96% had vitamin D levels below 40 ng/ml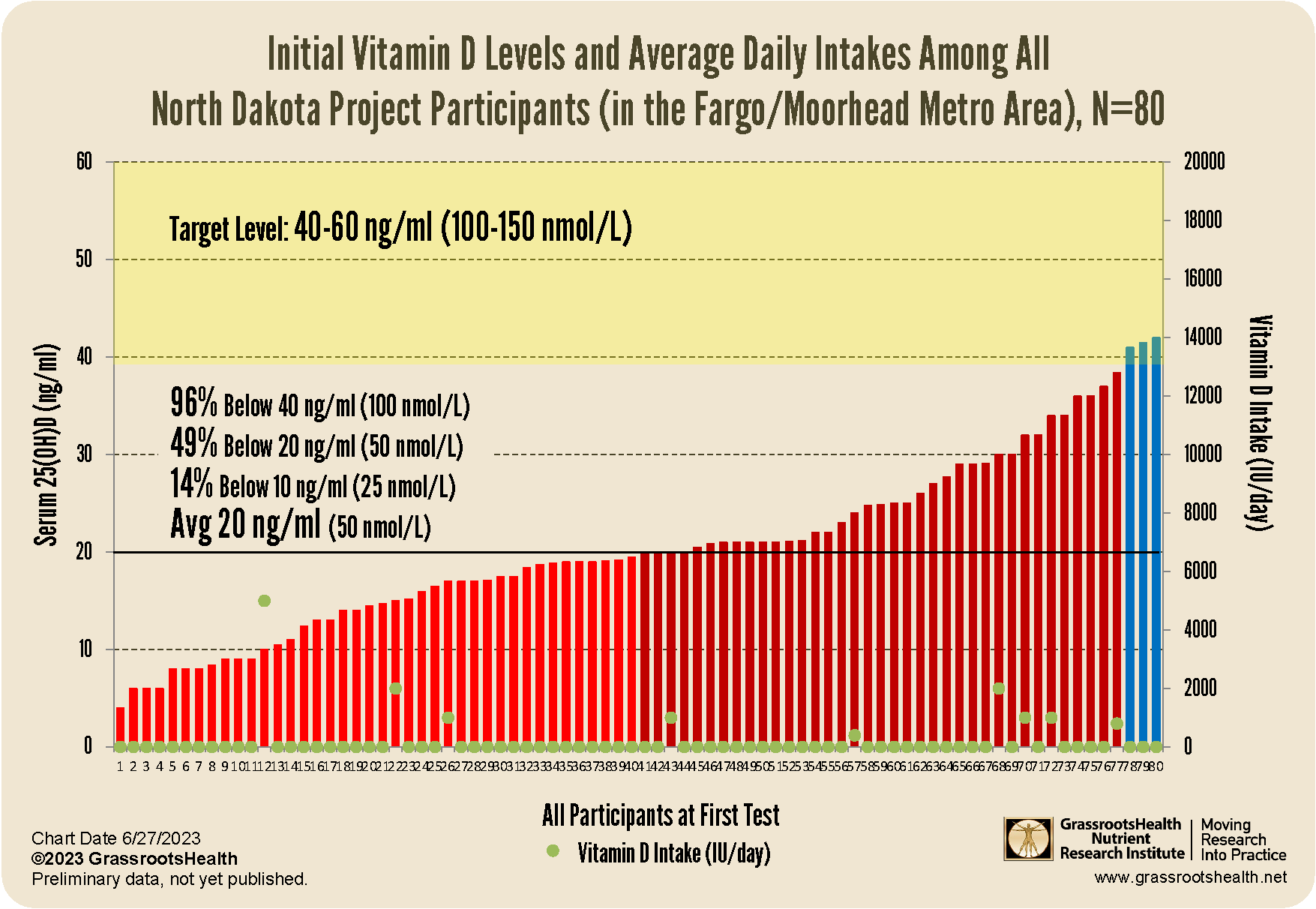 Click to Enlarge & Print
Stay tuned for additional project results based on ethnicity and age!
Do You Know Anyone Who THINKS They Get Enough Vitamin D, But Doesn't Know Their Level?
Many individuals don't think they need supplements, or they believe that getting a few minutes of sunshine at any time of day, exposing a minimal amount of skin (such as arms and face), will produce all the vitamin D they need. However, in the case of North Dakota and other states in the northern United States, the UV Index is below 3 for approximately 6 months out of the year, which means there is not enough UVB rays reaching our skin to produce vitamin D.  On top of that, many individuals create their own 'vitamin D winter' simply by staying indoors and covering up throughout the year, including when the sun is capable of producing vitamin D.
Share the vitamin D*action project using the link below, along with a 15% off coupon code FIRST15 for their first home test kit order, and their answers to the risk assessment questions will count as their initial questionnaire! Continuing to get a wide variety of participants will help us to further validate the quiz and its scoring algorithm – we appreciate your help sharing about this project!
Individuals who are especially at risk of vitamin D deficiency are those
who do not supplement with vitamin D
who avoid midday sun exposure and cover up when outdoors
who have darker skin
Other individuals should measure vitamin D levels regardless of their risk assessment answers, especially those who have two or more of the conditions listed in the quiz, and including
pregnant and lactating women
people with digestion and malabsorption issues
children born to high-risk women
individuals on any of the medications that can affect vitamin D absorption and utilization
Help Prevent Vitamin D Deficiency and Improve the Health of Those Around You!
Projects like this make it very clear that vitamin D deficiency is still a MAJOR PROBLEM! Be sure to measure vitamin D levels now and correct existing deficiency immediately. A panel of 48 international vitamin D researchers and scientists recommend a vitamin D level between 40-60 ng/ml (100-150 nmol/L), yet only 4% of this group had a level within that range. Enrolling into the D*action project gives everyone a chance to measure their vitamin D levels from home while contributing to life-changing research.
Pass along this newsletter or the link below, along with the code FIRST15 for the discount, available to new participants only.
Help Fund this and Other D*action Projects
Help us expand this project to include testing for more participants, follow-up testing, and vitamin D education for the population and public health officials.
Make Sure You Are Getting Enough Vitamin D and Other Important Nutrients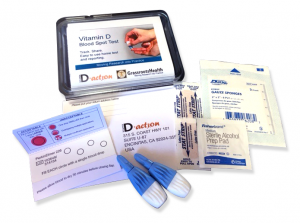 Having and maintaining healthy vitamin D levels and other nutrient levels can help improve your health now and for your future. Choose which additional nutrients to measure, such as your omega-3s and essential minerals including magnesium and zinc, by creating your custom home test kit today. Take steps to improve the status of each of these measurements to benefit your overall health. With measurement you can then determine how much is needed and steps to achieve your goals.  You can also track your own intakes, symptoms and results to see what works best for YOU.
How Can You Use this Information for YOUR Health?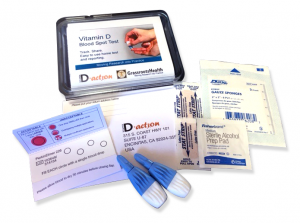 Having and maintaining healthy vitamin D and other nutrient levels can help improve your health now and for your future. Measuring is the only way to make sure you are getting enough!
STEP 1 Order your at-home blood spot test kit to measure vitamin D and other nutrients of concern to you, such as omega-3s, magnesium, essential and toxic elements (zinc, copper, selenium, lead, cadmium, mercury); include hsCRP as a marker of inflammation or HbA1c for blood sugar health
STEP 2 Answer the online questionnaire as part of the GrassrootsHealth study
STEP 3 Using our educational materials and tools (such as our dose calculators), assess your results to determine if you are in your desired target range or if actions should be taken to get there
STEP 4 After 3-6 months of implementing your changes, re-test to see if you have achieved your target level(s)