Published on February 11, 2022


Association between Omega-3 Index and neutrophil-lymphocyte ratio (NLR) demonstrates link between immune system balance and EPA+DHA status
Key Points
Omega-3s help mediate the immune response and are anti-inflammatory to help promote the resolution of the inflammatory process and prevent tissue damage due to inflammation
The amount of neutrophils in comparison to the amount of lymphocytes is called the neutrophil-to-lymphocyte ratio (NLR), and it is an indicator of the balance between cells of the innate immune system and the adaptive immune system. A higher NLR (when neutrophil counts are high and lymphocytes are low) has been linked to increased systemic inflammation, and a 5.9-fold increased risk of severe COVID-19.
A recent study found an association between the Omega-3 Index and the NLR, indicating an Omega-3 Index > 6.6%, and possibly as high as 8.5%, is associated with lower NLR values that are indicative of a quiescent, balanced innate-adaptive immune system
---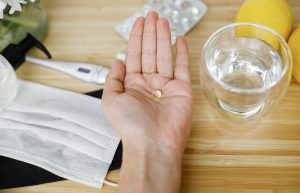 EPA (eicosapentaenoic acid) and DHA (docosahexaenoic acid) are two very important omega-3 fatty acids found in fatty fish and other marine sources which are essential to our health. Omega-3s help mediate the immune response and are anti-inflammatory to help promote the resolution of the inflammatory process and prevent tissue damage due to inflammation. Higher levels of these fatty acids have been associated with improved cognitive function and cardiovascular health, lower risk of dementia, lower risk of cancer, longer life, and a reduced relative risk for death from any cause, including COVID-19.
The Omega-3 Index is a blood test used to measure the amount of EPA and DHA in red blood cell (RBC) membranes and is expressed as a percent of total RBC fatty acids. A higher Omega-3 Index is associated with a higher omega-3 status, lower levels of chronic inflammation, and better health outcomes. For example, an Omega-3 Index of over 8% is associated with the lowest risk of death from heart disease and below 4% with the highest.
NLR: A Marker of Immune System Balance
The amount of neutrophils in comparison to the amount of lymphocytes is called the neutrophil-to-lymphocyte ratio (NLR). NLR indicates the balance between cells of the innate immune system (neutrophils; the body's first line of defense against a pathogen) and cells of the adaptive immune system (lymphocytes; which is in charge of the more targeted attack against a specific pathogen). A higher NLR (when neutrophil counts are high and lymphocytes are low) has been linked to increased systemic inflammation, and inflammation acts as a signal to the immune response. Lymphocytes are major regulators of the inflammatory response and if their level remain low, that inflammation is not likely to be resolved.
A normal range of NLR is between 1 to 2; values above 3 and below 0.7 are associated with disease. An NLR between 2.3-3.0 may serve as an early indicator to increased risk of disease development. A higher NLR has been associated with an increased risk of cardiovascular disease, COVID-19 severity, mood disorders, cognitive impairment, cancer, and more. In fact, a study by Kong et al. showed that higher NLR was associated with a 5.9-fold increased risk of severe COVID-19 compared to a lower NLR.
A more detailed explanation of the NLR, and as it relates to COVID-19, can be found in the video here.
Study Finds Significant Correlation between Omega-3 Index and NLR
Both a lower Omega-3 Index and higher NLR are associated with an increased risk of chronic diseases (including cardiovascular disease and cancer) and a higher risk of mortality. To explore if a direct relationship existed between the two, McBurney et al. analyzed bloodwork from 28,871 healthy adults whose C-reactive protein (CRP) levels were below 3 mg/mL, indicating no current inflammation due to infection, trauma, or chronic disease.
The study found that NLR was significantly and inversely associated with the Omega-3 Index (p<0.0001).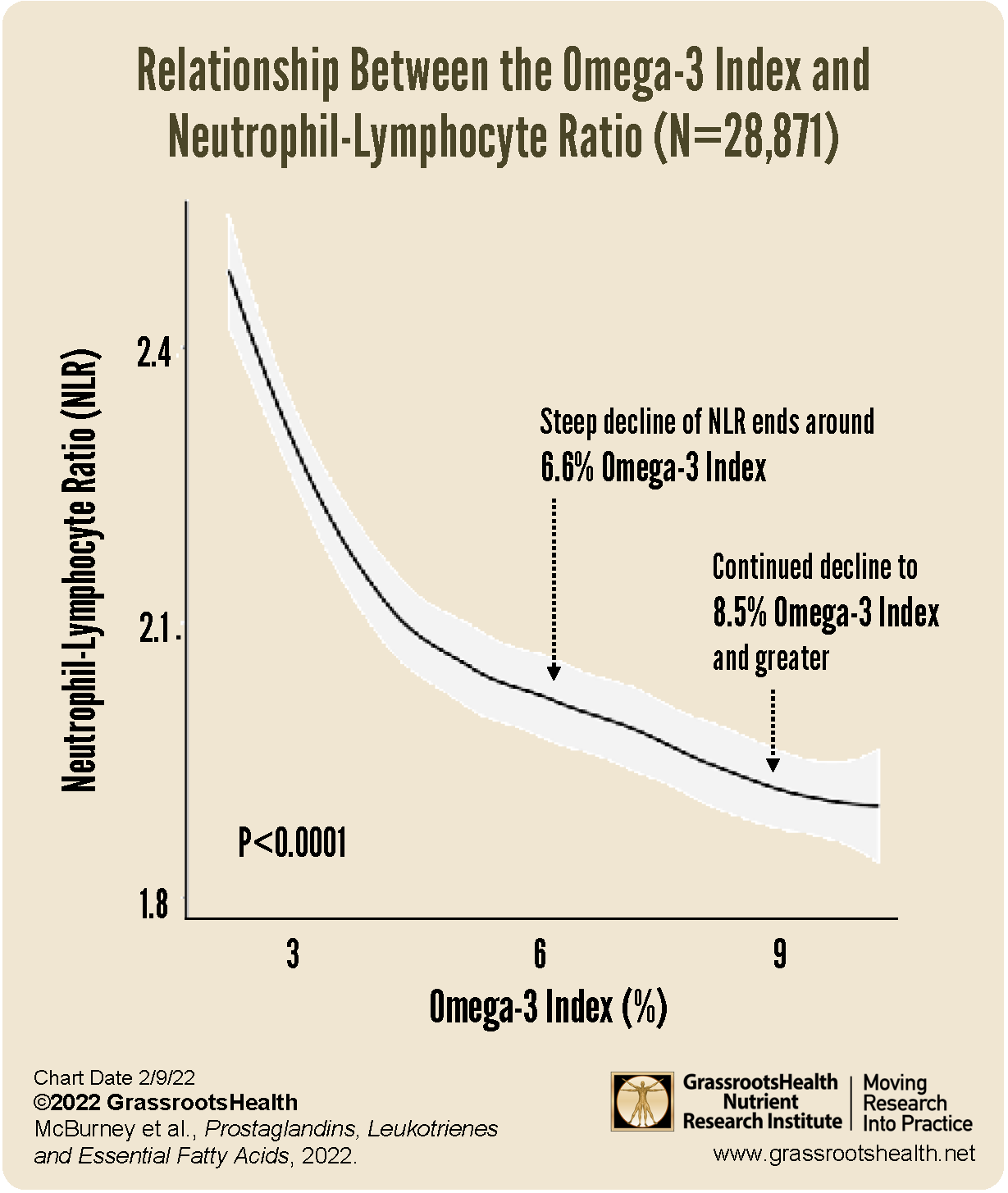 The point at which the relationship began to flatten was with an Omega-3 Index level of 6.6% or greater, suggesting that a minimum Omega-3 Index of 6.6% is necessary for innate-adaptive immune system balance. It is important to note that the NLR continued to decline as the Omega-3 Index approached greater than 8.5%, which is closer to an Omega-3 Index of 8%, found to be related to a decreased risk of many chronic diseases and death.  As the authors concluded,
"Based on our observations in this healthy cohort, an Omega-3 Index > 6.6%, and possibly as high as 8.5%, is associated with lower NLR values that are indicative of a quiescent, balanced innate-adaptive immune system."
Help Maintain Immune System Balance by Avoiding a Low Omega-3 Index
The average Omega-3 Index among GrassrootsHealth participants was 5.7%, according to a 2020 analysis. Almost one-fifth (18%) of participants had an Omega-3 Index of 8% or higher; 27% had an index between 6.0% and 7.9%, 45% had an index between 4.0% and 5.9%, and 10% had an index less than 4%.  This means that at least 55% of participants had a level below 6.6%, and they also likely had a higher NLR that could possibly improve with increasing their Omega-3 Index.
Have you measured your Omega-3 Index? Scientists recommend a target Omega-3 Index of 8% or higher. Testing is essential, as there is a large amount of variability in the omega-3 status for different people with the same intake amount (similar to vitamin D!). For example, a GrassrootsHealth analysis showed that the range of response with 1000 mg of EPA+DHA per day was 5.7% to 10.2%. Therefore, it is recommended that individuals measure their Omega-3 Index and determine a personalized dose using the Omega-3 calculator to achieve a minimum Omega-3 Index of 8%.
Measure Your Omega-3 Index Along with Your Vitamin D!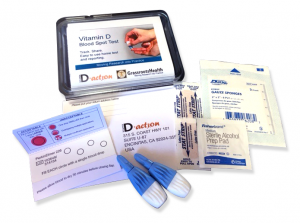 Having and maintaining healthy vitamin D levels and other nutrient levels can help improve your health now and for your future. Choose which to measure, such as your vitamin D, Omega-3 Index, omega fatty acid ratios, and essential minerals including magnesium and zinc, by creating your custom home test kit today. Take steps to improve the status of each of these measurements to benefit your overall health. You can also track your own intakes, symptoms and results to see what works best for YOU.
Enroll and test your levels today, learn what steps to take to improve your status of vitamin D (see below) and other nutrients and blood markers, and take action! By enrolling in the GrassrootsHealth projects, you are not only contributing valuable information to everyone, you are also gaining knowledge about how you could improve your own health through measuring and tracking your nutrient status, and educating yourself on how to improve it.
How Can You Use this Information for YOUR Health?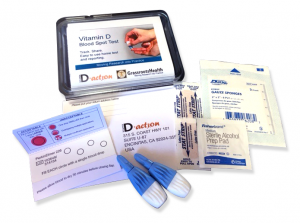 Having and maintaining healthy vitamin D and other nutrient levels can help improve your health now and for your future. Measuring is the only way to make sure you are getting enough!
STEP 1 Order your at-home blood spot test kit to measure vitamin D and other nutrients of concern to you, such as omega-3s, magnesium, essential and toxic elements (zinc, copper, selenium, lead, cadmium, mercury); include hsCRP as a marker of inflammation or HbA1c for blood sugar health
STEP 2 Answer the online questionnaire as part of the GrassrootsHealth study
STEP 3 Using our educational materials and tools (such as our dose calculators), assess your results to determine if you are in your desired target range or if actions should be taken to get there
STEP 4 After 3-6 months of implementing your changes, re-test to see if you have achieved your target level(s)