Published on June 7, 2019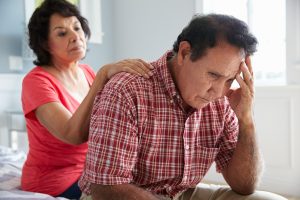 Several nutrients have shown promise in the prevention of cognitive impairment, Alzheimer's disease, and other dementias. Studies have shown protective benefits from B vitamins, and from omega-3 fatty acids. Reviews of the research on omega-3s have also shown improved general cognitive performance, attention, and processing speed with both EPA and DHA, and improved memory function with DHA.
In an attempt to see if omega-3 status has an influence on the effect of B vitamins on cognitive impairment, Oulhaj et al. ran a randomized trial and published their findings in a 2016 paper in the Journal of Alzheimer's Disease.
How did the study work?
The team enrolled 266 participants into the study, all of whom were at least 70 years of age and had mild cognitive impairment. Participants were randomized into either a high dose B vitamins (folic acid, B6, and B12) group or a placebo group for two years. Blood levels for several B vitamins, DHA, and EPA were measured at baseline and again at the end of the trial period, along with risk factors for Alzheimer's disease. Cognitive tests were also performed at several time points during the trial.
What did the study find?
Outcomes were compared for those in the B vitamins group versus the placebo group based on baseline omega-3 status (broken into three roughly equal groups, low, medium, and high for the study population). Overall, significant benefits were found for those who had the higher baseline omega-3 fatty acid concentrations and who were in the B vitamin treatment group.
Those in the high omega-3 group who received B vitamins had
improved episodic memory as measured on a scale of 0-12 by the Hopkins verbal learning test with delayed recall (HVLT-DR)
better global cognition scores as measured on a scale of 0-39 by the telephone inventory for cognitive status-modified (TICS-M)
lower ratings of dementia as measured by the Clinical Dementia Rating (CDR) global score of 0 (normal) or >0 (mild cognitive impairment and mild Alzheimer's disease), and as sum-of-boxes measuring various aspects of cognitive impairment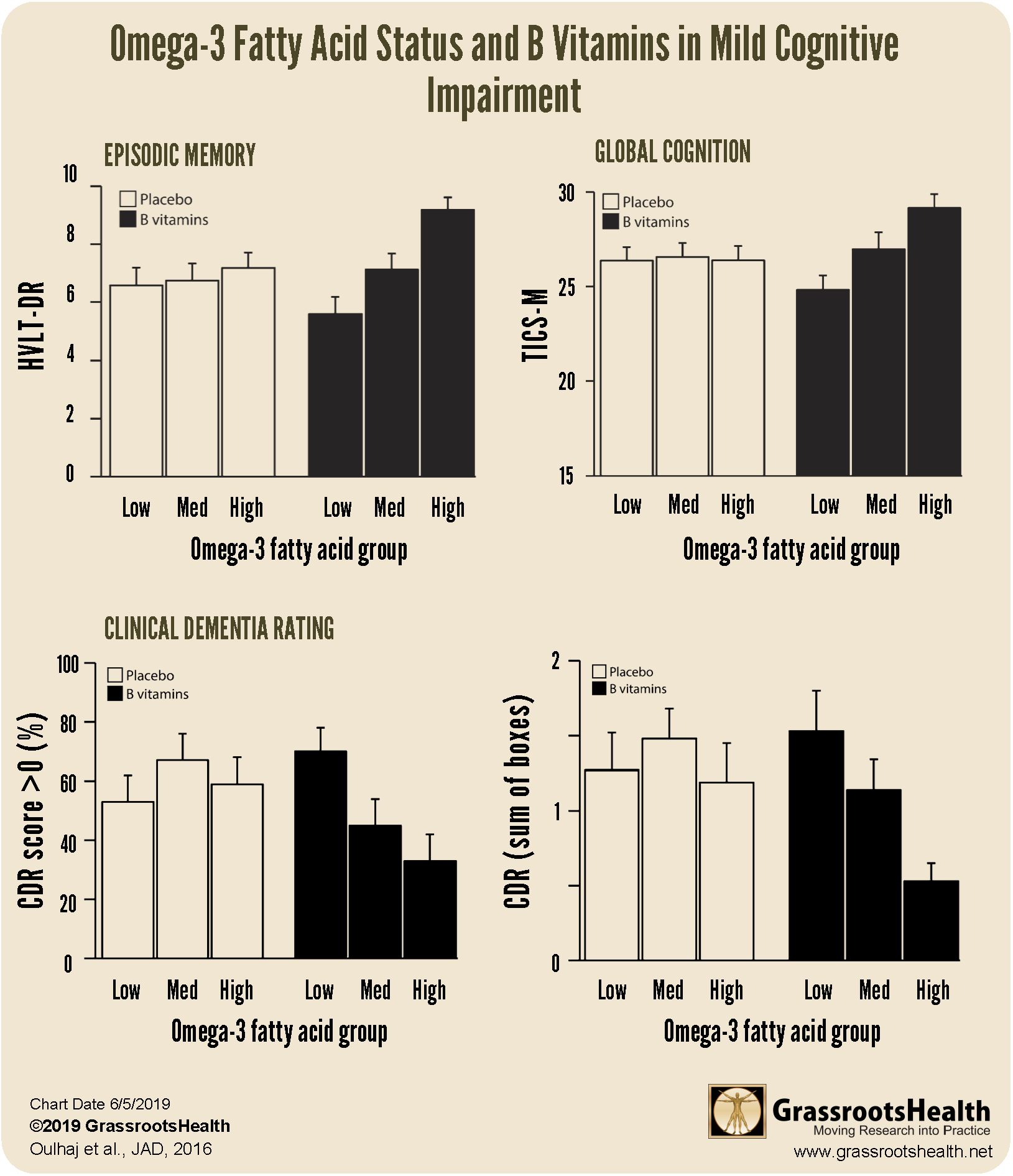 "In conclusion, when plasma omega-3 fatty acid concentrations are low, B vitamin treatment does not slow cognitive decline in people with mild cognitive impairment. In contrast, when omega-3 fatty acid levels are in the upper range of normal, the slowing effects of B vitamins on both brain atrophy and cognitive decline are enhanced."
This study supports previous evidence that the interaction of B vitamins and omega-3 fatty acids on brain atrophy and cognition results in the slowing down of the disease process in mild cognitive impairment.
How do I know if my omega-3 levels are supportive of cognitive health?
What is your Omega-3 Index? Make sure you know your Omega-3 Index (target of at least 8%) and your vitamin D level (target of 40-60 ng/ml or 100-150 nmol/L), and are taking daily steps to keep both within range. Find out your levels today! Log on to the shop (click the link below) to get your tests and see for yourself if your levels can be improved.
Make sure you track your results before and after, about every 6 months!
How can I track my omega-3 intake and resulting level?
To help you track the omega-3s you are getting in your diet, along with your resulting Omega-3 Index, GrassrootsHealth has created an online tracking system called myData-myAnswers. You can track any of your supplemental and dietary nutrient intakes to see how they impact your levels and overall health. Check it out today!
How Can You Use this Information for YOUR Health?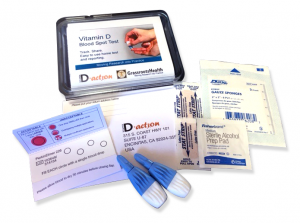 Having and maintaining healthy vitamin D and other nutrient levels can help improve your health now and for your future. Measuring is the only way to make sure you are getting enough!
STEP 1 Order your at-home blood spot test kit to measure vitamin D and other nutrients of concern to you, such as omega-3s, magnesium, essential and toxic elements (zinc, copper, selenium, lead, cadmium, mercury); include hsCRP as a marker of inflammation or HbA1c for blood sugar health
STEP 2 Answer the online questionnaire as part of the GrassrootsHealth study
STEP 3 Using our educational materials and tools (such as our dose calculators), assess your results to determine if you are in your desired target range or if actions should be taken to get there
STEP 4 After 3-6 months of implementing your changes, re-test to see if you have achieved your target level(s)