Published on February 7, 2022


A new randomized controlled clinical trial shows increased survival and quicker improvement for severe COVID-19 patients receiving nutrient support
Key Points
Researchers recognize that malnutrition and a deficiency of certain nutrients compromises immunity and the inflammatory response, leading to worse outcomes among COVID-19 patients
A randomized controlled clinical trial found that providing severe COVID-19 patients with nutritional support resulted in significantly increased survival rates; in fact, 7 times more patients died from COVID-19 without a nutritional support system compared to those who received nutritional support
The study also found that nutritional support resulted in decreased progression to mechanical ventilation, reduced intubation period, decreased need for supplemental oxygen, improved mood, and less occurrence of post-COVID syndrome
---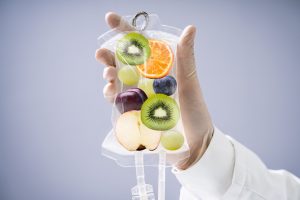 Adequate nutrition is essential to all aspects of health, with several nutrients specifically necessary to carrying out an effective immune response against an infection. In regards to COVID-19, research has shown that vitamin D, vitamin C, zinc, magnesium, and others can have a significant effect on immune health and disease outcomes. Nutrients used correctly and in the right doses are extremely safe and rarely have any side effects such as those seen with many pharmaceutical drugs. With this in mind, why isn't nutritional support part of the standard treatment given for disease, especially for patients severely ill with COVID-19 who are fighting for their life?
Nutritional Support System (NSS) Implemented to Help Save the Lives of COVID-19 Patients
Leal-Martinez et al. recognized that malnutrition and a deficiency of certain nutrients compromises immunity and the inflammatory response, leading to worse outcomes among COVID-19 patients. In order to see if and how a nutritional support system (NSS) might reduce complications due to COVID-19 and improve survival, they designed a study that gave NSS to patients who had been hospitalized with stage III COVID-19 disease.
The study included patients who were ages 30 to 75 years old, whose oxygen saturation was below 90% at enrollment, and who presented with comorbidities (including diabetes, hypertension, and/or obesity). 40 patients were randomly assigned to a control group (receiving only the regular hospital diet and standard medical treatment), and 40 were assigned to the intervention group (receiving the hospital diet, standard medical treatment, and nutritional support).
What did the Nutritional Support System Consist of?
Those in the intervention group received the following:
B-complex: 10 mg of cyanocobalamin, 100 mg of thiamin, and 100 mg of pyridoxine administered intramuscularly every 24 h for the first 5 days
2 envelopes of NSS powder each day (after morning and evening meals, diluted in 400 mL water) for 21 days. Daily intakes from these 2 packets resulted in Spirulina Maxima 5 g, folic acid 10 mg, glutamine 10 g, vegetable protein 20 g, constituted by two foods without processing or fragmenting in amino acids, brewer's yeast, and amaranth, ascorbic acid 2 g, zinc 40 mg, selenium 200 mcg, cholecalciferol (vitamin D3) 4000 IU, resveratrol 400 mg, Omega-3 fatty acids 2 g, L-Arginine 1.5 g, inulin 40 g, and magnesium 800 mg.
Probiotics: Saccharomyces boulardii (SB) 500 mg daily for 6 days orally
Impressive (but not surprising) Results After 40 Days
Follow up for the patients was on day 40; at this time, there were 33 patients remaining in the control group (7 had died) and 39 remaining in the NSS group (1 had died). Nutritional support significantly increased survival and decreased mortality compared to the control group (p=0.027); in fact, 7 times more patients died without the nutritional support system than those who received nutritional support.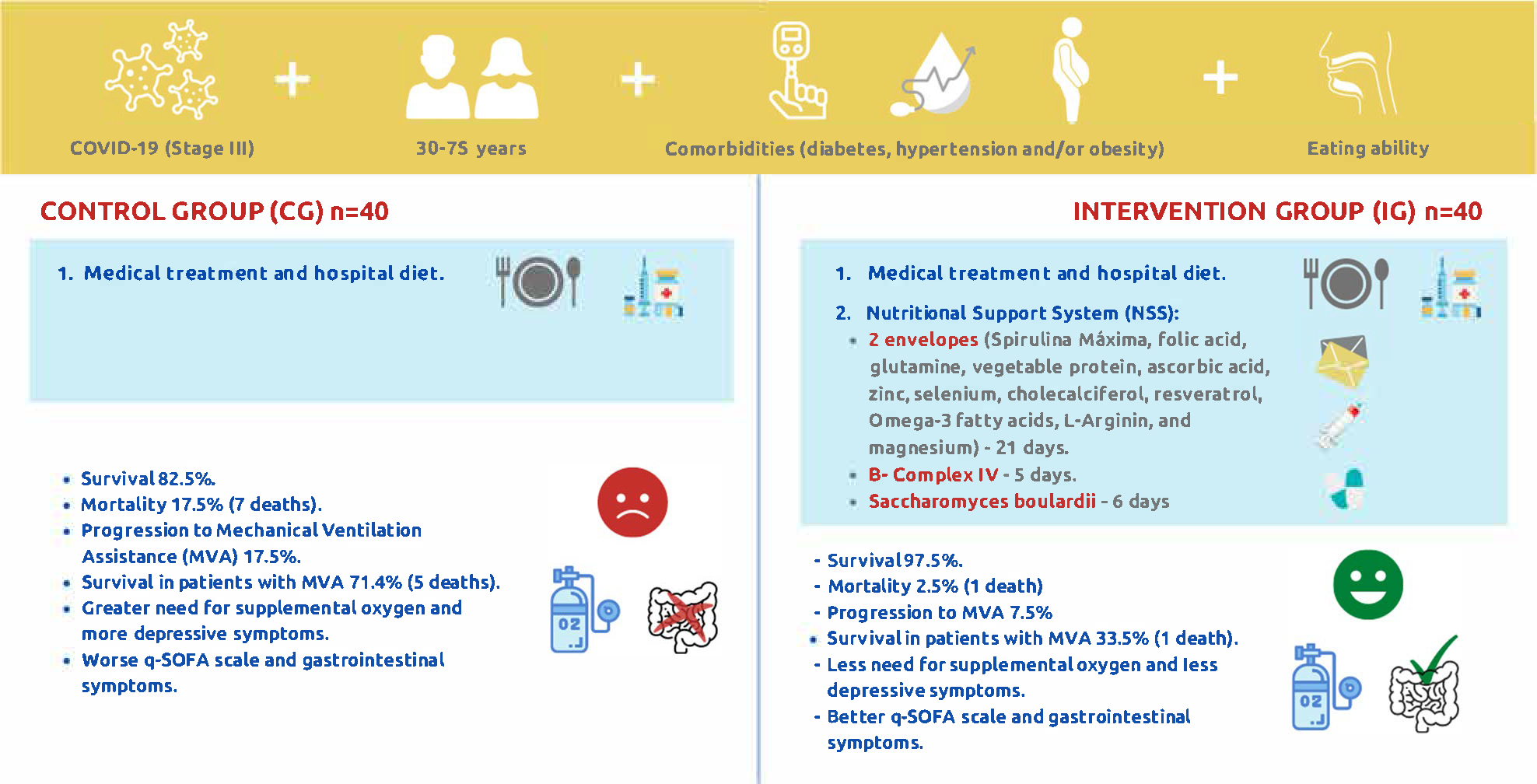 Click to Enlarge & Print
Overall
The control group had a 82.5% survival rate and a 17.5% mortality rate, while the nutritional support group had a 97.5% survival rate and a 2.5% mortality rate – that is an 86% lower mortality among those receiving nutritional support
Nutritional support decreased progression to mechanical ventilation by 10%, reduced the intubation period by 15 days, and increased survival among those intubated by 38%, compared to the control group
Compared to the control group, the nutritional support group also saw a decreased need for supplemental oxygen and showed better oxygen saturation at follow up, as well as improved mood
Post-COVID syndrome was present in 37.5% of patients in the control group compared to 23.5% of patients from the nutritional support group
Don't Wait for Severe COVID-19 – Improve Your Immune Health and Help Prevent COVID-19 NOW
Getting enough of certain nutrients is especially important, as both the innate and adaptive immune responses rely on these nutrients in order to function properly – of note, vitamins D, A, C and minerals such as magnesium, selenium and zinc. Unfortunately, there is an alarmingly high rate of insufficiency of these nutrients in the American population, making testing nutrient levels of great importance.
Through GrassrootsHealth, participants can measure levels of vitamin D, omega-3 fatty acids, and essential elements including magnesium, selenium and zinc, using an at-home blood spot test kit. Learn more about participating and order your custom test kit today!
Measure Your Nutrient Levels at Home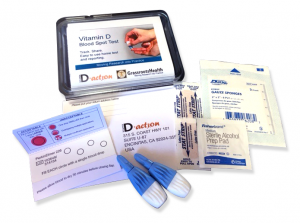 Having and maintaining healthy vitamin D levels and other nutrient levels can help improve your health now and for your future. Choose which to measure, such as your vitamin D, Omega-3 Index, omega fatty acid ratios, and essential minerals including magnesium and zinc, by creating your custom home test kit today. Take steps to improve the status of each of these measurements to benefit your overall health. You can also track your own intakes, symptoms and results to see what works best for YOU.
Enroll and test your levels today, learn what steps to take to improve your status of vitamin D (see below) and other nutrients and blood markers, and take action! By enrolling in the GrassrootsHealth projects, you are not only contributing valuable information to everyone, you are also gaining knowledge about how you could improve your own health through measuring and tracking your nutrient status, and educating yourself on how to improve it.
How Can You Use this Information for YOUR Health?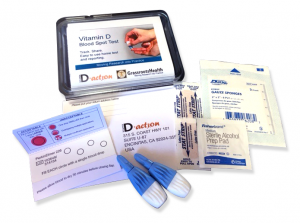 Having and maintaining healthy vitamin D and other nutrient levels can help improve your health now and for your future. Measuring is the only way to make sure you are getting enough!
STEP 1 Order your at-home blood spot test kit to measure vitamin D and other nutrients of concern to you, such as omega-3s, magnesium, essential and toxic elements (zinc, copper, selenium, lead, cadmium, mercury); include hsCRP as a marker of inflammation or HbA1c for blood sugar health
STEP 2 Answer the online questionnaire as part of the GrassrootsHealth study
STEP 3 Using our educational materials and tools (such as our dose calculators), assess your results to determine if you are in your desired target range or if actions should be taken to get there
STEP 4 After 3-6 months of implementing your changes, re-test to see if you have achieved your target level(s)