Published on May 17, 2022

Nutrients from our food and products of sunshine exposure itself can help protect the skin from damaging effects of UV over-exposure
Key Points
Research over the past several decades has revealed that a higher intake of several specific nutrients corresponds with less UV induced skin damage, less photoaging, and less incidence of skin cancers
One study found that participants in an omega-3 supplemented group experienced 50% less photoimmunosuppression when exposed to low doses of UVR (equivalent to approximately 8 and 15 minutes of mid-day summer sun exposure in Manchester, UK), indicating a protective effect from omega-3 supplementation
Other nutrients that are important for the health of our skin include lycopene, astaxanthin, and other carotenes, probiotics, polyphenols, nicotinamide (vitamin B3), vitamin C, which plays an important role in collagen production and acts as an antioxidant to protect against sun damage, Vitamin E, which like vitamin C, functions as an antioxidant in the skin to protect against sun damage, and other B vitamins
---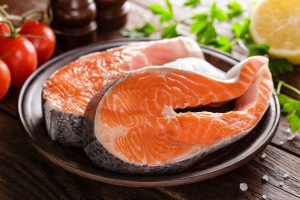 Ultraviolet (UV) radiation contributes to extrinsic skin aging called photoaging. Research over the past several decades has revealed that a higher intake of several specific nutrients corresponds with less UV induced skin damage, less photoaging, and less incidence of skin cancers. These nutrients, which include omega-3 fatty acids, carotenoids, ascorbate, a tocopherol, and polyphenols, can help decrease photoaging and protect the health of the skin upon UV exposure, a process called endogenous photoprotection.
Earlier this month we briefly touched on how sunshine and the vitamin D it produces within the outermost layer of the skin has its own photoprotective benefits, as well as how UV exposure itself can benefit the skin's microbiome, which can also lead to increased UV protection. Today, we will cover other nutrients from our diet can help protect the skin from UV induced damage while we reap the amazing health benefits of regular sunshine exposure.
Probiotics
Skin health is maintained by a balanced, diverse microbiome, which is affected by nutrition, pH level, hygiene, exposure to toxins, barrier strength, stress levels, sunlight exposure, as well as overall health. UV exposure (and vitamin D itself) can have a healthy, regulatory effect on the microbiome of the skin as well as the gut, with UVB light having a beneficial impact on the diversity and abundance of the bacteria species of the gut microbiome, and UVB as well as UVA benefitting the skin microbiome.
Topical and oral probiotics as well as the ingestion of prebiotics can also be helpful in protecting against UV damage and photoaging. Several specific probiotic strains have been shown to have significant antioxidant, antiwrinkle, and antiaging effects, with a protective effect against UV induced damage. According to Rai et al., 2022, "Many organisms, such as microbes, plants, and animals, have evolved photoprotective mechanisms to guard their cells, DNA, and molecules against potentially harmful radiation. With the 'nature as an inspiration' approach, these microbial metabolites can be manipulated as future sunscreens that provide balanced protection and are economical and safe to use."
Omega-3 Fatty Acids
An increased intake of omega-3 fatty acids, and a decreased intake of omega-6 fatty acids, have been associated with better responses to UV exposure within the skin. Eicosanoids are pro-inflammatory molecules produced from omega-6 fatty acids, which act as important chemicals in the immune system. However, when too many of them are produced, they can suppress the immune system and increase inflammation. Unfortunately, a majority of the population consumes too many omega-6s and too few omega-3s, which leads to an abundance of omega-6s in the cell membrane, increased levels of inflammation, and a poorer immune response – all of which can lead to increased damage to skin cells and improper recovery after excessive UV exposure.
Studies suggest that omega-3 fatty acids may help reduce the risk of skin cancer through their role in maintaining a healthy cell-mediated immune response (CMI), which aids in the destruction of tumor cells therefore inhibiting the growth and spread of cancerous cells. A randomized controlled study by Pilkington et al. looked to see if omega-3 supplementation reduced photoimmunosuppression of skin cells. The study involved 79 participants, half of whom were supplemented with 5 grams of an omega-3 supplement (70% EPA, 10% DHA), and half of whom took a placebo, for a 3 month period. After the supplementation period, each participant was exposed to a compound that caused a hypersensitivity reaction in their skin cells, followed by solar-simulated radiation, to compare the level of CMI between groups.
Compared to the control group, those in the omega-3 supplemented group experienced 50% less photoimmunosuppression when exposed to low doses of UVR (equivalent to approximately 8 and 15 minutes of mid-day summer sun exposure in Manchester, UK), indicating a protective effect from omega-3 supplementation. There was less of a protective effect from omega-3s seen at the highest dose of UVR (equivalent to approximately 30 minutes of mid-day summer sun exposure).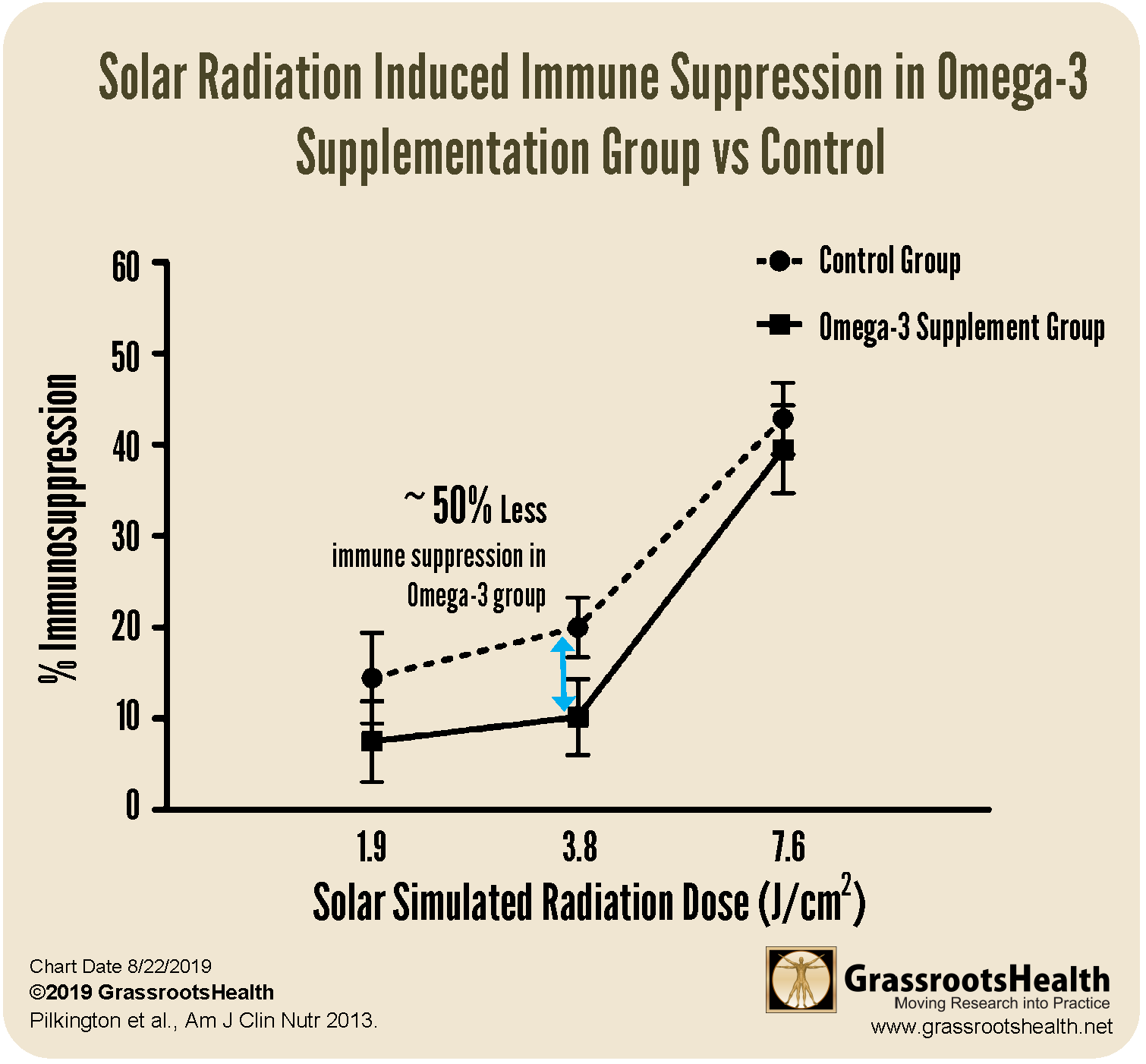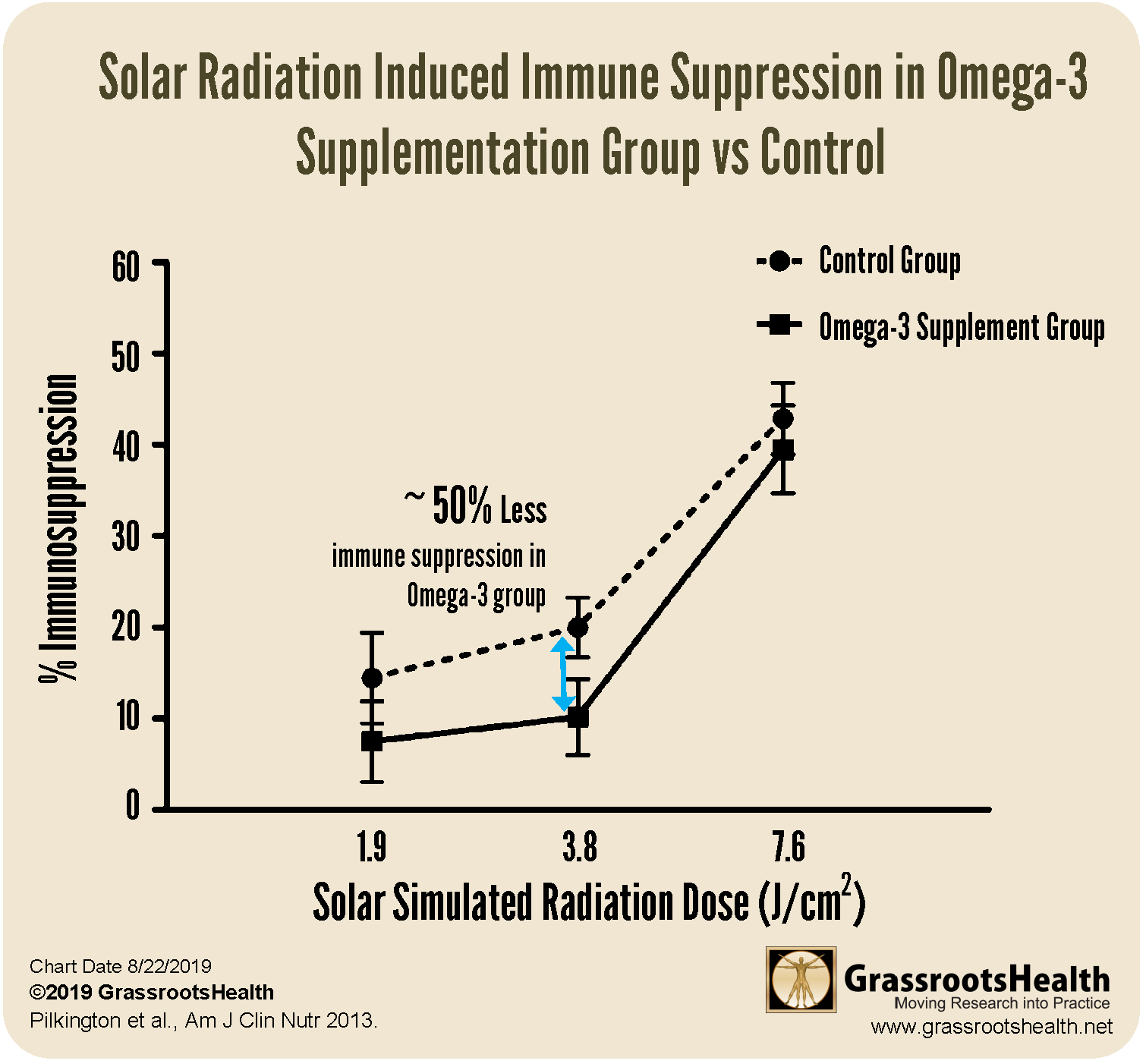 This study provides supportive evidence for how omega-3 fatty acids may help protect against skin cancer and demonstrates that daily supplementation with 5 grams EPA-rich omega-3 fish oils decreased photoimmunosuppression in skin cells when exposed to UVR.
Another study by Latreille et al. looked at dietary intake of omega-3 fatty acids and the amount of facial skin photoaging among 2919 participants between the ages of 45 and 60 years, and found that severe photoaging was inversely associated with omega-3 intake (specifically ALA intake in men and EPA intake in women).
Dietary Carotenoids (β-carotene and Lycopene)
Tomatoes are one of the richest sources of lycopene, a beta-carotene also found in other red fruits and vegetables. Previous studies in humans have specifically shown that continued consumption of tomato paste can reduce the risk of sunburns, and that carotenoids, especially lycopene, are protective of skin health and can help prevent UV damage to the skin. A study by Cooperstone et al. looked into the protective effects of prolonged tomato consumption against UV induced sunburns in mice. Their study found that daily tomato consumption could reduce the risk of keratinocyte carcinomas, or UV induced skin tumors, by 50%.
Astaxanthin
Astaxanthin is another carotenoid found in different types of algae, fish, and crustaceans, which has anti-tumor, anticancer, anti-diabetic, anti-atherosclerotic, and anti-inflammatory properties. A study by Lyons and O'Brien looked at the protective effects of astaxanthin, from both algal extract as well as a synthetic astaxanthin, on human skin cell cultures with UVA induced DNA damage. They found less DNA damage among those cells that had been treated with astaxanthin, with a protective effect observed for all concentrations of the synthetic astaxanthin as well as for the highest concentration of algal extract.
Another study on mice by Komatsu et al. found that the ingestion of green microalga (Haematococcus pluvialis) significantly suppressed photoaging after chronic exposure to UVA, specifically leading to decreased wrinkle formation and transepidermal water loss. They conclude that "Our data supports the hypothesis that the accumulation of dietary astaxanthin in the skin could be sufficient to play a preventive role against UV damage."
Polyphenols
Polyphenols (another specific type of antioxidant) have been shown to benefit the health of the skin and protect it against UV damage through their roles in DNA repair, inflammation, oxidative stress, signaling pathways, and epigenetics. Sharma et al. provides an excellent review of in vitro, in vivo, and human studies that demonstrate these protective effects. As illustrated in the diagram below, polyphenols from tea can help protect the skin from UV damage by reducing DNA damage, inflammation, oxidative stress, and resulting cancers.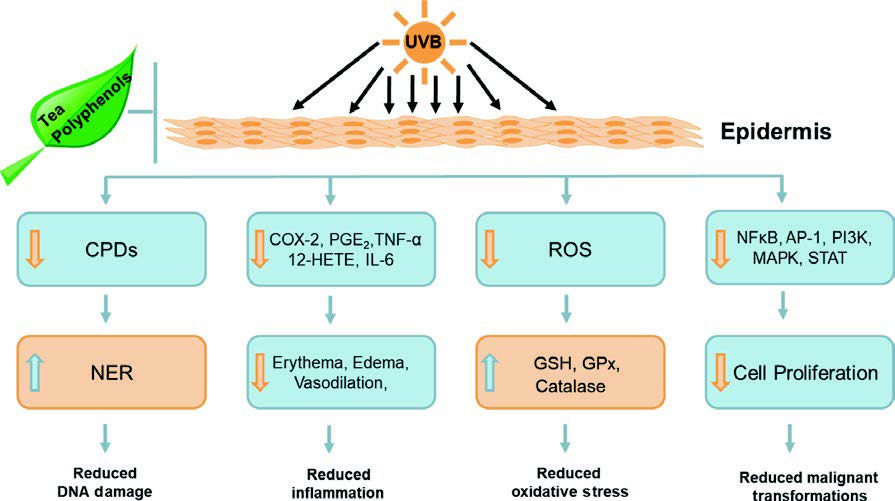 Flavanoids are a specific type of polyphenol found in fruits, tea, cocoa, and red wine. Heinrich et al. investigated the effects of repetitive flavonoid intake on skin sensitivity towards UV exposure, skin structure and skin texture by studying the difference between two groups of women who consumed either a cocoa drink with high flavanol content or one with low flavanol content for 12 weeks. Photoprotective effects and indicators of skin condition were compared between groups at 6 and 12 weeks of consumption. The women drinking the high flavanol cocoa drink experienced a 25% decrease in UV induced sunburns after 12 weeks, while the women drinking the low flavanol cocoa drink experienced no changes. The authors concluded that "The ingestion of high flavanol cocoa led to increases in blood flow of cutaneous and subcutaneous tissues, and to increases in skin density and skin hydration," and "This study demonstrates that the regular consumption of a beverage rich in flavanols can confer substantial photoprotection as well as help maintain skin health by improving skin structure and function. The photoprotection offered by cocoa flavanols is within the range of that reported for dietary carotenoids, such as β-carotene or lycopene."
Nicotinamide (Vitamin B3)
Nicotinamide (vitamin B3) has been shown to reduce the incidence of non-melanoma skin cancers among high-risk individuals. A review article by Diona L Damian describes the effects of nicotinamide against UV induced damage and resulting skin cancers, highlighting its ability to enhance DNA repair, reduce UV radiation-induced suppression of skin immune responses, modulate inflammatory cytokine production and skin barrier function, and restore cellular energy levels after UV exposure. The author states that "Pharmacological doses of nicotinamide have been shown to reduce actinic keratoses and nonmelanoma skin cancer incidence in high-risk individuals, making this a nontoxic and accessible option for skin cancer chemoprevention in this population."
Other Important Nutrients to Protect Skin Health
Don't forget that there are many nutrients that work along-side each other to benefit our health. Other nutrients that are important for the health of our skin include Vitamin C, which plays an important role in collagen production and acts as an antioxidant to protect against sun damage, Vitamin E, which like vitamin C, functions as an antioxidant in the skin to protect against sun damage, and other B vitamins.
Are You Getting Enough Vitamin D, Omega-3s, and Other Essential Nutrients?  Measure Today!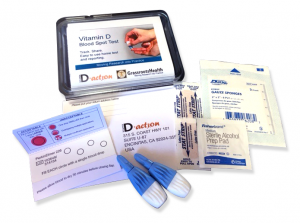 Having and maintaining healthy vitamin D levels and other nutrient levels can help improve your health now and for your future. Choose which additional nutrients to measure, such as your omega-3s and essential minerals including magnesium and zinc, by creating your custom home test kit today. Take steps to improve the status of each of these measurements to benefit your overall health. With measurement you can then determine how much is needed and steps to achieve your goals.  You can also track your own intakes, symptoms and results to see what works best for YOU.
Enroll in D*action and Test Your Levels Today!
How Can You Use this Information for YOUR Health?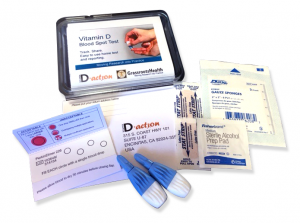 Having and maintaining healthy vitamin D and other nutrient levels can help improve your health now and for your future. Measuring is the only way to make sure you are getting enough!
STEP 1 Order your at-home blood spot test kit to measure vitamin D and other nutrients of concern to you, such as omega-3s, magnesium, essential and toxic elements (zinc, copper, selenium, lead, cadmium, mercury); include hsCRP as a marker of inflammation or HbA1c for blood sugar health
STEP 2 Answer the online questionnaire as part of the GrassrootsHealth study
STEP 3 Using our educational materials and tools (such as our dose calculators), assess your results to determine if you are in your desired target range or if actions should be taken to get there
STEP 4 After 3-6 months of implementing your changes, re-test to see if you have achieved your target level(s)