Published on August 21, 2023


An estimated 1 in 3 Americans have prediabetes and approximately 80% don't even know it – here's how vitamin D can help regulate insulin resistance and decrease diabetes risk
Key Points
It is estimated that 1 in 3 Americans have prediabetes and approximately 80% don't even know it; it often takes several years for type 2 diabetes symptoms to develop, and because the symptoms are hard to spot, it can go on for a long time without being noticed
Results from a new meta-analysis found a significant inverse association between serum levels of Vitamin D and insulin resistance… and concluded that individuals with low vitamin D concentrations may be helped by increasing vitamin D levels
Vitamin D is needed for insulin to be made and it is needed for cells to respond to insulin; further, vitamin D protects against type 2 diabetes by regulating inflammation
---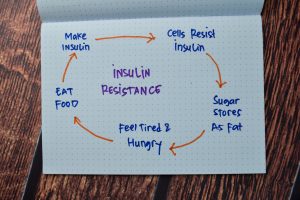 Insulin resistance is when cells in your body don't respond well or are resistant to insulin which leads to increased blood sugar and eventually type 2 diabetes (T2D). The prevalence of T2D has been increasing over the past decade and more than 34 million Americans are living with this disease. Worse, T2D, formerly called "adult-onset diabetes" because it often develops in people over the age of 45 years, is being diagnosed more and more in young children and teenagers with life-long consequences.  Insulin resistance is often accompanied by other symptoms of metabolic syndrome, including high blood pressure, high blood sugar, high triglyceride levels, low HDL cholesterol levels, and excess body fat around the waist.
Pre-diabetes is a condition involving insulin resistance, in which blood sugar levels are higher than normal, but not high enough to be considered type 2 diabetes. It is estimated that 1 in 3 Americans have prediabetes and approximately 80% don't even know it. It often takes several years for type 2 diabetes symptoms to develop, and because the symptoms are hard to spot, it can go on for a long time without being noticed. This means that you can have prediabetes or even type 2 diabetes and not know it. The good news is you can prevent it.
New Meta-analysis on the Effect of Vitamin D on Insulin Resistance
Research has linked vitamin D to improved insulin resistance, insulin secretion, and beta-cell function and survival. Studies have shown that the risk of developing insulin resistance and/or diabetes over time increases with lower vitamin D levels. Because of this observation, Lei et al. recently completed a meta-analysis of 18 randomized controlled trials (RCTs) and 20 observational studies to more clearly define the relationship between vitamin D, insulin resistance, and type 2 diabetes.
This study looked at how both vitamin D supplementation and vitamin D serum levels were related to insulin resistance and the progression of type 2 diabetes. The authors found that, compared to those receiving only the standard treatment for diabetes, those also being treated with vitamin D supplementation saw significantly better improvements for serum insulin, glucose, and HOMA-IR (a measurement of insulin sensitivity). When analyzing the data by vitamin D serum level, an even stronger correlation was found for all three measures compared to analysis by supplement intake.
The authors concluded:
"Results proved that Vitamin D has shown significant effect on regulating insulin resistance, and there is a significant inverse association between serum levels of Vitamin D and insulin resistance… individuals with low vitamin D concentrations may be helped by increasing vitamin D levels…"
How does Vitamin D Work to Protect Against Insulin Resistance and T2D?
Vitamin D, as 1,25(OH)2D, plays a regulatory role in insulin secretion as well as the function and survival of the cells that produce insulin in the pancreas (beta-cells). Vitamin D deficiency impairs insulin sensitivity (or promotes insulin resistance) because 1,25(OH)2D activates insulin receptors on cells throughout the body, which in turn affects their sensitivity to insulin. Overall, vitamin D is needed for insulin to be made and it is needed for cells to respond to insulin.
Further, vitamin D protects against type 2 diabetes by regulating inflammation. Chronic low-grade inflammation, frequently observed in obese individuals, is involved in the development of insulin resistance by interfering with normal sugar metabolism and disrupting insulin signaling. Vitamin D regulates the inflammatory response and higher blood levels of vitamin D have been associated with lower levels of C reactive protein, a general marker of inflammation in the body.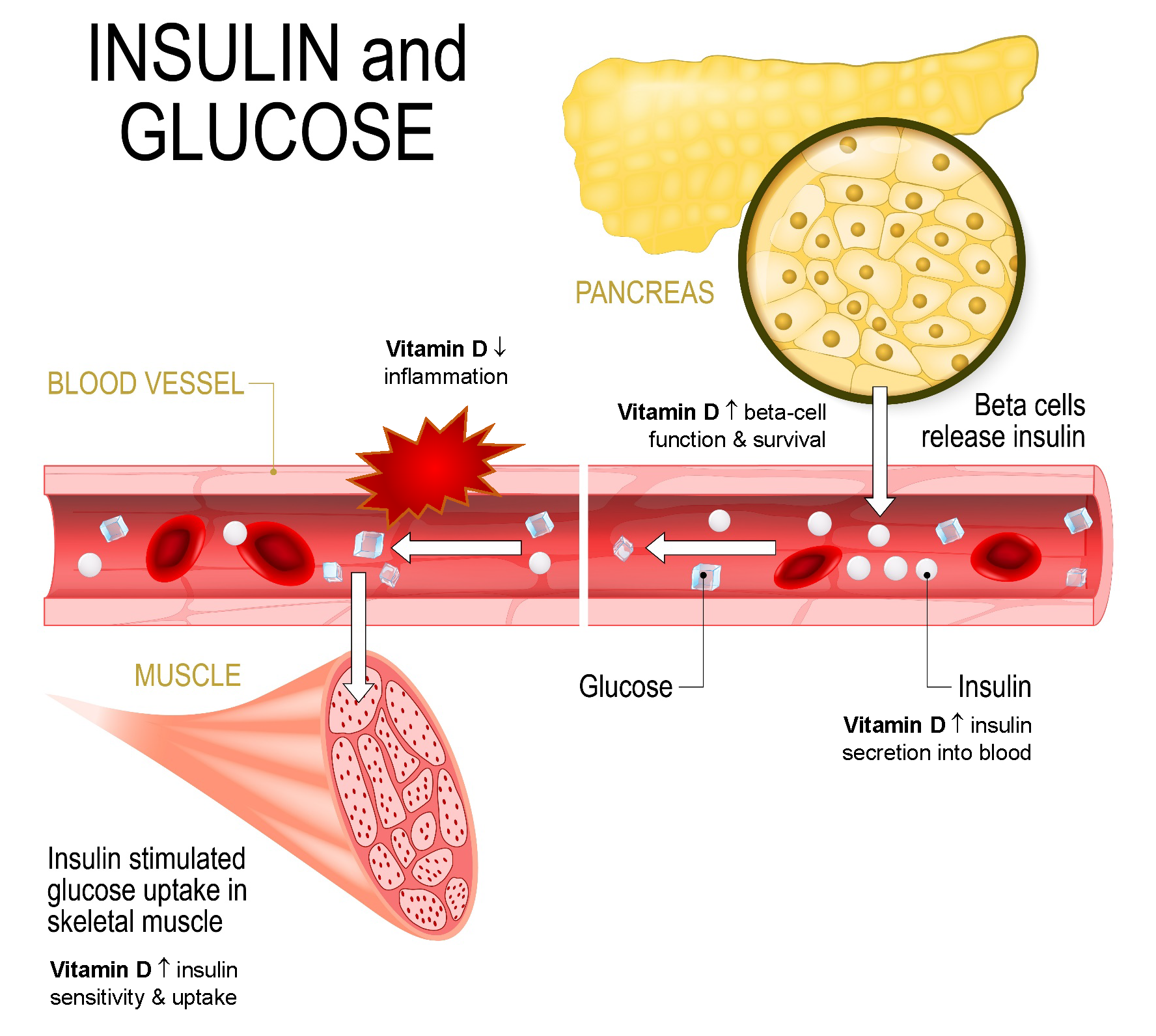 Are You at Risk for Type 2 Diabetes?
If you have one or more risk factors or experience any symptoms of diabetes outlined in this previous blog, you may be at risk for type 2 diabetes. Measuring the percentage of hemoglobin A1c, or HbA1c, in the blood provides information about the average blood glucose levels over the prior few months. Knowing your HbA1c, vitamin D, and inflammation levels can enable you to focus your health efforts on lifestyle changes, such as diet, exercise, improving omega-3 status and magnesium intake, decreasing inflammation, and increasing vitamin D levels to 40-60 ng/ml (100-150 nmol/L), all of which can help prevent, or even reverse, prediabetes.
Measure all of the above with the Inflammation Panel plus Magnesium test kit.
Create Your Custom Home Test Kit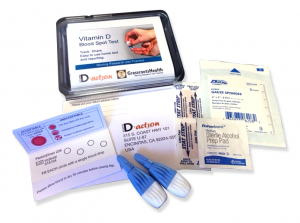 Measure your vitamin D levels at home as part of the D*action project! To know if you are getting enough, make sure you test today!
You can also measure your:
Vitamin D
Magnesium PLUS Essential and Toxic Elements
Omega-3 Fatty Acids
hsCRP
HbA1c
TSH
Type 1 Diabetes Autoantibodies
Did you know that each of the above can be measured at home using a simple blood spot test? As part of our ongoing research project, you can order your home blood spot test kit to get your levels, followed by education and steps to take to help you reach your optimal target levels. Start by enrolling and ordering your kit to measure each of the above important markers, and make sure you are getting enough of each to support better mood and wellbeing!
Create your custom home test kit today. Take steps to improve the status of each of these measurements to benefit your overall health. With measurement you can then determine how much is needed and steps to achieve your goals.  You can also track your own intakes, symptoms and results to see what works best for YOU.
How Can You Use this Information for YOUR Health?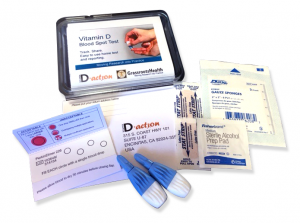 Having and maintaining healthy vitamin D and other nutrient levels can help improve your health now and for your future. Measuring is the only way to make sure you are getting enough!
STEP 1 Order your at-home blood spot test kit to measure vitamin D and other nutrients of concern to you, such as omega-3s, magnesium, essential and toxic elements (zinc, copper, selenium, lead, cadmium, mercury); include hsCRP as a marker of inflammation or HbA1c for blood sugar health
STEP 2 Answer the online questionnaire as part of the GrassrootsHealth study
STEP 3 Using our educational materials and tools (such as our dose calculators), assess your results to determine if you are in your desired target range or if actions should be taken to get there
STEP 4 After 3-6 months of implementing your changes, re-test to see if you have achieved your target level(s)