Published on March 25, 2023

What participants need to know about changes with their GrassrootsHealth participant test kits
GrassrootsHealth's D*action test kits will soon be coming to you sporting a new look!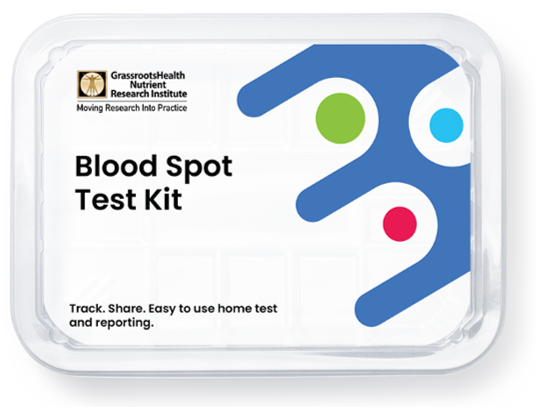 Along with this new look is a new feature to Register Your Test Kit. It's simple!
How To Register Your New GrassrootsHealth Blood Spot Test Kit
*IMPORTANT* If your blood spot test kit does not look like the kit above, you do not need to register it
When you receive your new test kit and are ready to provide your blood spot sample(s), remove the test kit contents and locate the blood spot collection card with the barcode sticker.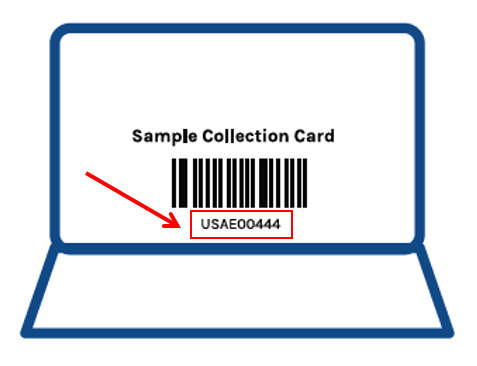 (Note: Blood spot collection cards in older kits will not have a barcode sticker, and will not need to be registered.)
Log in to your grassrootshealth.net account at daction.grassrootshealth.net/login. If you are a new participant and have not yet created your account, you will need to create one to get your Participant ID and to Register Your Test Kit.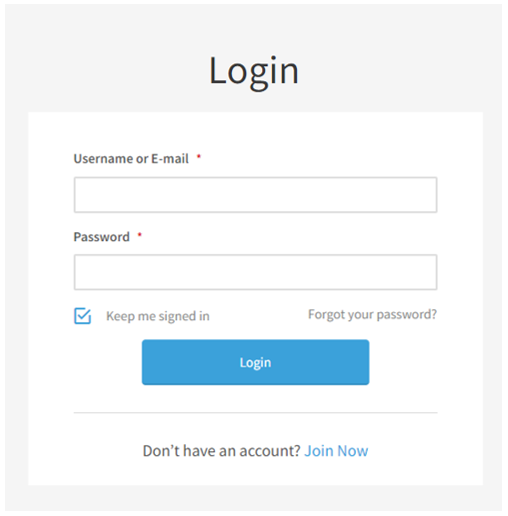 Click the blue "Register Test Kit" button at the upper right of the screen.

The "Register Test Kit" box will pop up on your screen; enter the barcode found on the barcode sticker along with the Date and Time of Collection for your blood samples.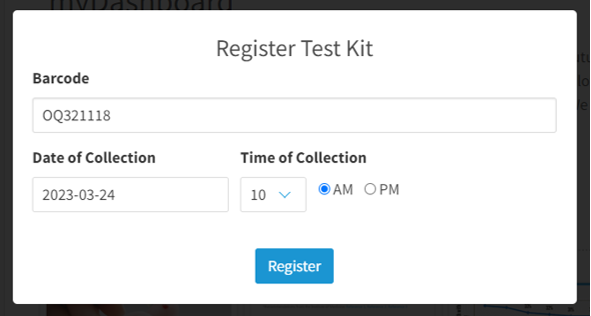 When you hit "Register" you should get a success message that looks like this: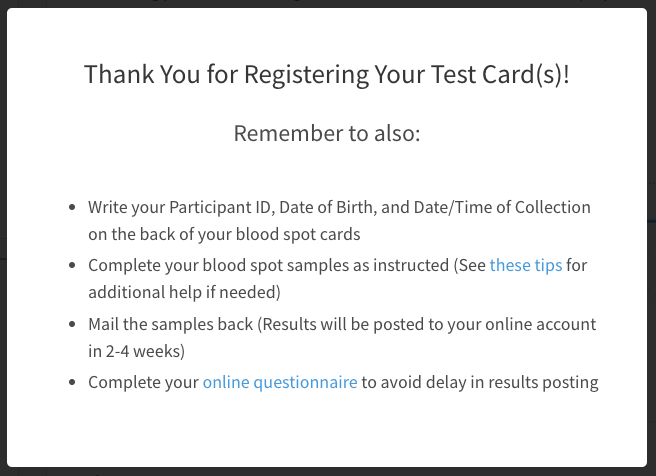 The message is a reminder to do the following:
Write your Participant ID, Date of Birth, and Date/Time of Collection on the back of your blood spot card(s); DO NOT write your name, email, or other personal identifying information
Complete your blood spot samples as instructed; for great tips on how to successfully complete a blood spot sample, how to avoid sample rejection, and how to get more blood to flow, click here
Complete your online health questionnaire to avoid any delay in results posting
Have Additional Questions?
We are here to help! Send us an email at [email protected] with any questions you have.
We appreciate all of our D*action participants – you are true Citizen Scientists!
Not a Participant (Citizen Scientist) Yet?
Becoming a participant of GrassrootsHealth means that you are joining thousands of people in collaborating on nutrient research – we call it "Citizen Science."  Since its founding, GrassrootsHealth has grown into the world's largest population field trial on vitamin D, thanks to the thousands of participants who have contributed as "Citizen Scientists." By joining the GrassrootsHealth project, everyone has provided valuable health information to make important health discoveries and methods to help Move Research into Practice — while also measuring their vitamin D and other levels and receiving education and tools to help track, achieve and maintain healthy levels for themselves.
Learn more about the discoveries made and the research that GrassrootsHealth's Citizen Scientists are contributing to here.
Are You Getting Enough Vitamin D and Other Important Nutrients?
The only way to know is to test your levels! Testing versus blind supplementation is essential to know for sure if what you are taking is the right amount for you. Once you test your vitamin D (and other levels) to know where you are NOW, you can account for any upcoming changes in lifestyle over the coming months and adjust your intake to reach (or maintain) your targets.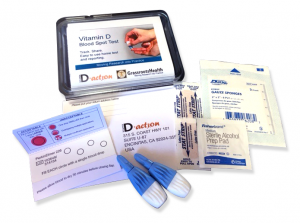 Measure your:
Vitamin D
Magnesium PLUS Elements
Omega-3 Fatty Acids
hsCRP
HbA1c
TSH
Type 1 Diabetes Autoantibodies
Did you know that each of the above can be measured at home using a simple blood spot test? As part of our ongoing research project, you can order your home blood spot test kit to get your levels, followed by education and steps to take to help you reach your optimal target levels. Start by enrolling and ordering your kit to measure each of the above important markers, and make sure you are getting enough of each to support better mood and wellbeing!
Create your custom home test kit today. Take steps to improve the status of each of these measurements to benefit your overall health. With measurement you can then determine how much is needed and steps to achieve your goals.  You can also track your own intakes, symptoms and results to see what works best for YOU.
Enroll in D*action and Test Your Levels Today!
How Can You Use this Information for YOUR Health?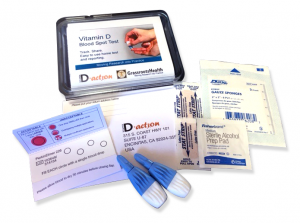 Having and maintaining healthy vitamin D and other nutrient levels can help improve your health now and for your future. Measuring is the only way to make sure you are getting enough!
STEP 1 Order your at-home blood spot test kit to measure vitamin D and other nutrients of concern to you, such as omega-3s, magnesium, essential and toxic elements (zinc, copper, selenium, lead, cadmium, mercury); include hsCRP as a marker of inflammation or HbA1c for blood sugar health
STEP 2 Answer the online questionnaire as part of the GrassrootsHealth study
STEP 3 Using our educational materials and tools (such as our dose calculators), assess your results to determine if you are in your desired target range or if actions should be taken to get there
STEP 4 After 3-6 months of implementing your changes, re-test to see if you have achieved your target level(s)