Published on July 28, 2023
This weekend, take advantage of 15% off any test kit including omega-3 measurements to see how your status levels up!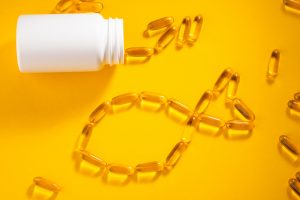 Findings from two new studies were released over the past week linking even more health benefits to maintaining higher omega-3 levels.
Getting enough omega-3 fatty acids EPA (eicosapentaenoic acid) and DHA (docosahexaenoic acid) is essential to health. Higher levels of EPA and DHA have been associated with improved cognitive function and cardiovascular health, lower risk of dementia, lower risk of cancer, longer life, and a reduced relative risk for death from any cause, including COVID-19. They are beneficial for normal vision, anti-aging, skin health, maternal health, immune system, brain health, heart health, normal liver function, joints, muscles, and much more.
New research now links omega-3s to our hearing and our lung health! See below for more info.
Unfortunately, close to 80% of individuals around the globe do not get enough omega-3s to experience these health benefits (and in the US it's higher than 95%). Measuring your omega-3 status is essential to ensure you are getting enough.
This weekend only, take advantage of our special offer for 15% off any home blood spot test that includes the Omega-3 Index, with or without the ratios of Omega-6:Omega-3 and AA:EPA using the code OMEGA3S.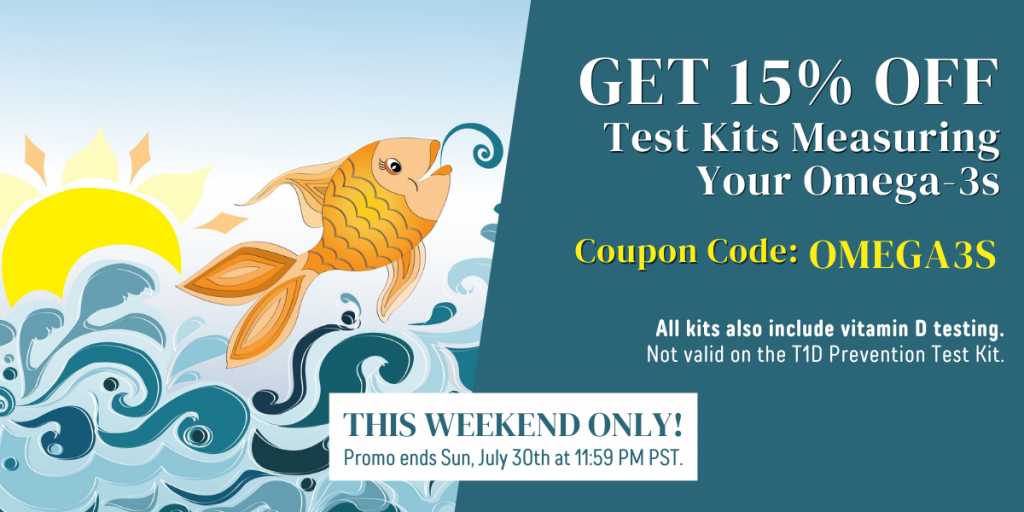 ---
Omega-3s May Keep Your Hearing Sharp
Data from over 115,000 men and women ages 40 to 69 showed that those with the highest levels of DHA in the blood were less likely to have hearing problems or difficulty understanding conversations when there is background noise…
Key Points
Low levels of the omega-3 fatty acid docosahexaenoic acid (DHA) were linked to hearing loss in middle and old age, according to findings slated for presentation Monday at a meeting of the American Society for Nutrition, in Boston
Middle-aged and older adults with higher DHA levels were 8% to 20% less likely to have age-related hearing issues than those with lower DHA levels
The study looked at data on more than 115,000 men and women ages 40 to 69 who were part of the U.K. Biobank; those with the highest levels of DHA were 16% more likely to report no hearing problems, compared with those with the lowest levels of DHA, and those with the highest DHA levels were also 11% less likely to report having difficulty understanding conversations when there is background noise compared to those with the lowest DHA levels
Read the Full Press Release Here
---
Omega-3 Fatty Acids Appear Promising for Maintaining Lung Health
NIH-funded study supports new role for nutrient found in fish, dietary supplements.
Key Points
Findings from this study provide the strongest evidence to date of the association between omega-3 fatty acids and maintaining lung health, and underscores the importance of including omega-3 fatty acids in the diet, especially given that many Americans do not meet current guidelines
This was a two-part study design to investigating the link between omega-3 fatty acid levels in the blood and lung function over time. In the first part, the researchers followed 15,063 Americans with no evidence of chronic lung disease at the start of the study for an average of seven years and up to 20 years to show that higher levels of omega-3 fatty acids in a person's blood were associated with a reduced rate of lung function decline; the strongest association was for DHA.
In the second part, the researchers analyzed genetic data from a large study of European patients (over 500,000 participants) from the UK Biobank. They studied certain genetic markers in the blood as an indirect measure, or proxy, for dietary omega-3 fatty acid levels to see how they correlated with lung health. The results showed that higher levels of omega-3 fatty acids — including DHA — were associated with better lung function.
Read the Full Press Release Here
---
Why is it Important to Focus on Your Omega-3 Index vs Intake?


The Omega-3 Index is a blood test that measures the amount of EPA and DHA in red blood cell (RBC) membranes and is expressed as a percent of total RBC fatty acids. It is a long-term and stable marker of omega-3 status, and it reflects tissue levels of EPA+DHA. GrassrootsHealth has been providing at-home testing for the Omega-3 Index along with education on levels that are beneficial to health, and how to track and achieve those levels through diet and supplementation. Using the data gathered, we published a paper that assessed the EPA+DHA intake requirement to achieve an Omega-3 Index of 8% or higher, which is the optimal level recommended by experts; ~1,300 mg/day of EPA+DHA was needed for 50% of the population to achieve an Omega-3 Index of 8%, and approximately 1,900 mg/day of EPA+DHA was needed for 90% of the population to achieve an Omega-3 Index of 8%.
However, the range of response with 1000 mg of EPA+DHA per day was 5.7% to 10.2%, indicating high variability in the dose-response for each individual, and the importance of measuring the Omega-3 Index to determine a personalized dose.
Getting Enough Omega-3s and Other Important Nutrients
See if your nutrient status could improve to support better health.  Create your custom home blood spot kit with the following measurements:
Vitamin D
Omega-3 Index plus AA:EPA Ratio
Magnesium plus Elements
hsCRP
HbA1c
TSH
Type 1 Diabetes Autoantibodies
Enroll and test your levels today, learn what steps to take to improve your status of omega-3s, vitamin D and other nutrients and blood markers, and take action! By enrolling in the GrassrootsHealth projects, you are not only contributing valuable information to everyone, you are also gaining knowledge about how you could improve your own health through measuring and tracking your nutrient status, and educating yourself on how to improve it.
Are You Getting Enough of These Nutrients? Check Now!
How Can You Use this Information for YOUR Health?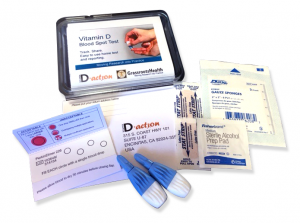 Having and maintaining healthy vitamin D and other nutrient levels can help improve your health now and for your future. Measuring is the only way to make sure you are getting enough!
STEP 1 Order your at-home blood spot test kit to measure vitamin D and other nutrients of concern to you, such as omega-3s, magnesium, essential and toxic elements (zinc, copper, selenium, lead, cadmium, mercury); include hsCRP as a marker of inflammation or HbA1c for blood sugar health
STEP 2 Answer the online questionnaire as part of the GrassrootsHealth study
STEP 3 Using our educational materials and tools (such as our dose calculators), assess your results to determine if you are in your desired target range or if actions should be taken to get there
STEP 4 After 3-6 months of implementing your changes, re-test to see if you have achieved your target level(s)