Published on November 29, 2021


The COVID-19 pandemic continues to demand greater attention for vitamin D NOW! Help get this vital information out to everyone today.
Key Points
Help create and sustain the sense of urgency to take vitamin D*action for COVID by educating, knowing your vitamin D level, and taking steps to reach a target level of at least 40 or 50 ng/ml (100 or 125 nmol/L)
Giving Tuesday is tomorrow!  Please consider donating to GrassrootsHealth.
---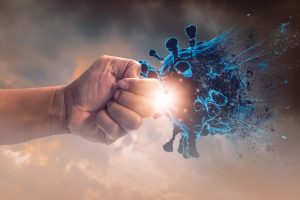 We Can't Wait! while the COVID-19 pandemic continues to claim lives. The research has consistently shown that vitamin D status correlates with length of ongoing COVID disease, severity of symptoms, and mortality risk. There is much evidence that low vitamin D is a predictor of infection and death, and that "a fatal outcome from COVID-19 infection, apart from other risk factors, is strongly dependent on the vitamin D status of the patient."
Help Create and Sustain the Sense of Urgency to Take Action!
Action #1 – Know & Share the Research
There are now dozens of published studies showing the effects of vitamin D on COVID-19 outcomes, and hundreds more supporting its role in immune function. A summary of some of that research can be found here, along with research on other nutrients and immune health – please share it with others! (Would you prefer a PDF download of this research summary to share? Let us know by emailing jen @grassrootshealth.org, and with enough interest, we will create one for all!)
One meta-analysis in particular, by Petrelli et al., included 43 studies with data from a total of 612,601 COVID-19 patients, and found that
Risk of COVID-19 infection was 50% higher among those whose vitamin D levels were below 20 ng/ml
Risk of severe COVID-19, defined as the need for intensive care and/or mechanical ventilation, was 160% higher among those with vitamin D levels below 20 ng/ml
Risk of death due to COVID-19 was 22% higher among those with vitamin D levels below 20 ng/ml
Vitamin D supplementation of various doses reduced the risk of severe COVID-19 disease by 73% and death by 59%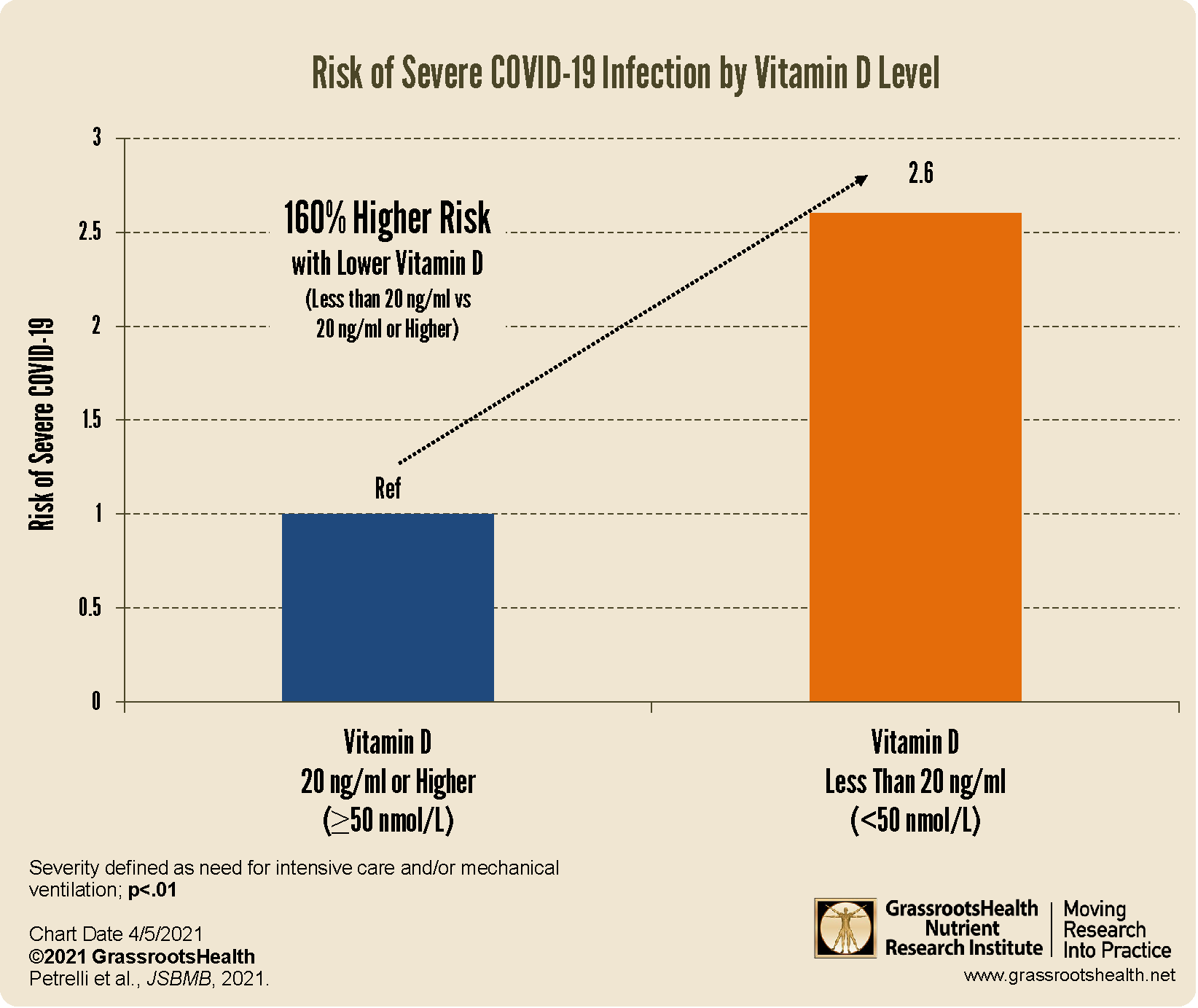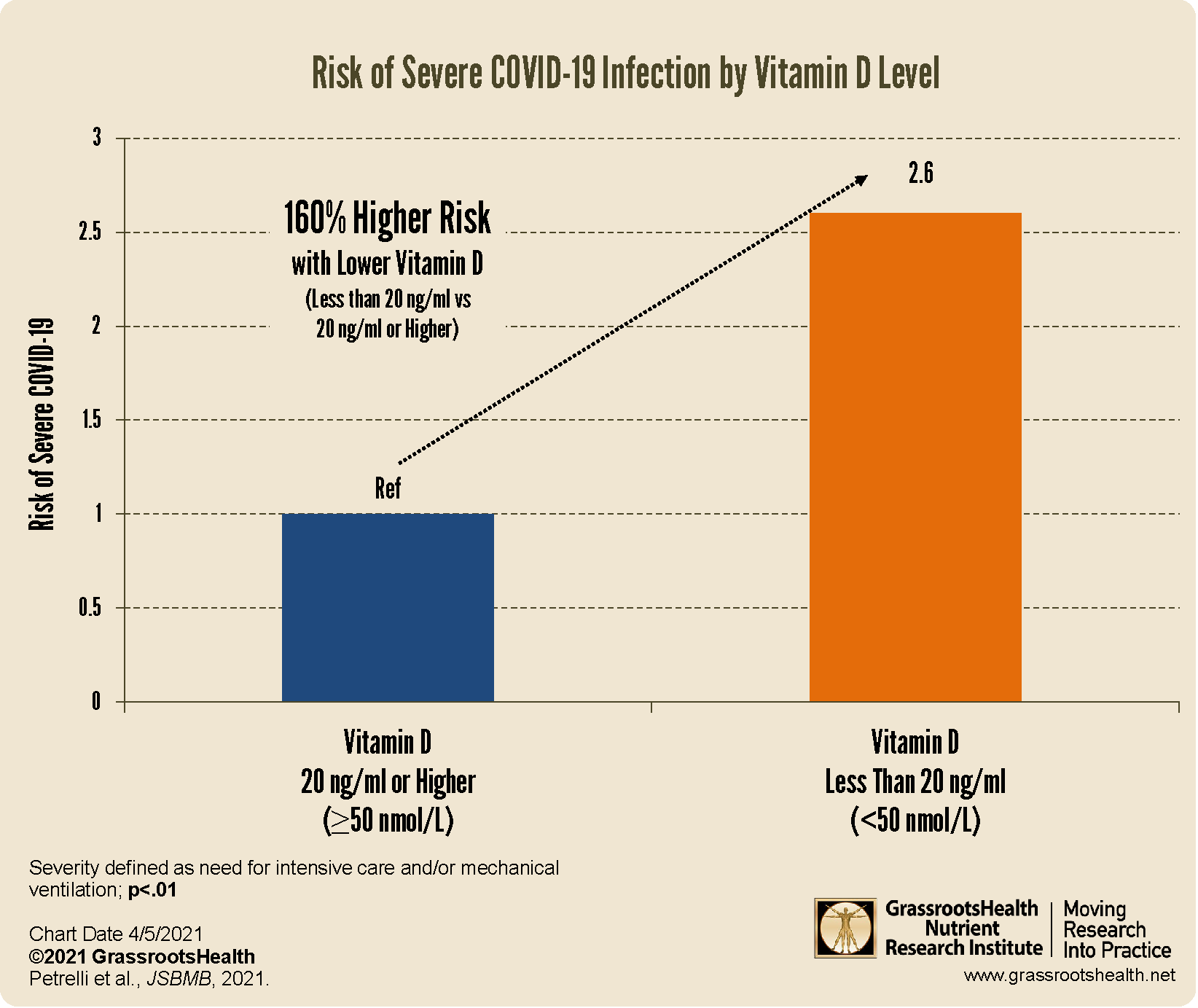 Another review by Borsche et al. confirmed an inverse correlation between COVID-19 mortality and vitamin D levels, demonstrating that as vitamin D levels increase, COVID-19 mortality decreases, to a point where the projected mortality rate reaches zero at around 50 ng/ml (125 nmol/L).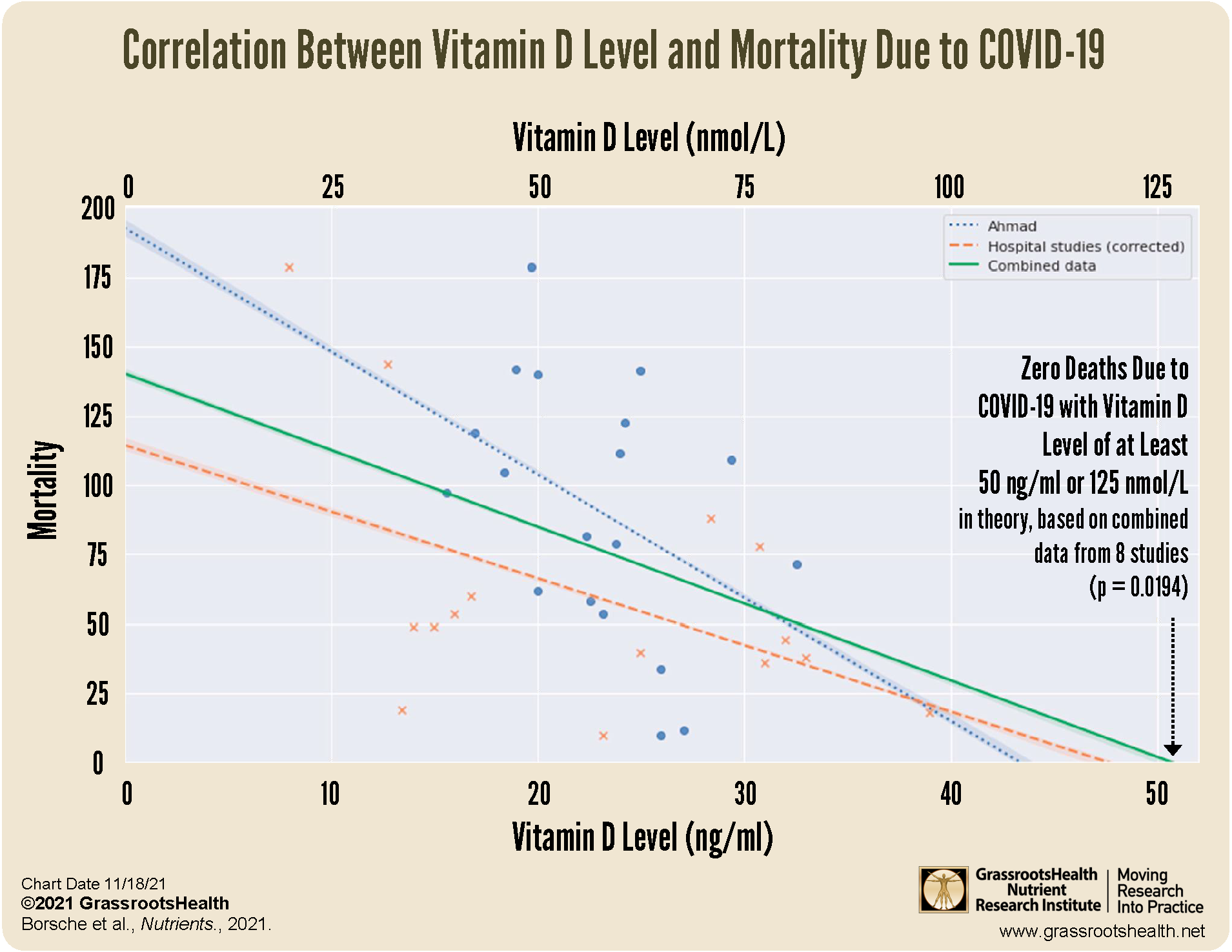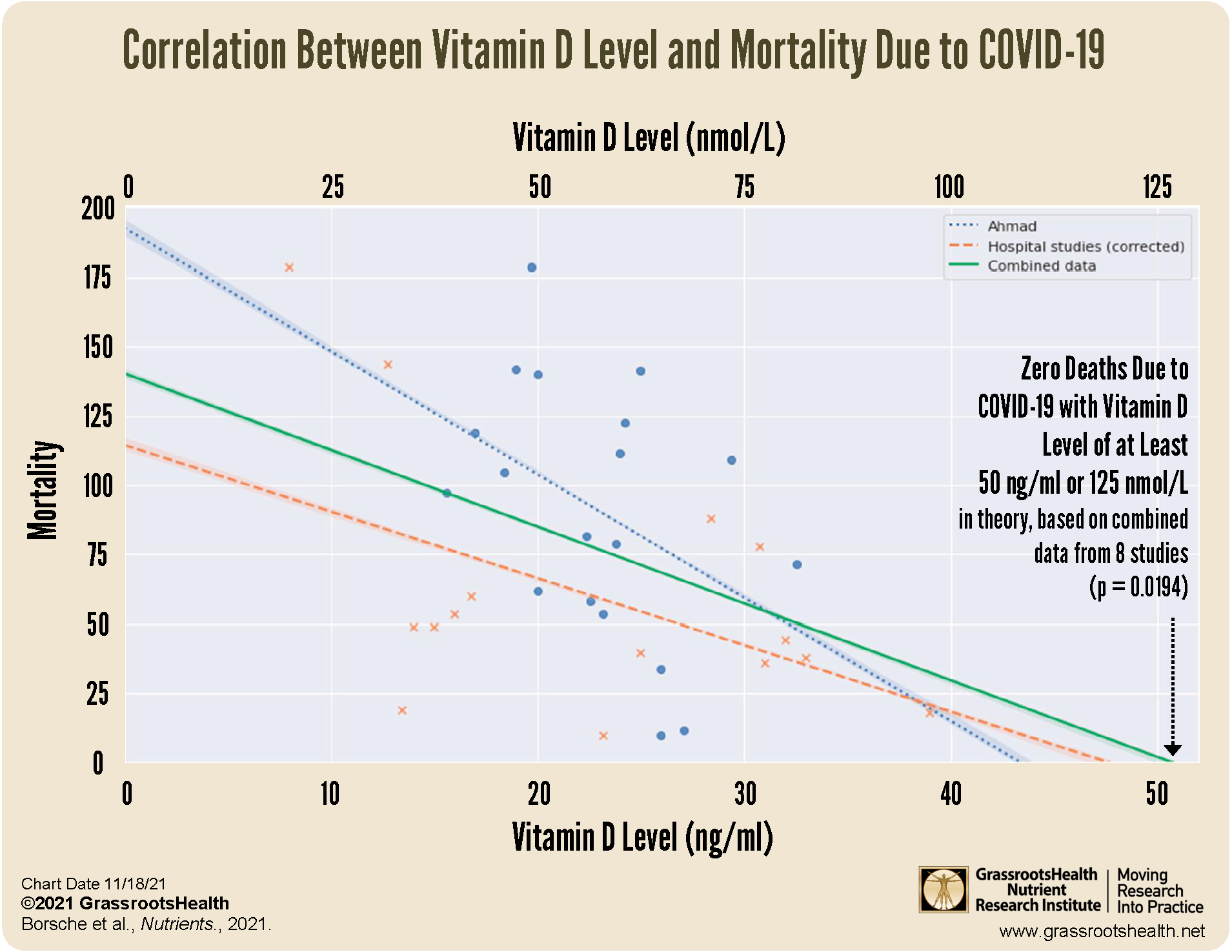 Click to Enlarge & Print
A paper by Kaufman et al. looked at lab data from over 190,000 patients from 50 states and found that the percent of positive SARS-CoV-2 tests was 12.5% for those with vitamin D levels less than 20 ng/ml (50 nmol/L) and 5.9% for those with levels at or above 55 ng/ml (138 nmol/L), which is a 53% lower positivity rate with higher vitamin D levels!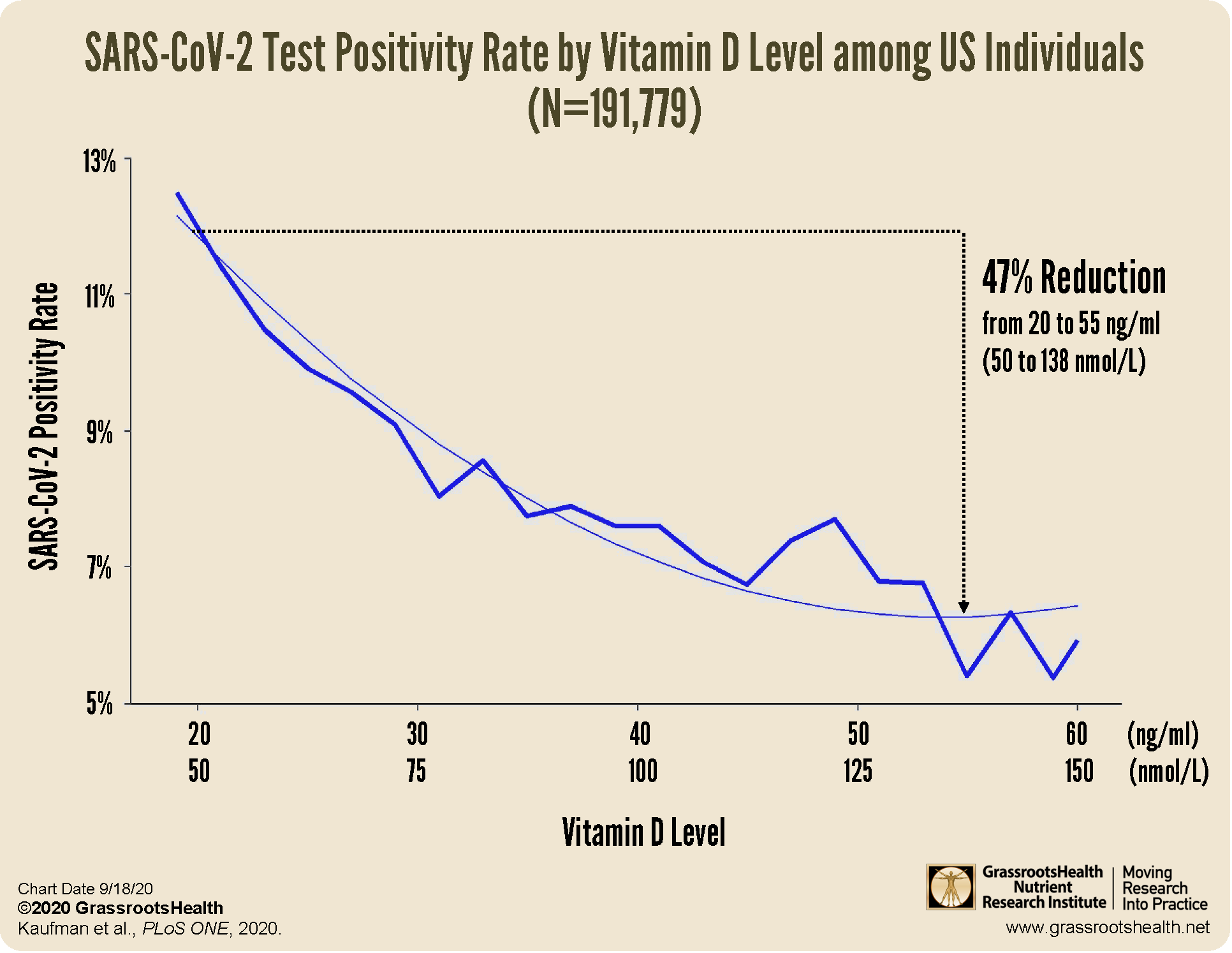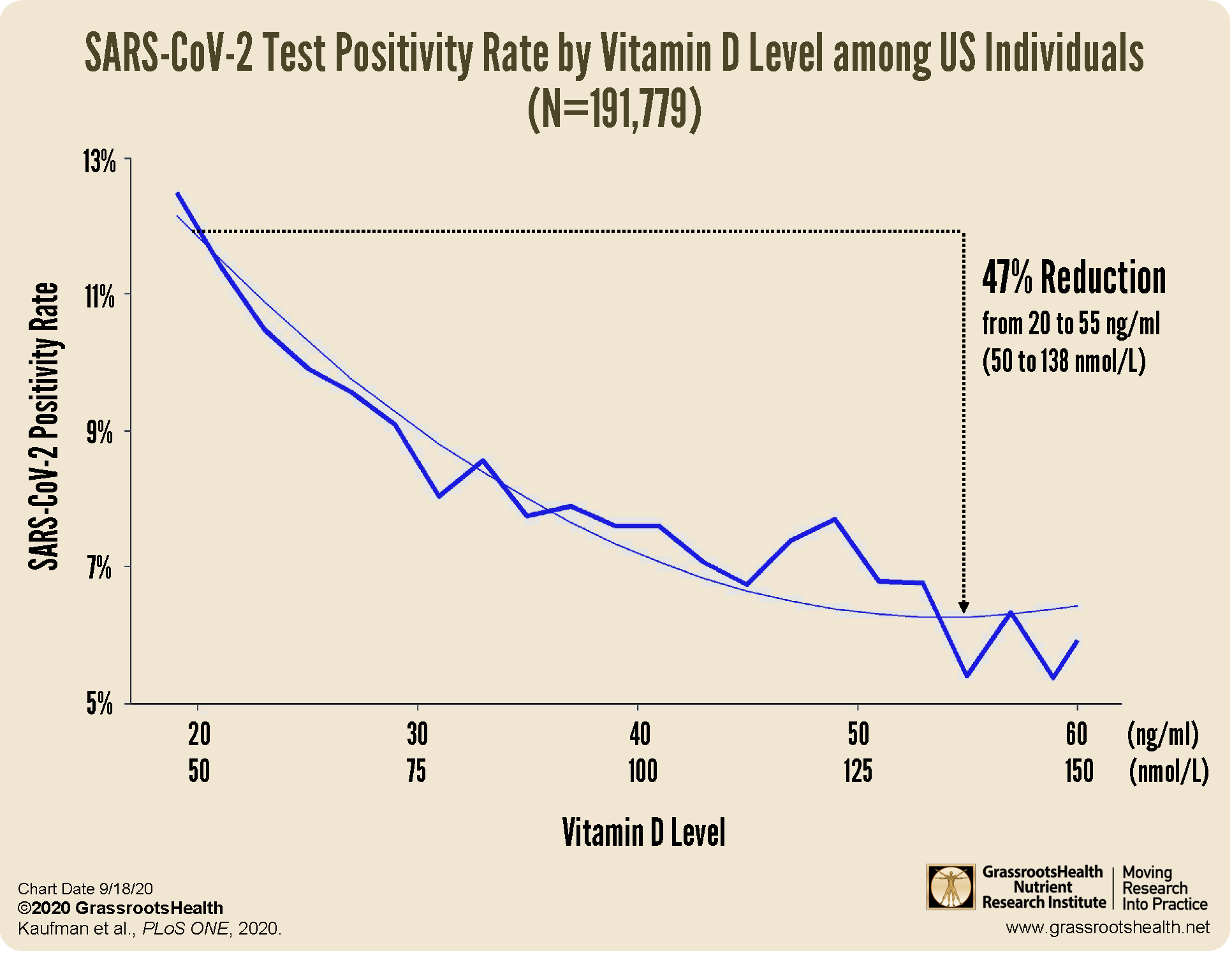 What is your vitamin D level? The levels of your family? Your friends? Do you and those you love have a level of at least 40 ng/ml (100 nmol/L)? Or would you prefer to have a level closer to 50 or 55 ng/ml as suggested by the research mentioned above?
Action #2 – Know Your Vitamin D Level & Take Action to Achieve Your Target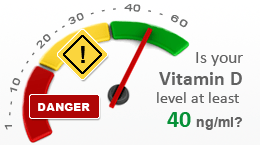 Take the steps below to ensure a vitamin D level of at least 40-60 ng/ml (100-150 nmol/L). Make sure everyone you know understands these steps and is acting on them. You, your family, and your community can be the start of putting an end to the negative health consequences of vitamin D deficiency!
Remember… Supplementation does not always provide the expected change in vitamin D level. It is vital to TEST, ADJUST, RE-TEST and REPEAT to make sure that the daily dose or vitamin D routine is effective at achieving and maintaining the desired target vitamin D level. For example, an analysis of 5,442 GrassrootsHealth participants who completed at least two vitamin D tests showed that two-thirds (67%) reached a vitamin D level of at least 40 ng/ml on their second test – leaving 1/3 of those who re-tested still below the 40 ng/ml target level.
Enroll in the project and follow the steps below to ensure you achieve your target vitamin D level.
Action #3 – Donate to GrassrootsHealth (HINT: Tomorrow is Giving Tuesday!)
GrassrootsHealth is a non-profit research and public health organization specifically engaged in moving research into practice NOW! with the tools and methods we have developed — not taking 30 years after it's been confirmed. Grant funding for nutrients, such as vitamin D, is rare. The money is not in nutrients, but drugs.
Your donation today will help continue to expand GrassrootsHealth's reach – to spread the word about the benefits of vitamin D within recommended ranges of 40-60 ng/ml (100-150 nmol/L) to individuals, health care providers, public health officials, and all.
We thank you for your donations!
What Does it Take YOU to Get Your D to 40 ng/ml (100 nmol/L)? To 50 ng/ml (125 nmol/L)?
Everyone responds differently to vitamin D; the same dose of vitamin D is likely to result in different vitamin D levels from one person to the next, by up to 6 times! There are certain steps that are essential to ensuring you have found the right dose of vitamin D and/or the right vitamin D routine (using sunshine, UVB, food, or other sources) for the level you are trying to achieve.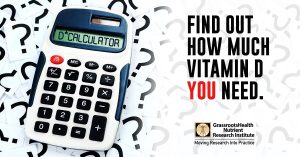 STEP 1 – Do you know what your vitamin D level is? Enroll and order your test to find your current vitamin D level
STEP 2 – Complete your online questionnaire as part of being a Citizen Scientist in the Vitamin D*action project
STEP 3 – Determine your target level. Are you at your target level? Experts recommend a level of at least 40-60 ng/ml (100-150 nmol/L), however, some research indicates levels over 60 ng/ml may be beneficial for certain conditions such as autoimmune diseases and cancer.
STEP 4 – Need to boost your level? Use the D*calculator to see how much vitamin D it may take to reach your target. Opt for the Loading Dose for a quicker boost.
STEP 5 – Implement your new supplement dose and/or routine (will you include sunshine or an indoor UVB device, increase vitamin D rich foods, etc.?), and optimize how your body absorbs and utilizes vitamin D with co-nutrients and these simple steps.
STEP 6 – Re-Test! This step is VITAL to make sure you have reached your target level, and to ensure you are not taking too much! Re-testing after 3-6 months is recommended or sooner if using a loading dose. Adjust your intake and/or routine again if needed, or consider evaluating vitamin D co-nutrients or other factors if you did not achieve the result you expected.
STEP 7 – Repeat, adjust, repeat, until you have reached your target! Experts suggest testing a minimum of twice each year to make sure target levels are maintained, as levels tend to be highest at the end of summer and lowest at the end of winter.
Don't get stuck with low vitamin D levels – learn more about what might affect your level and response to supplementation, and the steps to take through each season to keep levels in your target range.
Vitamin D is an Easily Modifiable Factor to Help Improve Disease Outcomes – Check Your Level Today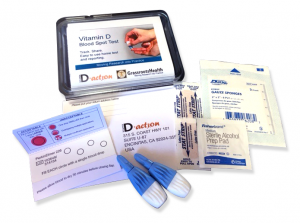 Having and maintaining healthy vitamin D levels and other nutrient levels can help improve your health now and for your future. Choose which to measure, such as your vitamin D, omega-3s, and essential minerals including magnesium and zinc, by creating your custom home test kit today. Take steps to improve the status of each of these measurements to benefit your overall health. You can also track your own intakes, symptoms and results to see what works best for YOU.
Enroll and test your levels today, learn what steps to take to improve your status of vitamin D (see below) and other nutrients and blood markers, and take action! By enrolling in the GrassrootsHealth projects, you are not only contributing valuable information to everyone, you are also gaining knowledge about how you could improve your own health through measuring and tracking your nutrient status, and educating yourself on how to improve it.
How Can You Use this Information for YOUR Health?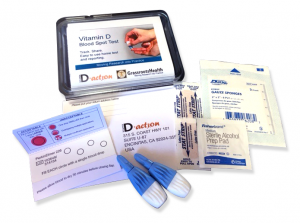 Having and maintaining healthy vitamin D and other nutrient levels can help improve your health now and for your future. Measuring is the only way to make sure you are getting enough!
STEP 1 Order your at-home blood spot test kit to measure vitamin D and other nutrients of concern to you, such as omega-3s, magnesium, essential and toxic elements (zinc, copper, selenium, lead, cadmium, mercury); include hsCRP as a marker of inflammation or HbA1c for blood sugar health
STEP 2 Answer the online questionnaire as part of the GrassrootsHealth study
STEP 3 Using our educational materials and tools (such as our dose calculators), assess your results to determine if you are in your desired target range or if actions should be taken to get there
STEP 4 After 3-6 months of implementing your changes, re-test to see if you have achieved your target level(s)