Published on July 20, 2022


Studies show how magnesium, omega-3s, and vitamin D can help lower blood pressure and reduce the risk for hypertension, sometimes more effectively than other conventional interventions
Key Points
Left untreated, high blood pressure can lead to heart attack, stroke, and other health consequences leading to premature death
One particular study confirmed vitamin D's relationship specifically to systolic blood pressure (SBP), where higher vitamin D levels were associated with lower SBP;  it also showed that this relationship was strongest among those getting more magnesium compared to those getting less, meaning the combination of higher vitamin D levels and higher magnesium intake has an even stronger effect on lowering blood pressure than either alone
Another study found that omega-3s EPA+DHA were as or more effective for lowering blood pressure than other lifestyle-related interventions, including increasing physical activity and restricting alcohol and sodium
---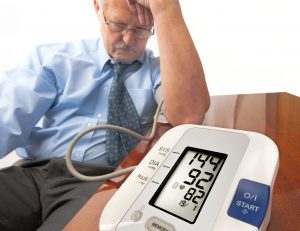 According to the American Heart Association, nearly half of the adult population in the United States has high blood pressure, and many of them are unaware that they have it. With no outward symptoms in most cases, it has been labeled a "silent killer."
Left untreated, high blood pressure can lead to heart attack, stroke, and other health consequences leading to premature death.
How to Identify High Blood Pressure – AKA "The Silent Killer"
A blood pressure reading consists of two numbers. The top number is the systolic blood pressure, or the amount of pressure exerted on the artery walls when the heart is beating. The bottom number is the diastolic blood pressure or the amount of pressure when the heart is at rest.
A healthy or normal blood pressure is when the systolic number is less than 120, and the diastolic number is less than 80. The stages of high blood pressure begin when the systolic blood pressure is 130 or higher, or the diastolic blood pressure is 80 or higher.
How the Following Nutrients Affect Blood Pressure Health
Magnesium
In January of 2022, the FDA acknowledged the relationship between magnesium intake and a reduced risk of high blood pressure.
Magnesium has been shown to have a strong relationship to cardiovascular health overall, with a higher magnesium intake being linked to a lower risk of cardiovascular death. Li et al. found a 19% lower risk of sudden cardiac death among those getting more daily magnesium, while another study found a 47% decreased risk of cardiovascular death for those with the highest magnesium intake versus the lowest (P=0.06).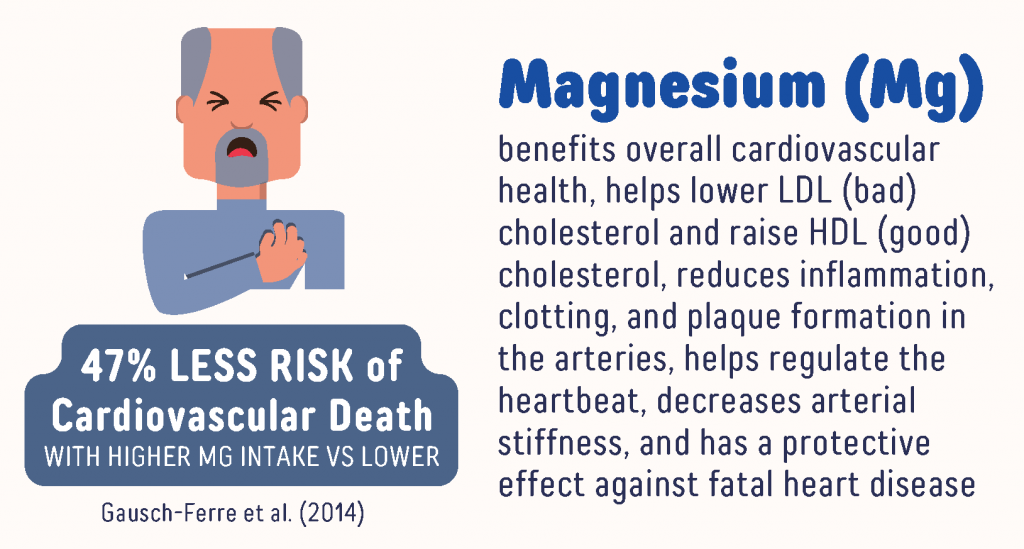 Magnesium has been demonstrated to use the same pathway as statins to lower LDL cholesterol and raise HDL cholesterol to reduce inflammation, clotting, and plaque formation in the arteries, all of which contribute to blood pressure. Magnesium helps regulate the heartbeat by controlling the sodium potassium pump and extending the relaxation period after contraction, which may help lower the risk of atrial fibrillation, or irregular heartbeat. A randomized, double-blind, placebo controlled study to evaluate the effects of magnesium supplementation on arterial stiffness (another contributor to high blood pressure) found that arterial stiffness was significantly improved in the magnesium group compared to the placebo group after 24 weeks of daily magnesium supplementation (p<0.01).
Vitamin D
Vitamin D is an important regulator of blood pressure through its influence on the renin-angiotensin-aldosterone system; it also has a protective effect against oxidative damage and atherosclerosis, and is important for smooth muscle function (vascular pathways).
Studies have shown that low vitamin D levels are a risk factor for high blood pressure and cardiovascular disease. Using the data participants have provided for the GrassrootsHealth Nutrient Research Institute study, we assessed the association between vitamin D level and risk of being diagnosed with high blood pressure among participants aged 50 years and older. The incidence rate among those with vitamin D levels of 50 ng/ml (125 nmol/L) or higher was 51% lower than the rate among those with vitamin D levels less than 40 ng/ml (100 nmol/L) (P=0.02).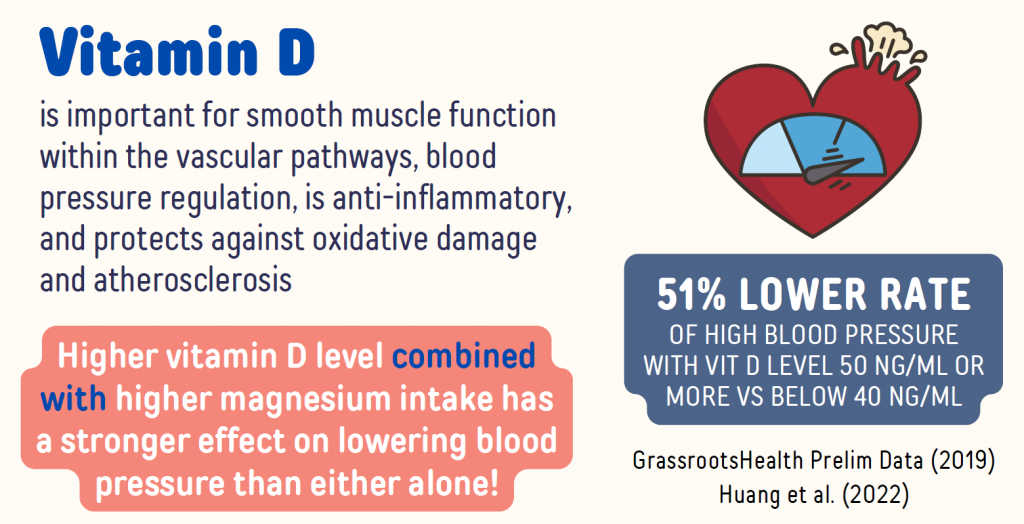 A study by Huang et al. found that higher magnesium intake strengthened the effect of vitamin D on lowering blood pressure. This study not only confirmed vitamin D's relationship specifically to systolic blood pressure (SBP), where higher vitamin D levels were associated with lower SBP, it also showed that this relationship was strongest among those getting more magnesium compared to those getting less. In other words, the combination of higher vitamin D levels and higher magnesium intake has an even stronger effect on lowering blood pressure than either alone.
Omega-3s
Omega-3 fatty acids are also known to benefit cardiovascular health by helping to improve heart function and cholesterol status, lowering blood pressure, and lowering the risk of cardiovascular disease and mortality.
A new 2022 dose-response meta-analysis by Zhang et al. looked at data from 71 different randomized controlled trials, which together included 4,973 participants, to further clarify the relationship between omega-3 intake (specifically DHA and EPA, from diet and supplements) and blood pressure. According to the analysis, an optimal omega-3 intake (EPA + DHA) for both systolic and diastolic blood pressure was between 2-3 grams per day.
Among those whose baseline systolic blood pressure was 130 mm Hg or higher, stronger reductions in both systolic and diastolic blood pressure were seen in response to supplementation with EPA and DHA. There was a continued change with greater reductions in blood pressure as daily intake increased. Stronger effects were also seen among those starting with hyperlipidemia and those who were ages 45 years or older.

A study by Filipovic et al. compared the Omega-3 Index (which measures the status of EPA and DHA in the body) to blood pressure among 2036 healthy, young adults and found a significant inverse relationship, where those with the highest Omega-3 Index had the lowest blood pressure. The effect was seen with both systolic and diastolic measurements. Another study by Miller et al. found that omega-3s EPA+DHA to be as or more effective for lowering blood pressure than other lifestyle-related interventions, including increasing physical activity and restricting alcohol and sodium.
Lack of Sunshine Could Contribute to High Blood Pressure
Research suggests that avoidance or lack of sunshine may be a risk factor for increased blood pressure and death from heart attacks, with one study concluding that avoidance of sunshine resulted in a shorter life expectancy comparable to the shortened life expectancy of smokers! The paper, published by Lindqvist et al., summarized findings showing that, compared to those with the greatest amount of sun exposure, women with low sun exposure habits had a 41% higher risk of hypertension, and women with moderate sun exposure habits had a 15% higher risk (p<0.001).
Getting Enough of the Above to Support a Healthy Blood Pressure
Based on the findings presented above, measuring your levels of vitamin D, magnesium, and omega-3s may help determine if more of these nutrients might be needed to support a healthy blood pressure.

Create your custom home blood spot kit with the following measurements to help determine if you are getting enough of the following nutrients shown to benefit blood pressure:
Having and maintaining healthy vitamin D levels and other nutrient levels can help improve your health now and for your future. Enroll and test your levels today, learn what steps to take to improve your status of vitamin D (see below) and other nutrients and blood markers, and take action! By enrolling in the GrassrootsHealth projects, you are not only contributing valuable information to everyone, you are also gaining knowledge about how you could improve your own health through measuring and tracking your nutrient status, and educating yourself on how to improve it.
How Can You Use this Information for YOUR Health?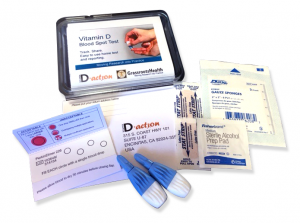 Having and maintaining healthy vitamin D and other nutrient levels can help improve your health now and for your future. Measuring is the only way to make sure you are getting enough!
STEP 1 Order your at-home blood spot test kit to measure vitamin D and other nutrients of concern to you, such as omega-3s, magnesium, essential and toxic elements (zinc, copper, selenium, lead, cadmium, mercury); include hsCRP as a marker of inflammation or HbA1c for blood sugar health
STEP 2 Answer the online questionnaire as part of the GrassrootsHealth study
STEP 3 Using our educational materials and tools (such as our dose calculators), assess your results to determine if you are in your desired target range or if actions should be taken to get there
STEP 4 After 3-6 months of implementing your changes, re-test to see if you have achieved your target level(s)