Published on April 13, 2022

Magnesium may help manage the effects of COVID-19 disease during and after infection through its antioxidant, anti-inflammatory and immune regulating actions
Key Points
Studies have demonstrated an association between low magnesium intake and levels and increased levels of inflammation and oxidative stress, as well as a higher incidence of diseases associated with chronic inflammation, such as diabetes, metabolic syndrome, cardiovascular disease, and now, COVID-19
Magnesium is essential for many of the enzymatic reactions within immune cells, and specifically, in the promotion and activation of T cells and naturally killer cells; deficiency of magnesium can inhibit the activation of these cells, increase inflammation and trigger a cytokine storm
Chronic magnesium deficiency may have severe consequences leading to cellular dysfunction and death, and a depletion of the master anti-oxidant glutathione (magnesium is essential to its production), whose roles include maintaining normal cellular oxidation-reduction, cell signaling, and maximizing the activity of other antioxidants, such as vitamin C; the end result is a higher risk of damage due to oxidative stress, chronic inflammation, and the diseases that are associated with both
---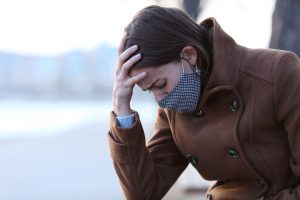 Magnesium may not be the first nutrient that comes to mind when thinking of antioxidant or anti-inflammatory nutrients, however, studies have demonstrated an association between low magnesium intake and levels, and increased levels of inflammation and oxidative stress. Low magnesium is also associated with a higher incidence of diseases associated with chronic inflammation, such as diabetes, metabolic syndrome, and cardiovascular disease.
Several studies have now demonstrated a correlation between magnesium levels and COVID-19 disease outcomes, with magnesium deficiency being more frequently found among those with COVID-19 and associated with a higher risk of COVID-19 mortality. A review by Arancibia‐Hernández et al. proposes how magnesium supplementation and the avoidance of magnesium deficiency could be another effective therapy for COVID-19 and post-COVID disease.
Magnesium Deficiency Contributes to Increased Inflammation and Oxidative Stress
Infection with the SARS-CoV-2 virus induces a pronounced inflammatory response within the body, with key characteristics of COVID-19 disease being high levels of inflammation and oxidative stress. An adequate T cell response is then initiated to regulate the inflammation (making sure it is not over-activated) and control the infection. When T cell activity is suppressed or impaired, it can lead to an increased burden on other immune cells and an exacerbated inflammatory response, often seen as the cytokine storm. This results in the production of reactive oxygen species which leads to oxidative stress, and if left unchecked, this is what causes damage to the proteins, lipids, DNA and organ tissues that can result in death.
Certain antioxidant and anti-inflammatory responses that are necessary in order to prevent damage caused by inflammation and oxidative stress are known to be down-regulated during COVID-19, and this is hypothesized to be a principle cause of multiple organ failure due to the disease.
Magnesium is essential for many of the enzymatic reactions within the cells, including those involved in the immune response, and specifically, in the promotion and activation of T cells and naturally killer cells. On the other hand, deficiency of magnesium can inhibit the activation of these cells, increase inflammation and trigger a cytokine storm, as illustrated in the diagram below.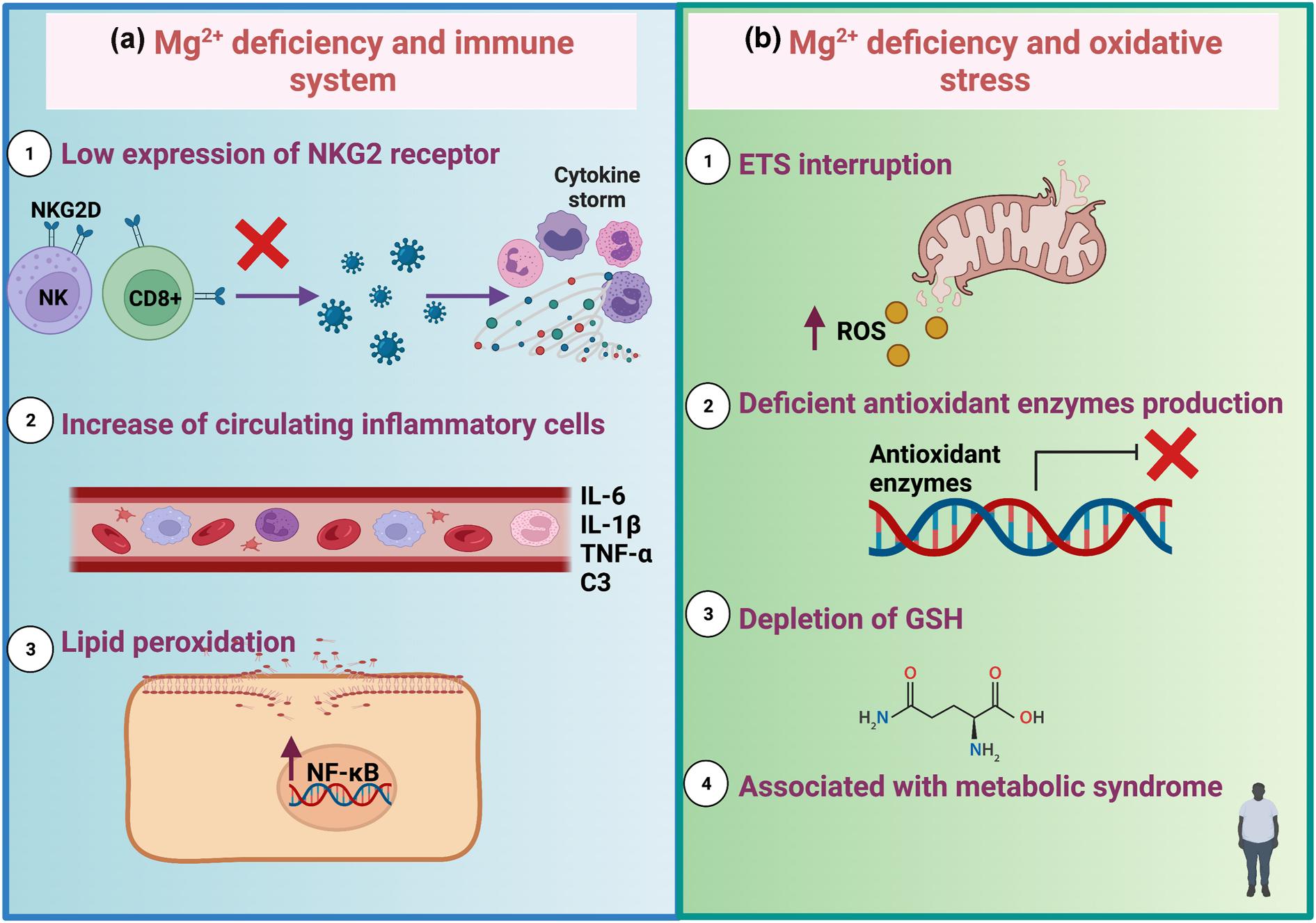 Magnesium deficiency has been linked directly to an increase in oxidative stress, as illustrated on the right side of the diagram. Chronic deficiency may have severe consequences leading to cellular dysfunction and death, and a depletion of the master anti-oxidant glutathione (GSH; magnesium is essential to the production of GSH), whose roles include maintaining normal cellular oxidation-reduction, cell signaling, and maximizing the activity of other antioxidants, such as vitamin C. The end result is a higher risk of damage due to oxidative stress, chronic inflammation, and the diseases that are associated with both, including COVID-19 and those that increase risk of severity and death due to COVID-19.
How Can You Avoid Magnesium Deficiency
Increasing magnesium intake through the diet can help increase magnesium levels in the blood and eliminate the risk of diseases caused by magnesium deficiency. Magnesium supplements are effective at raising magnesium levels, as are foods that are high in magnesium, such as nuts and seeds (especially pumpkin, chia, sesame seeds, and brazil nuts), legumes (such as black beans and soy nuts), whole grain cereals, some leafy greens and vegetables, and dark chocolate.
Checking magnesium levels is one way to make sure you are getting enough magnesium. GrassrootsHealth offers an easy way to measure magnesium status at home using the whole blood magnesium test. This test measures the amount of magnesium in your blood cells as well as the plasma/serum, which is a better indicator of magnesium status than the serum magnesium test offered by most doctor's offices and hospitals.
Magnesium Intake Can Alter the Effects of Vitamin D on Disease Risk and Outcomes
Magnesium is an important co-nutrient for vitamin D, and is involved in the biosynthesis, transport, and activation of vitamin D. An existing magnesium deficiency may result in a vitamin D level that does not increase as much as expected in response to vitamin D supplementation. Magnesium and vitamin D work together synergistically to affect disease risk and outcomes as well, in such a way that the interaction of both is greater than the sum of their individual effects.  Studies looking at the combined effect of vitamin D and magnesium have had outcomes such as improved ADHD symptoms, reduced severity of COVID-19, reduced risk of anemia, and improved cognition.
Make Sure You Are Getting Enough of Both Vitamin D, and Magnesium!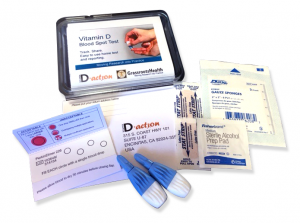 Having and maintaining healthy vitamin D levels and other nutrient levels can help improve your health now and for your future. Choose which additional nutrients to measure, such as your omega-3s and essential minerals including magnesium and zinc, by creating your custom home test kit today. Take steps to improve the status of each of these measurements to benefit your overall health. With measurement you can then determine how much is needed and steps to achieve your goals.  You can also track your own intakes, symptoms and results to see what works best for YOU.
Enroll in D*action and Test Your Levels Today!
How Can You Use this Information for YOUR Health?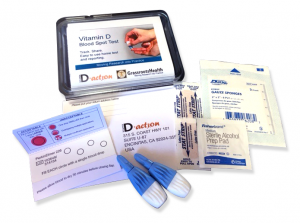 Having and maintaining healthy vitamin D and other nutrient levels can help improve your health now and for your future. Measuring is the only way to make sure you are getting enough!
STEP 1 Order your at-home blood spot test kit to measure vitamin D and other nutrients of concern to you, such as omega-3s, magnesium, essential and toxic elements (zinc, copper, selenium, lead, cadmium, mercury); include hsCRP as a marker of inflammation or HbA1c for blood sugar health
STEP 2 Answer the online questionnaire as part of the GrassrootsHealth study
STEP 3 Using our educational materials and tools (such as our dose calculators), assess your results to determine if you are in your desired target range or if actions should be taken to get there
STEP 4 After 3-6 months of implementing your changes, re-test to see if you have achieved your target level(s)