Published on November 21, 2022

Plus: Could low vitamin D be a cause of early death?  This study suggests it is…
Make sure you and your loved ones are getting enough vitamin D and other important nutrients – measure your levels before the start of winter!
GET 10% OFF ALL NOVEMBER WHEN USING THE CODE

DMonth22
Hurry! Offer valid now through November 30th, 2022*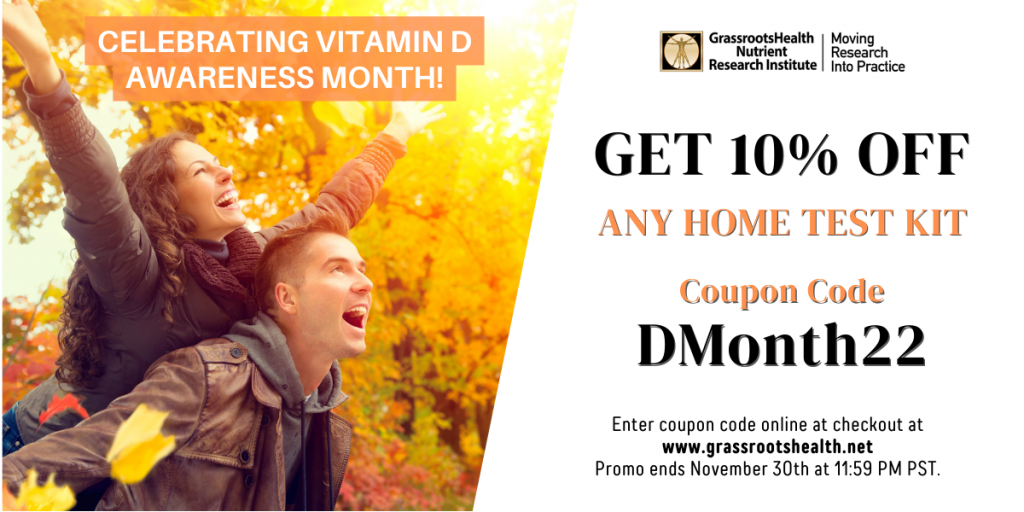 ---
Could Low Vitamin D be a Cause of Early Death? This study suggests it is…
Evaluating data from 307,601 participants, a study by Sutherland et al. aimed to determine the possibility of low vitamin D status playing a causal role in mortality risk. Looking at actual vitamin D level, genetically predicted vitamin D levels, and all-cause and cause-specific mortality (including cardiovascular disease, cancer, and respiratory disease), the authors found a significantly increased risk of death from all causes among those with lower vitamin D levels, and supported a causal relationship between vitamin D deficiency and mortality.
"The human genome contains at least 13,000 known receptor-binding sites for vitamin D, and most tissues and cell types are responsive to 1,25-(OH)2D3 (the active vitamin D hormone), suggesting universal action."
---
Something This Safe and Inexpensive Can Truly Help Prevent Disease!
ARE YOU GETTING ENOUGH? Measure Today!
Build your custom kit by adding your choice of the options above, or choose from our top selling test combinations:
| Vitamin D Test | Vitamin D & Omega-3 Index | Immune Boost Panel |
| --- | --- | --- |
| | | |
| | | |
Take Action NOW, and Get 10% OFF your at-home test with the coupon code DMonth22
There's nothing easier to getting your discount:
Go to our store by clicking on the following link: https://daction.grassrootshealth.net/tests/
Select the Tests you would like to get. We highly recommend the Custom Test Kit Bundle here.
Go to your cart, and apply the coupon code DMonth22 in the Coupon Code field.
Click "Checkout" and finish the checkout and enrollment process.
Remember to complete your online questionnaire along with your test.
Make sure you and your loved ones know your vitamin D status and are taking action to maintain your target levels on a daily basis.
ENSURE HEALTHY NUTRIENT LEVELS BY TESTING TODAY
Having and maintaining healthy nutrient levels can help improve your health now and for your future. Choose which nutrients to measure with your vitamin D, such as your omega-3s and essential minerals including magnesium and zinc, by creating your custom home test kit today. Take steps to improve the status of each of these measurements to benefit your overall health. With measurement you can then determine how much is needed and steps to achieve your goals. You can also track your own intakes, symptoms and results to see what works best for YOU.
*Offer valid until November 30th, 2022 at 11.59PM PST. Valid on all at-home test kits from GrassrootsHealth except the new T1D Prevention Test Kit; enrollment included. 
How Can You Use this Information for YOUR Health?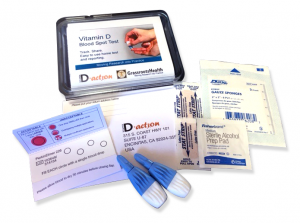 Having and maintaining healthy vitamin D and other nutrient levels can help improve your health now and for your future. Measuring is the only way to make sure you are getting enough!
STEP 1 Order your at-home blood spot test kit to measure vitamin D and other nutrients of concern to you, such as omega-3s, magnesium, essential and toxic elements (zinc, copper, selenium, lead, cadmium, mercury); include hsCRP as a marker of inflammation or HbA1c for blood sugar health
STEP 2 Answer the online questionnaire as part of the GrassrootsHealth study
STEP 3 Using our educational materials and tools (such as our dose calculators), assess your results to determine if you are in your desired target range or if actions should be taken to get there
STEP 4 After 3-6 months of implementing your changes, re-test to see if you have achieved your target level(s)