Published on November 14, 2023


Evidence of Type 3 Diabetes? 40-year-old adults with glucose levels at the higher end of the normal range have increased risk of Alzheimer's by 15%
Key Points
In what is usually considered to be the 'normal range' teenagers with HbA1c above 5.4% show cognitive decline and shrinkage of the hippocampus in the central area of the brain compared to those with lower HbA1c levels
A new study shows that 40-year-old adults with so-called normal glucose levels, but at the higher end of the normal range, have increased their risk of Alzheimer's by 15%
The featured video describes Alzheimer's Disease as a form of diabetes (type 3 diabetes), with the term referring to the association between diabetes, insulin resistance, and Alzheimer's Disease
A new review found the most influential risk factors for Alzheimer's Disease to be high consumption of red and processed meats and ultra-processed foods, and obesity; the most important mechanisms leading to the development of AD were inflammation and insulin resistance…
---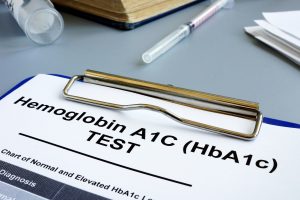 The link between diabetes and dementia is well known – those with diabetes have four times the risk of dementia.
Hemoglobin A1c (HbA1c) is a long-term measure of glucose bound to red blood cells (hemoglobin) and is used by doctors to diagnose diabetes and monitor its therapy. HbA1c is a measure of damage produced by sugar spikes on red blood cells; a HbA1c of 6.5% or greater is diagnostic of diabetes. But long before this, in what is usually considered to be the 'normal range' teenagers with HbA1c above 5.4% show cognitive decline and shrinkage of the hippocampus in the central area of the brain compared to those with lower HbA1c levels.
Shrinkage of the hippocampus is the hallmark of Alzheimer's and is used to diagnose the disease. A new study shows that 40-year-old adults with so-called normal glucose levels, but at the higher end of the normal range, have increased their risk of Alzheimer's by 15%.
Furthermore, "In teenagers with raised, but normal levels of HbA1c, there is clear evidence of the same kind of memory problems, and the same areas of brain shrinkage seen in patients with Alzheimer's Disease" says Robert Lustig, Emeritus Professor of Pediatrics at University of California, San Francisco.
"Keeping your HbA1c below 5.4% with a no-added sugar diet, and for some a low-carbohydrate diet, is one of the most direct ways you can protect your brain at any age." says Lustig.
Measure Your HbA1c as Part of the Cognitive Health Test Kit
"Insulin resistance, the direct consequence of too much glucose in the bloodstream, ends up leading to mitochondrial dysfunction, starving the brain of energy with consequent loss of concentration and memory." says nutritionist and psychologist Patrick Holford, CEO of the charity Food for the Brain.
Could Alzheimer's Disease Actually be Type 3 Diabetes?
The following video by "The Brain Docs" describes Alzheimer's Disease as a form of diabetes (type 3 diabetes), as the term clearly refers to the association between diabetes, insulin resistance, and AD. According to the video, "Type 3 diabetes occurs when neurons in the brain become unable to respond to insulin, which is essential for basic tasks, including memory and learning. Some researchers believe insulin deficiency is central to the cognitive decline of Alzheimer's disease." The authors of a paper reviewed below also discuss how insulin resistance and the dysregulation of insulin can contribute to neurodegeneration and the development of AD.
Both acknowledge that insulin resistance is just one of several mechanisms leading to AD; however, "If identified early enough and treated, the risk is reduced significantly."
Watch the Video
New Review Outlines the Relationship Between Diet and Alzheimer's Disease
Diet is an important risk factor in the development of Alzheimer's Disease (AD), as described in a publication by Dr. William Grant and Dr. Steven Blake titled Diet's Role in Modifying Risk of Alzheimer's Disease: History and Present Understanding. The paper reviews the evidence connecting diet to the risk of AD, the mechanisms leading to the development of AD, and how various foods can reduce the risk of AD. The authors found the most influential risk factors for AD to be high consumption of red and processed meats and ultra-processed foods, and obesity; the most important mechanisms leading to the development of AD were found to be inflammation and insulin resistance.
Other top modifiable factors associated with increased risk of AD include:
lack of cognitive activity
hyperhomocysteinemia
increased body mass index (BMI) in
late life
depression
stress
diabetes
head trauma
hypertension in midlife
orthostatic hypotension
and education
Check Your Blood Sugar Health by Measuring Your HbA1c Level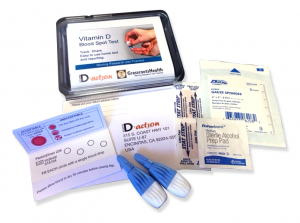 Create your custom home test kit to measure your levels at home as part of the D*action project!
With your kit you can measure your:
Vitamin D
Magnesium PLUS Essential and Toxic Elements
Omega-3 Fatty Acids
hsCRP
HbA1c
TSH
Type 1 Diabetes Autoantibodies
Did you know that each of the above can be measured at home using a simple blood spot test? As part of our ongoing research project, you can order your home blood spot test kit to get your levels, followed by education and steps to take to help you reach your optimal target levels. Start by enrolling and ordering your kit to measure each of the above important markers, and make sure you are getting enough of each to support better mood and wellbeing!
Create your custom home test kit today. Take steps to improve the status of each of these measurements to benefit your overall health. With measurement you can then determine how much is needed and steps to achieve your goals.  You can also track your own intakes, symptoms and results to see what works best for YOU.
How Can You Use this Information for YOUR Health?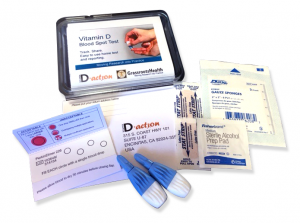 Having and maintaining healthy vitamin D and other nutrient levels can help improve your health now and for your future. Measuring is the only way to make sure you are getting enough!
STEP 1 Order your at-home blood spot test kit to measure vitamin D and other nutrients of concern to you, such as omega-3s, magnesium, essential and toxic elements (zinc, copper, selenium, lead, cadmium, mercury); include hsCRP as a marker of inflammation or HbA1c for blood sugar health
STEP 2 Answer the online questionnaire as part of the GrassrootsHealth study
STEP 3 Using our educational materials and tools (such as our dose calculators), assess your results to determine if you are in your desired target range or if actions should be taken to get there
STEP 4 After 3-6 months of implementing your changes, re-test to see if you have achieved your target level(s)