Published on November 3, 2021


The new Guess Your D Challenge with 4 and 10 pack special offers… help yourself and those you love get on top of their vitamin D to avoid deficiency this winter
Key Points
World Vitamin D Day is each year on November 2, with the message to STOP vitamin D deficiency and make sure you and your loved ones are not deficient
Checking vitamin D levels is especially important as we head into the winter months, when the risk of vitamin D deficiency is highest
GrassrootsHealth has launched the Guess Your D Challenge to help you share the importance of vitamin D and the steps to take to avoid deficiency, especially testing your levels.  Also now available are additional savings with the new family bundle packs.
Learn what inspires others to make healthy choices and continue to live healthy, with results from a recent survey
---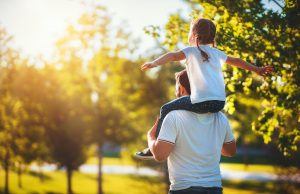 Yesterday was World Vitamin D Day, a day to focus on one clear message – to STOP Vitamin D Deficiency, and to make sure you and your loved ones are not vitamin D deficient.
We are approaching the winter months, a time when everyone's vitamin D levels tend to fall and get to their lowest point of the year, when the risk of vitamin D deficiency is at its greatest. By checking levels before winter you can ensure a good starting point for your vitamin D level, and if you know you've been getting some of your vitamin D from sunshine which will no longer be available to you, you can make adjustments now to ensure that source of vitamin D is replaced with supplements and/or indoor UV options to help keep your vitamin D levels up.
Bundle Up and Save
To make testing the whole family more affordable, and to encourage the participation of large groups, we are now offering testing and enrollment bundles – save 5% on a pack of 4 vitamin D test kits/enrollment, and save 10% on 10! Remember, all tests include participation as a citizen scientist in the vitamin D*action project.
Save Now for You AND Your Loved Ones
A FUN Way to Help STOP Vitamin D Deficiency
To help everyone take a step beyond simply sharing the vitamin D message, to STOP vitamin D deficiency for themselves and their loved ones, we have created a Guess Your D Challenge! Taking these steps will help everyone
Learn about their vitamin D level and how they are responding to their current vitamin D supplement and/or sunshine routine
Discover if they are at the level they were expecting to be at, and importantly, reasons why they may be missing their target level with the steps to take to get there
Teach others of the unique way everyone responds to vitamin D supplements, the importance of testing vitamin D levels, and understanding what it takes THEM to reach their target and avoid deficiency
Taking the challenge and sharing your story and results is an easy, personalized way to help others understand more about what they need to do to avoid vitamin D deficiency. Plus, it's an easy way to share general information about why vitamin D is so important to having a healthier life!
Learn More about the Vitamin D Challenge
What Inspires Others to be Healthy? Here is what some of our participants had to say about what inspires them.
Sometimes, it takes a little inspiration to make a change, to take a step in a new direction and commit to it. We realize that vitamin D is still a fairly new or unfamiliar topic for many, which may prevent some from taking the necessary steps to test and achieve a target level. We recently sent out a survey to see what helped inspire others to make healthy choices, and how making vitamin D a priority has helped them get or stay healthy. See what they had to share below… how could what they shared help inspire you and/or others as well?
Here are some of the responses we received – thank you to everyone who answered our survey!
Maintaining a High Quality of Life!
I want to live the highest quality of life that I can at my age of almost 76 years old. I am a substitute teacher and working with children motivates me to be the best I can be and that starts with my health. I'm also a retired nurse and I know the value of your D levels needing to be monitored and maintained at an optimum level.
Improving Health Conditions and Getting Off Medications
The first 30 years of my life were filled with illness, doctor's visits, and prescription drugs. Then, a co-worker shared with me what he had learned about vitamins and that inspired me to make changes. I went to the library (before the worldwide web came along) and read everything that I could about vitamins, minerals, and nutrition. That led me to try various vitamins, supplements, and make diet and lifestyle changes, all of which I had read about for helping my health conditions. Before long, I was much healthier than I had ever been and was able to stop all the prescription drugs, even though my doctors told me that I was wasting my money on vitamins and would only have "expensive urine." Based on my now 30+ years of studying natural health, last year I became a Certified Health Coach in order to help as many people as possible make changes so THEY can reach the Optimal Wellness that I have!
GrassrootsHealth has given me more information and facts about vitamin D and omega-3 fish oils than I could ever have found on my own! I've been sharing what I've learned with my friends and family for years and some have told me that they seem to have become more knowledgeable than their doctors about vitamin D — their doctors still tell them that a D3 blood level of 30 ng/ml is "fine" or they tell them to stop taking D3 if the level goes over 50, so I've recommended that they share some GrassrootsHealth data with their doctors.
Keeping Active and Reliable
Knowing measurable blood levels of nutrients and observing heart rate recovery scores following a consistent biking program is a great motivator. For me, it's accountability by improving numbers. Knowing, too, that others depend on me to remain active to help them with chores, errands, helping at church with cleaning, driving (a road trip through North America in 2019 with a slightly older, health compromised friend) is also a motivator. Seeing friends' health improve as their diet improves. Having active older friends like a cycling friend who ushered me, age 78, across the PEI Tip to Tip Confederation bike trail in 2020 (273 km and more).
Remaining Healthy and Independent
I have been a heavy exerciser since I was 22 years old – I am now 78 and I still do high intensive exercises with weights and power walking with weights on my ankles and wrists. From the time I was a young mother with two beautiful daughters I always said to them: "I want to walk into old age – not be rolled in" (as in a wheel chair). In my 30s I ran 6-9 miles a day up and down the hills of Camarillo, CA; never sustained an injury; built muscles and ate only organic foods (I still do). As a Registered Nurse I watched many people age poorly or sicken and die from devastating, debilitating diseases. I promised myself and my family I would do everything within my power to remain healthy and independent so they would not end up caring for me. I take many nutritional supplements but Vitamin D is a regular daily addition to the natural sunlight I get from being outside.
Healthy = Happy and Able to Fully Enjoy Life and Loved Ones
Health is number one on my list! Without good health life would be miserable, you won't be happy and able to fully enjoy life and time spent with the loved ones and family. I take good care of my health, eat only organic food (as long as the budget allows), and cook from scratch (we don't like to go to eat at restaurants). When I cook I know what's in it! I exercise regularly, meditate, doing yoga and Qigong. Why? Because I want to see my grandchildren graduate and get married. If you don't have good health you can't enjoy your life. I take only good quality brand supplements, including vitamin D3+K2! And it is working, me and my husband are not sick, won't get the flu or cold! The more you are healthy, the less time you spend in the doctor's office!
Feeling Young and Healthy, Boosting the Immune System
These past 2 years of the pandemic, knowing that certain natural remedies like vitamins D and C and zinc and other healthful ways of building your immunity up for me and my wife has helped us to stay healthy. Even when we have gotten the flu, colds, covid-19 and have asthma, we only felt tired, no fever and no worsening of asthma. I have been using an inhaler for many years and since taking 5000 IU vitamin D I haven't had problems with asthma for over 2 years now. I am 74 years young, so to me natural way is the only way for me and my wife of 66 years young. GrassrootsHealth helped through the information on their website and facts on D; by using what you say and trying it out and seeing for myself it does work!!!
Health is the Most Important Attribute for an Enjoyable Life
I wrote a paper for high-school English class that explained why health is the most important attribute for an enjoyable life. From that time 60 years ago, I focused on healthy habits and healthy eating. And I always looked forward to celebrating a 100th birthday!
Keep Healthy, Quickly Recover from Sickness
I have always been aware and concerned about my health. Since a young girl I took vitamins, ate healthy food that my mom cooked (she was a great cook!). I also am a good cook and use all the natural, holistic and organic products in my cooking. I have taken Vitamin D now for many years and my level is 69. I am a firm believer in natural products to protect your immune system. Throughout the years I have had some medical problems, all solved easily… I am now 85 years old.
Avoiding Major Health Issues and Extending a Healthy Life
I'm 70yrs old, and have had some major health issues. If I can improve any area that might be better for me then I'll give it a shot. No sense in hurrying the end along.
Avoiding the Need for Prescription Drugs
I LOVE not having to take any prescription medications at all, and especially to not have to pay for any!! My husband loves doing the same.
To Feel Fit and Energized
I'm inspired by feeling fit and energized. Since starting a regular weight, cardio, and walking routine, my strength and balance have improved noticeably. Feeling better encourages me to keep up good habits. About 4 years ago my husband and I started eating a diet based on greens, berries, beans, mushrooms, nuts and seeds (Nutritarian) with about 10% of calories/day from animal sources. This has been very beneficial in that I feel nutritionally supported with just the diet, a daily D supplement and B12. It has also made the addictive, salt, sugar, oil and white flour foods, far more obvious in the standard American diet. I am also a part of the GrassrootsHealth women's cancer study, so have had my D levels test 2X/year, which is valuable information for me that I can't really access from a local clinic when I'm in good health.
To Stay Looking and Feeling Young and Healthy
I feel young. I am 78 years young. Every time someone mentions that I look much younger, it motivates me to keep up healthy habits. I maintain a weight of about 122, do bodyweight exercises 3 times a week, walk 2 miles 3 times a week, and eat food based on Good Food based on the Mediterranean diet. I take minimal supplements, basing my health on eating at least 6 servings of fruits and vegetables daily, with only necessary supplements of vitamin C, and vitamin D3. I sunbathe when it is warm and sunny, take vitamin D supplements, and use a sun lamp when it is winter. I get a positive motivational message daily on my computer, maintain a calendar that includes reminders to lead a balanced life, read, belong to 2 book clubs, belong to 2 ZOOM meeting groups, and invite someone to come visit me about every 2 weeks, keep in contact with family by phone. It is important that I maintain a healthy body. All the information from GrassrootsHealth helps, supports, and motivates me to stay young and healthy.
Enhance and Maintain Health and Strength
Reading that there are people in their 80s with strong muscles is one thing which has inspired me to enhance and maintain my health. "Use it or lose it" is spot on. At 57 years of age I walk upstairs three at a time, hoping that I can get to 70 before having to reduce to two at a time… My first change to my diet came when I was about 16 and there were adverts on TV about fibre-rich foods as well as articles about colon cancer and colostomy bags, the potential embarrassment of such a scenario prompting me into immediate action. From Dr. Mercola's website I was introduced to GrassrootsHealth. Having first got my father on vitamin D, I used his result and a chart on the GrassrootsHealth website to estimate how much he would need to take to attain a level of 60 ng/ml. Having taken 10,000 IU (250 mcg) of vitamin D myself for the best part of 10 years I have yet to register a common cold in this period.
Responsibility to My Health and the Health of Family
Growing up I was always pleasingly plump. I come from a farming background both as a child and my married life. The day I turned 20 I got married, still 5-6 pounds heavier than I wanted to be. That winter I lived on love, coffee with cream and sugar, and yes, I did lose those 5 pounds. By spring I was hospitalized with malnutrition. Being told that was like getting hit by a freight train.
It was time for immediate action. Really, suffering from malnutrition in the 1970's in Canada!!! I studied nutrition, lifestyles and made myself a promise. "Never would this ever happen again to me and it was my job as a wife and eventually a mother to keep my family healthy".
My plan was to eat healthy, wholesome foods and keep fit. I simply cut sugar and would go outdoors everyday either for work or play. We were a healthy family. At 60 years old I got hypothyroidism but my weight did not change. Around 2010 I heard about GrassrootsHealth and was curious if my efforts were yielding positive results. So I joined and was thrilled that my efforts had paid off. Now after being married 51 years, having had 2 daughters I am still healthy and at my ideal weight.
Simple changes yielded huge positive results for me. GrassrootsHealth re-enforced what I was doing was keeping me healthy. I did get my elements checked and was in the zones I should be.
Could Maintaining a Higher Vitamin D Level Help Extend Your Life?
Yes!  Several studies have demonstrated the prognostic significance of vitamin D, in this case, on the risk of death over time.  Don't let it get too late to take steps for correcting or avoiding vitamin D deficiency. Measuring your vitamin D level and calculating a supplementation amount to help reach and maintain a target level, or taking loading doses to correct deficiency faster, could possibly make all the difference in how a current disease situation progresses. Test your level now!
Vitamin D is an Easily Modifiable Factor to Help Improve Disease Outcomes – Make Sure You Are Getting Enough, Especially in the Upcoming Seasons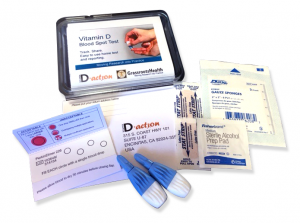 Having and maintaining healthy vitamin D levels and other nutrient levels can help improve your health now and for your future. Choose which to measure, such as your vitamin D, omega-3s, and essential minerals including magnesium and zinc, by creating your custom home test kit today. Take steps to improve the status of each of these measurements to benefit your overall health. You can also track your own intakes, symptoms and results to see what works best for YOU.
Enroll and test your levels today, learn what steps to take to improve your status of vitamin D (see below) and other nutrients and blood markers, and take action! By enrolling in the GrassrootsHealth projects, you are not only contributing valuable information to everyone, you are also gaining knowledge about how you could improve your own health through measuring and tracking your nutrient status, and educating yourself on how to improve it.
How Can You Use this Information for YOUR Health?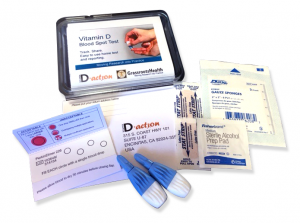 Having and maintaining healthy vitamin D and other nutrient levels can help improve your health now and for your future. Measuring is the only way to make sure you are getting enough!
STEP 1 Order your at-home blood spot test kit to measure vitamin D and other nutrients of concern to you, such as omega-3s, magnesium, essential and toxic elements (zinc, copper, selenium, lead, cadmium, mercury); include hsCRP as a marker of inflammation or HbA1c for blood sugar health
STEP 2 Answer the online questionnaire as part of the GrassrootsHealth study
STEP 3 Using our educational materials and tools (such as our dose calculators), assess your results to determine if you are in your desired target range or if actions should be taken to get there
STEP 4 After 3-6 months of implementing your changes, re-test to see if you have achieved your target level(s)