Published on January 4, 2023

You've got your result, but now what? Use this information to help guide you through your next steps to achieving and maintaining your target vitamin D level.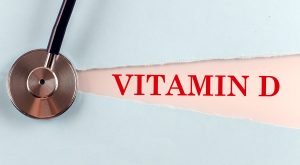 In our previous post, we focused on the importance of testing to measure where you are NOW. Without the knowledge of where you are, it is impossible to know what steps need to be taken to get where you want to be.
Once you know your starting point you can research what to do and what target(s) to aim for. What habits will raise or lower your specific nutrient levels? What can you do to help reduce inflammation? For those who are within their target range at the first test — great, continue what you are doing! Others will need to take steps to get closer to their target. How do you determine what these steps are?
This post focuses specifically on what to do after you have received your vitamin D test results by addressing some of the most common questions we receive from our D*action participants.
I've Got My Vitamin D Result… Now What?
---
How much vitamin D should you take, based on your vitamin D result? This blog describes how to use the new vitamin D*calculator to help you determine a supplement amount that is right for you.
NEW Loading Dose Vitamin D*Calculator!
---
Did you reach your target? What vitamin D level should you aim for? Different health concerns benefit from different target levels; read this blog to learn more about differing optimal levels of vitamin D for the prevention of several diseases known as major causes of death.
Optimal Vitamin D Levels Differ for Specific Outcomes
---
Why is your level different from someone else who is taking the same dose? One of the most important things to understand with vitamin D, and why measurement and re-testing is so important, is the variability in individual dose-response. This blog describes several key factors that can influence how your vitamin D level responds to intake, and why it is different for everyone.
Why the Same Vitamin D Dose Does Not Work for Everyone
---
How long should you wait to re-test your level to see if you're taking enough? This blog answers questions such as "How long will it take to see a change in my vitamin D level?" and "How often should I take my supplement?" along with differences in expectations when taking daily versus bolus doses.
How to Time Your Vitamin D Testing with Changes in Supplementation
---
Did your vitamin D result come back lower than expected with no change in your supplement dose? Here are some possible reasons why and questions to ask if it happened to you.
What Could Cause a Lower Vitamin D Result than Expected?
---
Did your level come back higher than you expected? What is "too high" and how can you effectively lower your vitamin D level when needed? This blog also addresses the topic of vitamin D toxicity.
Is Your Vitamin D Level Higher than You Want it to be?
---
More on vitamin D toxicity… These blogs contains additional information about higher levels of vitamin D, vitamin D toxicity, and if/when to be concerned.
Concerned about vitamin D toxicity?
Can You Benefit from Having Vitamin D Levels Over 60 ng/ml? 100 ng/ml?
---
Interested in utilizing sun exposure to help increase your vitamin D level? Depending on the circumstances, the body naturally produces enough vitamin D from sunshine to reach levels of 40-60 ng/ml (100-150 nmol/L) – how can you utilize the sun for vitamin D production?
Can You Make Enough Vitamin D from Sunshine Alone
---
Remember Why Re-Testing is Vital
Supplementation does not always provide the expected change in vitamin D level. For example, an analysis of 5,442 GrassrootsHealth participants who completed at least two vitamin D tests showed that two-thirds (67%) reached a vitamin D level of at least 40 ng/ml on their second test – leaving 1/3 of those who re-tested still below the 40 ng/ml target level. It is vital to TEST, ADJUST, RE-TEST and REPEAT to make sure that the daily dose or vitamin D routine is effective at achieving and maintaining the desired target vitamin D level.
Know Your Levels of Vitamin D & Other Important Health Markers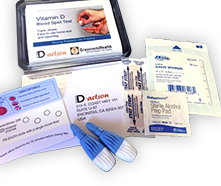 Having and maintaining healthy omega-3 and vitamin D levels can help improve your health now and for your future. Choose which markers to measure along with vitamin D, such as your omega-3s and essential minerals including magnesium and zinc, by creating your custom home test kit today. Take steps to improve the status of each of these measurements to benefit your overall health. You can also track your own intakes, symptoms and results to see what works best for YOU.
Enroll and test your levels today, learn what steps to take to improve your status of vitamin D (see below) and other nutrients and blood markers, and take action! By enrolling in the GrassrootsHealth projects, you are not only contributing valuable information to everyone, you are also gaining knowledge about how you could improve your own health through measuring and tracking your nutrient status, and educating yourself on how to improve it.
How Can You Use this Information for YOUR Health?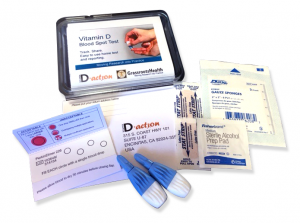 Having and maintaining healthy vitamin D and other nutrient levels can help improve your health now and for your future. Measuring is the only way to make sure you are getting enough!
STEP 1 Order your at-home blood spot test kit to measure vitamin D and other nutrients of concern to you, such as omega-3s, magnesium, essential and toxic elements (zinc, copper, selenium, lead, cadmium, mercury); include hsCRP as a marker of inflammation or HbA1c for blood sugar health
STEP 2 Answer the online questionnaire as part of the GrassrootsHealth study
STEP 3 Using our educational materials and tools (such as our dose calculators), assess your results to determine if you are in your desired target range or if actions should be taken to get there
STEP 4 After 3-6 months of implementing your changes, re-test to see if you have achieved your target level(s)