Published on December 7, 2022


A must see video with Dr. Bruce Hollis! Learn how and when targeting higher levels of vitamin D could be of benefit to certain health conditions, plus get answers to many other vitamin D questions.
Key Points
An anti inflammatory regime that includes raising vitamin D levels up to at least 80-100 ng/ml has shown promise for cluster headache sufferers, working for over 80% of followers after only days or weeks
Vitamin D recommendations by government or medical officials tends to only be aimed at addressing bone health; a target of 40-60 ng/ml (100-150 nmol/L) is the recommended vitamin D level for individuals with "normal physiology," however, those with pathology may have good reason to aim even higher
Watch the video below for more details and other crucial information about vitamin D and how to use it safely and effectively
---
Could there be a time or situation when the body needs more vitamin D, and how much more might be needed?
Is having a vitamin D level above 60 ng/ml (150 nmol/L) or even 100 ng/ml (250 nmol/L) dangerous – or could it be life-changing?
Is it more important to look at daily intake, resulting serum levels, or both?
When is toxicity a concern, and how can it be avoided?
And, what is this talk about free versus bound vitamin D, and does it matter?
These are just a few of the many questions answered in the video titled "GODFATHER OF VITAMIN D RESEARCH – Professor Bruce Hollis – Optimal Health & Treating Pathology!," which is brought to you by Craig Stewart, a former cluster headache sufferer, and Dr. Bruce Hollis, a 50 year vitamin D research veteran and GrassrootsHealth scientists' panel member.
Are Vitamin D Levels Above 60 ng/ml Dangerous, or Potentially Helpful? What about Above 100 ng/ml?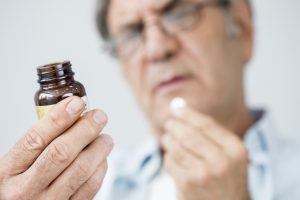 According to Dr. Hollis, a vitamin D [as 25(OH)D] level of 40-60 ng/ml (100-150 nmol/L) is the recommended vitamin D level for "normal physiology" – or individuals who are not in a disease state. This is also the agreed upon target level by the GrassrootsHealth panel of 48 international vitamin D scientists.
Some experts believe that levels between 60-100 ng/ml could also be a healthy target for those with normal physiology, such as when cancer prevention is a concern. In fact, the vitamin D reference range for many labs extends up to 100 ng/ml.
However, higher vitamin D levels may need to be maintained for those who experience certain pathologies, such as cancer, autoimmune disease, and other chronic diseases. This concept has been successfully put into practice by doctors such as Dr. Cicero Coimbra and Dr. Renu Mahtani, both of whom specialize in the treatment and management of autoimmune diseases including multiple sclerosis and psoriasis.
NOTE: Using high dose vitamin D as a treatment for disease is an option that can be considered and monitored along with the help of a qualified health care provider.
What Have we Observed in the GrassrootsHealth Cohort?
The GrassrootsHealth cohort contains the world's largest population of individuals with vitamin D levels above 40 ng/ml. In fact, a 2021 analysis of GrassrootsHealth data showed that the average vitamin D level among participants who tested in 2021 (as of the beginning of December) was 61 ng/ml (152 nmol/L), with 44% of participants having a vitamin D level above 60 ng/ml.
Another recent analysis showed that 189 participants in the GrassrootsHealth cohort have maintained a vitamin D level of 100 ng/ml or higher; these participants had at least 2 tests in the 100+ ng/ml range, with a median time of approximately two years between the first and most recent test result of 100 ng/ml or higher.
When Could Vitamin D Toxicity be a Concern?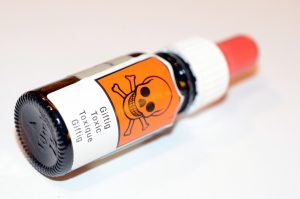 Vitamin D toxicity occurs when high vitamin D levels (typically, over 200 ng/ml) cause high calcium levels, called hypercalcemia. Symptoms of hypercalcemia include loss of appetite, feeling very thirsty, weight loss, constipation or diarrhea, abdominal pain, musculoskeletal pain, or feeling sick, confused, or tired.
According to a Mayo Clinic publication, "There is enough evidence that vitamin D toxicity is one of the rarest medical conditions and is typically due to intentional or inadvertent intake of extremely high doses of vitamin D (usually in the range of >50,000 – 100,000 IU/day for months to years) without monitoring for hypercalcemia." In fact, a meta-analysis of 15 clinical trials found no toxicity below a vitamin D level of 200 ng/ml (500 nmol/L) or below a vitamin D intake of 30,000 IU/day.
Watch the Video to Learn More About the Potential Benefits of Maintaining a Higher Vitamin D Level
Below is an outline with timestamps of the interview between Craig and Dr. Hollis as they explore a number of topics relating to the "Vitamin D Anti Inflammatory Regimen" that many have been following to successfully manage their cluster headaches. As stated by Craig, "It is my hope sufferers will watch this and realize it is a safe and effective treatment option and everyone realizes the importance of maintaining physiological levels of Vitamin D."
This video is definitely worth the watch! Be sure to make note of the links in the video summary as well.
00:00:00 Podcast Introduction & Disclaimer
00:01:00 Introduction Professor Bruce Hollis
00:01:50 Medical Disclaimer
00:02:45 Background – Cluster Headache
00:03:30 What is a Cluster Headache attack look like?
00:04:47 Vitamin D Anti Inflammatory Regimen for Cluster & Migraine Headache
00:08:05 Non-response to Vitamin D
00:08:43 Fall from Cluster Headache Remission
00:10:09 Goals & Outcomes
00:11:16 Dr. Hollis first impressions – am I crazy?
00:13:45 New Zealand Vitamin D Recommendations
00:18:18 Vitamin D Serum Level vs Intake
00:21:11 Testing for Vitamin D – is it necessary?
00:23:02 Vitamin D 25(OH)D & Dose Response
00:24:32 Resistance to Supplementation of Vitamin D
00:26:08 Calculating the Correct Vitamin D3 Dose
00:27:48 Vitamin D Cofactors – Magnesium
00:29:52 Approach to Vitamin D – Optimal Health vs Treating Pathology
00:31:30 Vitamin D, Parathyroid Hormone, Blood Calcium – The Classical Pathway
00:35:55 Allergens – Pollen, Mold, Fungi, Spores – Insults to the Immune System
00:36:32 Vitamin D, Parathyroid Hormone, Blood Calcium – Assay Test Results / Labs
00:41:04 The Optimal Vitamin D Dose for General Health and Wellness
00:42:25 Raising vs Maintaining 25(OH)D levels – Same Dose?
00:44:13 Cholecalciferol – Vitamin D
00:49:52 25(OH)D Usage Rates / Burn Down Rates
00:53:59 Vitamin D & Burn Recovery – a personal tale
00:56:23 Completely Resolving Psoriasis w/ High Dose Vitamin D3 – AMAZING
01:01:18 Vitamin D is CHEAP to produce!
01:01:55 Autocrine Signalling Effects of Vitamin D
01:11:56 Vitamin D & the Human Brain
01:13:17 Vitamin D & the Blood Brain Barrier
01:14:49 Vitamin D Binding Protein – VDBP
01:20:36 Genetic Expression, Translation – VDRE, RXR, HRE
01:23:44 The Retinoid X Receptor
01:25:31 Sun Response Genes – Vitamin D Response Elements
01:28:32 Vitamin D Dose vs Gene Expression
01:30:58 Seasonal Vitamin D 25(OH)D Level Variation
01:33:49 Philosophical & Free Conversation
Could Your Vitamin D Level be Affecting Your Health?
Having and maintaining healthy vitamin D and other nutrient levels can help improve your health now and for your future. Choose which markers to measure, such as your vitamin D, omega-3s, and essential minerals including magnesium and zinc, by creating your custom home test kit today. Take steps to improve the status of each of these measurements to benefit your overall health. You can also track your own intakes, symptoms and results to see what works best for YOU.
Enroll and test your levels today, learn what steps to take to improve your status of vitamin D (see below) and other nutrients and blood markers, and take action! By enrolling in the GrassrootsHealth projects, you are not only contributing valuable information to everyone, you are also gaining knowledge about how you could improve your own health through measuring and tracking your nutrient status, and educating yourself on how to improve it.
How Can You Use this Information for YOUR Health?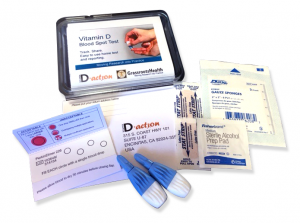 Having and maintaining healthy vitamin D and other nutrient levels can help improve your health now and for your future. Measuring is the only way to make sure you are getting enough!
STEP 1 Order your at-home blood spot test kit to measure vitamin D and other nutrients of concern to you, such as omega-3s, magnesium, essential and toxic elements (zinc, copper, selenium, lead, cadmium, mercury); include hsCRP as a marker of inflammation or HbA1c for blood sugar health
STEP 2 Answer the online questionnaire as part of the GrassrootsHealth study
STEP 3 Using our educational materials and tools (such as our dose calculators), assess your results to determine if you are in your desired target range or if actions should be taken to get there
STEP 4 After 3-6 months of implementing your changes, re-test to see if you have achieved your target level(s)