Published on June 26, 2019
We are saddened to learn of the passing of Distinguished Professor of Biochemistry and Biomedical Sciences Emeritus Anthony Norman, Ph.D. He passed away on June 14 at the age of 81.
From Carole Baggerly, GrassrootsHealth Director/Founder: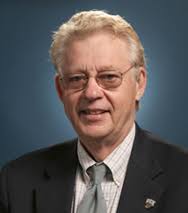 Dr. Norman was responsible for helping to start GrassrootsHealth in 2007. When I saw Dr. Garland's paper showing a 50% reduction in the incidence of breast cancer, I was anxious to meet him to learn more–my calls to UCSD indicated that he was out and wouldn't be available for a few weeks. (That was in March/April.) I quickly looked online to see what other researchers might be close by, and, saw Dr. Norman's name at UC Riverside! Lo and behold, my son-in-law, Ross French, was on the staff there. I quickly contacted him to see if he knew Dr. Norman and he said 'yes, we're on a selection team for a new coach.' I asked for an introduction which Ross did, but I couldn't wait! I called Dr. Norman directly and asked if I could come meet with him–he said 'of course' and gave me his home address. I drove up (from San Diego) on April 27, 2007, to meet him. I'll never forget the meeting–for many reasons. Shortly after I entered into his house, he was smiling and said 'would you like to sit down?'–I had just walked in the door and started asking questions! We both laughed.
The next major remembrance was my telling him I really wanted to attend the upcoming May 7/8 meeting at NIH about cancer and vitamin D. I had called and the staff had told me I wasn't able to enroll because I wasn't a scientist. He said, 'no problem, you can go as my guest, I'm on the organizing committee'. That's where it all started–and, it was at that meeting in May that I met Dr. Garland and many other scientists and, of course, started our tour to meet with them all over the world to help get their message out to the world! Tony and GrassrootsHealth were in touch for many years and he very actively supported us! We owe a debt of gratitude to this great man. We are privileged to have known him, benefited from not only his intellect, but his great sense of sharing, humanity. I will miss him.
Carole
About Dr. Norman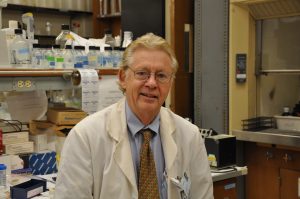 Tony had been member of the University of California, Riverside (UCR) faculty since 1963, his research area was cellular and molecular endocrinology, where he was internationally known for his breakthroughs in the study of vitamin D. In 1967, his lab discovered that vitamin D is converted into a steroid hormone by the body. Two years later, his laboratory discovered the vitamin D receptor (or VDR), an essential receptor in more than 36 target organs of the body that respond biologically to the vitamin. In 1971, his lab reported the chemical structure of the steroid hormone to be 1,25(OH)2Vitamin D3. In 1972, in collaboration with Dr. Jack Coburn at the UCLA medical school, he treated the first uremic patients with the steroid hormone, produced in the Norman laboratory. In 2008, he joined Dr. Cedric Garland of UC San Diego in making the recommendation that the daily intake of vitamin D for adults be revised to 2000 international units. He also organized 14 triennial international Vitamin D Workshops.
Tony's many profound contributions to UCR included his extensive leadership and exceptional mentorship of students. Among his roles, he served as Chair of the Department of Biochemistry (1976-81), Divisional Dean/Program Director for the UCR/UCLA Biomedical Sciences Program (1986-91), and Program Director for the Cell, Molecular & Developmental Biology Interdepartmental Graduate Program (2005-08). Tony was also a dedicated supporter of UCR Highlander Athletics, serving as Faculty Athletic Representative through 2010.
Tony was predeceased by his wife Dr. Helen Henry, in 2018. Helen was also a Professor of Biochemistry at UC Riverside, and a key collaborator in his research on vitamin D. They are survived by daughters Thea Norman and Jacqueline Norman, son Derek Norman, and nine grandchildren.
The family has set-up a memorial webpage for friends and colleagues to leave notes of remembrance: https://www.awnmemorium.com/
How Can You Use this Information for YOUR Health?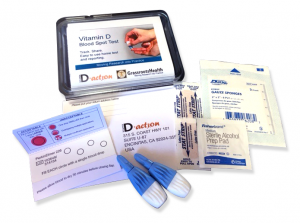 Having and maintaining healthy vitamin D and other nutrient levels can help improve your health now and for your future. Measuring is the only way to make sure you are getting enough!
STEP 1 Order your at-home blood spot test kit to measure vitamin D and other nutrients of concern to you, such as omega-3s, magnesium, essential and toxic elements (zinc, copper, selenium, lead, cadmium, mercury); include hsCRP as a marker of inflammation or HbA1c for blood sugar health
STEP 2 Answer the online questionnaire as part of the GrassrootsHealth study
STEP 3 Using our educational materials and tools (such as our dose calculators), assess your results to determine if you are in your desired target range or if actions should be taken to get there
STEP 4 After 3-6 months of implementing your changes, re-test to see if you have achieved your target level(s)