Published on June 28, 2019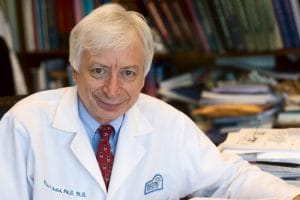 This month, GrassrootsHealth scientist panel member, Dr. Michael Holick, was elected as a Fellow for the American Society of Nutrition (ASN), and was inducted into the Orthomolecular Medicine Hall of Fame! Dr. Holick has also, along with several other GrassrootsHealth panel members, been acknowledged as a "World Expert" by Expertscape in the categories of Sunlight, Vitamin D, and Vitamin D Deficiency. In fact, Dr. Holick is listed as the top-rated expert in the world for each of those categories!
Other awards received by Dr. Holick for his research and scientific contributions over the years have included The Linus Pauling Prize in Human Nutrition, The General Clinical Research Center's Program Award for Excellence in Clinical Research from the National Institutes of Health, and the Louis Avioli Award from the American Society for Bone and Mineral Research, just to name a few. He has been recognized as one of the top Doctors in Boston by Boston Magazine for the past 15 years.
From Carole Baggerly
GrassrootsHealth' Director/Founder
Dr. Holick was one of our first panel members in 2007! My husband, Leo, and I toured the country in our motorhome that spring and summer to meet with the scientists and get their input about "What's the MESSAGE?" about vitamin D to convey to the public. The whole panel ended up forming a consensus that the recommended vitamin D serum level should be 40-60 ng/ml (100-150 nmol/L). To this day, 12 years later, this is still the message. Dr. Holick has been an ongoing help to us, especially in answering some vitamin D related medical questions. He has worked to help promote the importance of vitamin D levels through his membership in the Endocrine Society; and has been on the forefront of taking significant action to help parents who have been charged with some form of child abuse when actually the child had rickets due to a vitamin D deficiency. Dr. Holick is also working with Dr. Coimbra in Brazil to help implement the Coimbra Protocol to treat multiple sclerosis.
At this point in time, it takes a lot of 'risk' to stand up for what you believe in this field. Dr. Holick continues to speak his conscience–as well as the science. Congratulations are due to Dr. Holick for the recognition of his achievements.
Thank you, Dr. Holick, from me, from all the participants in the D*action project.
Carole
More About Dr. Holick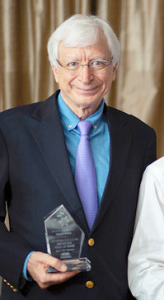 Dr. Michael F. Holick, Ph. D., M.D., is Professor of Medicine, Physiology, and Biophysics and Molecular Medicine and Director Vitamin D, Skin and Bone Research Laboratory Boston University School of Medicine. He is the Director of the Bone Health Care Clinic at Boston Medical Center and Director of the Ehlers Danlos clinical research program at Boston University School of Medicine.
Over the past five decades he has made major contributions in the areas of vitamin D, skin disease, hair research, cancer research, metabolic bone disease, evolutionary biology, disorders of collagen metabolism and calcium metabolism.
As a graduate student he was responsible for identifying 25-hydroxyvitamin D3 as the major circulating form of vitamin D in human blood. He was also the first to structurally identify the active form of vitamin D as 1,25-dihydroxyvitamin D3. As a postdoctoral fellow and medical student he participated in the first chemical synthesis of 1,25-dihydroxyvitamin D3 that was used to treat pseudo-vitamin D deficiency rickets and hypoparathyroidism. He helped develop the first clinically useful assays to measure 25-hydroxyvitamin D and 1,25-dihydroxyvitamin D.
In 1987, Dr. Holick became Director of the Clinical Research Center and Chief of Endocrinology and Diabetes of Boston City Hospital at The Boston University School of Medicine. He became Chief of Endocrinlogy, Diabetes and Nurtition at Boston Medical Center in 1992. His research on how time of day, season, latitude, altitude, skin pigmentation and sunscreen use influences the sun's ability to produce vitamin D3 in the skin has led to the development of the app dminder.info that provides global recommendations for sensible sun exposure. His basic research on vitamin D and skin health resulted in the concept of using active vitamin D to treat psoriasis.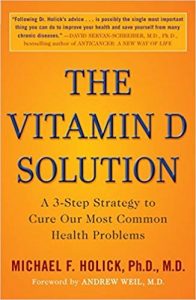 Dr. Holick has published over 800 journal articles, book chapters, editorials, and proceedings. He has written and edited 13 books including his most recent best seller The Vitamin D Solution. He served in various committees including as the Chair for the Endocrine Society's Clinical Practice Guidelines Committee for Vitamin D that published recommendations for how to treat and prevent vitamin D deficiency in children and adults, and as Chair for NASA's Research Committee on Human Health and Performance for the bone health of astronauts.
His current research deals with vitamin D nutrition and its impact on health. A recent study demonstrated that vitamin D has a dramatic impact on immune function. It was observed that more than 2000 genes in the white blood cells were influenced in healthy adults who took 10,000 IUs of vitamin D daily for 6 months. Studies are underway to develop a vitamin D metabolite for treating vitamin D deficiency in children and adults who have fat malabsorption due to an underlying gastrointestinal disorder or who have undergone gastric bypass surgery. Whole genome sequencing is underway to better understand the genetic alterations associated with many of the medical conditions and symptoms associated with Ehlers Danlos syndrome hypermobility type III. Studies are being initiated to develop LED technology that has been demonstrated to efficiently produce vitamin D in the skin for the treatment of intestinal malabsorption syndromes.
How do I know if my vitamin D levels are supportive of good health?
Make sure you know your vitamin D level and are taking daily steps to keep it at a level of 40-60 ng/ml (100-150 nmol/L). Find out your levels today! Log on to the shop (click the link below) to get your tests and see for yourself if your levels can be improved.
Make sure you track your results before and after, about every 6 months!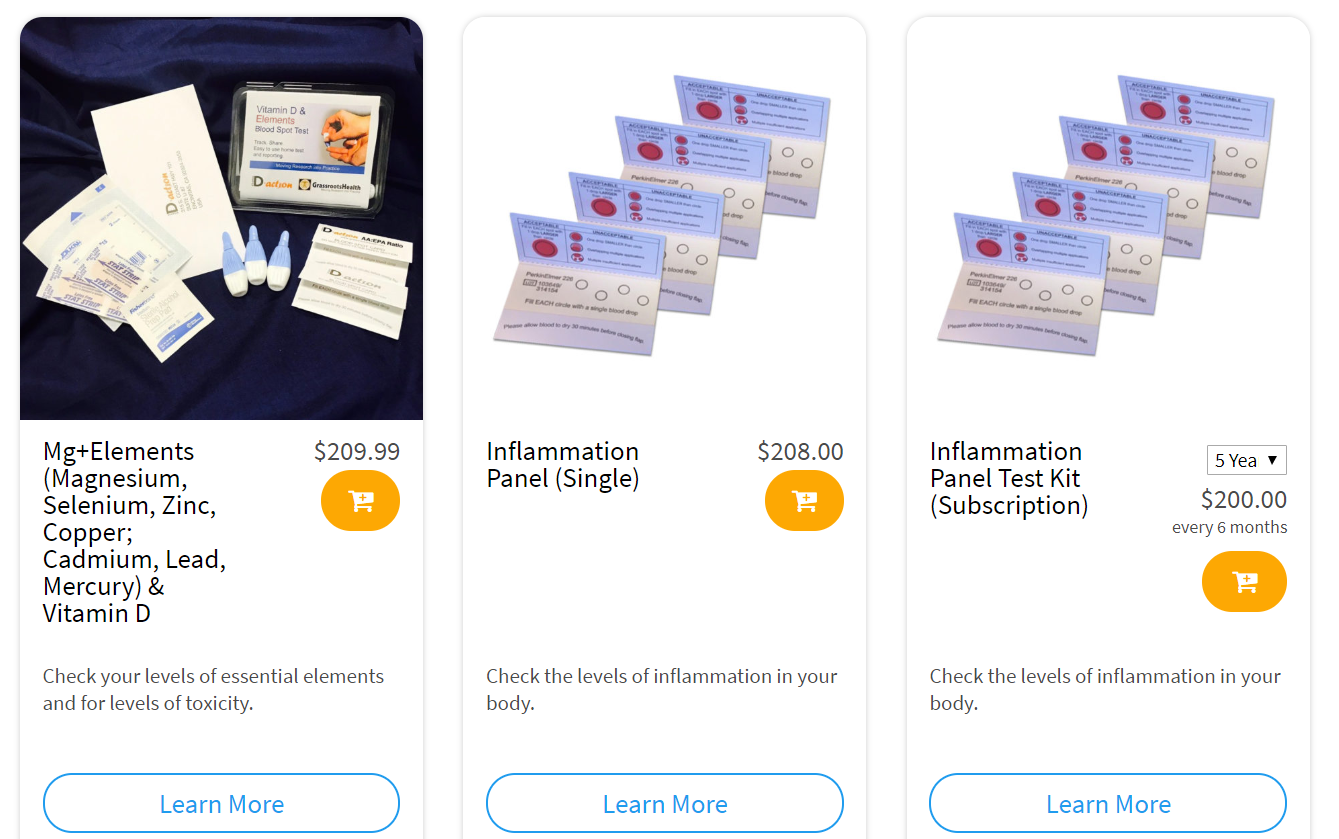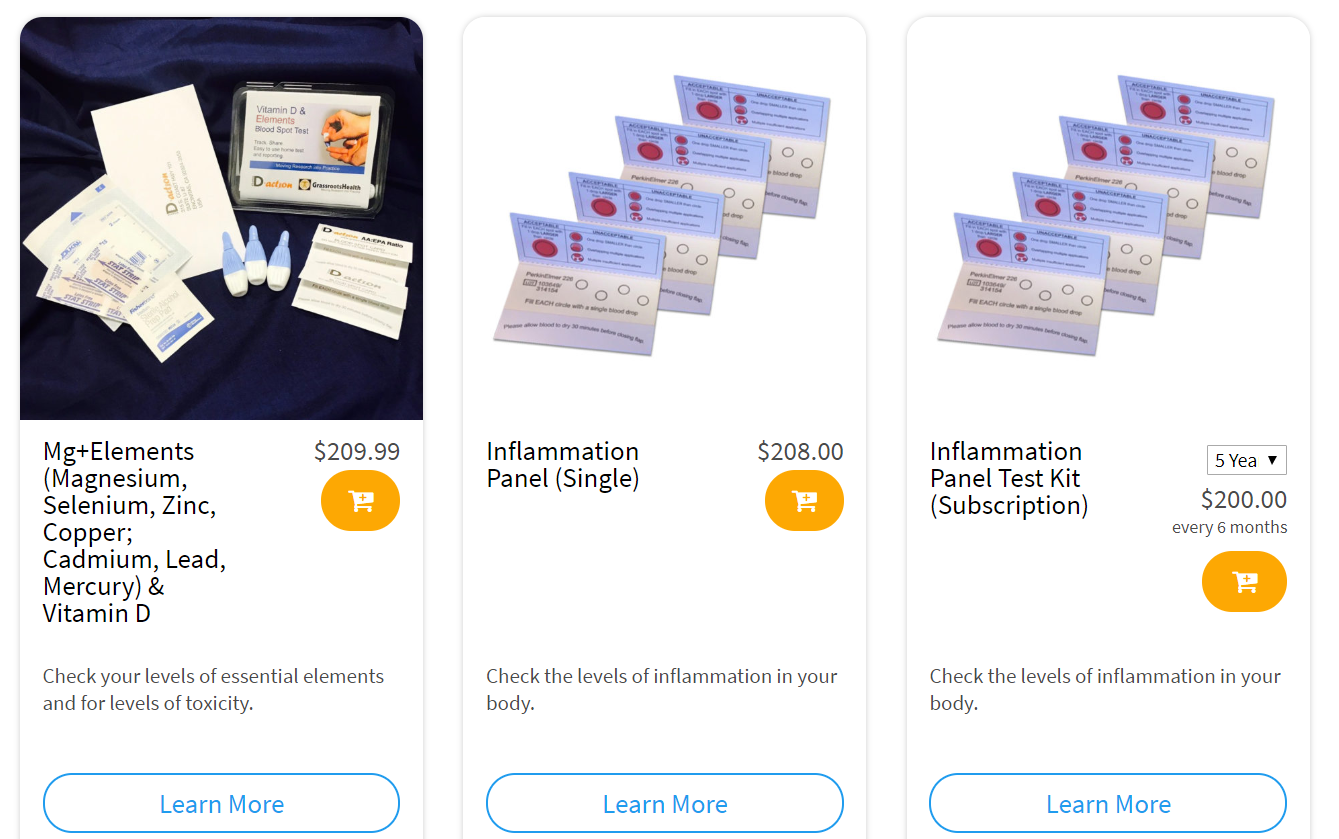 Click Here to Access the Shop Page
How can I track my vitamin D intake and nutrient levels?
To help you track your nutrient intake and nutrient levels, GrassrootsHealth has created an online tracking system called myData-myAnswers. You can track any of your supplemental and dietary nutrient intakes to see how they impact your levels and overall health. Check it out today!
How Can You Use this Information for YOUR Health?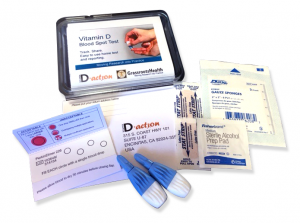 Having and maintaining healthy vitamin D and other nutrient levels can help improve your health now and for your future. Measuring is the only way to make sure you are getting enough!
STEP 1 Order your at-home blood spot test kit to measure vitamin D and other nutrients of concern to you, such as omega-3s, magnesium, essential and toxic elements (zinc, copper, selenium, lead, cadmium, mercury); include hsCRP as a marker of inflammation or HbA1c for blood sugar health
STEP 2 Answer the online questionnaire as part of the GrassrootsHealth study
STEP 3 Using our educational materials and tools (such as our dose calculators), assess your results to determine if you are in your desired target range or if actions should be taken to get there
STEP 4 After 3-6 months of implementing your changes, re-test to see if you have achieved your target level(s)