Published on November 13, 2021


Get all the science-based information on COVID-19, vitamin D, and more with the DAVINCI International Online Conference on Vitamin D and Covid-19, an on-demand virtual event, before it ends!
Key Points
This online event is going on NOW!
Purchase your tickets today to access presentations from scientists around the world.
---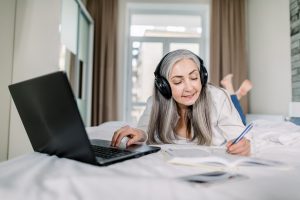 The DAVINCI International Online Conference on Vitamin D and Covid-19 is a series of "on-demand" video conference recordings and virtual interactions, available now through November 21, 2021, on "Optimizing Immunologic Functions that Help Reduce Risk for Infection, Morbidity and Mortality by Vitamins D, C & Integrative Orthomolecular Medicine Measures. Nutrients and vitamins that help provide during the COVID-19 pandemic." This new type of conference arises from the need to make scientific information available to society with special properties: quick, unfiltered and inexpensive, for experts and laypeople, without limitations in the number of participants.
With this "Direct Access to Virtual International and National Conference information" (DAVINCI) event, the latest scientific information about vitamin D and other nutrients can be collected and distributed world-wide. The goal is to overcome the Covid-19 pandemic – and more!
Event tickets are $57.30
Conference Packages are an additional $22.92 (see below for details)
On-Demand Access to the Latest Science-Based Information
Watch the 'super-star scientists' in the field of vitamin D discuss how it relates to infectious diseases and COVID-19, reducing risk for morbidity and mortality from COVID-19, and so much more. Dr. Michael Holick, Conference President, urges everyone to "encourage improving vitamin D status in all adults and children world-wide to help in fighting this pandemic." Use this opportunity to sharpen your understanding of the reason vitamin D is vital in this fight, and arm yourself with the knowledge and resources you will need to share this urgent message with others.
Speakers include GrassrootsHealth Panel Scientists Michael F. Holick, PhD, M. D., William B. Grant, PhD, Martin Hewison, PhD, and Jörg Spitz, Prof. Dr. med..
3 Panel Presentations
(for a full list of lectures and speakers, click here)
Panel I: Focus on Immunologic Functions of Vitamin D
The first panel of the conference will present the extraordinary properties of vitamin D – both in terms of infections in general and the Covid 19 pandemic in particular.
Panel II: Looking over the rim: Focus on Vitamin C and other complementary measures of Orthomolecular Medicine in the context of Covid-19
In the second panel, experts will explain the effect of positive factors (other than Vitamin D) on our immune system and the resulting possibilities of orthomolecular medicine for the prevention and therapy of viral infections.
Panel III: The Prevention and Management of Long Covid and the Side Effects of Covid Vaccines
Covid-19 is part of our life now. Some Covid-19 infected people may have lingering symptoms of Covid-19, also known as Long Covid. Many people have received or are receiving Covid-19 vaccines, which are required in certain jobs and public areas, including travel. Some people are hesitant about vaccines due to the potential vaccine side effects, but when it comes to vaccination and your job, it's a very hard decision to make. This third panel will discuss the mechanisms of Long Covid and vaccine side effects and what you can do to prevent and manage if you do have these problems, as well as "Covid-19 and Pregnancy."
Online Discussions
After the closing of the event, the presentation of the experts will be evaluated by the participants and discussions organized with the corresponding authors and the keynote speakers. These discussions again will be made available online and are a component of the event ticket.
Have Life-Long Access to this Information, and More…
To further improve the value of your ticket, a "Conference Package" is offered for another $22.92, which includes the following in addition to the event ticket:
Permanent access to original presentations and keynote lectures (videos)
A PDF folder with all the foils of all presentations
A PDF Folder with all abstracts and citations of literature
A PDF folder with the final reports of the conference, provided by the keynote lecturers
The conference package can be ordered right away to participate in the conference or also at any time after the conference, as an add-on to the event ticket.
Measure Your Vitamin D Level to Make Sure You Are Getting Enough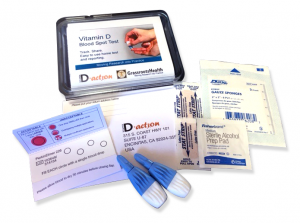 Having and maintaining healthy vitamin D and other nutrient levels can help improve your health now and for your future. Choose which to measure, such as your vitamin D, omega-3s, and essential minerals including magnesium and zinc, by creating your custom home test kit today. Take steps to improve the status of each of these measurements to benefit your overall health. You can also track your own intakes, symptoms and results to see what works best for YOU.
Enroll and test your levels today, learn what steps to take to improve your status of vitamin D (see below) and other nutrients and blood markers, and take action! By enrolling in the GrassrootsHealth projects, you are not only contributing valuable information to everyone, you are also gaining knowledge about how you could improve your own health through measuring and tracking your nutrient status, and educating yourself on how to improve it.
What Does it Take YOU to Get Your D to 40 ng/ml (100 nmol/L)?
Did you know your health could be greatly affected by making sure you have a vitamin D level of at least 40 ng/ml (100 nmol/L)? Help us help you.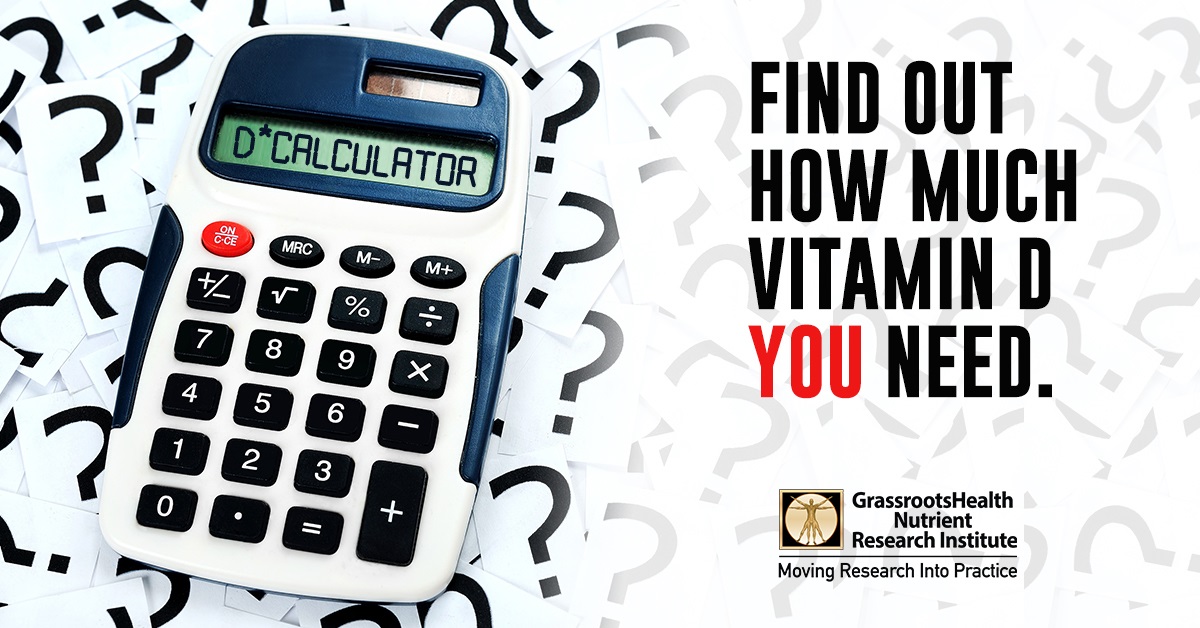 STEP 1 - Do you know what your vitamin D level is? If not, be sure to test today to find out.
STEP 2 – Determine your target level. Are you at your target level? Experts recommend a level of at least 40-60 ng/ml (100-150 nmol/L).
STEP 3 – Need to boost your level? Use the D*calculator to see how much vitamin D it may take to reach your target. Opt for the Loading Dose for a quicker boost.
STEP 4 – Optimize how your body absorbs and utilizes vitamin D with co-nutrients and these simple steps.
STEP 5 – Re-Test! This is an important step to make sure you have reached your target level, and to ensure you are not taking too much! Re-testing after 3-4 months is recommended.
STEP 6 – Adjust, Repeat…
Give your immune system the nutrients it needs to support a healthy you and protect yourself from unnecessary diseases, especially COVID-19.
NEWS ALERT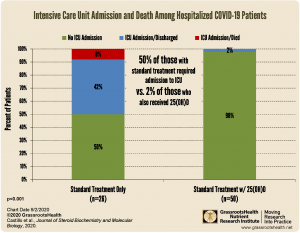 The first Randomized Controlled Trial on vitamin D and COVID-19 has shown a 96% lower risk of ICU admission for those receiving vitamin D (as 25(OH)D to quickly boost vitamin D blood levels) along with the standard treatment, compared to those receiving standard treatment alone.
These results support many previous observational studies showing a relationship between vitamin D levels and intake and COVID-19 severity.
Review the Latest Nutrient Research for COVID-19
GrassrootsHealth Nutrient Research Institute has launched the new Immune Boost project with the use of our myData-myAnswers nutrient health system that nearly 15,000 people are already using for their health. Specific markers that influence immune health are suggested for testing as part of this project including:
Vitamin D
Omega-3 Index
Essential elements magnesium, selenium, and zinc
hsCRP
Our goal is to demonstrate how one can use the Nutrient Research Model established by Dr. Robert Heaney to show the effect of vitamin D serum levels of at least 40 ng/ml (100 nmol/L) on risk reduction for all ethnicities in the population. Status and intake of other nutrients will also be analyzed for any type of relationship to immune status and symptom severity. Join the project today!
Please let us know if you're interested in helping sponsor this project.

CLICK HERE for updates and new information about the project.
Through GrassrootsHealth Nutrient Research Institute, you can also test your essential elements magnesium, copper, zinc and selenium, toxins such as lead, mercury and cadmium, as well as your omega-3 levels, inflammation levels and thyroid stimulating hormone (TSH) level. Find out your levels today! Log on to the test selection page (click the link below) to get your tests and see for yourself if your levels can be improved.
Make sure you track your results before and after, about every 6 months!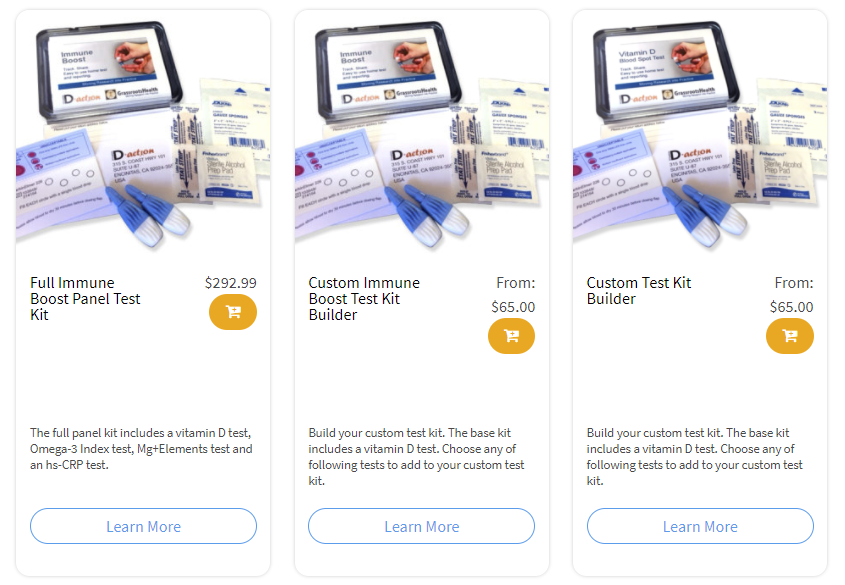 Click Here to Access the Test Page
How can I track my nutrient intake and levels over time?
To help you track your supplement use and nutrient levels, GrassrootsHealth has created the Personal Health Nutrient Decision System called

For each specific supplement, you can track what days you take it, how much, and many other details.  This will help you know your true supplemental intake and what patterns of use work for you to reach and maintain optimum nutrient levels. Check it out today!