Published on April 2, 2021


View these GrassrootsHealth Seminar presentations by our trusted scientists and doctors on all kinds of topics for your health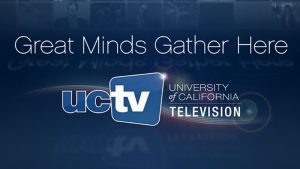 As part of our efforts to bring reliable, scientific information about vitamin D to the public, GrassrootsHealth has hosted several in-person seminars at the University of Carlifornia, San Diego (UCSD) with presentations by vitamin D scientists, researchers, and doctors from all over the world.
Each of these presentations are now available for anyone to view on UCTV! See the list of presentations below and make some time to watch the ones that speak to your interests or concerns.
Vitamin D for Public Health – Integrating Sunshine, Supplements and Measurement for Optimal Health 2014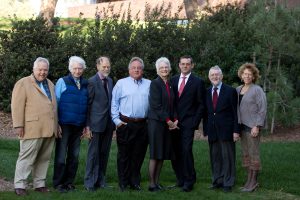 Learn about the science of vitamin D and sunshine. Notable researchers discuss conditions affected by vitamin D, ways to improve patient outcomes, how to solve the deficiency epidemic and much more.
Public Health Initiative: Meeting the Vitamin D Requirements of the Pregnant Woman and Improving Health Outcomes; NICHD Vitamin D Lactation Summary Data
Carol L. Wagner, MD, Medical University of South Carolina, discusses how vitamin D status during pregnancy varies around the globe and the implications of maternal vitamin D deficiency for both the mother and her developing fetus.
Cost/Benefit of Optimal Health with Sunshine, Vitamin D
William B. Grant, PhD, Sunlight, Nutrition, and Health Research Center, looks at the costs and benefits of increasing vitamin D-related behavior. Identify the cost reductions of increased vitamin D as it compares to the cost of skin cancers.
Design Components of Interventions/Studies of Vitamin D
Robert P. Heaney, MD, Creighton University, examines the critical design features and standard frameworks for vitamin D studies.
Vitamin D Usage in Alaska
Overview of legislation and promotion of Vitamin D in Alaska by State Senator Paul Seaton.
Results of a Prostate Cancer/Vitamin D Trial: Effectiveness, Safety, Recommendations
Bruce W. Hollis, PhD, Medical University of South Carolina shares the results of a recent trial including identifying the vitamin D level needed to protect the prostate gland.
Vitamin D and Sunlight for Cancer Prevention
Cedric F. Garland, Dr PH FACE, UCSD School of Medicine, identifies cancers that have lower incidence at the equator and discusses the characteristics of the human photoprotective response.
Vitamin D, Sunshine, Optimal Health: Putting it all Together
Robert P. Heaney, MD, Creighton University explores why vitamin D is important, how it works, how we get it and how much we need.
Why the Sun is Necessary for Optimal Health
Alexander Wunsch, MD, Wismar University of Applied Sciences, Germany gives a historical perspective on sunlight exposure and explains how both the public's and medical community's perspective has changed over time.
Sunlight and Your Health: An EnLIGHTening Perspective
Michael F. Holick, PhD MD, Boston University Medical Center gives an energetic talk on the positive impacts of sunlight on your health. How can we balance current thinking on the negative effects of sun exposure with new research on its benefits? How does sunlight help in the production of vitamin D? Join Dr. Holick as he explains how sunlight reaches us, how it is absorbed by the skin and much more.
Vitamin D and Public Health Practice
Mary Pittaway, MA, RD identifies ways to educate communities about vitamin D from a public health perspective.
Prevention of Type 1 Diabetes with Vitamin D and Sunshine
Edward Gorham, PhD, UC San Diego School of Medicine, describes the prevalence of vitamin D deficiency in terms of sun avoidance and person, place, and time. He identifies key items of evidence suggesting a protective association between sunlight, vitamin D, and risk of type 1 diabetes. He also lists the ways in which addressing vitamin D deficiency can have a positive impact on public health.
Vitamin D Measurement, the Key to Change
Alexander Wunsch, MD, Wismar University of Applied Sciences, Germany, discusses the importance of measurement when studying vitamin D.
My Data – My Answers: Vitamin D
Overview of GrassrootsHealth, conclusions of studies on specific health issues, and its global data collection and advocacy of Vitamin D for overall health by Carole Baggerly, Director of GrassrootsHealth.
Diagnosis and Treatment of Vitamin D Deficiency Seminar 2010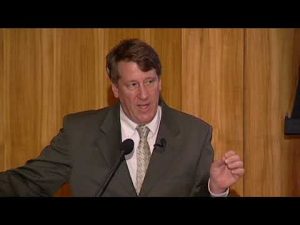 GrassrootsHealth Seminar April 9, 2010 – Is vitamin D the wonder vitamin? Can it prevent certain cancers and chronic diseases? Find these answers and more in this series brought to you by UCSD School of Medicine and GrassrootsHealth where experts discuss the latest research on vitamin D.
Vitamin D: Interactions of Vitamin D and Calcium
Robert Heaney, MD, talks about vitamin D and calcium metabolism safety. Series: "Vitamin D Deficiency – Treatment and Diagnosis"
Vitamin D: Diabetes and Colon Cancer in the Japanese Population
Tetsuya Mizoue, MD, talks about vitamin D, diabetes and colon cancer in the Japanese population.
Vitamin D: Pregnancy and Lactation – Preventing Complications, Growing Healthy Babies
Carol Wagner, MD, discusses vitamin D and its role in growing healthy babies from pregnancy to lactation.
Vitamin D: UV, The Original Source – How to Use It
Edward Gorham, PhD, talks about how to use the sun, or UV light, for vitamin D synthesis.
Vitamin D: Nutrient, Not A Drug
Robert Heaney, MD, talks about vitamin D as a nutrient, not a drug.
Vitamin D: Role in Preventing Cancer, How Does it Work?
Dr. Cedric Garland discusses vitamin D and its role in preventing cancer.
Diagnosis and Treatment of Vitamin D Deficiency Seminar 2009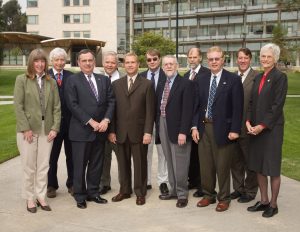 GrassrootsHealth Seminar December 2, 2008 – Can vitamin D help prevent certain cancers and other diseases such as type 1 diabetes, cardiovascular disease, and certain autoimmune and chronic diseases? To answer these questions and more, UCSD School of Medicine and GrassrootsHealth bring you this innovative series on vitamin D deficiency. Join nationally recognized experts as they discuss the latest research and its implications.
Vitamin D Deficiency: Analysis and Approach in a Comprehensive Cancer Center
Donald Trump, MD, discusses what has been learned about vitamin D deficiency from studying cancer patients.
D-Lightful Vitamin D: Bone & Muscle Health and Prevention of Autoimmune and Chronic Diseases
Michael Holick, MD, discusses vitamin D relating to bone and muscle health and the prevention of autoimmune and chronic diseases.
Vitamin D & Cardiovascular Disease- New Frontiers for Prevention
David Sane, MD, discusses the prevention of cardiovascular disease through vitamin D.
Vitamin D and Diabetes-Can We Prevent it?
Frank Garland, PhD, discusses vitamin D and the opportunity for prevention of diabetes.
Skin Cancer/Sunscreen – the Dilemma
Edward Gorham, PhD, discusses the dilemma of skin cancer and sunscreen use.
Dose-Response of Vitamin D and a Mechanism for Cancer Prevention
Cedric Garland, Dr. P.H., discusses the expected vitamin D serum level for cancer prevention.
What's a Vitamin D Deficiency?
Robert Heaney, MD, gives an overview of vitamin D deficiency.
More Videos on Vitamin D
Additional videos, including webinars hosted by GrassrootsHealth, interviews with vitamin D experts, short sunlight snippets, and more can be viewed from the GrassrootsHealth videos page.
Should You be Getting More Vitamin D to Help Protect Your Health?
With almost 90% of the general population having vitamin D levels below the recommended 40-60 ng/ml (100-150 nmol/L), it is obvious that most people need more vitamin D. While most of us cannot achieve a vitamin D level of 40-60 ng/ml from sun alone, either due to our lifestyle, where we live, or other circumstances, we can certainly reach those levels with the right amount of supplementation.
Below is another guide for how much you might need, and who may need more. Your levels can be tested safely at home – order your home test kit today.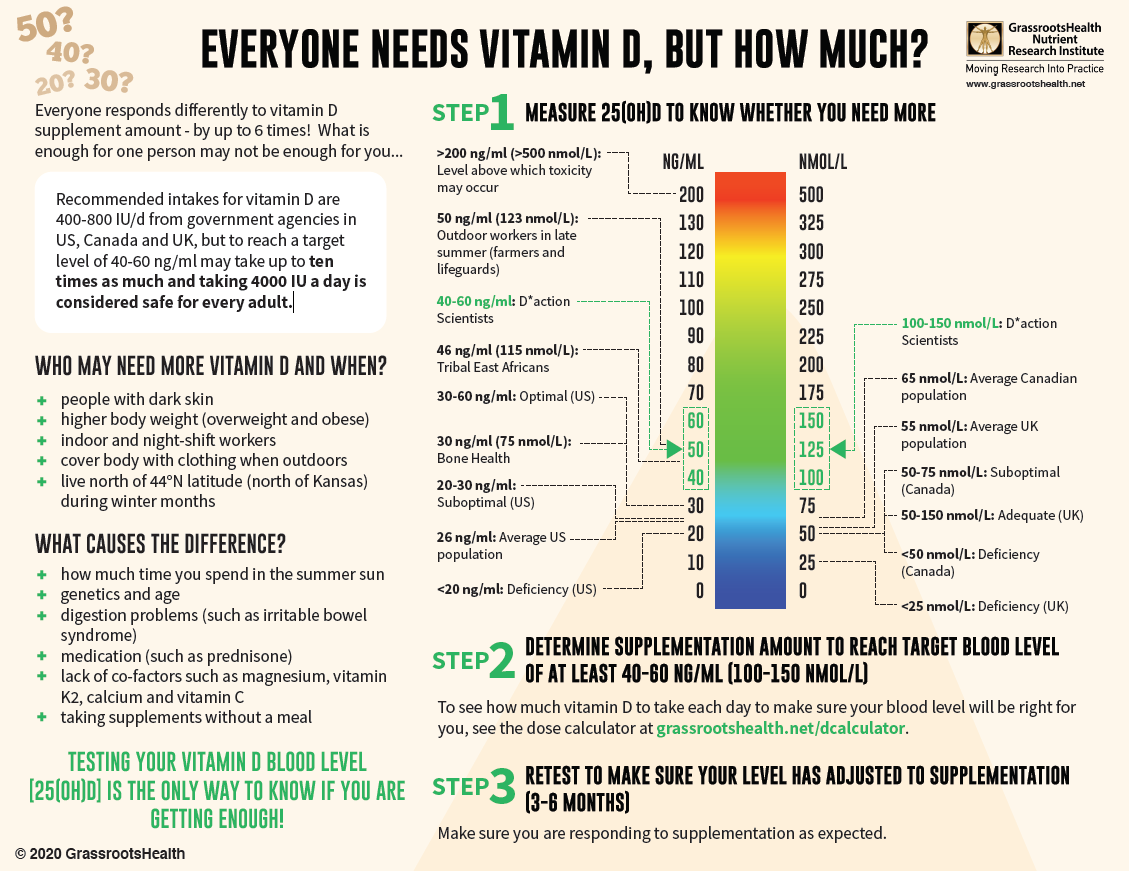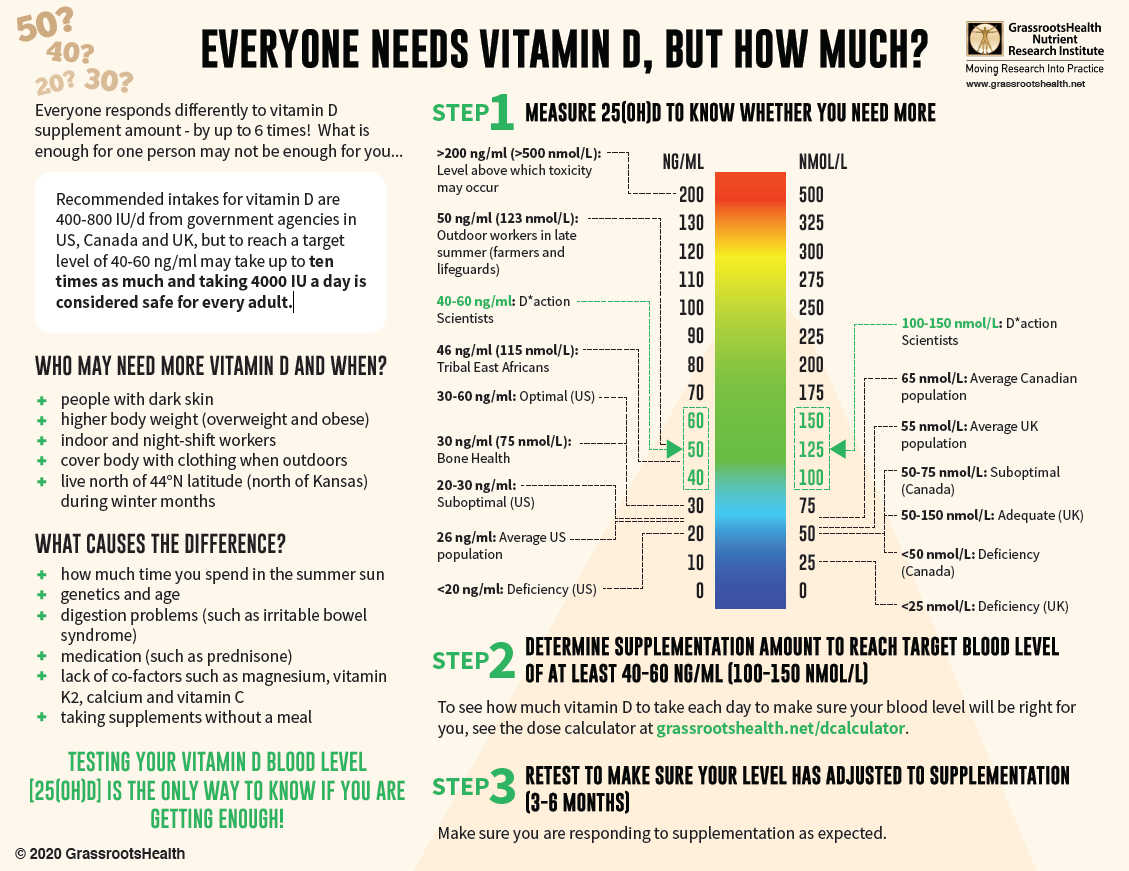 By joining the GrassrootsHealth projects, you are not only contributing valuable information to our study, but you are also gaining knowledge about how you could improve your own health through measuring and tracking your nutrient status, and educating yourself on how to improve it. Do you know what your status of vitamin D, omega-3s, and other essential nutrients is? Could your levels be improved? Test now to find out!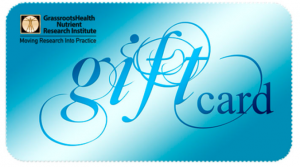 We now have a NEW GIFTING SERVICE that allows you to quickly send 'Gift Cards' to friends, family and coworkers who you consider might need immediate access to testing, and to Claim the Joy of Your Health TODAY. Give the gift today!
What does the Research Say about Vitamin D & COVID-19?
It's TIME to start saving lives! If you can help PREVENT the majority of the death, it's time! What's it costing you/us not to take action NOW?
There is much published research that supports a clear link between vitamin D and COVID-19 showing that higher vitamin D levels are related to: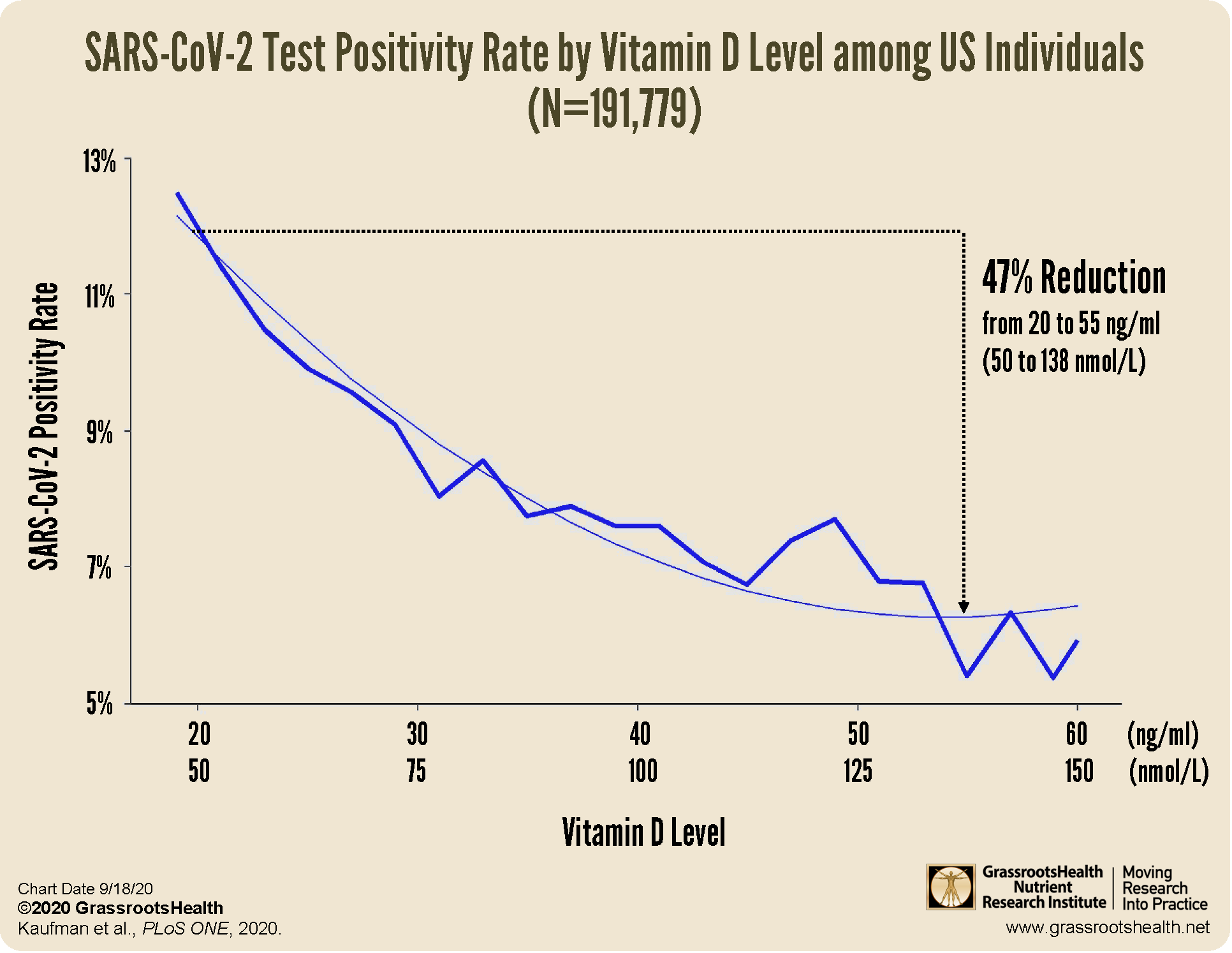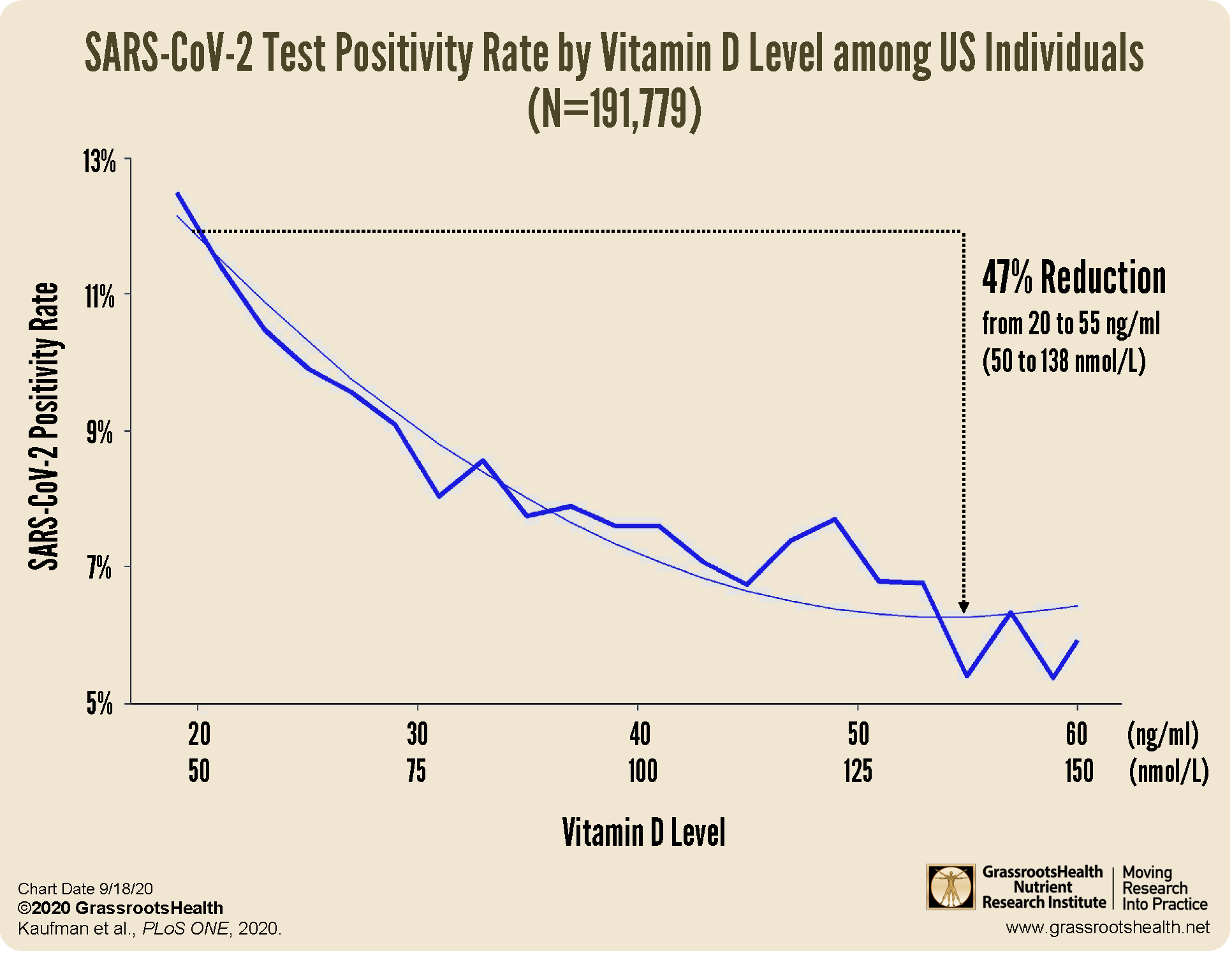 a decreased risk of testing positive for COVID-19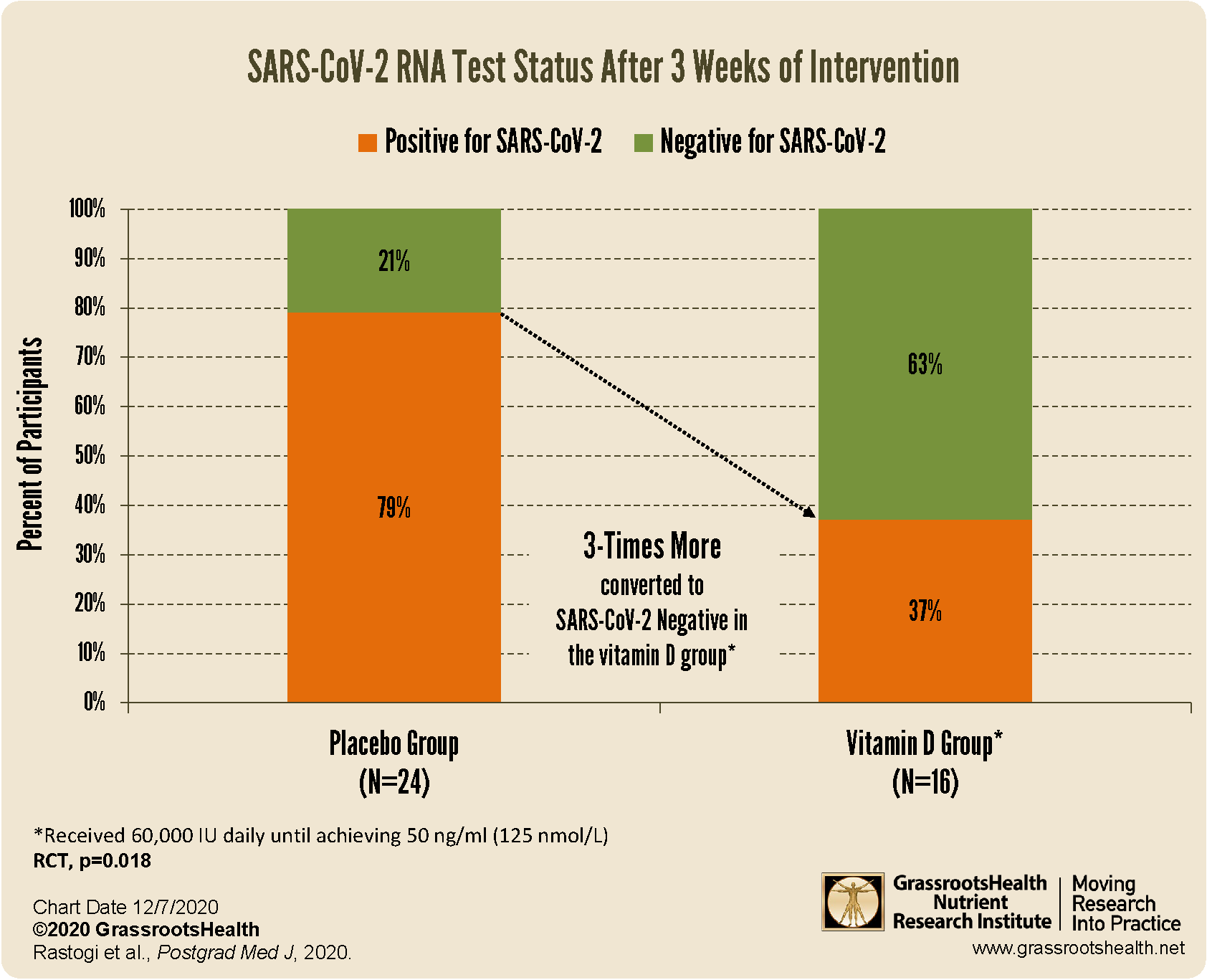 increased viral SARS-CoV-2 RNA clearance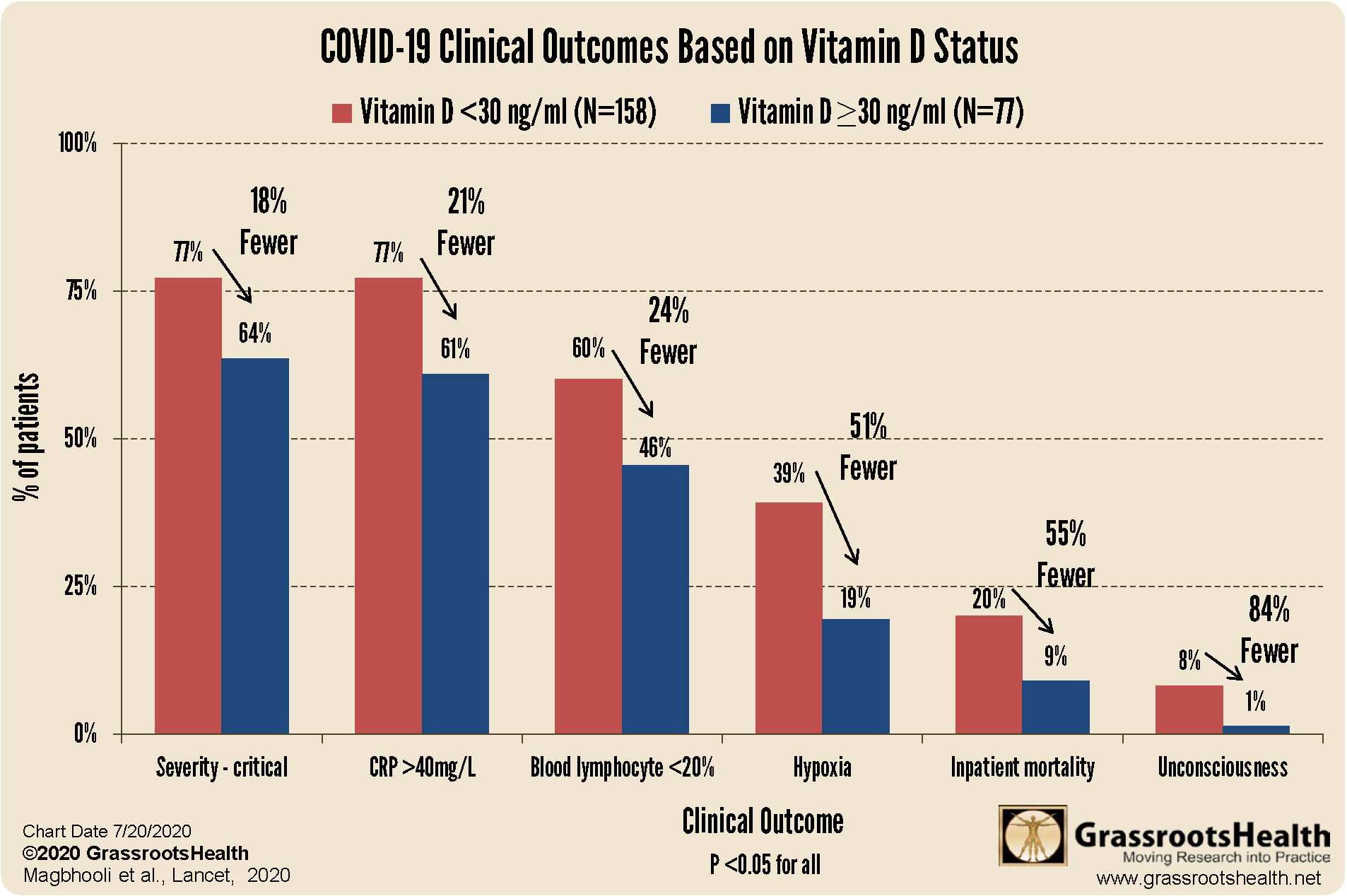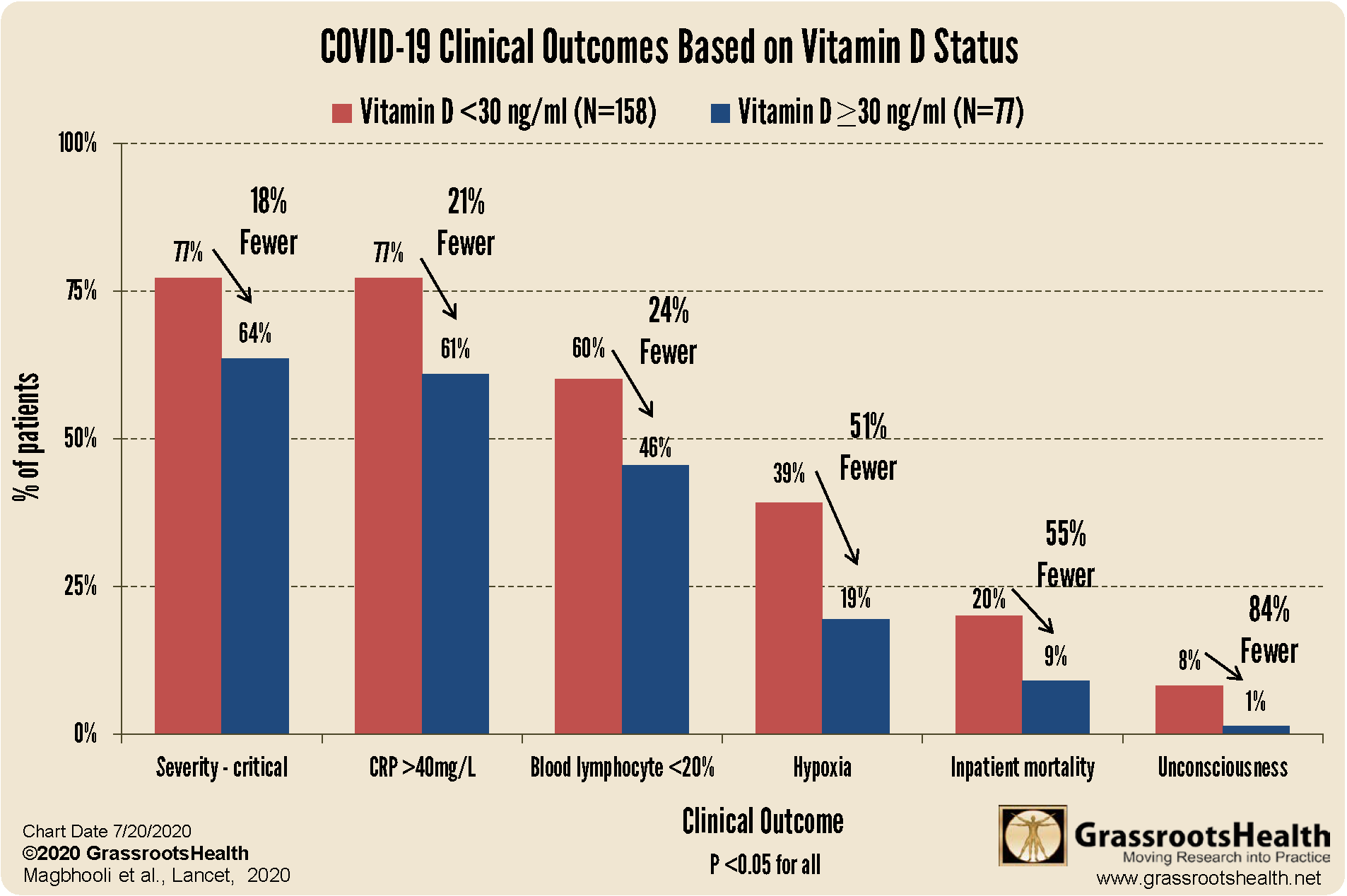 better clinical outcomes among patients with COVID-19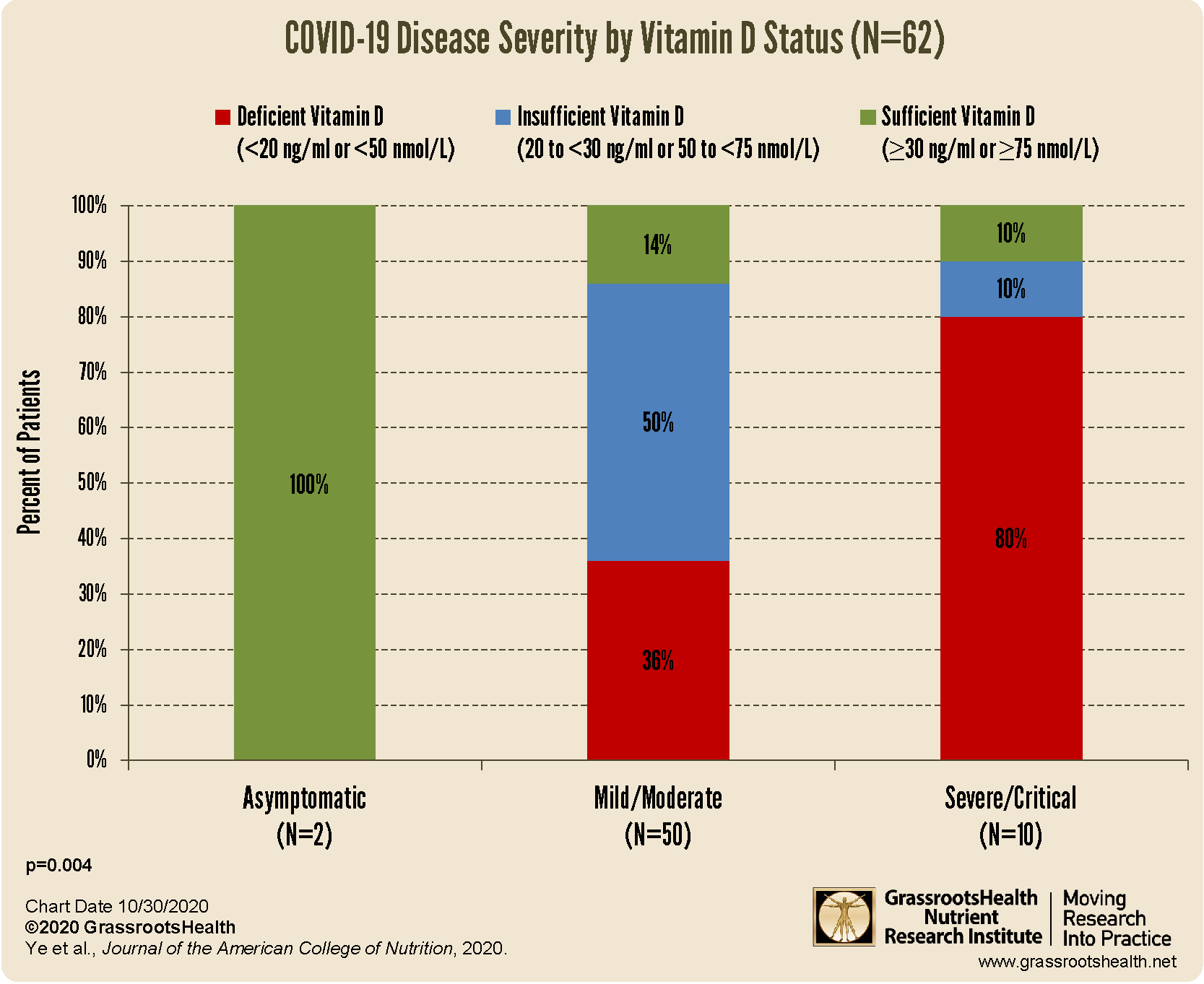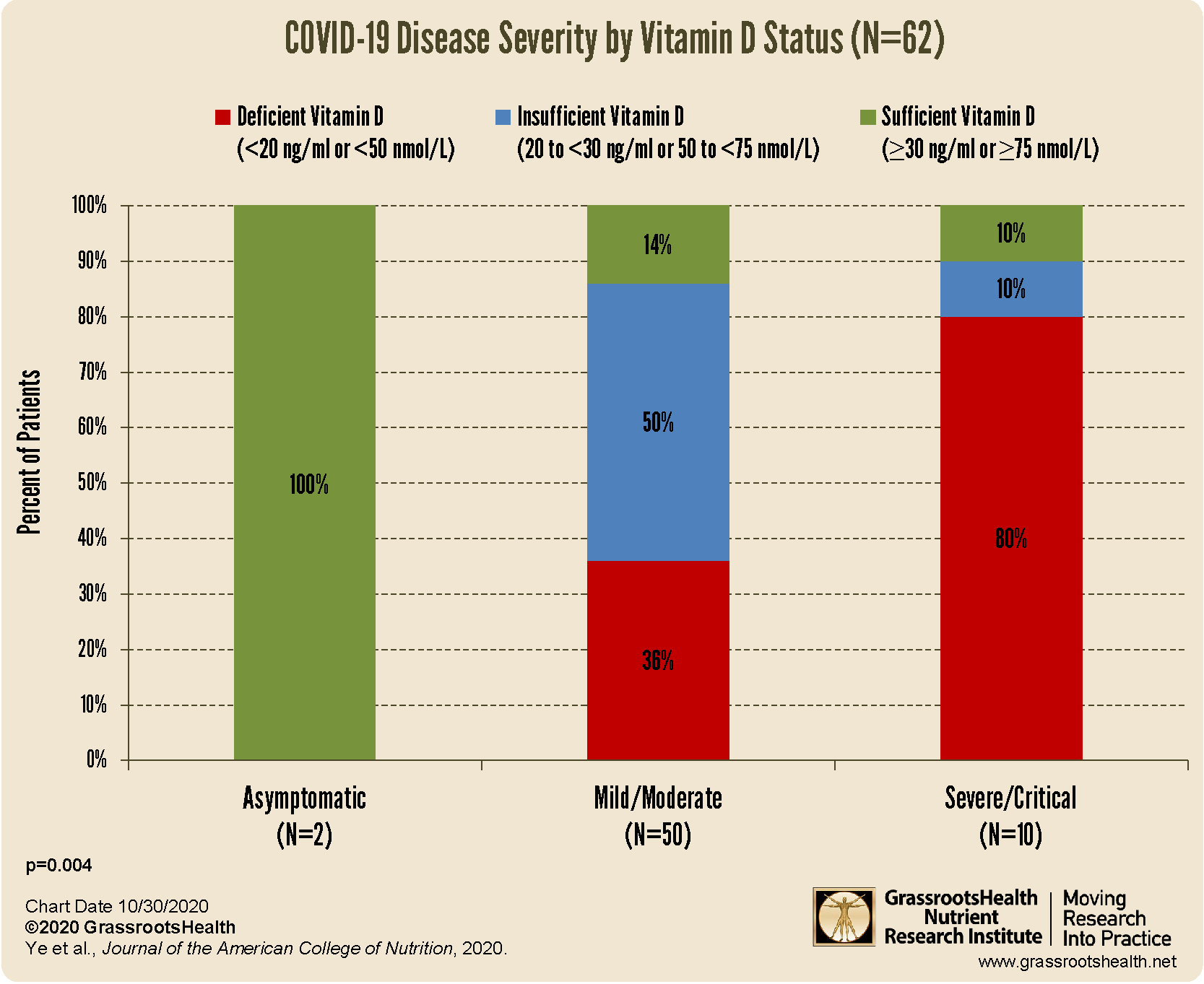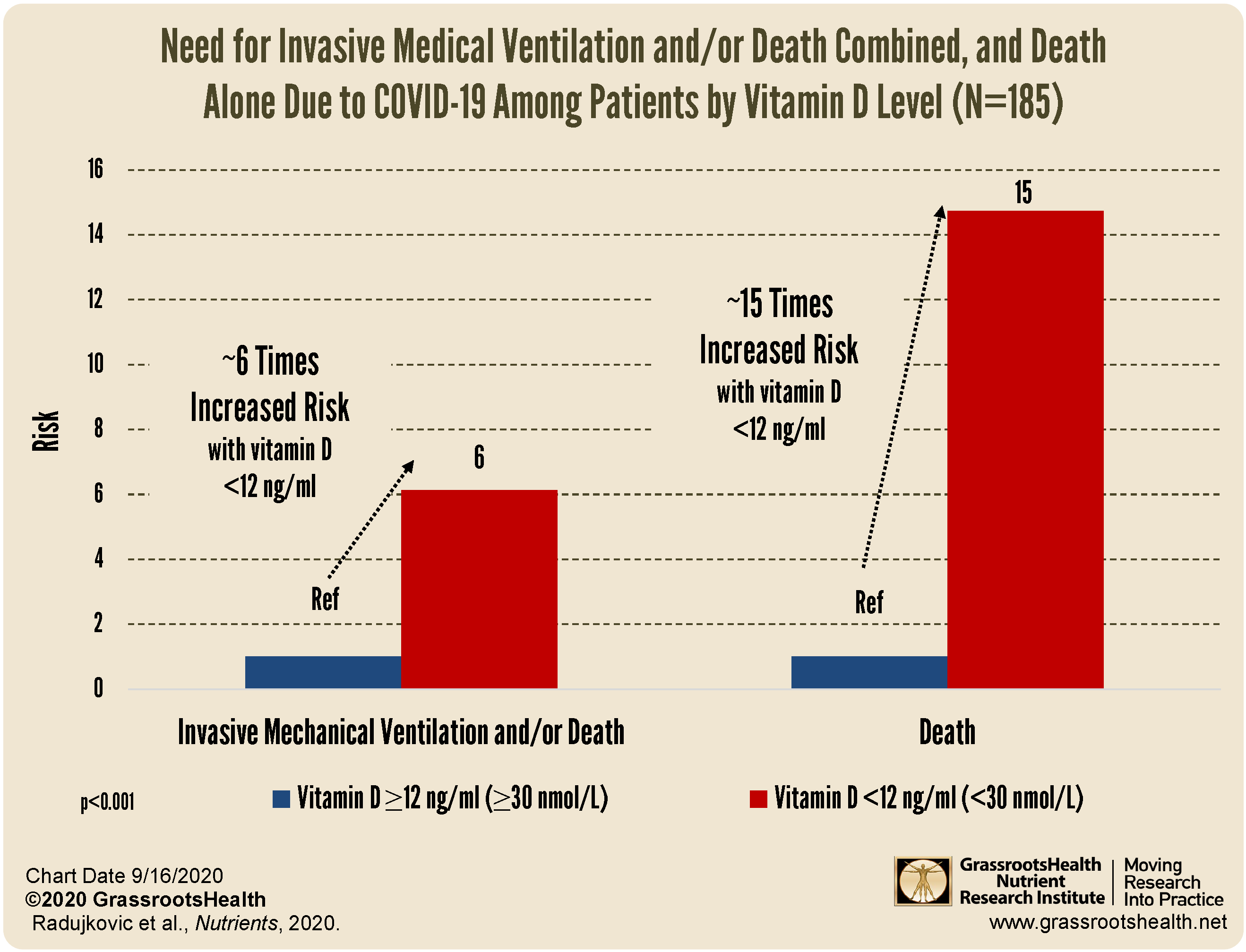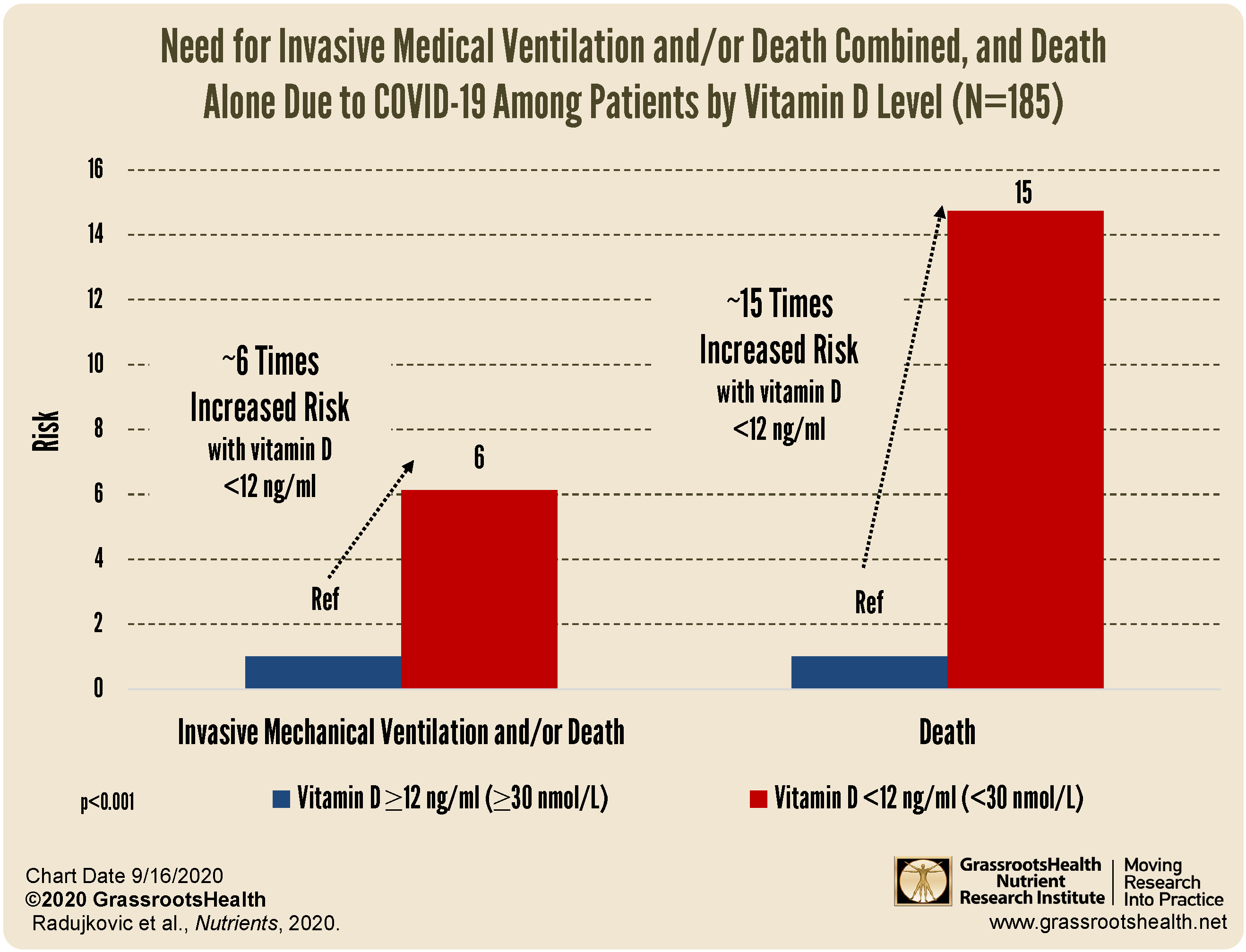 decreased risk of death due to COVID-19
Be sure to educate yourself on the benefits and importance of vitamin D for immune health, and take steps to ensure you and your loved ones are getting enough.
You can review all of the COVID-19 and immune health information we have shared on this page.
How Can You Use this Information for YOUR Health?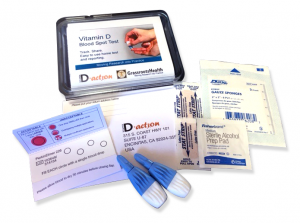 Having and maintaining healthy vitamin D and other nutrient levels can help improve your health now and for your future. Measuring is the only way to make sure you are getting enough!
STEP 1 Order your at-home blood spot test kit to measure vitamin D and other nutrients of concern to you, such as omega-3s, magnesium, essential and toxic elements (zinc, copper, selenium, lead, cadmium, mercury); include hsCRP as a marker of inflammation or HbA1c for blood sugar health
STEP 2 Answer the online questionnaire as part of the GrassrootsHealth study
STEP 3 Using our educational materials and tools (such as our dose calculators), assess your results to determine if you are in your desired target range or if actions should be taken to get there
STEP 4 After 3-6 months of implementing your changes, re-test to see if you have achieved your target level(s)